Polish Dumplings (Potato Pierogi) Recipe
on Mar 27, 2020, Updated Feb 02, 2023
I'm going to show you a simple recipe for Polish dumplings. This homemade pierogi recipe is a Polish food that has been a part of me for as long as I can remember. Traditionally an Easter recipe, we make these Polish dumplings all year round.
Growing up in inner-city Detroit, my childhood was filled with many visits to the local bakeries owned by Polish friends and families. During certain times of the year, you could get all sorts of polish cuisine, from fresh kielbasa sausages to these amazing Polish dumplings.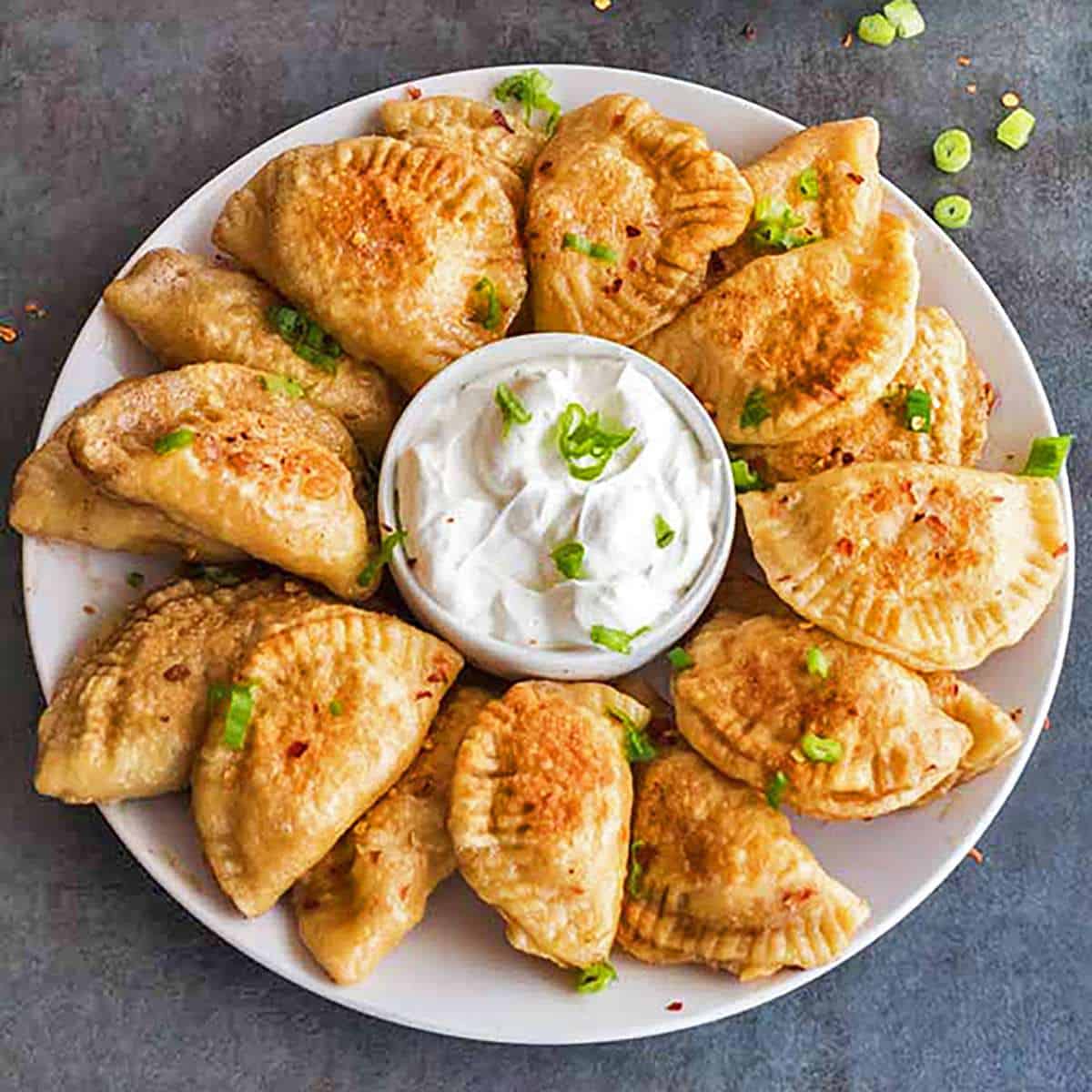 About these
As a boy, I was lucky because my mom knew how to make Polish dumplings and we didn't have to depend on the bakery. My family was pretty traditional, and Polish food was very important to us. For different seasons, we would have different family meals from our Polish heritage made in the traditional way.
In keeping with the Polish Christmas tradition, we would have a special type of meat pie. That recipe was handed down from my dad's side. At Easter time, we would have Polish stuffed cabbage.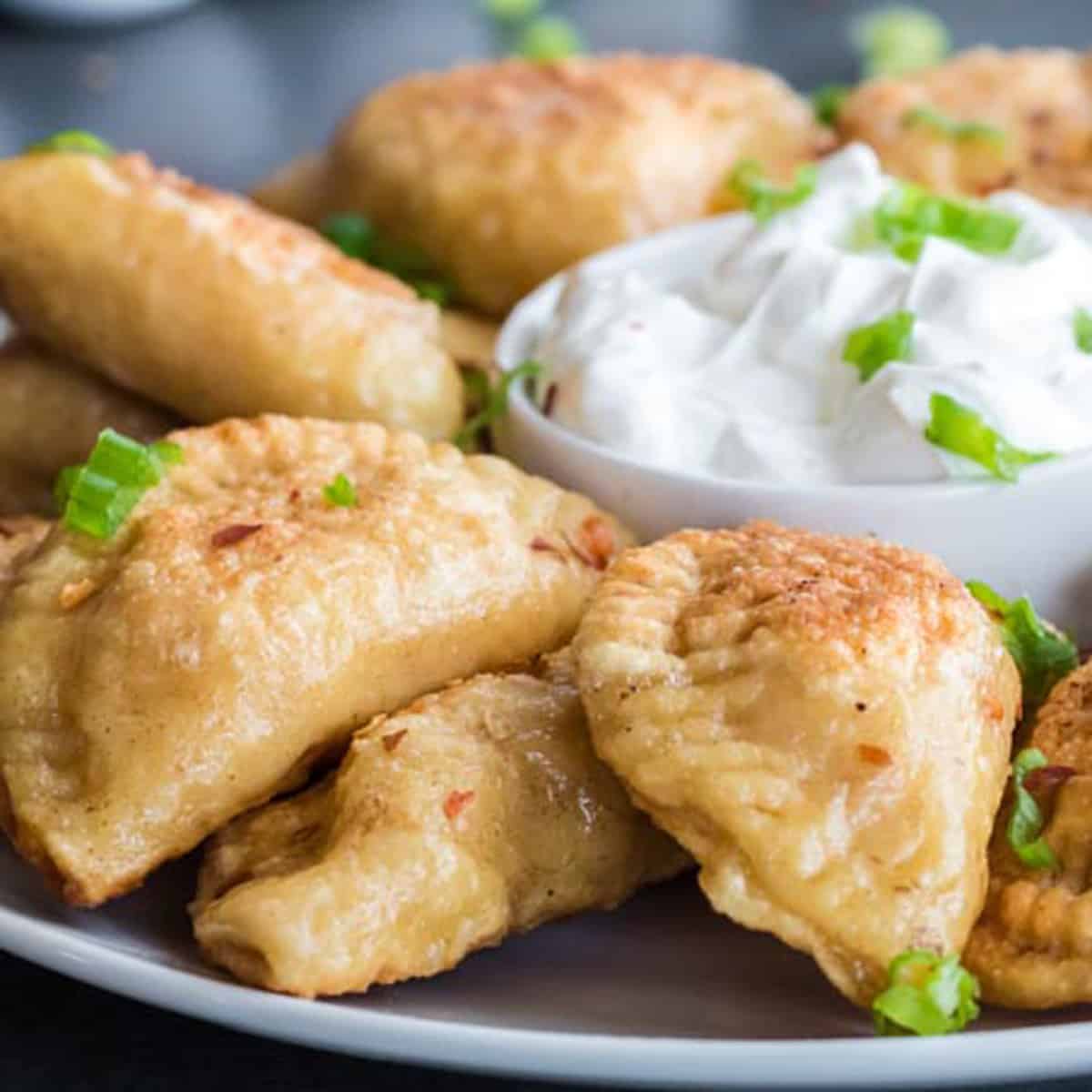 Perhaps more than any other holiday food and during the weeks leading up to Easter, my mom would make this family recipe of Polish pierogi, for a wonderful Lenten treat.
What are pierogi?
Sadly, most Americans know this ethnic food as "Mrs. T's Pierogies." Although I have nothing against Mrs. T, (I've never met her,) I'm here to tell you that you can do much better with homemade pierogi from Mrs. (or Mr.) X. (Use the first letter of your last name.)
The best way I can describe them is as a Polish ravioli. Usually, Polish dumplings are served on meatless Fridays during Lent. These homemade ravioli can be filled with a wide variety of things.
Kielbasa (Polish sausage) is this recipe's go-to side dish partner. If you want a complete Polish meal, try this slow cooker kielbasa and sauerkraut. It's the perfect food to server with pierogi!
Although pierogi are the national dish of Poland, these boiled and then lightly fried Polish dumplings are popular in other countries in eastern Europe such as Hungry, Ukraine, Russia and some Baltic countries. Depending on which country you are in, they are known by many different names and spellings, including:
Vareniki
Varenky
Perogi
Pirohy
Phyrohy
Dumplings
They can be filled with almost anything, but in Polish homes, the traditional filling combines potatoes and farmer's cheese.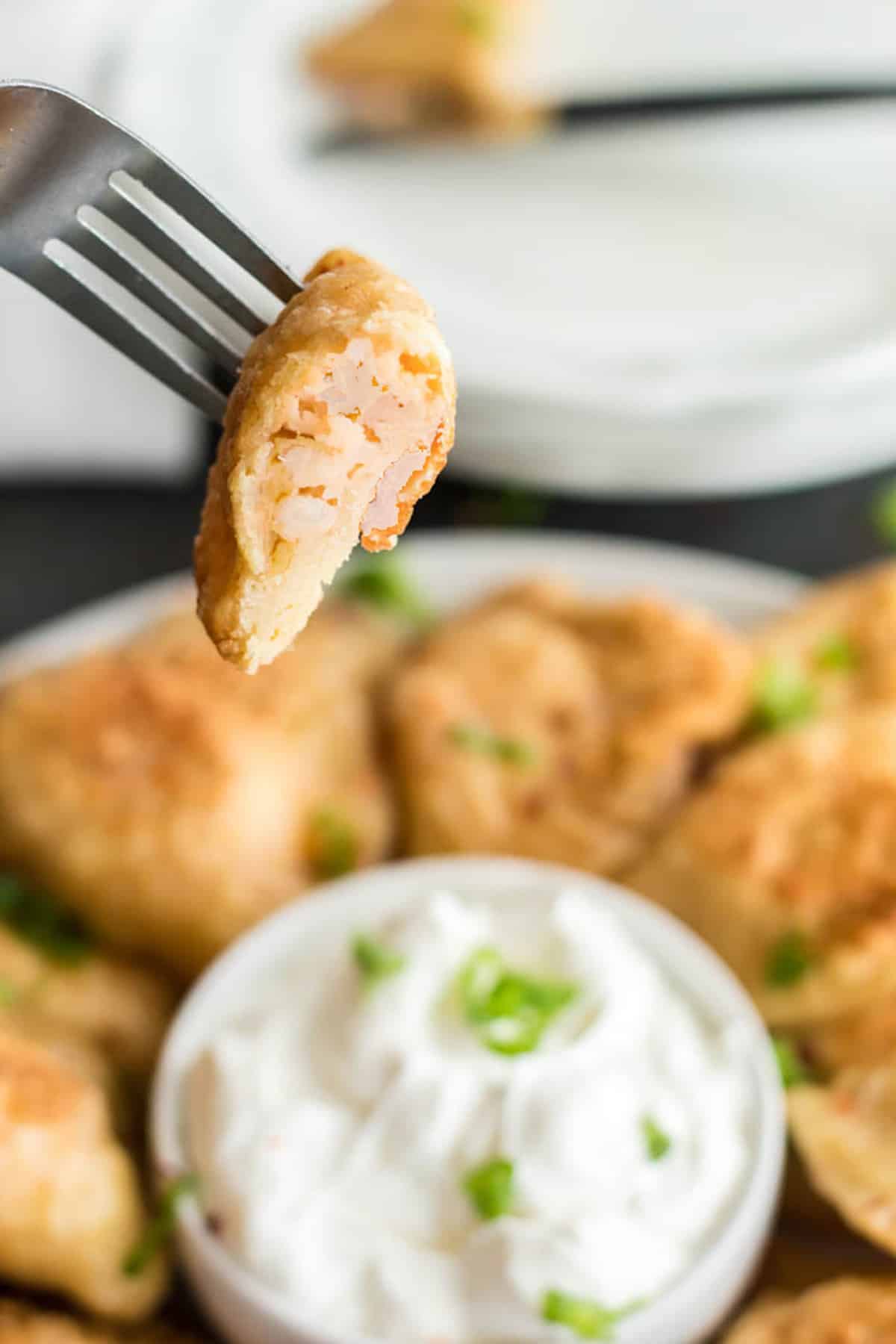 How to Make Pierogi
This is my family recipe for homemade pierogi. It is how my mom always makes these and how her mom taught her to make them. My mom often stuffed them with a potato and cheese filling while growing up.
However, there are plenty of Polish pierogi recipes. They can also be stuffed with sauerkraut or cabbage, a mixture of roasted meats, or even be turned into a sweet treat by filling them with a plum or prune mixture.
If you were to ask any of my siblings, I am certain that their favorite Polish dumplings, as well as mine, would be the potato and cheese filling.
As I started to make these homemade pierogi for my family, I played around with the filling recipe. Then one day, I took a cue from one of my favorite side dishes, a twice-baked potato.
Thus, I began to add bacon, sauteed onions, and sour cream to the potato mixture. For those of you that decide to make this for Lent, omit the bacon bits. You will still have a wonderfully delicious batch of Polish dumplings.
Let me tell you, once you fill the pierogi dough with this flavorful mixture, and then fry them up and add a dollop of sour cream, you are in heaven.
Filling for Homemade Pierogi

Potatoes

Cheddar Cheese

Onion

Sour Cream

Cream Cheese

Bacon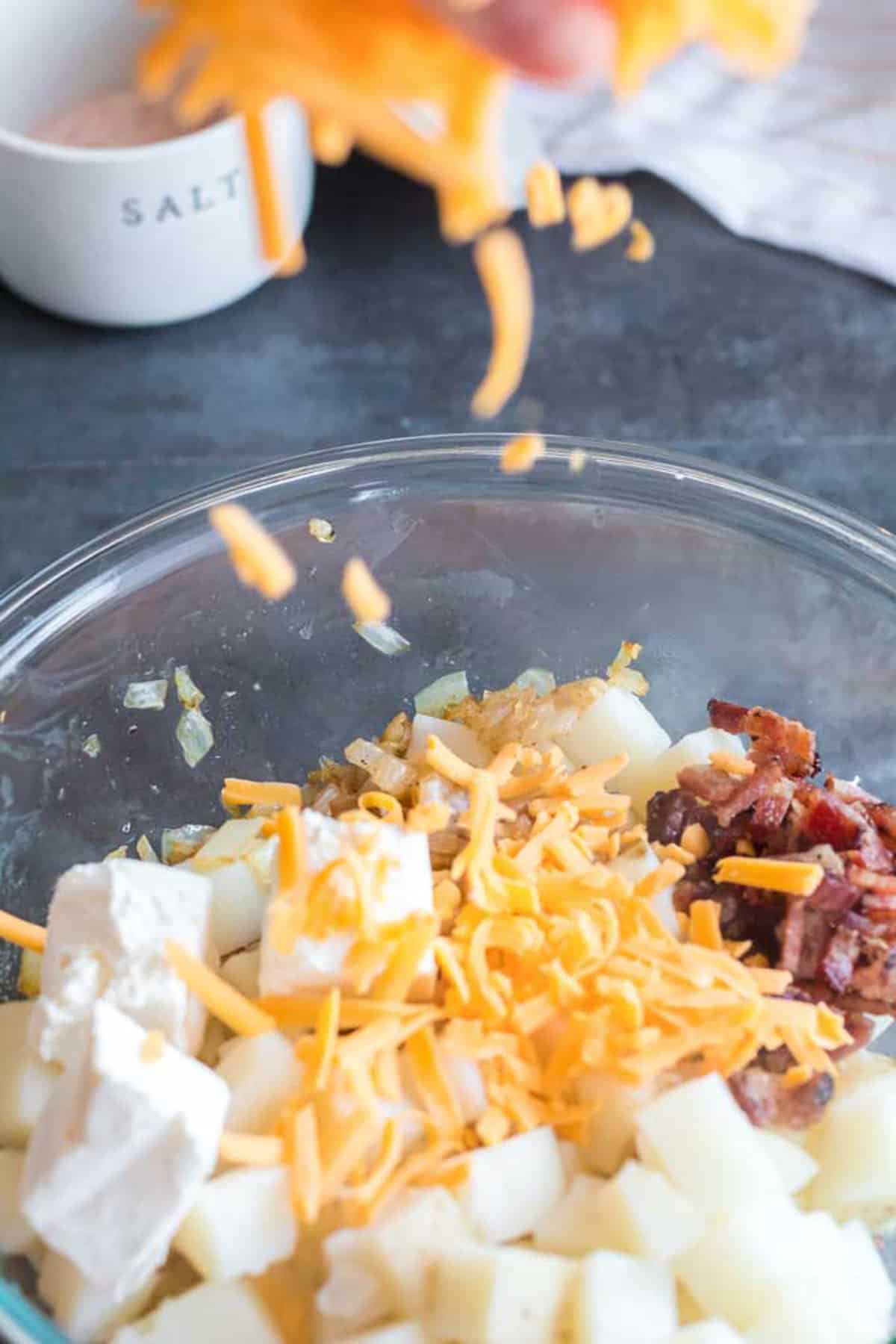 I'm hoping this savory list of ingredients has caught your attention. Now, let's get started making these pierogi! (The full recipe, including ingredients and amounts, is found at the end of his post.)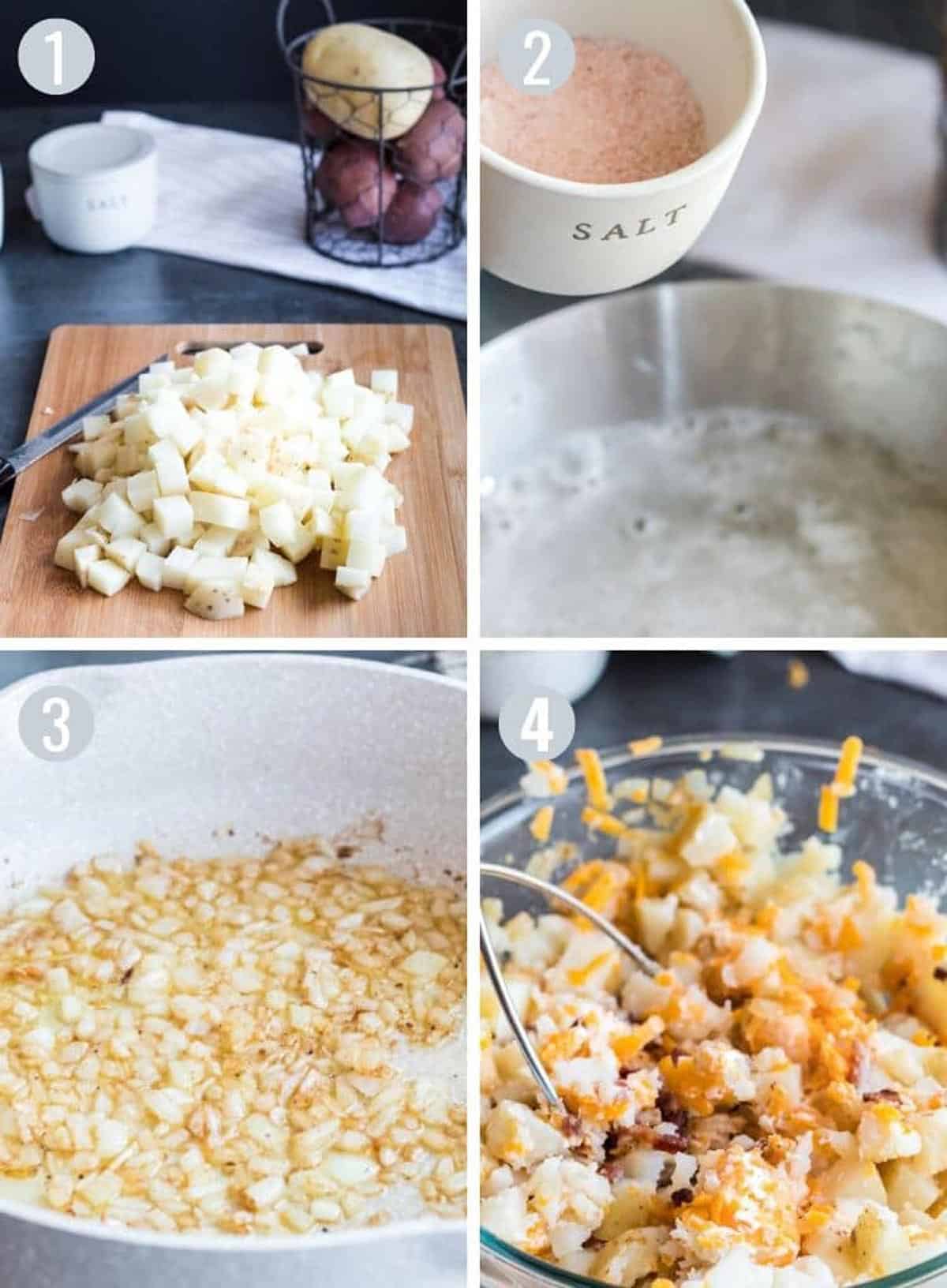 1. Start by peeling and dicing some potatoes. We prefer russet potatoes as their starchy composition gives you a light and fluffy yield.
Can I use leftover Mashed Potatoes?

You can use leftover potatoes but do not add butter to them.
You don't want to use overly creamy mashed potatoes because they will cause the filling to break apart while cooking.
Do not use instant mashed potatoes for this recipe!
2. Fill a stockpot with saltwater and boil the potatoes until they are fork-tender.
3. While the potatoes are cooking, you can saute the onions. Reserve a little of the bacon grease to use for extra flavor. You'll want to sautee them slow and low until they have a nice brown color from caramelization.
4. Drain the potatoes and place them in a large bowl. Use a potato masher or fork to incorporate the rest of the filling ingredients. Allow the mixture of filling to cool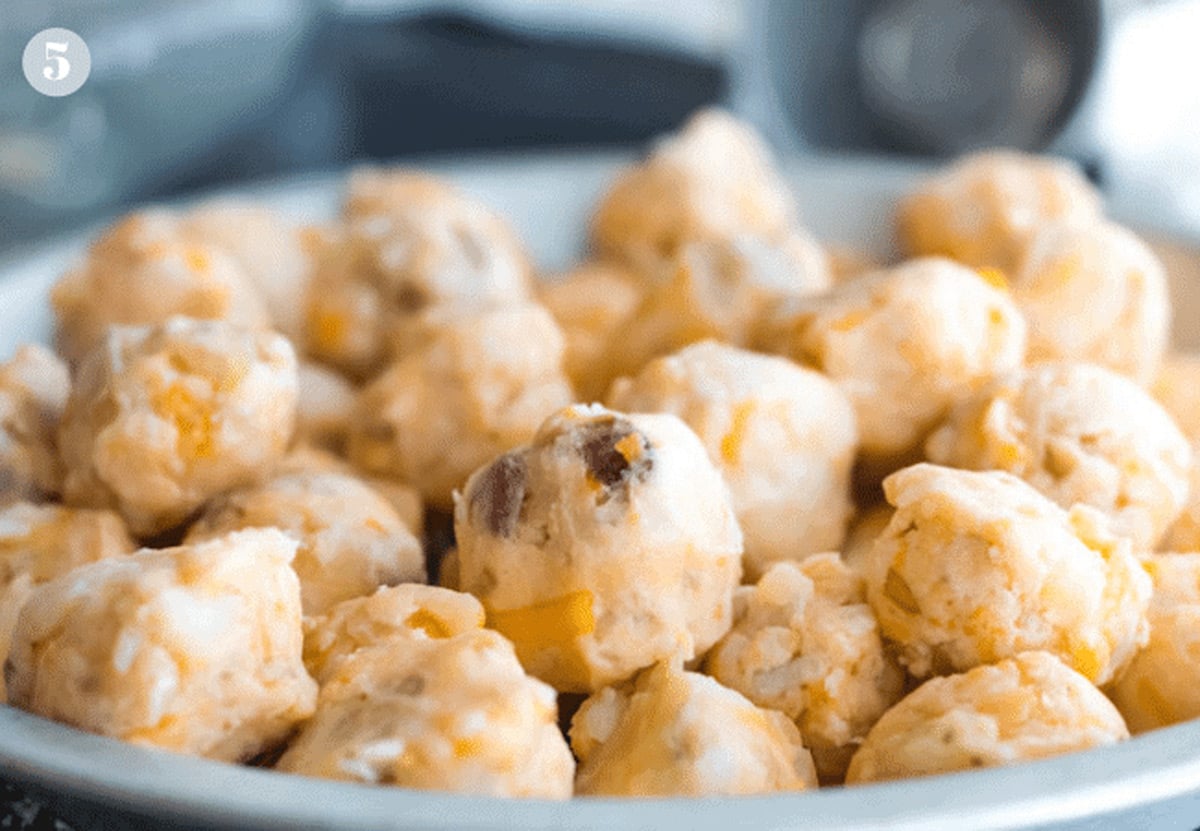 5. When the dumpling filling mixture has cooled, you can roll it up into little balls, 1/2 to 2 inches in size. While you are waiting for the filling mixture to cool, you can start making the dumpling dough.
Ingredients for Pierogi Dumpling Dough



All purpose Flour

Eggs

Sour Cream

Salt

Milk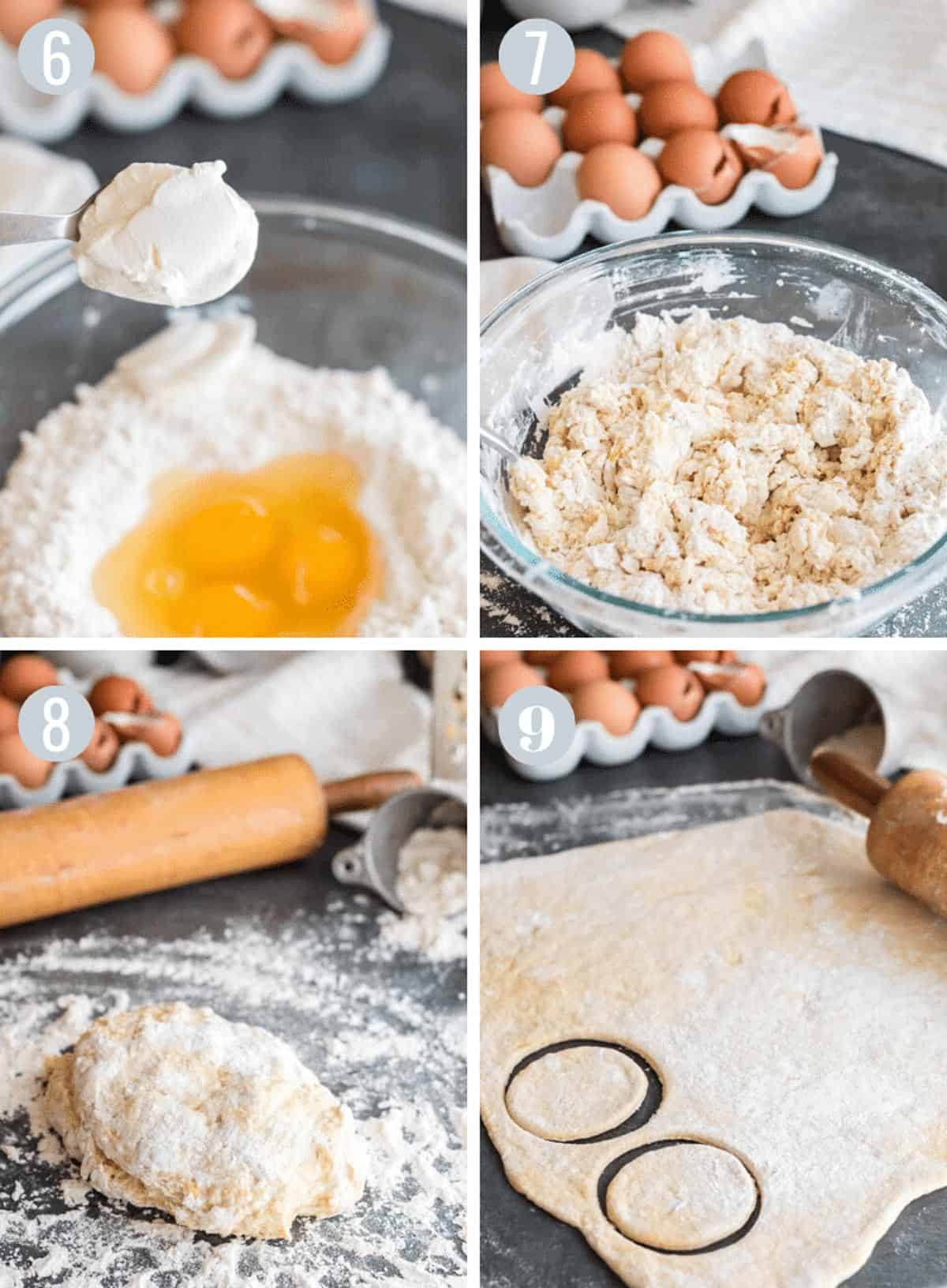 6. Combine all of the dough ingredients into a large mixing bowl.
7. Mix the ingredients together, starting with a fork and eventually using your hands. The dough should come together and it should be stretchy. Add small amounts of milk or sour cream to get the right consistency.
8. Place the dough on a lightly floured surface and knead it until it all comes together.
9. Use a rolling pin to roll the dough out to about 1/8″ thickness.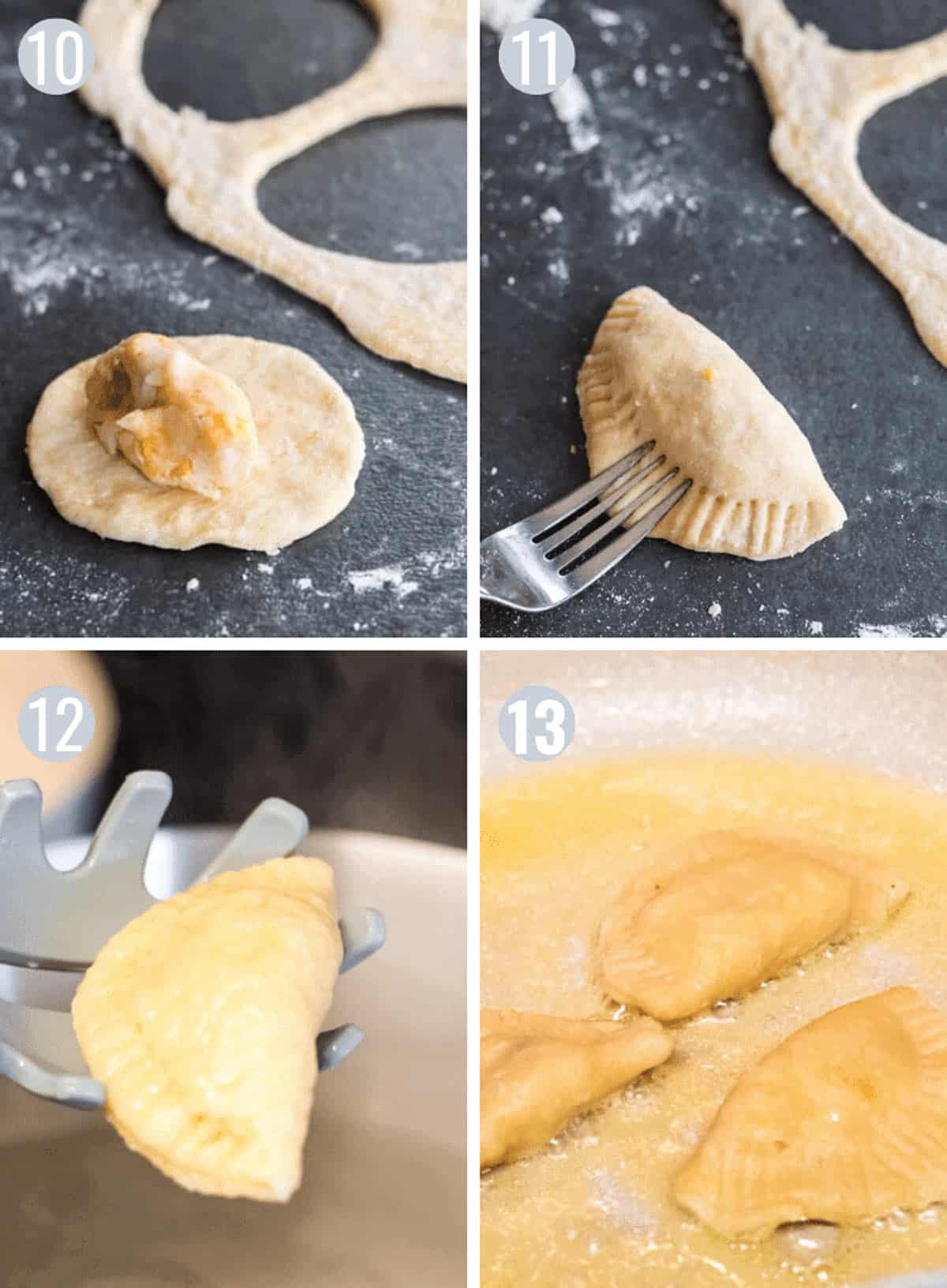 The next step is fun!!
10. Use a large-rimmed drinking glass (about 4 inches in diameter) to cut the dumpling dough. Place a ball of filling in the centre of each circle and fold it over.
11. Seal each pierogi tightly with wet fingertips and crimp the edges with a fork.
12. Boil the pierogi in a stockpot of salted water. They are finished cooking when they rise to the top.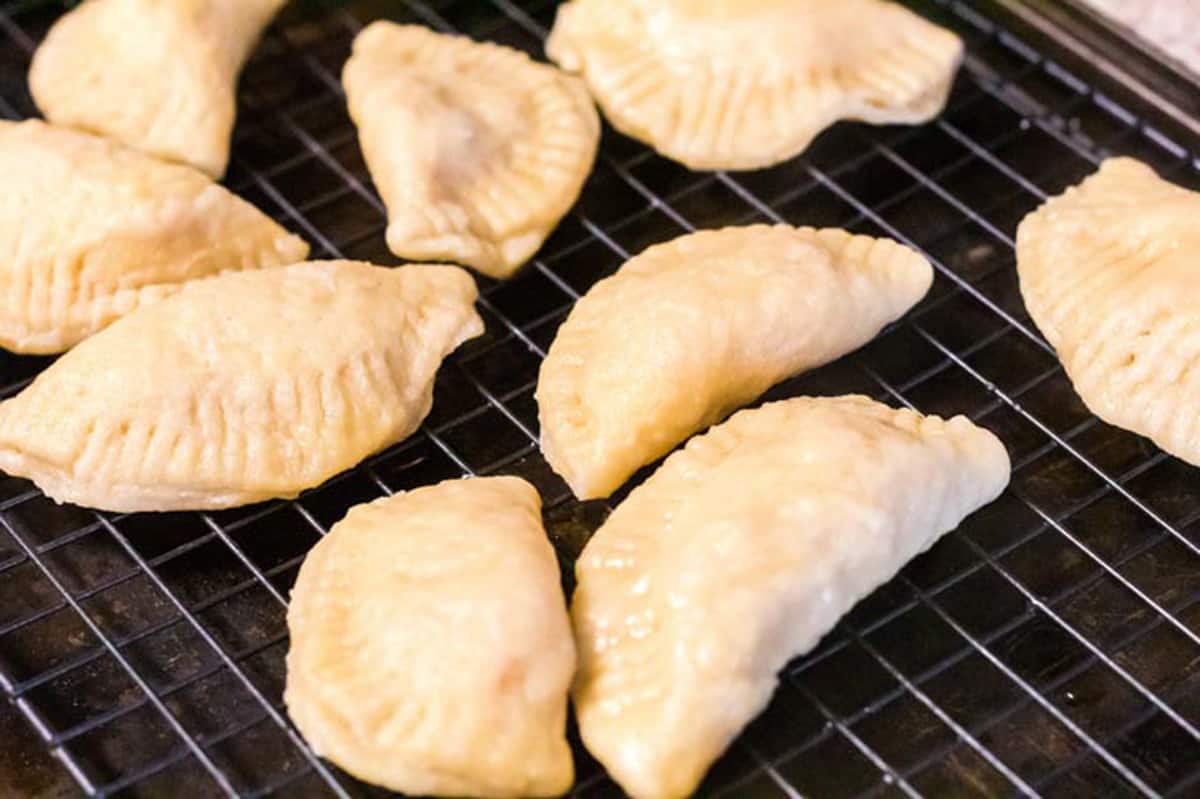 13. Lightly sautee each portion in a frying pan with hot melted butter.
Peirogi make a great side dish or even a main dish on their own. When you make these, I would suggest making a large batch.
These Polish dumplings freeze well for a future meal. That said, I can almost guarantee that they probably won't last that long.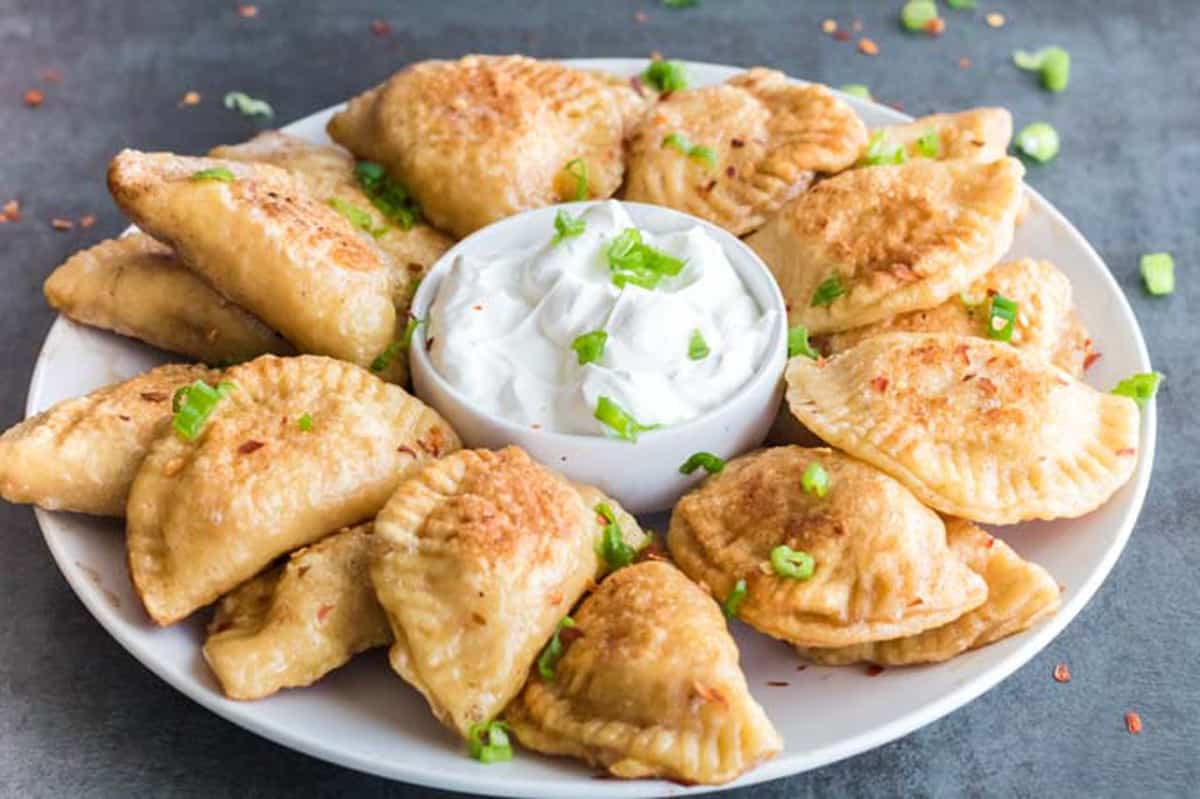 When I make them, the kids go wild. It is not uncommon for each boy to eat 3…4…5 pierogi. I think the record is 10, held by our son Isaiah.
Please give these Polish dumplings a try. Your family will thank you!
Common questions
Can I use Leftover Mashed Potatoes to make Polish dumplings?
Yes. Chunkier leftover potatoes are the best type for pierogi. If they are too smooth and creamy, the pierogi will fall apart.

If using leftover mashed potatoes to make pierogi, do not add butter to the filling.
Be sure that your leftover mashed potatoes are refrigerated before reusing them.
How do you freeze pierogi?
After they are filled, pre-freeze the uncooked dumplings on a flour-dusted baking sheet covered in plastic wrap.

Once they are frozen, you can transfer them to a zip lock bag for longer storage.

Top Tip for Freezing these Polish Dumplings: Freezing them in a single layer will help keep them from sticking together!
What can I use for pierogi filling?
You can fill pierogi with savory meats like bacon, sausage, and chunks of ham. Cheeses make a great filing as well. We prefer cheddar but use whatever cheese tastes good to you.

Make a dessert pierogi by adding sweet fruit and berries such as blueberry, cherry, or plum filling.
What to serve with Polish dumplings
Polish dumplings are always served around Easter in our family.This is usually a savory comfort food (depending on the filling.)
Therefore, savory side dishes with the pierogi as a main course will taste great. Some of our favorite things to serve with Polish dumplings include: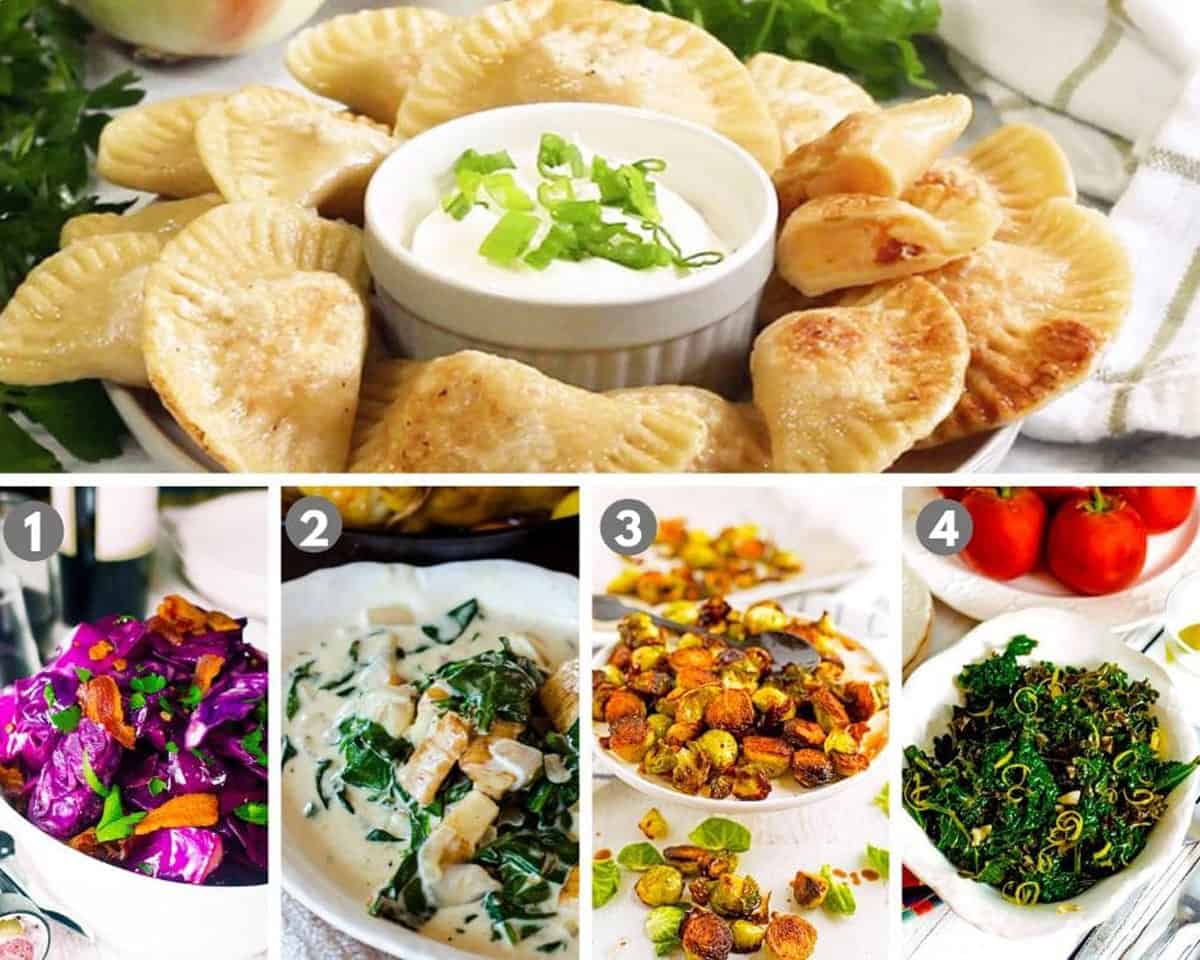 ---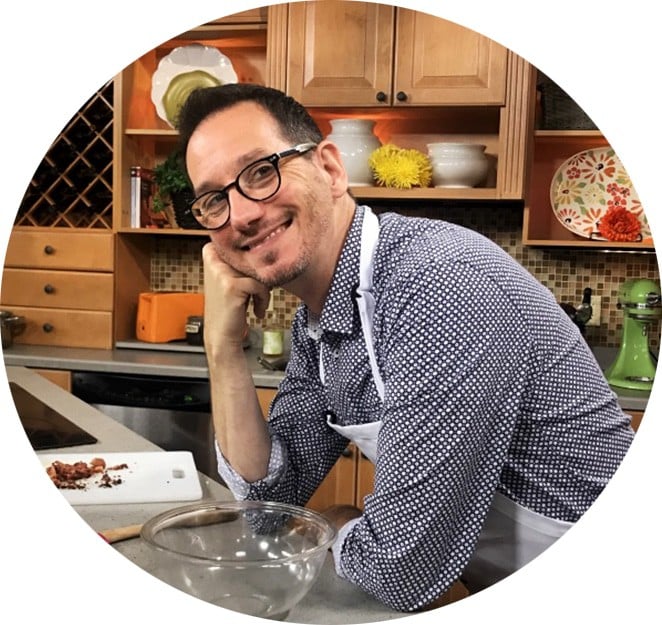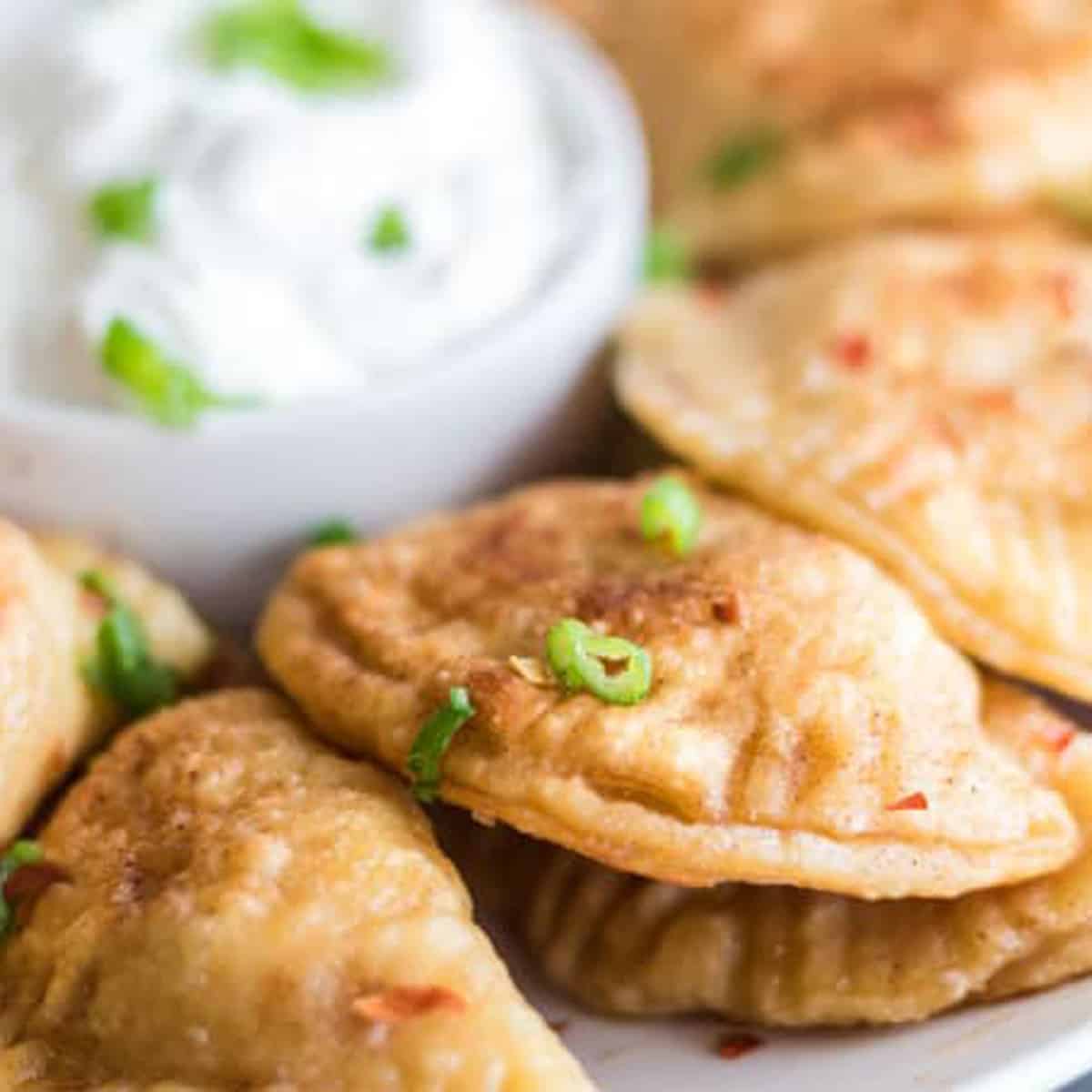 Recipe Recap
Make a filling using a mixture of mashed potatoes and cheese.
Make the dough, using flour, egg, salt, and some sour cream.
Roll the pierogi dough out and fill and seal each portion with the filling.
Boil each dumpling in some salted water.
Drain the batch when they are completely cooked.
Use a pan to brown the finished pierogi and serve with sour cream.
---
Scott Shows You How to Make Polish Dumplings in More Detail
These are just some of the Polish recipes that my mom and my grandmother would make all the time when I was a kid. I hope you'll give them a try as well!
👨‍🍳 Tried this Recipe? Please leave a ⭐⭐⭐⭐⭐ rating in the recipe card below and leave a comment. We love hearing from our readers!
⏩ Stay in touch with us on social media by following us on Facebook, Pinterest, Instagram, and YouTube!
📬Get our Recipes delivered to your inbox for FREE!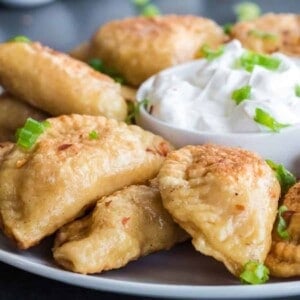 Homemade Polish Dumplings (Pierogi)
These Polish dumplings are an authentic Polish recipe that you can make in your kitchen at home!

Ingredients
for the Filling
2

pounds

potatoes

8

oz

mild Cheddar cheese grated

6

slices

bacon

,

coarsely chopped, fried, and drained.

1/2

onion chopped and sauteed

1/2

stick butter

2-3

Tbs

sour cream

2-3

Tbs

cream cheese

Tbs

salt for pot of water for the potatoes
Instructions
Peel and dice potatoes, fill a stock pot with water and add potatoes and salt to the water. Boil the potatoes until they are fully cooked, or you can easily puncture them with a fork with no resistance

While the potatoes are cooking, saute the onions in a fry pan using a little butter and some of the drippings from the bacon. You want the onions to brown and caramelized.

Drain water from the cooked potatoes and use a potato masher to mash them. Add the cheddar cheese, cream cheese. Then, mix together until the cheese is fully melted and set aside until cooled. Once cooled, form the cheese and potato mixture into 1/2 to 2 inch balls.

While the potato mixture is cooling begin to make the dough. In a mixing bowl, add the flour, eggs, salt, and sour cream. Using a fork, stir the ingredients together. You will want to use your hands at some point to fully incorporate the ingredients.

The dough should start to come together. If it does not, add a little more sour cream or a little milk. Once it begins to come together, place on a floured surface and kneed the dough until it comes completely together.

Wrap the dough in some plastic wrap and place in the refrigerator and allow to rest for at least 30 minutes to an hour.

Next, take the dough out of the refrigerator and roll out on a floured surface until the dough is approximately 1/8 of an inch. (Don't get too caught up in the thickness. You want it to be workable and not too thin that the dough will puncture when you are filling it.)

FYI: Dough should be somewhat elastic while you are rolling it out. This means that it should spring back as you are rolling it out into a circle.

Use a drinking glass to cut circles out of the dough. Place your filing ball in the center of the dough and Fold the dough over the filling. You will need to stretch the dough over to seal. Using your fingers, pinch the dough closed.

If the dough does not seal, wet your finger and run your finger on the edge of the dough. This should act as a "glue" to seal your dough. You can also use a back of a fork to help seal your edges. This gives the Pierogi a very nice look.

Your finished Pierogi will have a semi-circle appearance. Set aside and continue to make the rest of your Pierogi.

Fill a stock pot with salted water and bring to a boil and then add a few Pierogi at a time. Allow Pierogi to cook in the boiling water until the Pierogi float to the top. This will take a few minutes. Remove from water and place on a cooling rack to drain and cool. Continue this process until done with all Pierogi.

When ready to eat, fry in butter in a pan over medium heat until Pierogi are golden brown on both sides. Serve with sour cream and chopped green onion stems (optional)
Notes
Important Tips for Making the Best Homemade Polish Dumplings

If using leftover mashed potatoes to make pierogi, do not add butter to the filling.
While you are rolling out the pierogi dough, you're looking for a little elasticity in the dough; you want it to spring back a bit while you roll it out.
When you place the filling on the dough to make these Polish dumplings, you are going to have to stretch the top edge of the dough to envelop the pierogi filling.
You may need just a bit of water on your fingertips to help seal each pierogi tightly.
Nutrition
Calories:
470
kcal
,
Carbohydrates:
50
g
,
Protein:
19
g
,
Fat:
20
g
,
Saturated Fat:
10
g
,
Cholesterol:
109
mg
,
Sodium:
629
mg
,
Potassium:
613
mg
,
Fiber:
4
g
,
Sugar:
0
g
,
Vitamin A:
470
IU
,
Vitamin C:
13
mg
,
Calcium:
266
mg
,
Iron:
6.4
mg
Nutrition information is automatically calculated, so should only be used as an approximation.
If you're making these pierogies for Easter, you may want to take a look at our Pizza Rustica (Italian Easter Pie.) It is another classic Easter recipe that is out-of-this-world delicious!
Updated from the original post of March 8, 2015