Roasted Butternut Squash Soup
on Mar 19, 2019, Updated Oct 14, 2020
Roasted Butternut Soup is an easy, healthy recipe with a great tasting flavor, thanks in part, to the miracles of caramelization.
It's equally simple to make, thanks to the availability of pre-peeled and diced butternut squash from your local grocery store. Read on and I'll show you how to make this, it's one of my favorite ways to use butternut squash.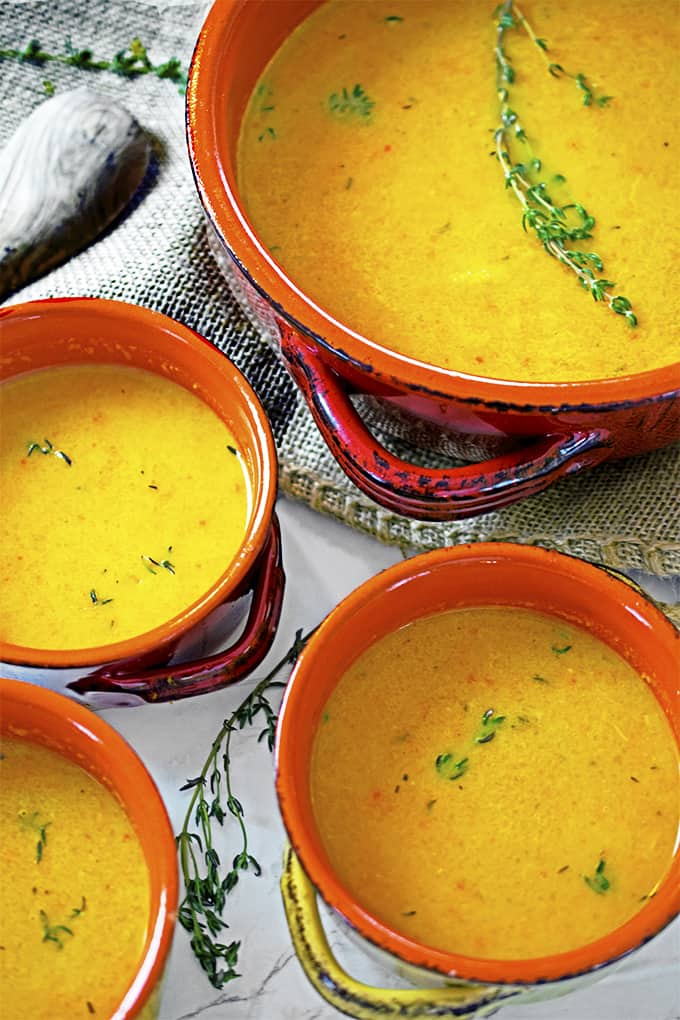 About this recipe
If you've ever wondered how to peel butternut squash, I've found the most convenient method is to stop by your nearest Costco where you can buy a pound or two of it sliced, diced, and ready to go.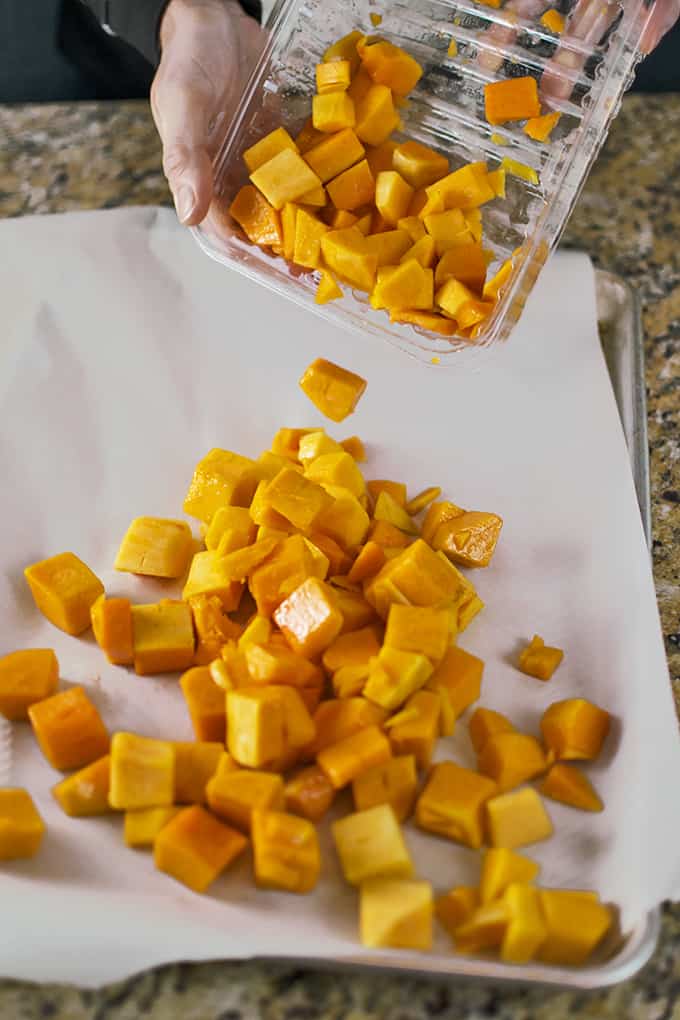 I'm not the neatest guy in the kitchen and lining a baking sheet with parchment paper helps make clean-up easier.
Once you have the butternut squash in a single layer on the baking sheet, use a paper towel to blot it dry. Doing so will enhance the caramelization process.
What is caramelization?
What is caramelization anyhow?
In short, caramelization is the browning process that brings out the sugars and other flavors in foods that are roasted or browned using some other method such as searing.
Always remove excess water by the method shown above, before roasting or searing any food.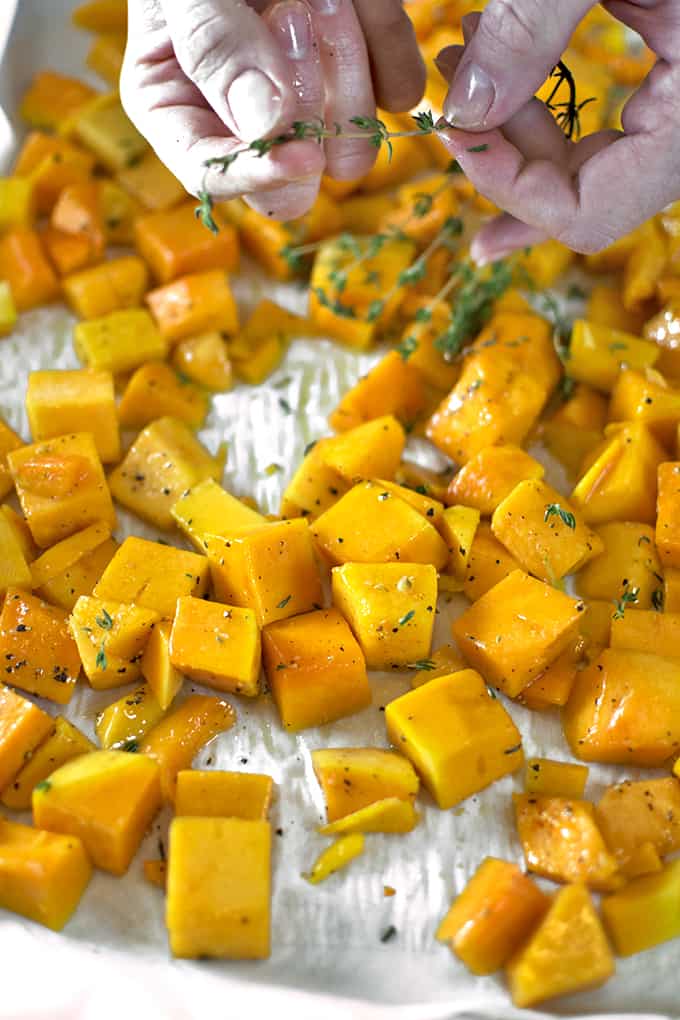 After you have blotted the butternut squash with a paper towel, you're going to get wet again, but this time with some healthy extra virgin olive oil.
Then, you'll toss in a pinch or two of kosher salt, some fresh ground black pepper, and finally some fresh thyme leaves.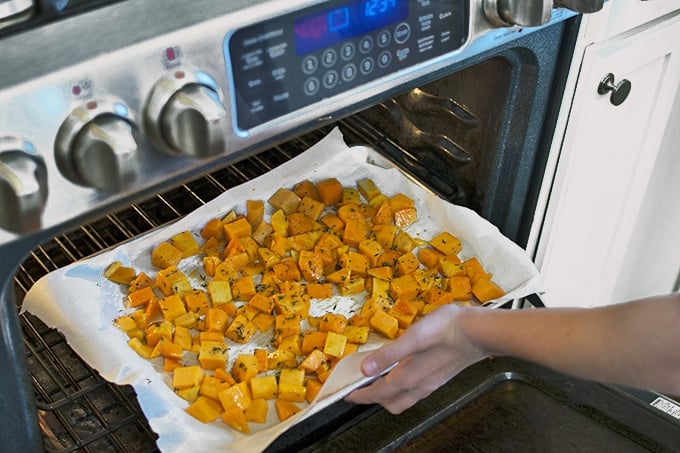 Make the Mirepoix
There's that word again: Mirepoix.
We've made so many mirepoix here on Platter Talk that if we had another kid, we would probably name them Mirepoix.
We use a mirepoix in our:
A mirepoix is simply a flavor base that is made from sauteeing diced vegetables, usually in butter, oil, or some other fat.
What's in a mirepoix

2 parts onion
1 part celery
1 part carrot
When making a mirepoix for the flavor base of your dish, use the classic ingredients listed above.
Or, improvise and make your own mirepoix using other aromatics such as garlic, leeks, and other fresh ingredients like bell peppers and mushrooms.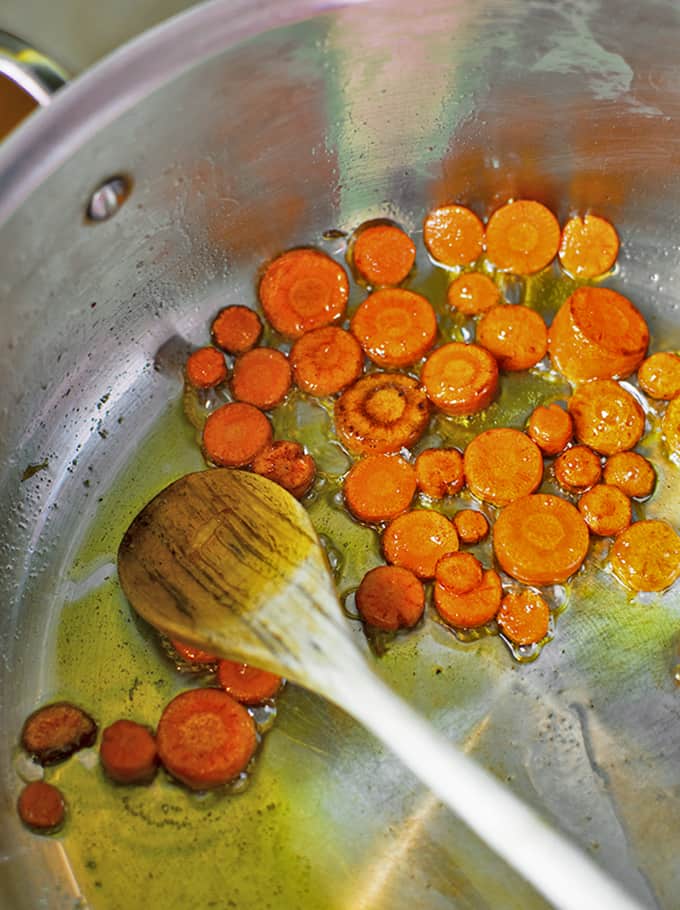 If you want to add some extra flavor and sweetness to your mirepoix, saute the carrots until they are a soft, caramel color.
This will take about 10 minutes over medium-low heat.
Also, I love to use rainbow carrots for extra depth and color!
After the carrots are soft and ever-so-slightly "tanned," I add the other ingredients to my mirepoix.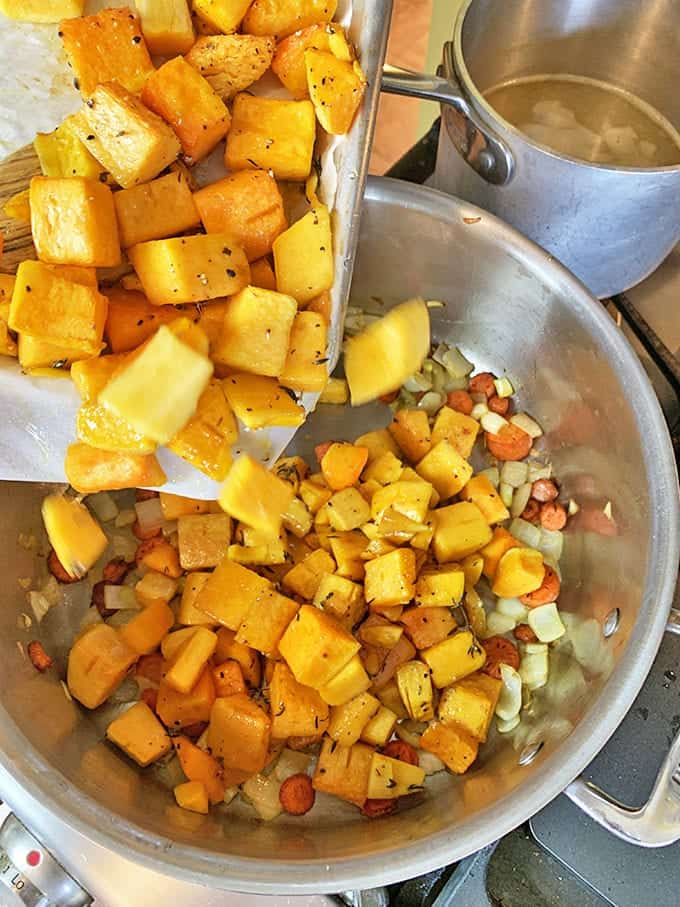 When the butternut squash is soft and starting to get that brown, caramelized color, it's time to add it to the mirepoix. Then add some warm broth.
Right about now is when people from all over our little house will start to drift into the kitchen.
From the playroom in the basement, from the living room, from the bedrooms, from all over, the kids all gravitate to the stovetop and ask, "Dad, what smells so good?"
I admit that's always music to my aging ears.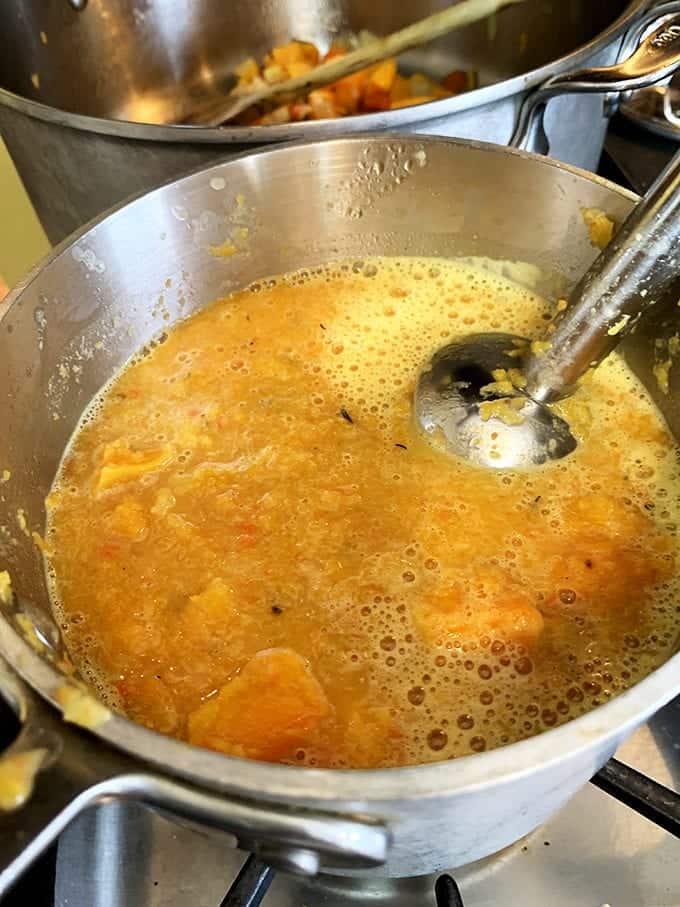 If you have an immersion blender, it's a good way to blend the ingredients to your desired consistency.
If you don't have an immersion blender, carefully transfer the soup to a blender and blend away.
Just be super careful not to burn yourself.
I learned that my kids like a creamy consistency with this butternut squash soup, while I prefer a little more texture.
Make. It. Your. Own.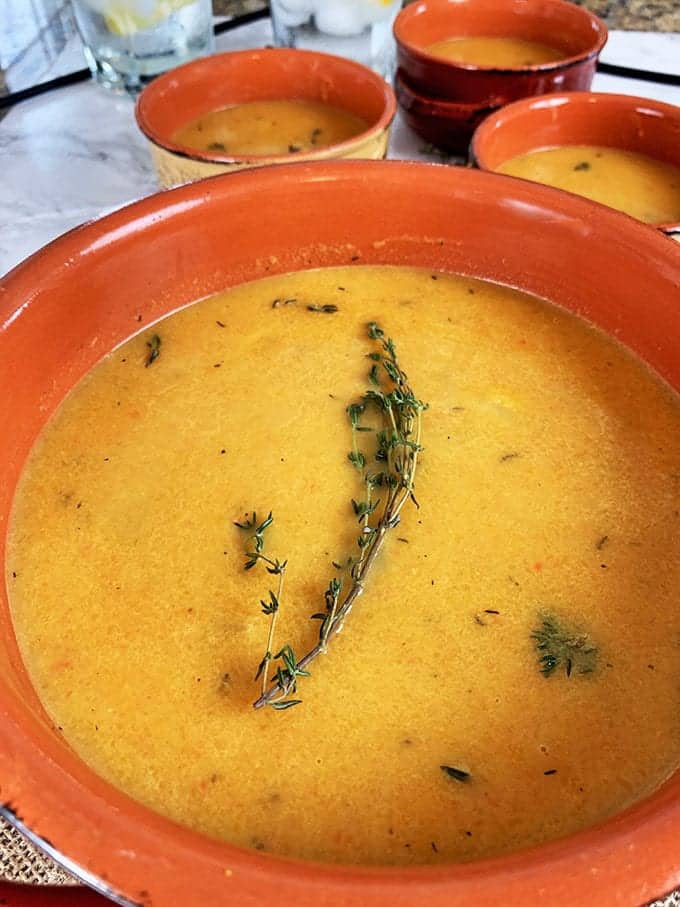 We accent the flavors of this roasted butternut squash soup with fresh thyme.
Other great herb options might include basil, oregano, marjoram, rosemary, or tarragon.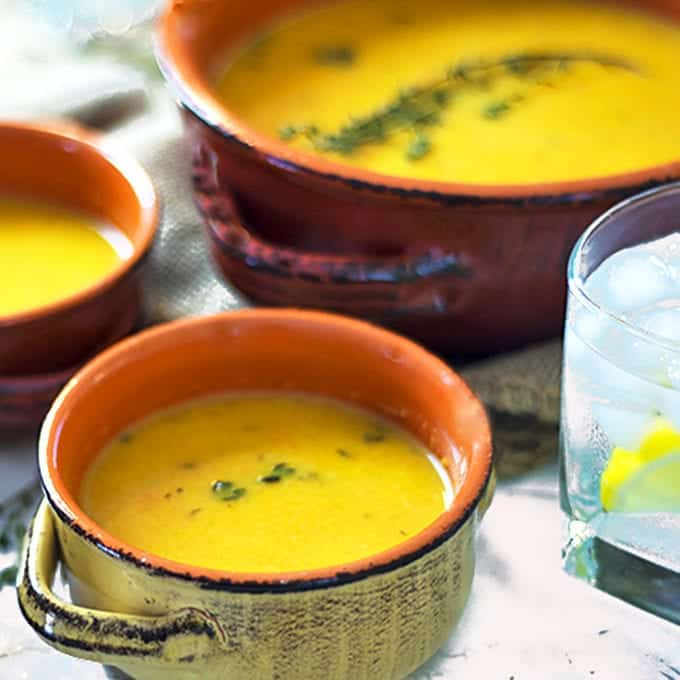 Use what you have on hand to make this healthy soup recipe and remember: Make. It. Your. Own!
Similar recipes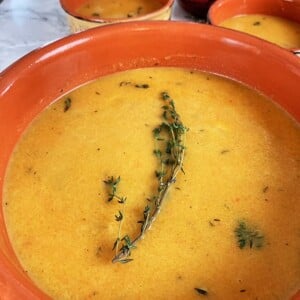 Roasted Butternut Squash Soup Recipe
This Roasted Butternut Squash Soup is easy to make. Try this healthy soup recipe today!

Ingredients
2

lbs

Butternut squash

,

peeled and cubed

3

tbsp

Olive oil

,

divided

Kosher salt

Black pepper

,

fresh ground

1

tbsp

Butter

1

Onion

,

course dice

1

celery stalk

,

thin slice

1

carrot

,

large, chopped

fresh thyme

1.5

quarts

chicken broth

,

low sodium
Instructions
Pre-heat oven to 400° F. Use a paper towel to blot the squash and arrange in single layer on a baking sheet lined with parchment paper.


Toss the squash with 2 tablespoons of olive oil, salt, pepper, and fresh thyme leaves and place in hot oven for 30 minutes or until tender.


While the squash is roasting, saute the mirepoix by heating the remaining olive oil and butter in a soup pot, over medium-low heat. Add a few more thyme leaves and saute for 7 to 10 minutes.


When the squash is finished roasting, add it to the soup pot with the mirepoix and then add the warm chicken broth. Simmer for about 10 minutes and then use an immersion blender to blend to desired consistency.


Season with salt and pepper to desired taste. Serve and garnish with additional fresh thyme.

Notes
For extra flavor, consider adding a little of the following:
Pure maple syrup (maybe a tablespoon or so).
A dash of nutmeg.
A dash of ground cloves.
A dash of allspice.
A dash of cinnamon.
Nutrition
Calories:
170
kcal
,
Carbohydrates:
21
g
,
Protein:
2
g
,
Fat:
9
g
,
Saturated Fat:
2
g
,
Cholesterol:
5
mg
,
Sodium:
897
mg
,
Potassium:
780
mg
,
Fiber:
3
g
,
Sugar:
4
g
,
Vitamin A:
17830
IU
,
Vitamin C:
50.2
mg
,
Calcium:
94
mg
,
Iron:
1.6
mg
Nutrition information is automatically calculated, so should only be used as an approximation.