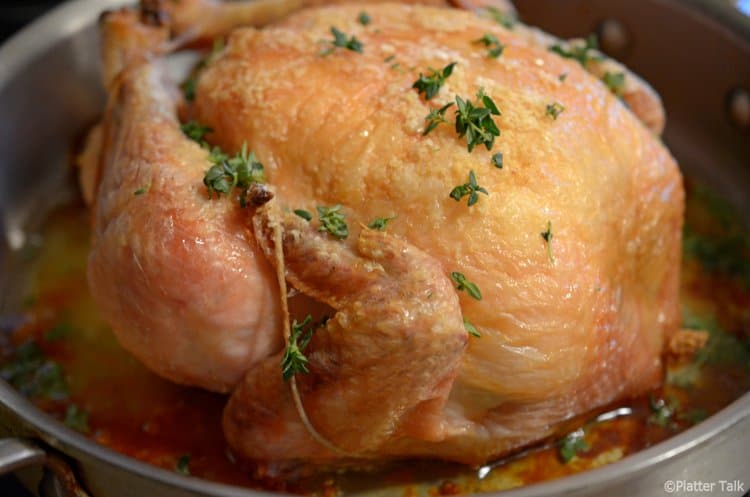 This post is dedicated to the memory of my dad, Lloyd D. Zehr, who taught me the importance of being responsible, how to relax and enjoy life, and how to appreciate good chicken.
Those of you who are familiar with Platter Talk may be of the opinion that we feature some pretty fancy foods.  Those of you who know me personally know that there is nothing fancy about me.  Even a bald, overweight man in his early 50's can dress up nicely every now and then.   Thus, it is the same with food.  I like it simple and I like it tasty; qualities I try to emulate within myself.
Every time I cook, I like to learn something new.  With this simple chicken recipe, I learned how to truss the bird which is quite simple and as I read and subsequently learned for myself, important for creating an evenly roasted chicken that is juicy throughout and easy on the eyes.  The video below offers an excellent demonstration in trussing a chicken.

As I'm writing this post, there is a background chorus of crackling coming from our kitchen oven.    In this very hot oven, I have a chicken roasting nicely in one of our  oven-safe  all-clad pans with which I have come to have a very close relationship.  You see, after this very simply prepared chicken is finished roasting, we are going to allow it to set in this versatile pan, and then baste it in the juices that settle.  If I want, I may just serve the bird within this favorite cooking vessel of mine.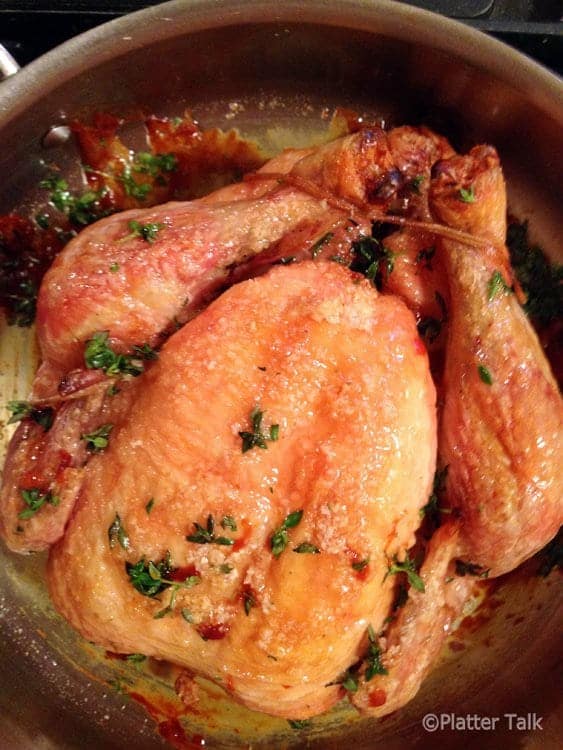 In the end, whether I served this in the pan in which it roasted or on a pretty white platter, it mattered not.  What did matter is this: The chicken was done perfectly.  It was moist throughout, the skin was crispy, the meat was chewy but not tough.  It was the best tasting roasted chicken that I have ever had.
A long time ago, my dad taught me how to distinguish between good tasting chicken, and chicken that was "not so much."  This difference my seem obvious at first but there are nuances among chicken that I grew to appreciate largely because of my father's instruction.  Growing up on the farm, we raised our own poultry.  Many afternoons I spent chatting with my mom while she "dressed" a bird.  It doesn't come any fresher .  Although I no longer have that luxury, my father's point of their being mouthwatering chicken vs. chicken that is inferior in taste became more apparent than ever after leaving the farm.  Tonight's dinner was unequivocally good tasting chicken, it was prepared very well, and my dad would have loved it.  To this day, every time I have good tasting chicken I think of my father and he's been gone for some 15 years already.
To make this dish even better, we took it one step further than the dinner table.  When we were finished enjoying it, what was leftover (there was precious little meat uneaten) went into a stock pot of simmering water, celery, some herbs, carrots, and maybe an onion or two.  We will be enjoying a savory and delicious stock from this meal for some time to come.  It freezes nicely and I'm sure that every time we use some of it I will think of this wonderful dinner, along with one of America's greatest chefs ever.  And of my dad.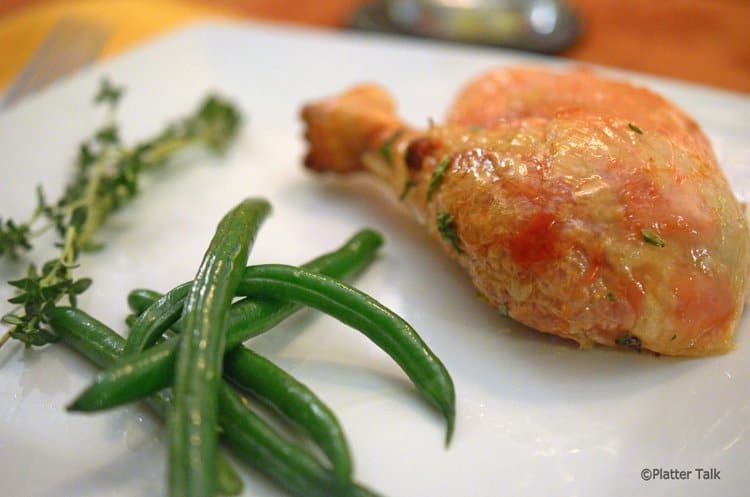 Never Miss Another Platter Talk Recipe
Thomas Keller's Simple Roast Chicken
From Chef Thomas Keller
Author:
Dan from Platter Talk
Ingredients
One 2- to 3-pound farm-raised chicken
Kosher salt and freshly ground black pepper
2 teaspoons minced thyme (optional)
Instructions
Preheat oven to 450 degrees.
Thoroughly wash and then use a paper towel to pat the bird dry.
Salt and pepper the cavity, then truss the bird.
Salt the bird, using about a tablespoon of kosher salt. Make a "rain" of salt over the bird, distributing it evenly and in a uniform fashion.
Pepper to taste.
Put the bird in a sauté pan and place in hot oven for 60 minutes or until done.
Remove from oven, and add the thyme. Let stand for 15 minutes to settle, intermittently baste with the juices while setting.
Remove twine, cut and serve.
Notes
Chef Keller stresses the importance of drying the bird prior to roasting. Any excess moisture contributes to steam which inhibits the formation of a crispy skin.

As Chef Keller points out, you'll start eating this with a fork and knife and finish eating it with your fingers. It's that good.

A 2-3 lb chicken would not go very far in our family. I made a 5½ lb chicken and doubled the roasting time. It came out perfect.