Arugula Pesto Pasta – Easy Summer Recipe
on Jul 16, 2015, Updated Nov 02, 2021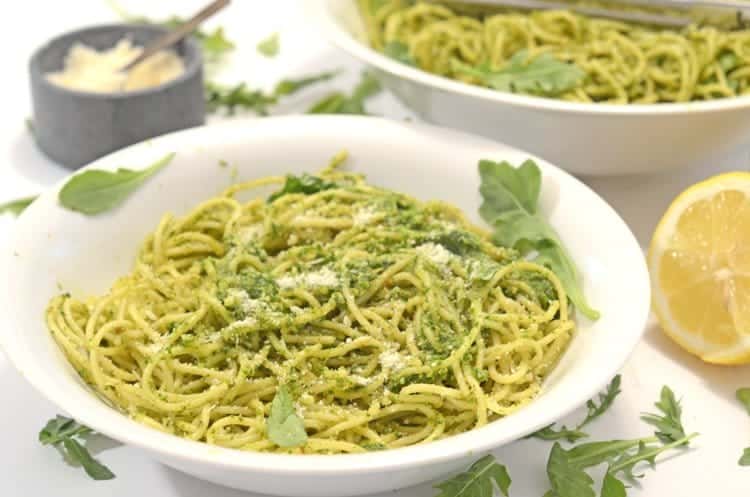 Arugula Pesto Pasta is a dish that's been on my radar for about 2 weeks. We've had a busy summer and although I knew I wanted to make this meatless summer dish, I honestly wasn't sure if I was in the mood for cooking anything this mid-July afternoon. I can't tell you how happy I went ahead with this one nor can I convey to you how wonderful this dish tastes.
About this

Nothing says summer like fresh pesto. Aside from summer, pesto evokes thoughts of basil, pine nuts, olive oil and maybe a little extra salt and pepper. There isn't any basil in this pesto and as much as I love fresh basil, it is not missed at all. The arugula lends its own solid character and creates a new and very enjoyable summer-filled pesto.
This is possibly the best thing I've made all summer. I can't deny that I loved the Balsamic MushroomPizza we threw together a few days ago. Yet this Arugula Pesto Pasta is different.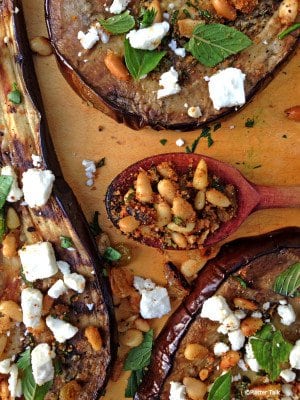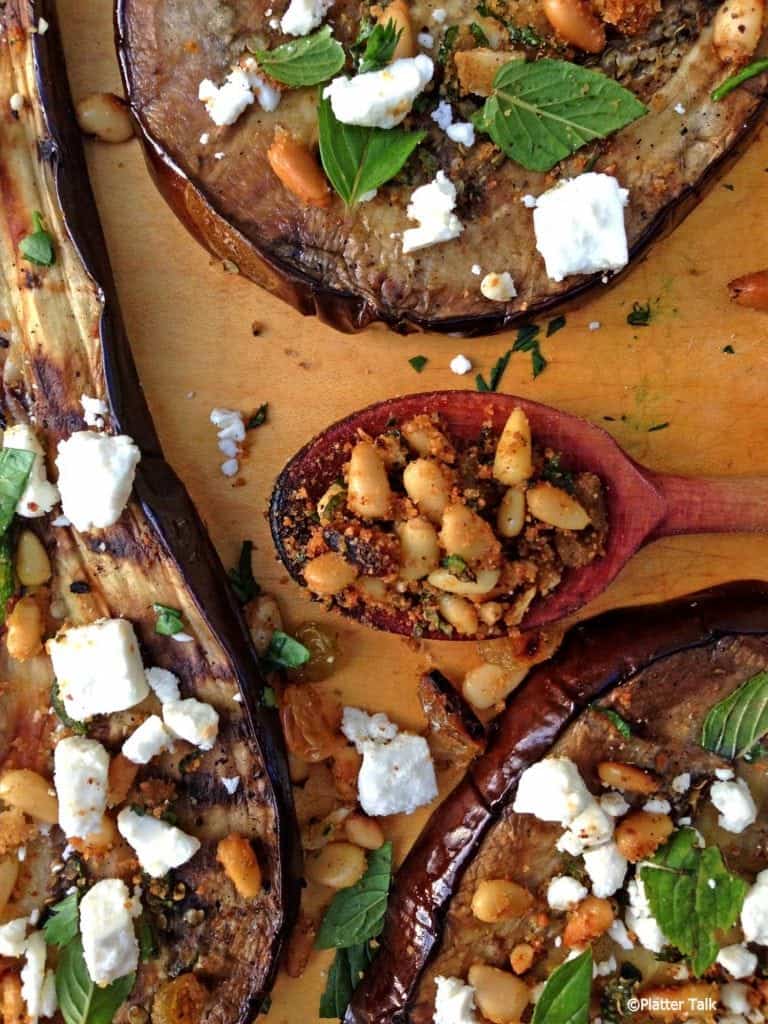 Once in a while, not every day, a new dish will really wow me. It creates an indelible impression on my palate and in my mind. It represents the best of the season and becomes inextricably associated with the time and season that I experienced it. Last summer's most memorable dish for me was our Sweet and Savory Grilled Eggplant. It was a new sensation and it's the dish that I recall from last summer.

I think I just may discovered this summer's honoree in this Arugula Pesto Pasta. Light green in color with a mellow background of nuts and pepper, this dish is a veritable celebration of the summer season.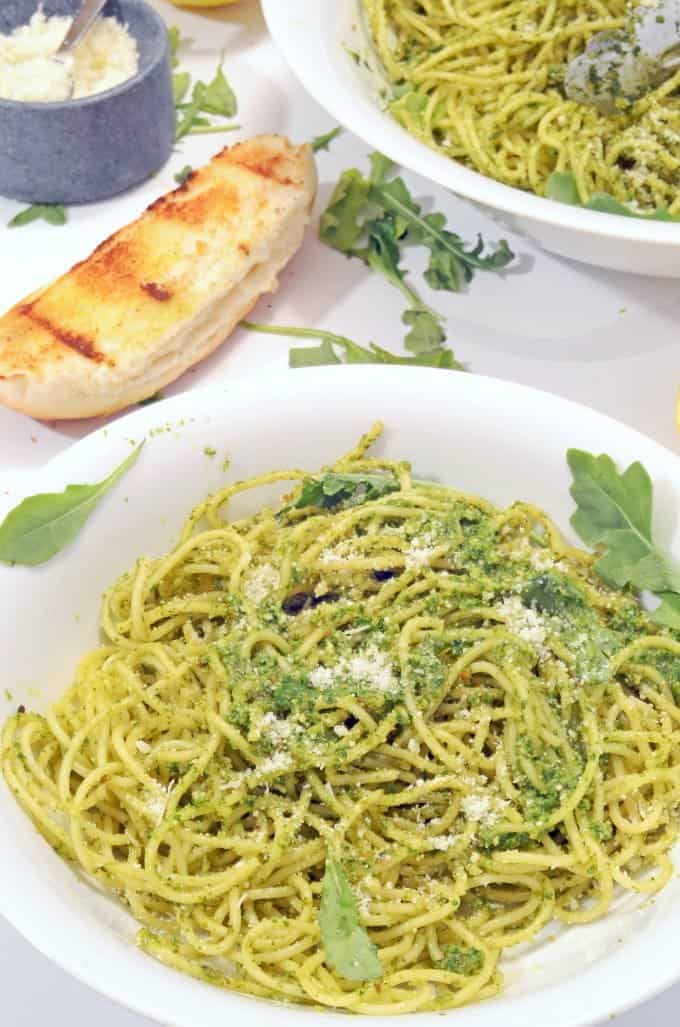 My first forkful of this Arugula Pesto Pasta told me it was a winner. The peppery arugula balances the toasted pine nuts and both play off the Parmesan cheese in a 3-dimentional taste sensation. In the background there are hints of garlic, salt, and everything is held together but a high quality extra-virgin olive oil. As I savored the moment, I could feel each of these components stimulate the different taste buds throughout my palate. Truly, a summer party on my tongue.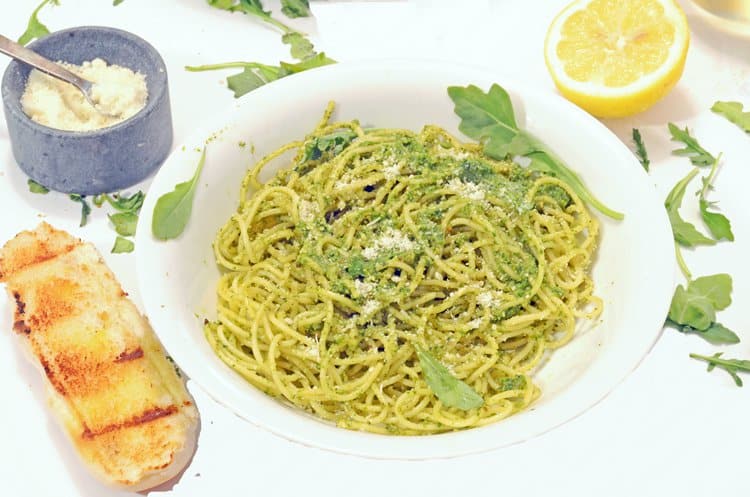 There aren't a lot of ingredients in this Arugula Peso Pasta and there isn't a lot of expense. In fact, this meal can be put together for five or six bucks providing, maximum flavor for minimal effort and minimal expense. As I was having my private moment with this dish, it occurred to me that other than our readers, eateries need to put this on their summer menu now. If you know of restauranteur (or you are one yourself,) urge them to make this an offering, without delay. It's an amazing dish you really need to try for yourself. Happy Summer. -Dan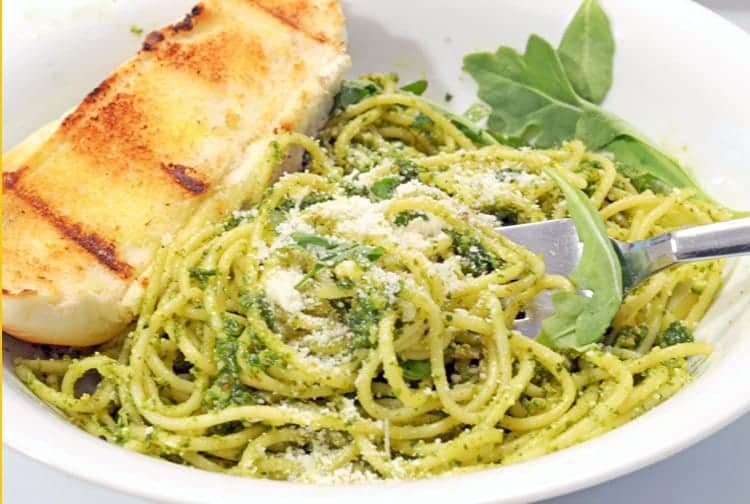 Other delicious pasta recipes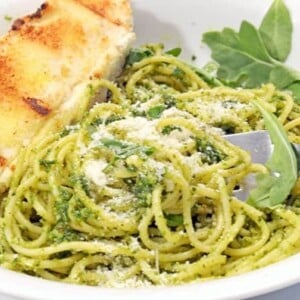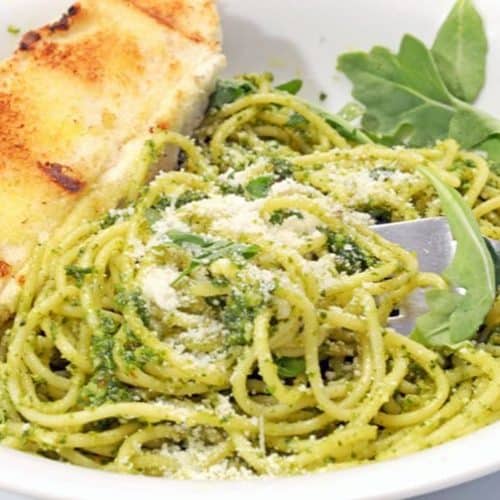 Arugula Pesto Pasta
Adapted from Williams Sonoma
Ingredients
1

lb.

pasta

2

cloves

garlic

1/4

cup

pine nuts

,

toasted

3

cups

packed arugula

3/4

cup

extra-virgin olive oil

juice from 1/2 fresh lemon

Kosher salt and pepper to taste
Instructions
Using food processor, combine garlic and pine nuts and pulse-process until ground.

Add arugula and Parmesan cheese, process while gradually adding olive oil to desired consistency.

Stir in lemon juice and salt and pepper.

Prepare pasta as directed.

Drain pasta, stir in pesto, garnish with additional arugula and Parmesan cheese if desired.
Nutrition
Calories:
421
kcal
,
Carbohydrates:
44
g
,
Protein:
8
g
,
Fat:
24
g
,
Saturated Fat:
3
g
,
Sodium:
42
mg
,
Potassium:
179
mg
,
Fiber:
2
g
,
Sugar:
2
g
,
Vitamin A:
178
IU
,
Vitamin C:
2
mg
,
Calcium:
25
mg
,
Iron:
1
mg
Nutrition information is automatically calculated, so should only be used as an approximation.