Avocado Breakfast Sandwich
on May 16, 2020, Updated Jan 01, 2021
Avocado and egg are two mealtime buddies that always get along well. This delicious breakfast sandwich features those two ingredients, nestled between a toasted English muffin, with a couple of other classic flavor combinations.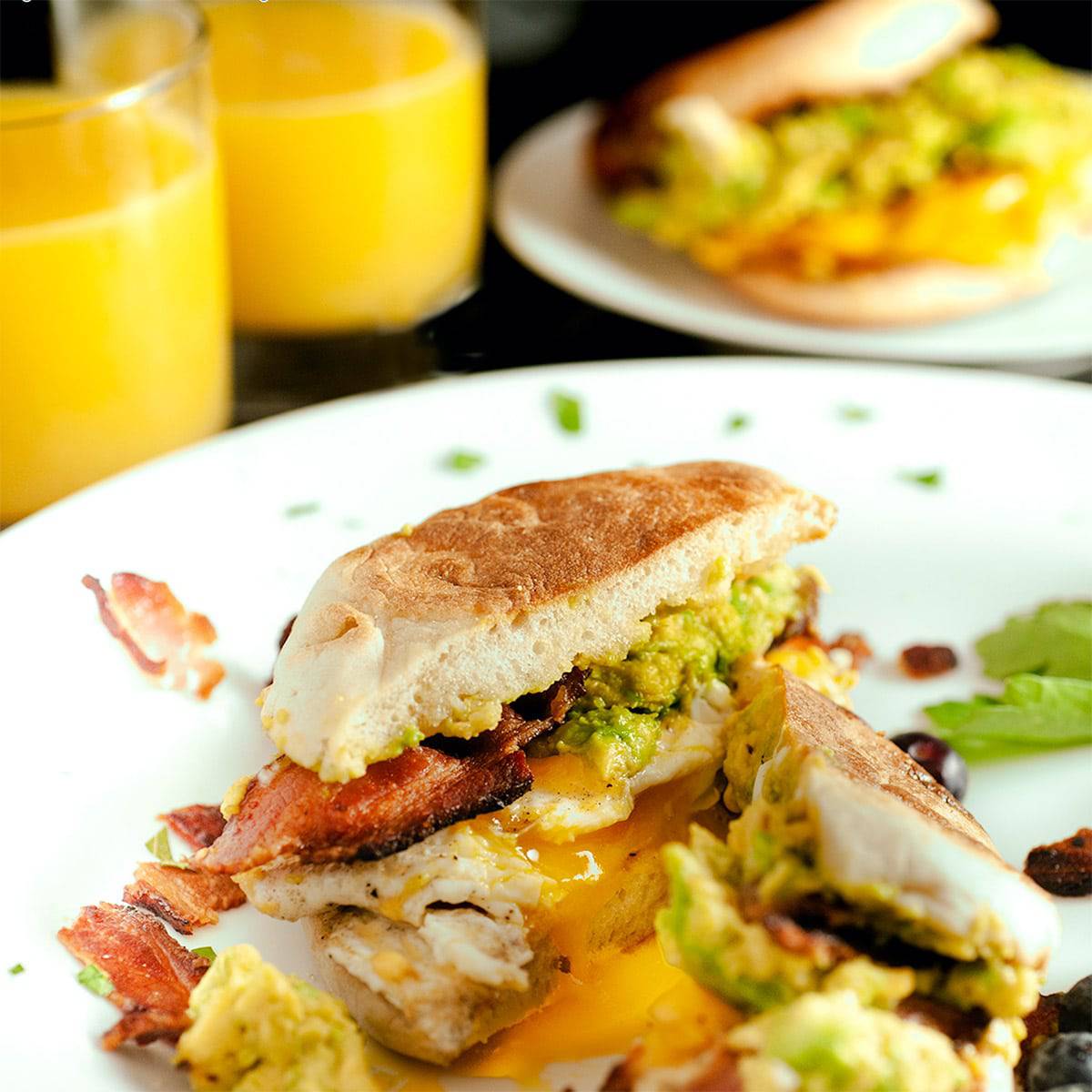 Avocado Breakfast Sandwich
I've been making a lot of breakfast sandwiches lately. Our four teenage boys have been at home almost 24/7 for the last quarter of school and along with their appetites. I've been doing a lot more than helping them with online learning. I have been cooking up a storm! In fact, I don' t think I have ever cooked this much.
Our 16-year-old Isaiah is always the last one up and the first one to put in a breakfast request. Some of the breakfast items I have reintroduced to him are the western egg sandwich, omelettes of all varieties, a breakfast panini, and today's breakfast sandwich.
Avocado Breakfast Sandwich Ingredients
Bacon
Avocado
Cheddar cheese
Egg
Butter
English muffins
How to Make this Avocado and Egg Breakfast for Two
(Full recipe is at the end of this post.)
The first thing you should do is make sure you have the shortlist of ingredients listed above. Once you have the ingredients gathered, have your toaster on alert and grab a small non-stick skillet.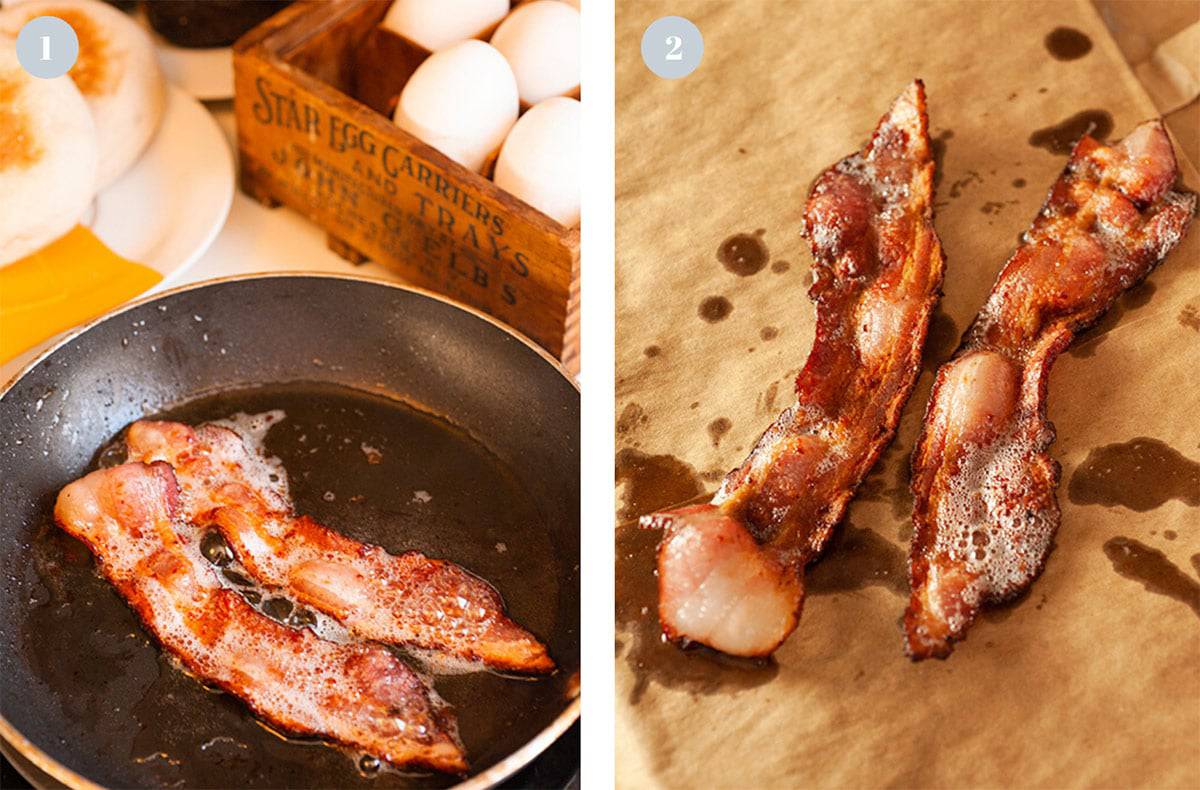 This breakfast sandwich starts with a slice of bacon. If you have a local meat market, buy your bacon there! It will cost you more than the name brand but believe me, the price is so worth it!
1. Over medium-high heat, fry the bacon in a small non-stick skillet. Some of my tips for making bacon:
Go slow when making bacon! Use a medium to medium-high heat, this isn't a race. Savor the aroma!
Turn it frequently to make sure it fries evenly.
2. Use a brown paper bag to drain the bacon and carefully dispose of the bacon grease, reserving a tablespoon or so in the pan.
This will absorb the excess grease nicely and it's a delicious way to make use of your paper bags from the grocery store.
While you are making bacon, you can peel and slice a ripe avocado.
Wondering how to tell when an avocado is ripe?
There are two things to look for, color and softness. An avocado is ripe when:
It feels a tad bit soft and
When the skin turns a dark green.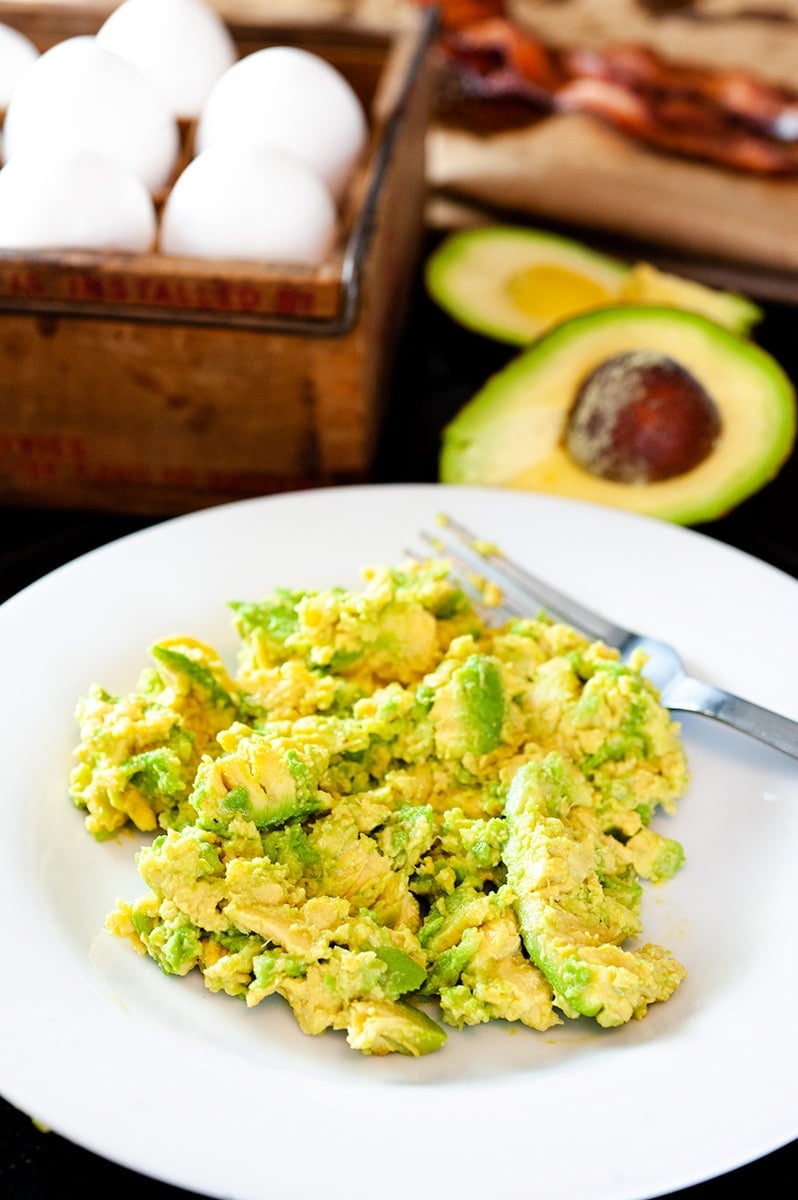 3. Use a table fork to mash the avocado. You don't need to add salt or additional seasoning because of the flavors of the rest of the ingredients.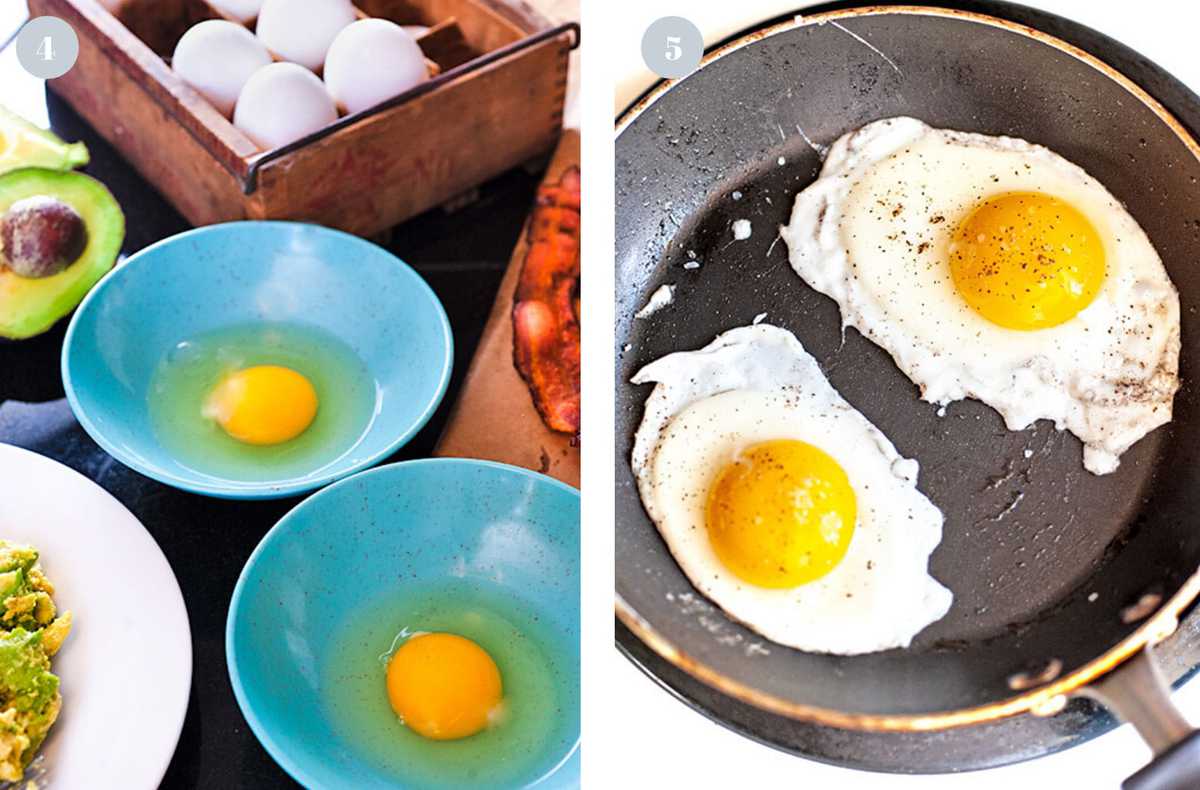 Now it's time to make the eggs for this breakfast sandwich.
4. Over the years I've learned to crack my eggs in a small bowl before using them. This can save you from trashing a whole bowl of ingredient in the event you've got a bad egg or some eggs shell in the mix. I shudder to think of the amount of shell fragments I have consumed throughout the years by not doing this!
5. Fry your eggs to your preference, using the same pan that you used for the bacon. Again, go slow and low with the eggs.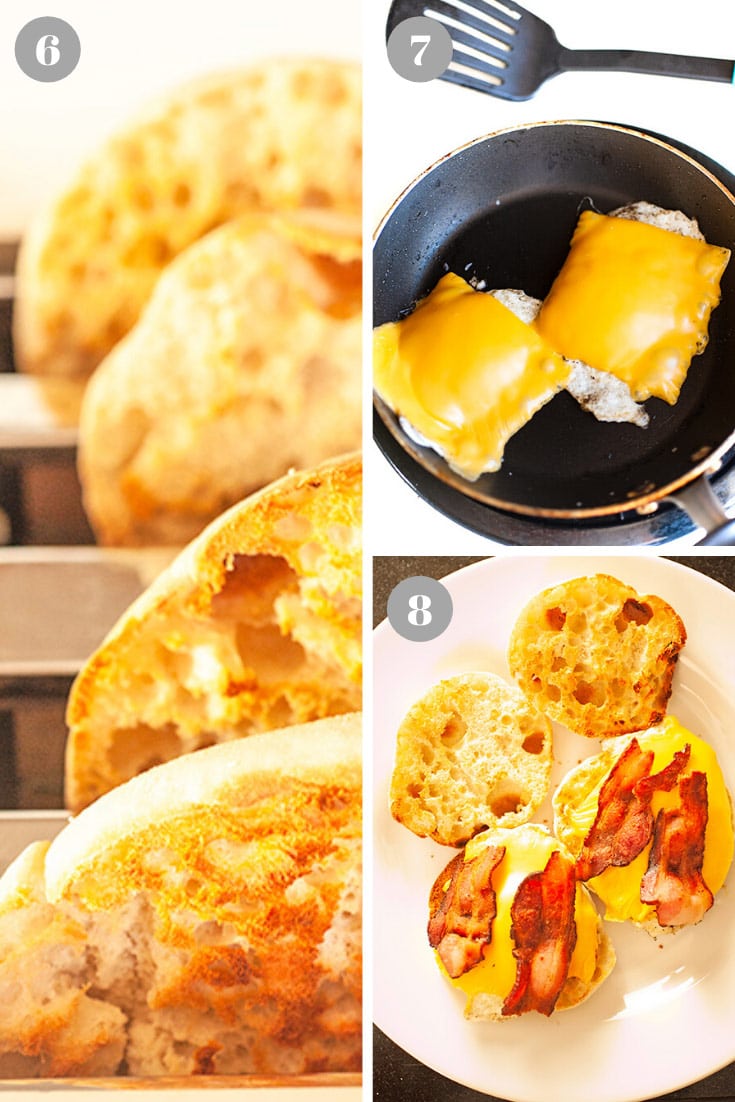 6. Split and toast the English muffins.
7. Slap a slice of cheddar cheese on each egg, after you have flipped them.
8. Split the bacon slices in half. Then top the egg on the muffin and top with it with bacon.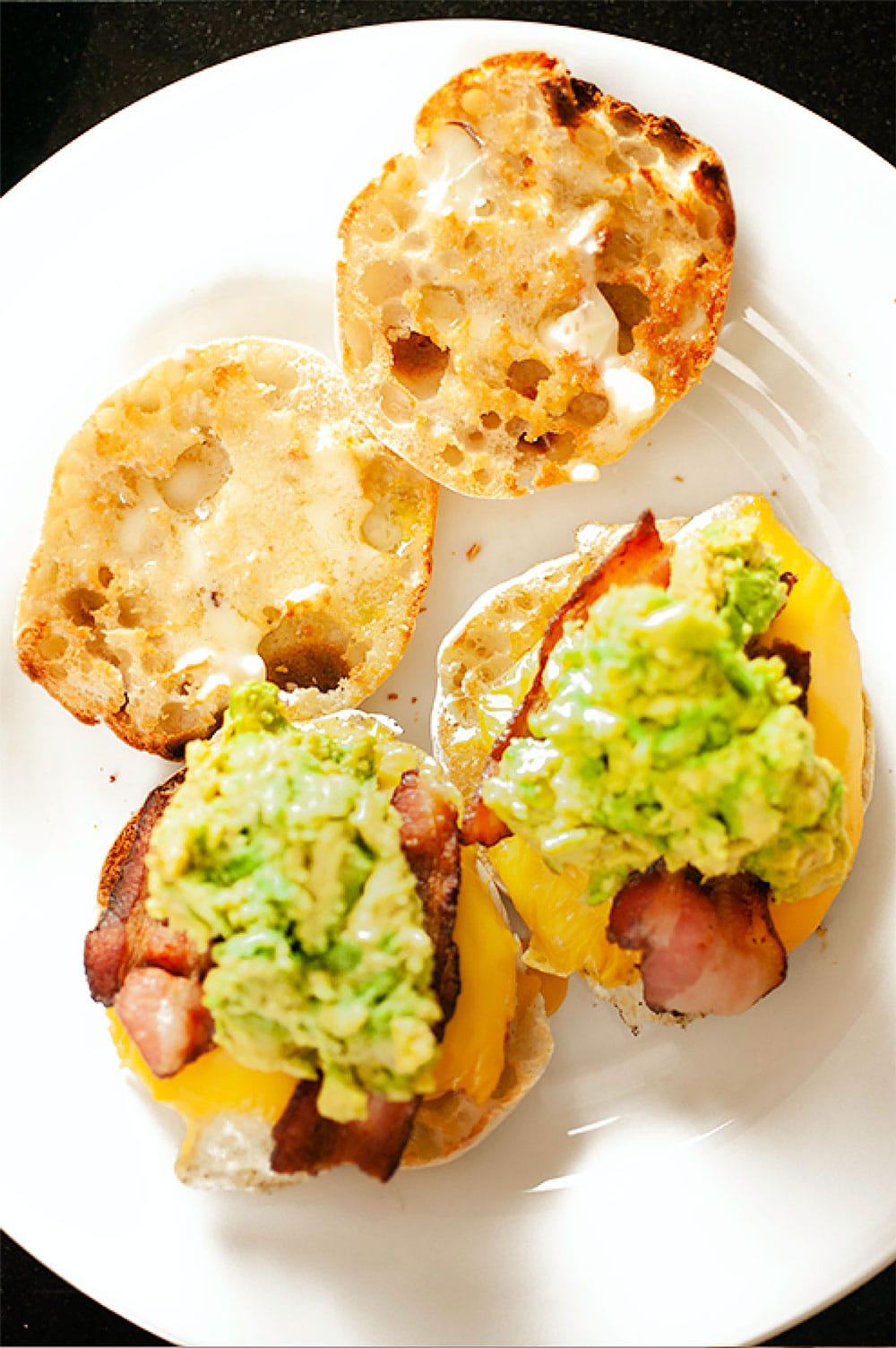 9. Slather some butter on the English muffin top and crown the inside with the smashed-up avocado.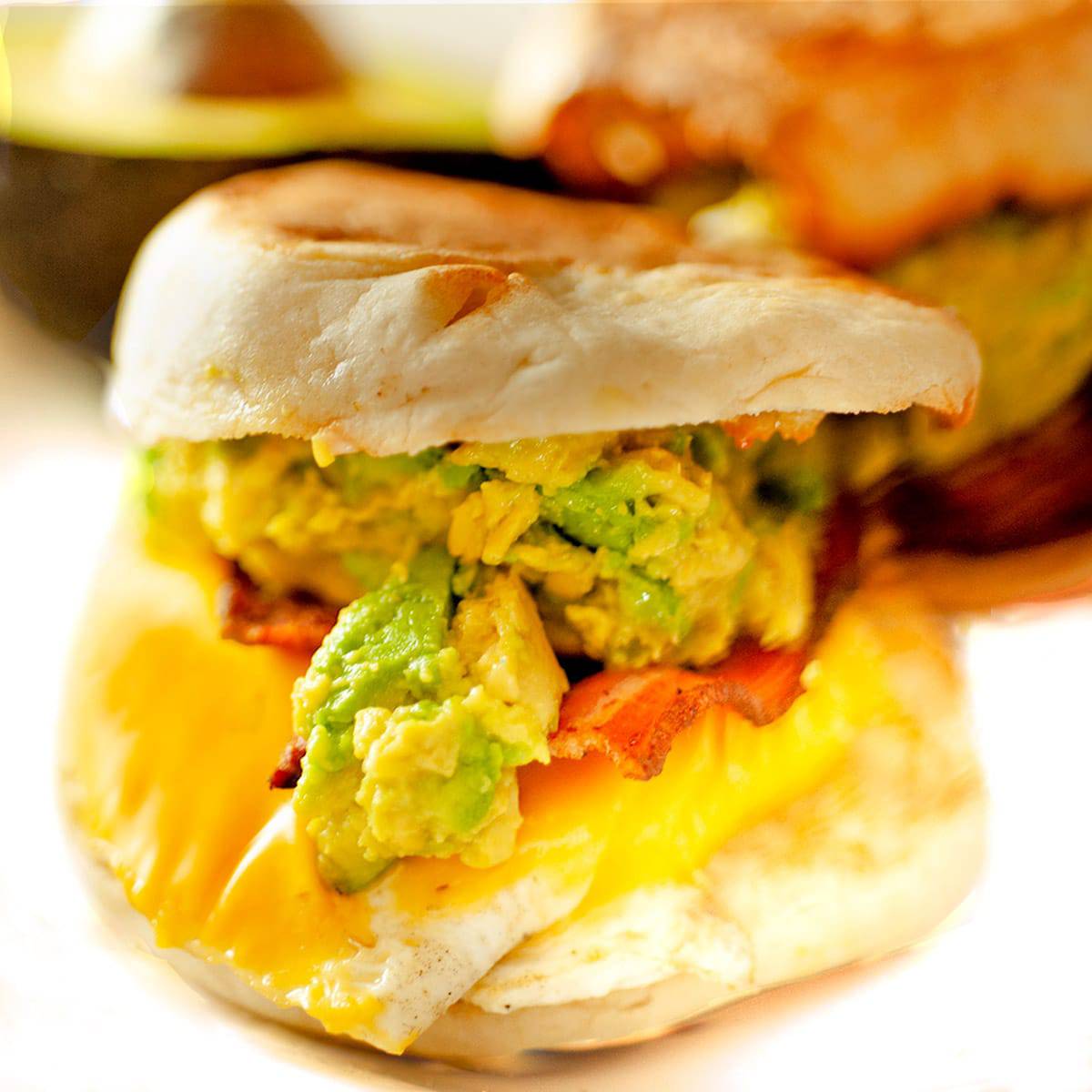 This avocado egg muffin is the perfect breakfast for two. It's super simpler to put together and an absolutely delicious way to start your day. No need to take my word for it though. Ask my boys. They're my most honest food critics!
Enjoy this breakfast sandwich, and enjoy your day. Thanks for reading Platter Talk!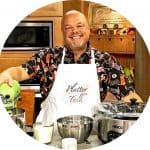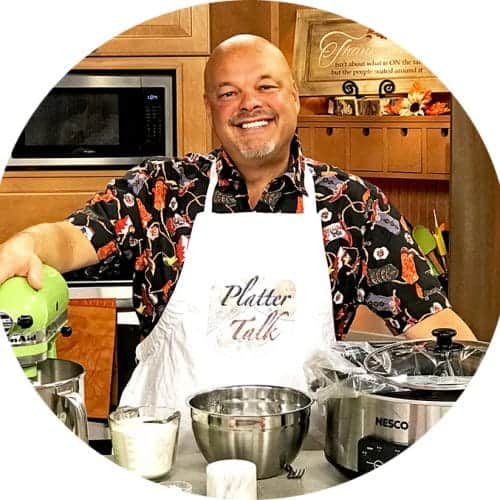 If you have tried this egg and avocado muffin, be sure and leave a comment below. We love hearing from you!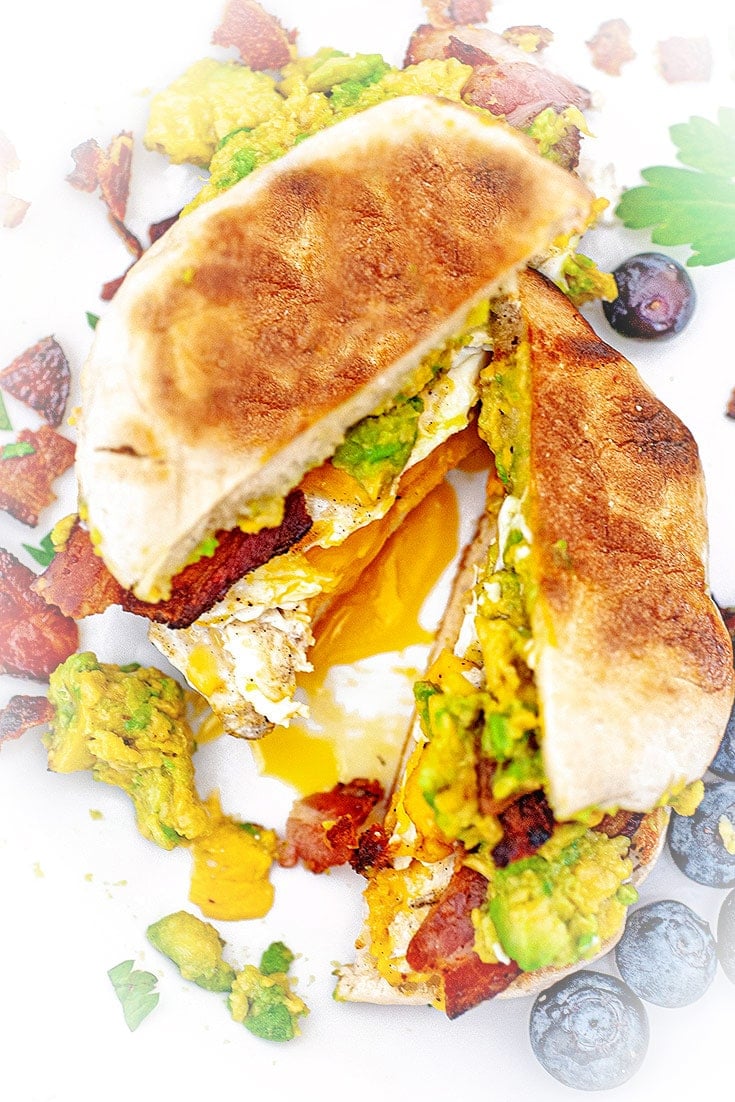 More Egg Recipes
We have a couple of other recipes that feature eggs and avocado. Be sure and have a taste!
Avocado and Egg Noom Recipe

Healthy Noom recipe featuring a poached egg over pan-roasted asparagus and avocado wedges. Bathed in a drizzle of aged balsamic vinegar.
If you love avocados as much as we do, check out the California Avocados site! It's full of useful information and avocado recipes.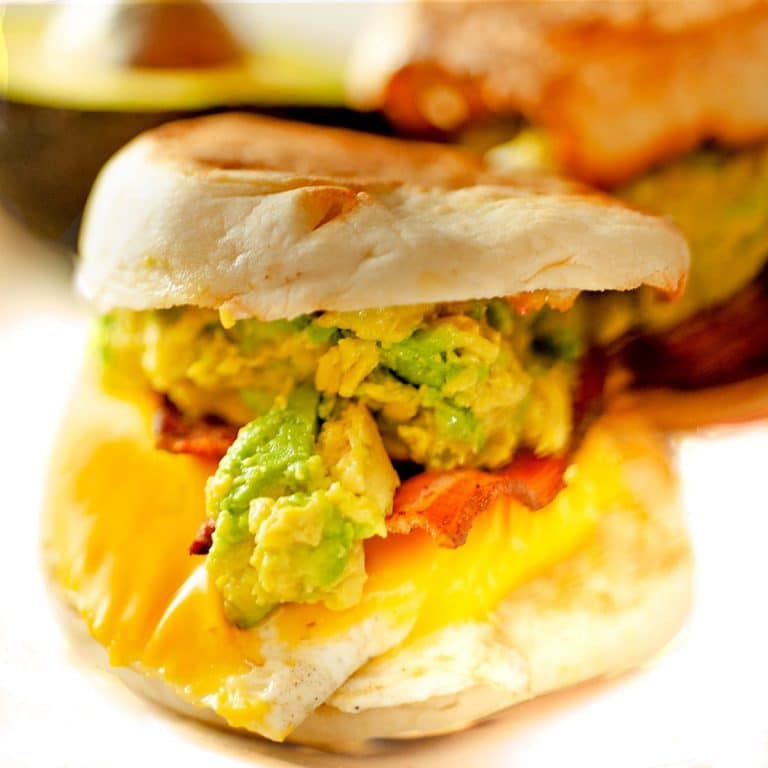 Avocado Breakfast Sandwich
Egg and avocado recipe from Platter Talk
Equipment
Toaster

Non-stick fry pan.
Ingredients
2

slices

bacon

2

eggs

2

slices

cheddar cheese

2

English muffins

1

tbsp

butter
Instructions
Fry and drain bacon over medium-high heat, using a small non-stick skillet. Reserve pan with 1 tablespoon of bacon grease.

While the bacon is frying, slice, peel, and mash a ripe avocado.

Use the reserved pan and bacon grease to prepare two eggs, any way you like them. While the eggs are being cooked, toast two English muffins.

Place a slice of cheese over each egg. Top each egg with one slice of bacon, cut in half. Butter the English muffins and place the egg, cheese, and bacon on the bottom part.

Top the egg with the avocado and cap with the top part of the English muffin and enjoy!
Notes
If you don't care for fried eggs, you can poach or scramble them.
Substitute turkey bacon for a healthier and lower-fat breakfast sandwich.
Nutrition
Calories:
325
kcal
,
Carbohydrates:
27
g
,
Protein:
14
g
,
Fat:
18
g
,
Saturated Fat:
9
g
,
Cholesterol:
198
mg
,
Sodium:
485
mg
,
Potassium:
135
mg
,
Fiber:
2
g
,
Sugar:
1
g
,
Vitamin A:
585
IU
,
Calcium:
177
mg
,
Iron:
1
mg
Nutrition information is automatically calculated, so should only be used as an approximation.