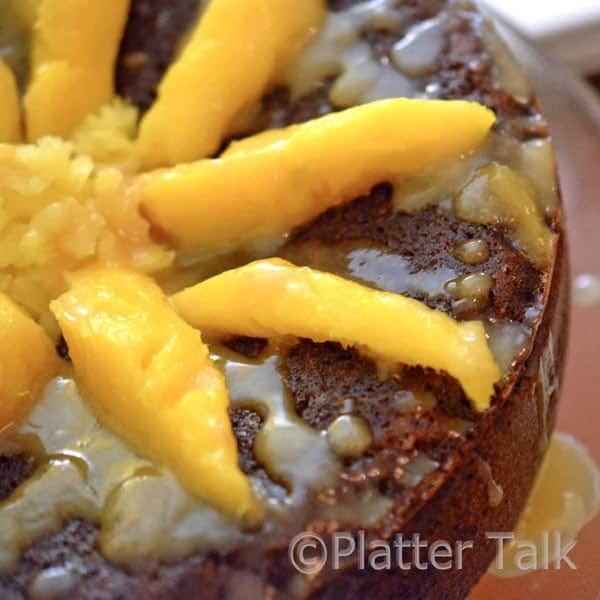 I've been in the kitchen in one capacity or another, for quite a few years and my motivation to try new recipes has come from many sources. Maybe I tasted something that a friend prepared, or something that caught my attention in a restaurant, or perhaps I saw a tantalizing photo in a magazine. The impetus for this post is a first for me, and I have to say, I loved it. A reader from the West Indies contacted me and asked if I could help her our with a ginger cake recipe. Thanks for the request, Lizzy. This one is especially for you.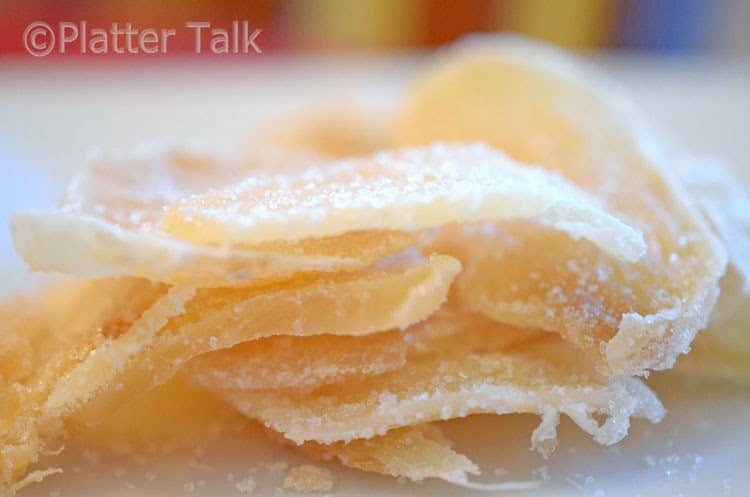 Throughout the past couple of years, I've been becoming increasingly more familiar with fresh ginger root. Here on Platter Talk, I've featured it in a mac 'n cheese, Scott put a family cookie recipe together using ginger, and we have a really, really good pizza recipe on the stone that will be appearing here on the blog in the near future.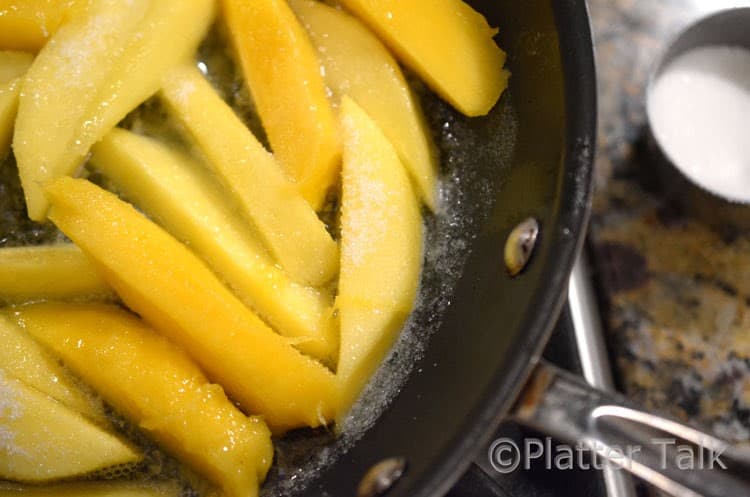 Although I was delighted to put this together for Lizzy, there are many reasons why we all may want to consider adding a little more ginger to our diets. We all know it's been around forever. What many of you probably are not aware of are the health benefits associated with this ancient rhizome. Even Confucius extolled the virtues of ginger, back in 500 B.C. If your parents gave you some ginger ale to sip, for an upset stomach, it was no coincidence. Ginger has been long used as a treatment for gastrointestinal disturbances. On a much more personal level for me, ginger has also been recently recognized as a potent agent to ward off the evils of ovarian cancer in women, the very disease which tragically claimed both my beautiful mother and her younger sister.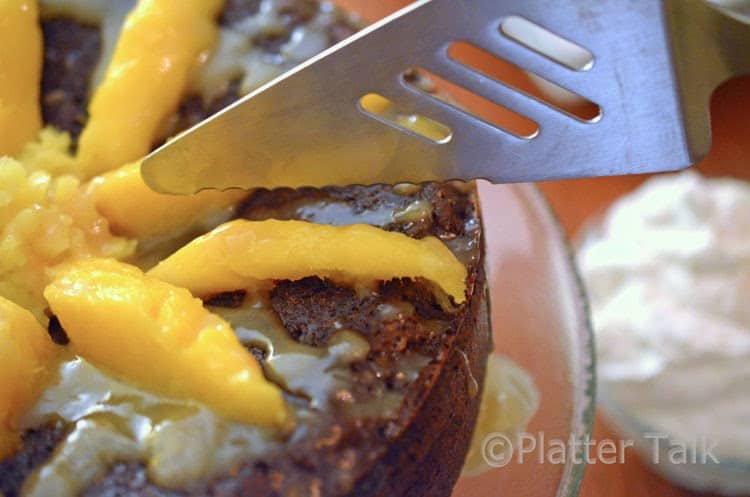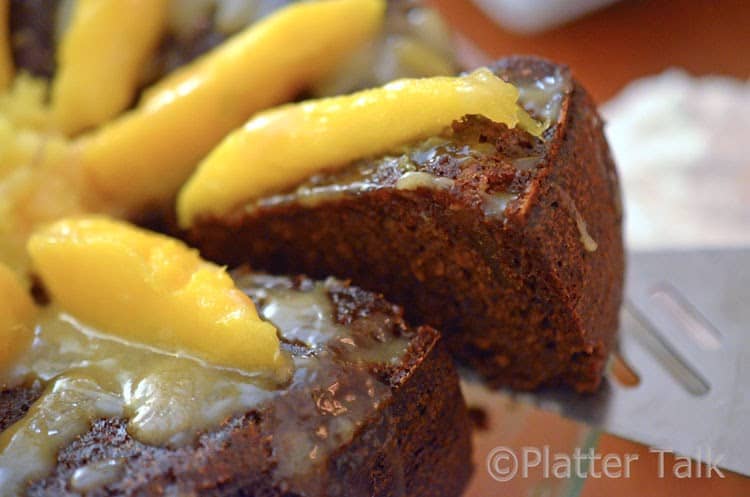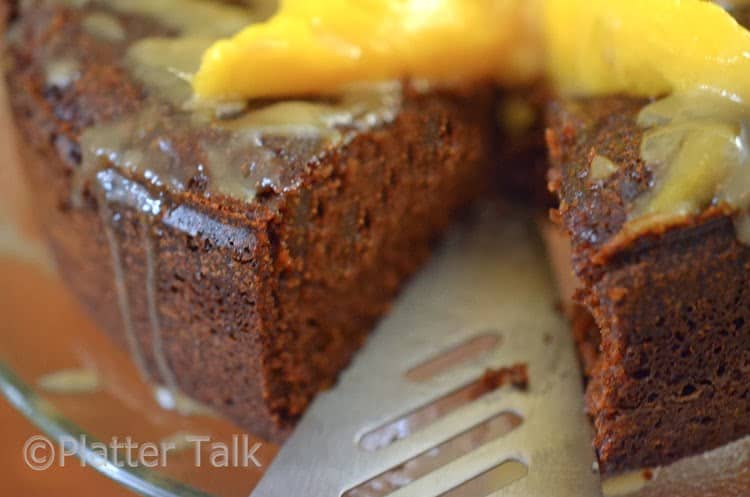 I've never had a piece of ginger cake prior to this, in fact I didn't even know such a thing existed (further evidence of my sheltered life.) Upon doing a little recipe digging, I was delighted by what I saw as typical ingredients, molasses, eggs, flour, and ginger of course. All pretty basic, and importantly - few in number. Along this same line, you can make this cake with a couple of mixing bowls and a fork.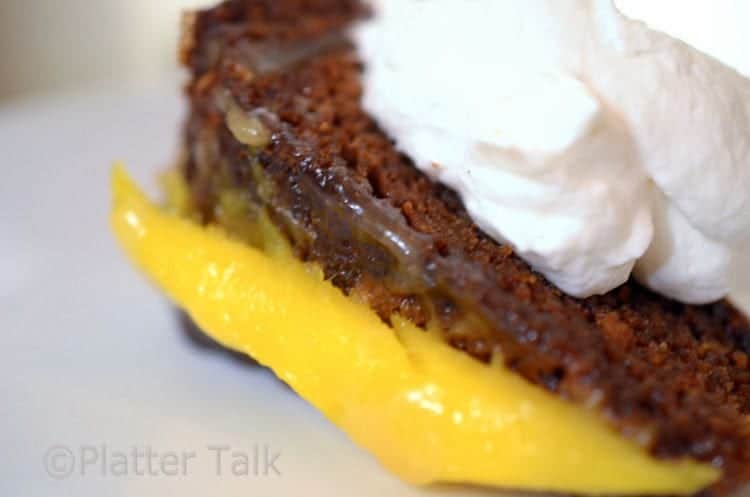 Originally, I was going to garnish this ginger cake with some sauteed peaches. Perhaps it is the blizzard conditions predicted for later today and we are about as far away from peach season as we can be, or maybe because of our son Isaiah's insatiable love of mangoes, or maybe it is because that in just a few days Scott and I will embark on our annual pilgrimage to the beach and rain forest of Costa Rica, the tropical paradise is laden with mango trees - for one or all of these reasons, I decided to use a couple of fleshy, golden mangoes to crown this cake.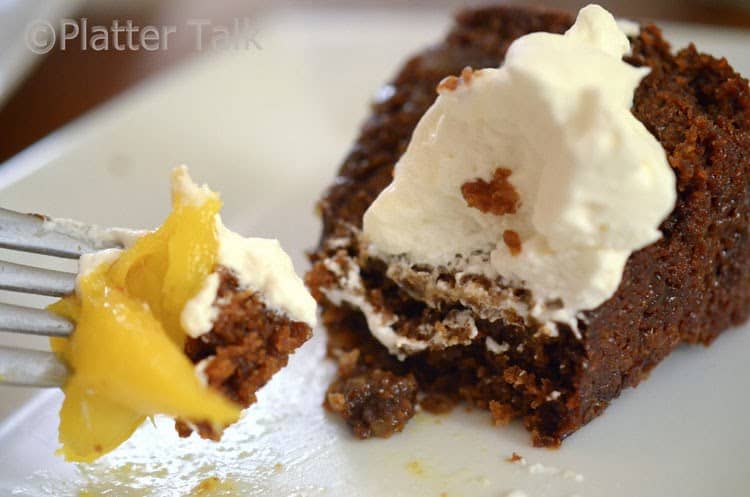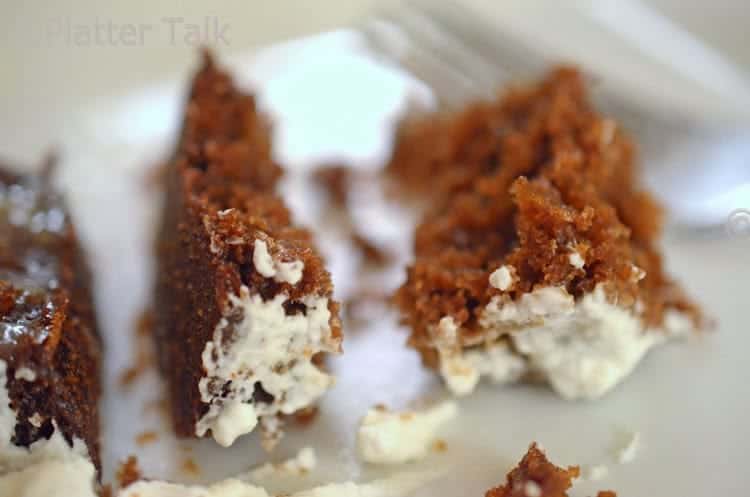 The mango, gently cooked in a brandy and cream reduction, complete the flavor profile of this ginger cake, replete with mild spice and light citrus, all capped by a dollop of creme fraiche, affording just a bit of added complexity and flavor structure. Easy and flavorful with a good presentation, this Ginger Cake with Mango and Brandy Glaze is an all-around winner. The boys loved it. The dads loved it, I can't imagine that you won't as well. I hope you give it a try.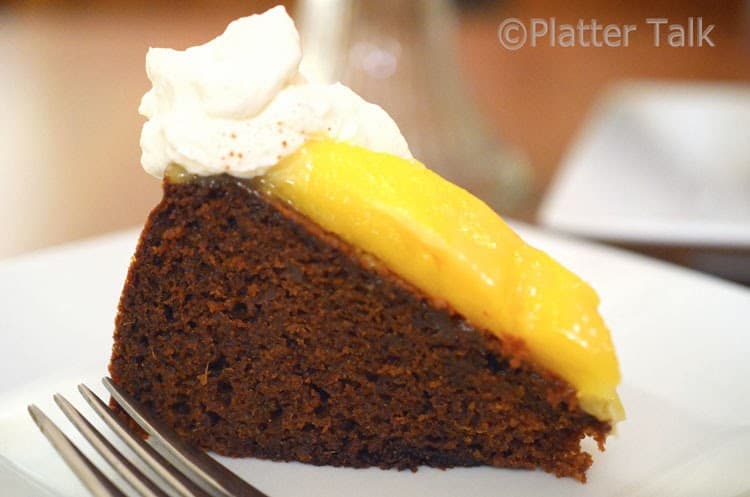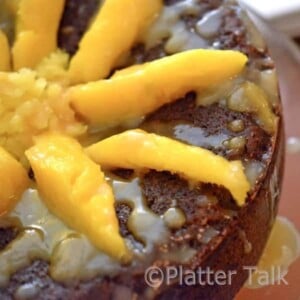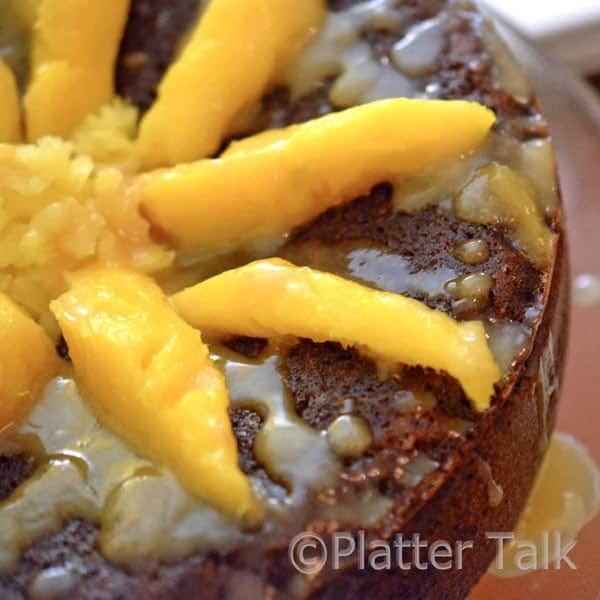 Ginger Cake with Mango and Brandy Glaze
inspired by David Lebovitz
Print
Pin
Rate
Ingredients
for the cake
4

ounces

candied ginger

1

cup

light molasses

1

cup

sugar

1

cup

vegetable oil

2 ½

cups

flour

2

teaspoons

ground cinnamon

1

teaspoon

ground cloves

1

cup

boiling water

2

teaspoons

baking soda

2

eggs

at room temperature, lightly beaten
for the mango and brandy glaze
2

mangoes peeled

2

tablespoons

fresh lemon juice

2

tablespoons

butter

¼

cup

sugar

divided

2

ounces

brandy

¼

cup

cream
Instructions
for the cake
Position the oven rack in the center of the oven.

Preheat the oven to 350°F.

Line a 9 by 3-inch round cake pan or a 9 ½ inch spring form pan with a circle of parchment paper.

Using small food processor, finely chop candied ginger.

Combine molasses, sugar, and oil in medium size mixing bowl

In separate bowl, add flour, cinnamon, cloves, and baking soda.

Add boiling water into the molasses mixture and stir in ginger.

Introduce dry ingredients, a little at a time, into the batter.

Add eggs and continue stirring until thoroughly combined.

Pour batter into prepared pan and bake for 1 hour or until a toothpick inserted into the center comes out clean.

Allow to cool in pan for 30 minutes.

Remove cake from pan and peel off the parchment paper.
for the mango and brandy glaze
Peel and slice mangoes, lengthwise, into ⅓ inch thick slices.

Place on plate and drizzle lemon juice over them and set aside.

Melt butter over medium heat, in large saute pan, add ½ of sugar.

Place mango slices in single layer and sprinkle remaining sugar over them.

Saute lightly for 5 to 7 minutes to soften mango slices.

Use tongs or slotted spoon to remove mango slices and set aside, reserve juices in pan.

Take ¼ of mango slices and and chopped finely in food processor, set aside.

Add brandy and cream to pan of juices, increase heat and stir until mixture reduces to a brown, caramel colored sauce.

Arrange mango slices in circular fan patter around top of cake.

Place ½ chopped mango in center of cake and add remaining ½ to sauce and stir.

Drizzle sauce over top and sides of cake.

Top with optional whipped cream or creme fraiche.
Notes
For a bolder ginger flavor, use 4 oz fresh peeled ginger in place of the candied ginger.
If the top of the cake browns too quickly before the cake is done, drape a piece of foil over it and continue baking.
Run a knife around the edge of the cake to loosen it from the pan before removing.
Mangoes should be ripe, but still firm (and over-ripe).
Nutrition
Calories:
626
kcal
|
Carbohydrates:
90
g
|
Protein:
5
g
|
Fat:
28
g
|
Saturated Fat:
21
g
|
Cholesterol:
47
mg
|
Sodium:
271
mg
|
Potassium:
613
mg
|
Fiber:
2
g
|
Sugar:
65
g
|
Vitamin A:
653
IU
|
Vitamin C:
16
mg
|
Calcium:
92
mg
|
Iron:
3
mg
]