If you have ever wanted to know how to cook prime rib, you can find out right here.
Our family has been making prime rib for years, and there are many ways to make this holiday classic.
Whether you like your prime rib rare, or well done, we will show you how to make it just the way you like it!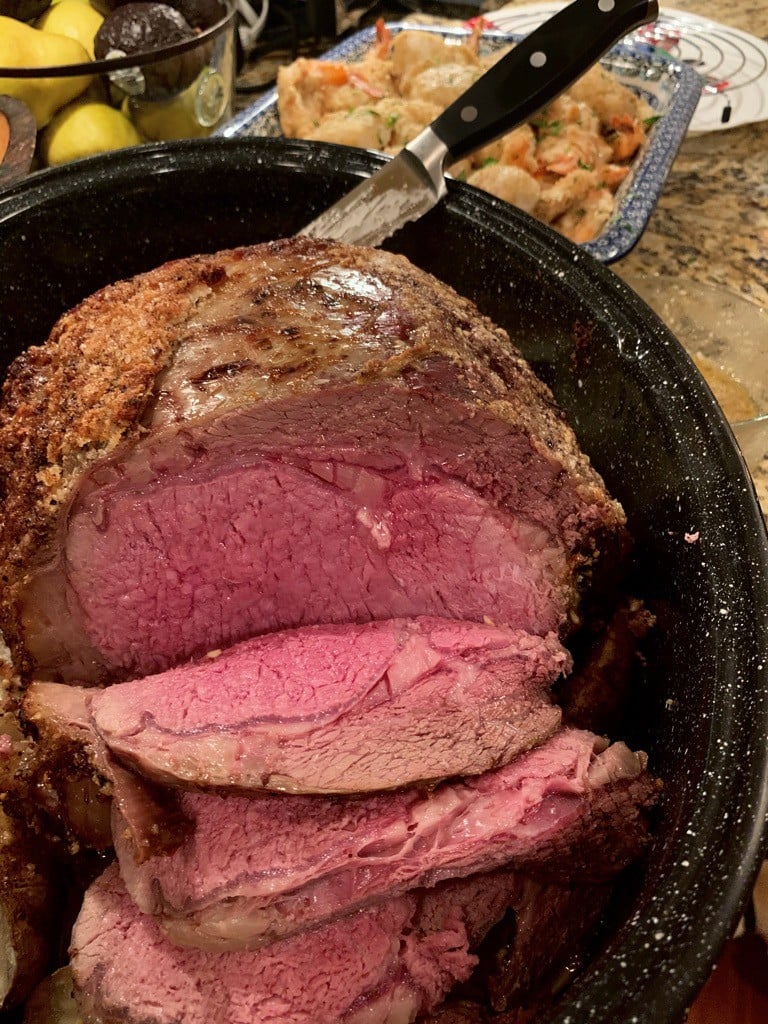 How to Roast Prime Rib
This is a meat lover's post.  If eating meat offends you, then please, skip this one.
If however, you or someone close to you enjoys a sublime prime cut of beef now and then, this is a post you will want to take a closer look at.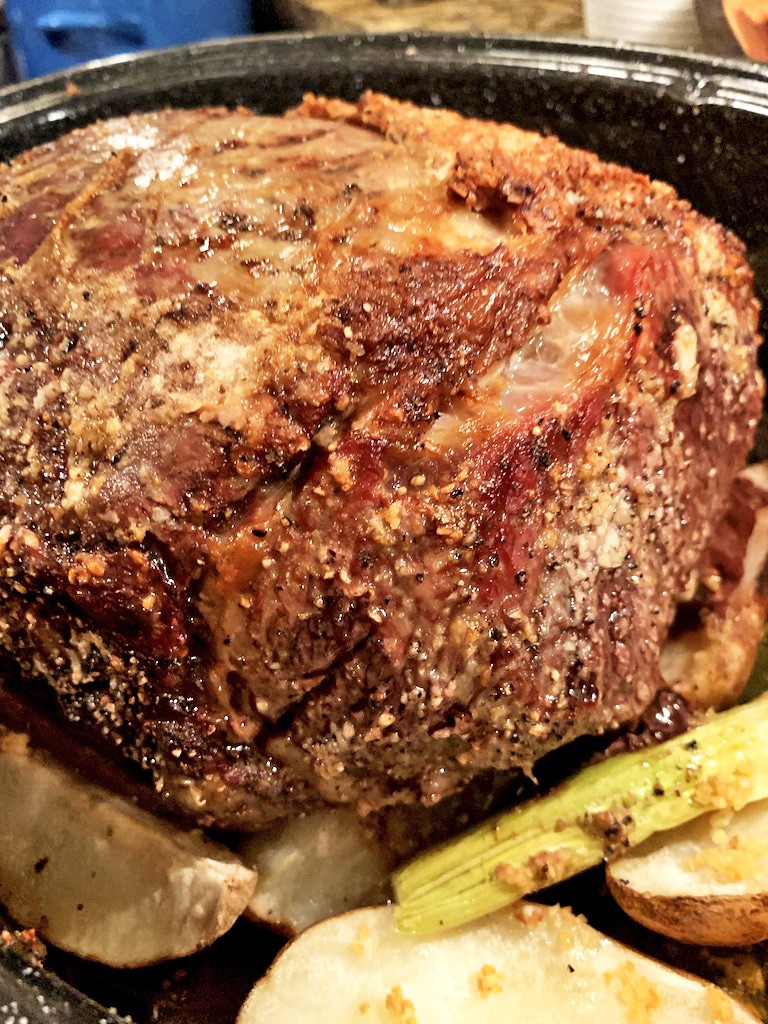 What you Need to Make the Perfect Prime Rib

Prime Rib
Garlic
Salt
Pepper
Butter
The Different Grades of Prime Rib
When you look for a prime rib to buy, you may see that there are two grades to choose from.
Prime Grade

"Prime" is the highest grade of prime rib and the most expensive, about 25% higher in price than the choice grade.
The prime grade of prime rib is heavily marbled with streaks of fat to make it more tender and flavorful.

Choice Grade

"Choice" grade of prime rib is the second-highest rating and indicates beef that has less marbling.
This is the type of prime rib most often served in restaurants.

Bone-In or Boneless Prime Rib
The next thing to consider is whether you want to make a prime rib with the bone-in, or boneless.
There are also a couple of things to consider, depending on if you go with a bone-in or boneless cut.
Bone-in

Bone-in prime rib can be more challenging to slice.
Figure on a pound per person with a bone-in prime rib.
Boneless

Easier to cut for serving.
Figure on about ½ pound for each person.
Start at Room Temperature
Take your prime rib out of the refrigerator a couple of hours before you place it in the oven.
Allowing it to reach room temperature before roasting helps ensure that it roasts evenly throughout.
How to season a Prime Rib
For the best prime rib, all you need to season it with is garlic, salt, and pepper.
Garlic

Chop or mince the garlic and then use your hands to apply an even coat around the meat.

Salt

Apply a generous layer of salt around the entire prime rib.
I prefer to use kosher salt for it's larger crystals.

Pepper

Sprinkle a generous layer of fresh ground black pepper around the whole piece of prime rib.
Allow the seasoning to flavor the meat for an hour or two while it sits on your counter-top.
The Fat Cap
Prime rib will have a fat cap that insulates the meat while it cooks and adds some nice flavor under high heat.
Score the fat pad (without cutting into the meat), to allow some of the seasoning to penetrate the meat for added flavor and rendering.
Using Garlic Butter to Season Prime Rib
In the above photo, I compounded about a half-pound of butter along with a head of minced garlic.
I rubbed this garlic butter compound all over the meat and then added the kosher salt and pepper.
In addition to the extra flavor, the butter provides a nice crispy finish to the exterior surface of the meat.
---
My Two Methods of Roasting Prime Rib
I use two methods of making prime rib; both give me the same excellent results.
One method is temperature-based; the other is all about time.
Both methods have a couple of things in common:
Both start with a high oven temperature, which is lowered.
Both use "carryover cooking, which is when the prime rib continues to cook after it is removed from the oven.
Let's take a look at both of these methods.
Temperature-Based Method of Making Prime Rib
Remove prime rib from the refrigerator a few hours before placing it in the oven to allow it to come to room temperature.
Season the prime rib a,s shown above.
Preheat oven to 400° F.
Place in oven.
Reduce heat to 300°
Keep prime rib in the oven until it is 5-7°F less than this temperature guide below.
Remove from oven and tent loosely with foil, for 15 minutes to allow for carryover cooking.
Time-Based Method for Making Prime Rib
This method is a bit simpler as there is not temperature measuring involved.
Same as step one above.
Same as step two above.
Same as step three above.
Reduce heat to 375° when you put the prime rib in the oven.
After one hour, turn the oven off (do not open door).
An hour before you want to eat, turn the oven back on to 375°.
Roast for an hour at 375° and then remove from oven, tent the meat loosely with foil and allow to rest for 15 minutes before carving.
For Both Methods:
Place rib on a few stalks of celery or some potato wedges (slathered with olive oil or melted butter.
The celery will give the au jus some nice flavor, and the potatoes are a great one-and-done side dish!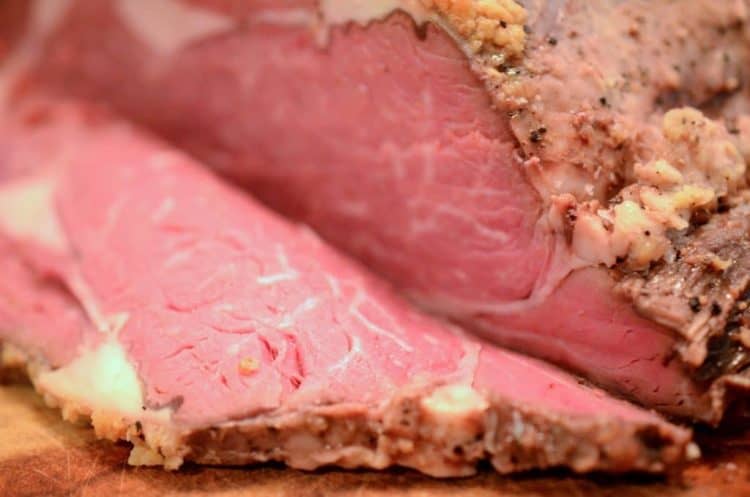 If you want to treat yourself to something special and delicious, consider learning how to roast prime rib.
Although you can season an oven-roasted prime rib with anything, I use just three or four ingredients in my seasoning:
Fresh garlic
Kosher salt
Fresh ground pepper
Sometimes butter
---
How to Use Leftover Prime Rib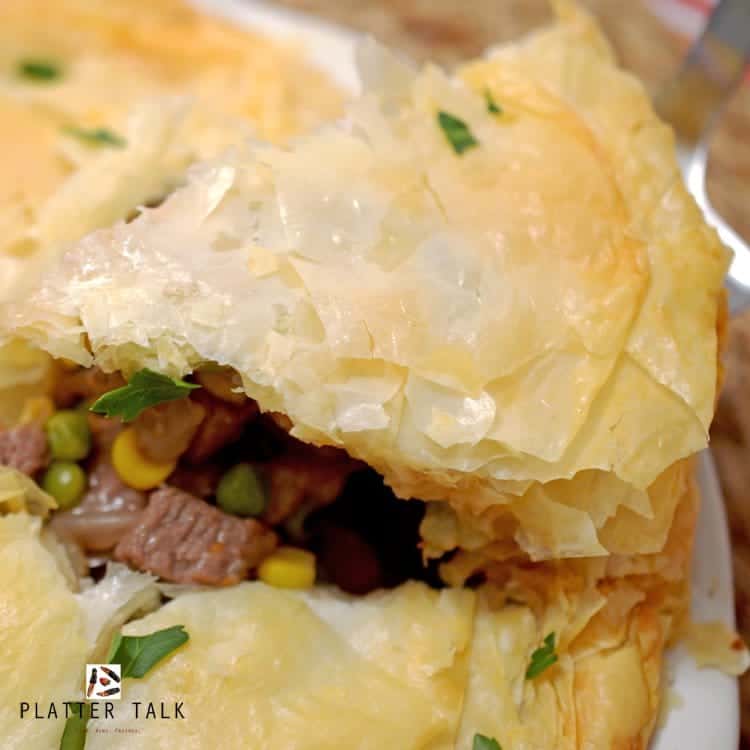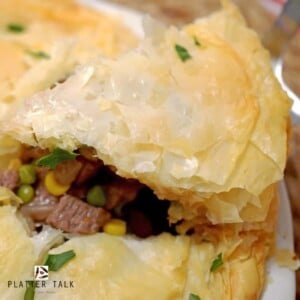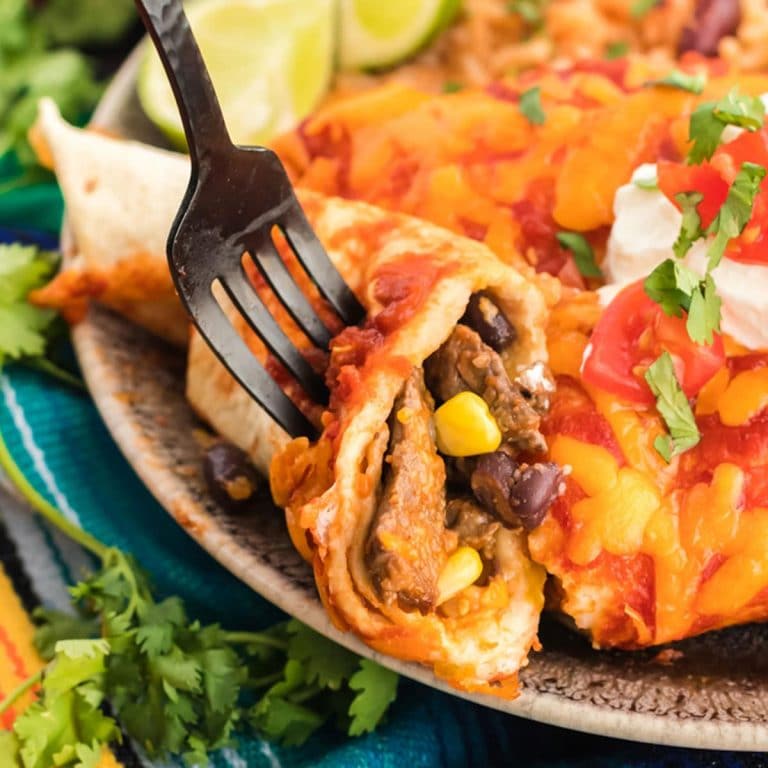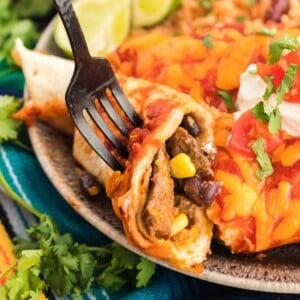 Leftover Beef Tacos

This easy recipe for tacos and versatile and can be made with leftover beef, chicen, or pork.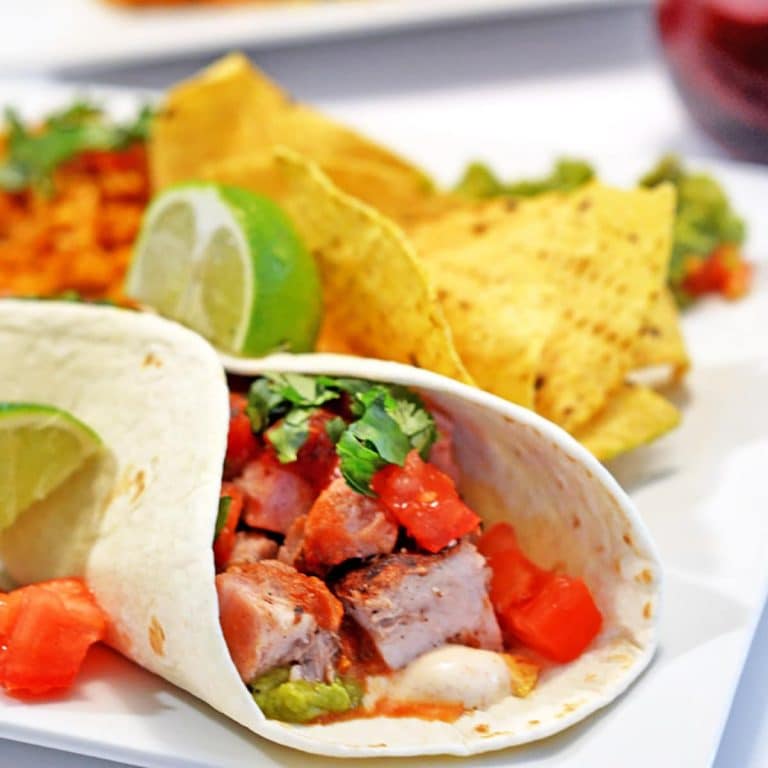 ---
When selecting a prime rib, besides choosing how to season it, you also have the option of "bone-in" or a boneless prime rib.
I don't believe there is any difference in the flavor between the two.
If you choose bone-in, the roast should be placed in the roaster, with bone on the bottom.
Give this recipe a try; chances are if it is your first time making a prime rib, it will not be your last.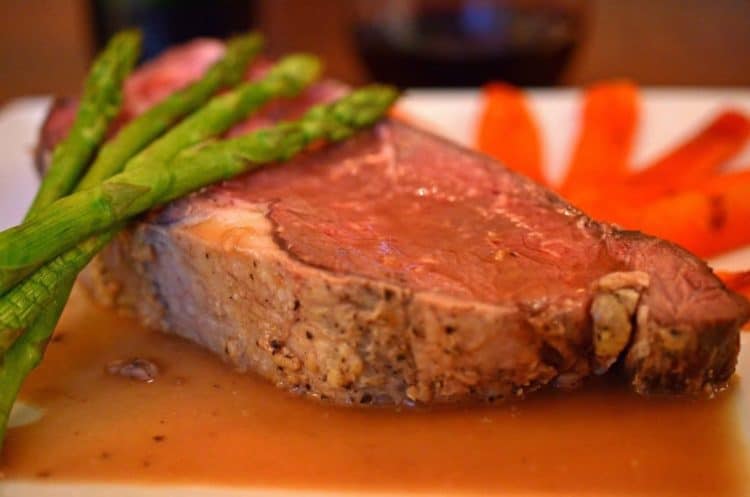 This post is dedicated to my sister Ann, who we lost far too early.  One of the funniest and smartest people I have ever known, I miss you every day and will always be thankful for the love, the laughter, and the incredible food you fed me and the many lessons on how to roast prime rib.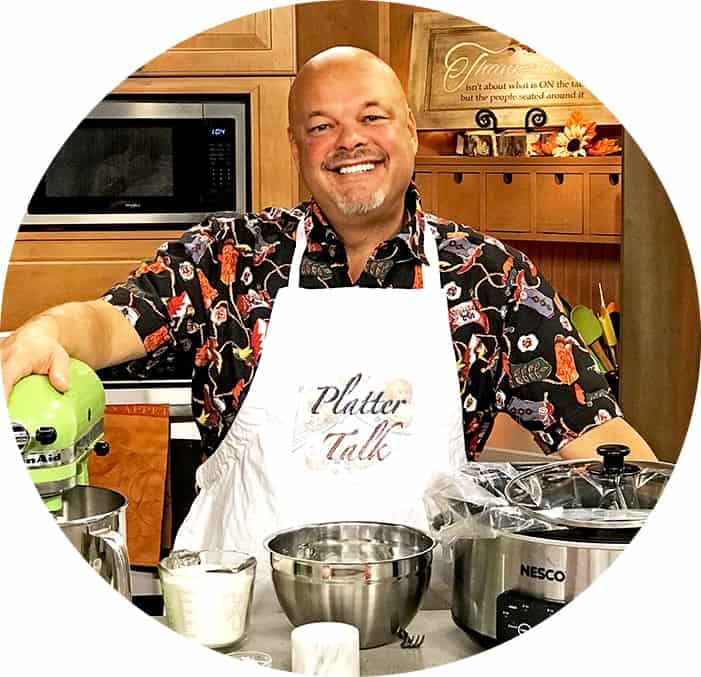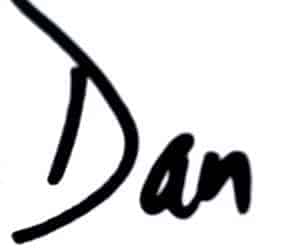 If you've tried this recipe for Prime Rib or any other recipe on Platter Talk, please let us know your thoughts in the comments below, we love hearing from you! You can also FOLLOW US on FACEBOOK, INSTAGRAM, and PINTEREST to see more delicious food and what we have cooking.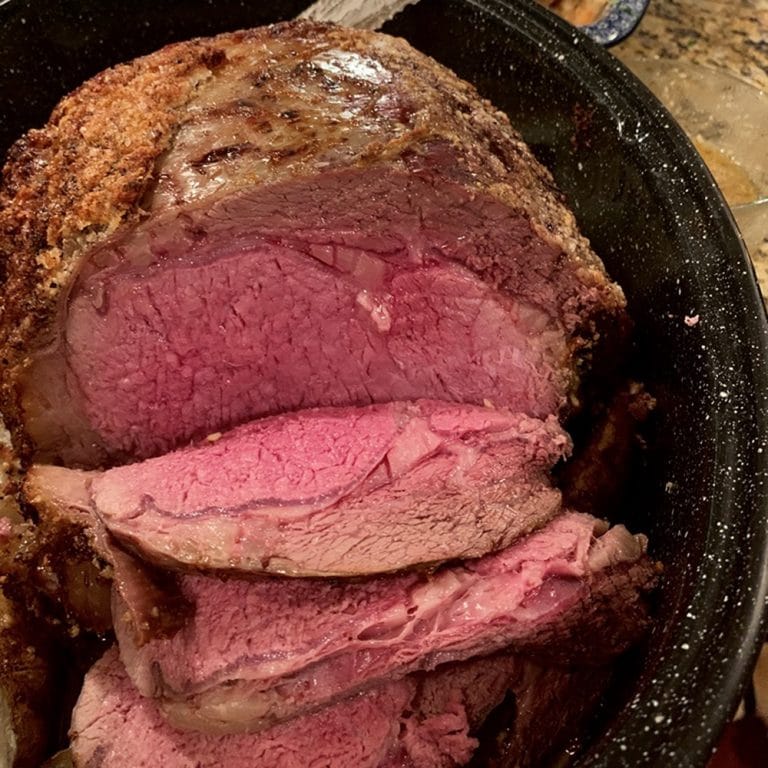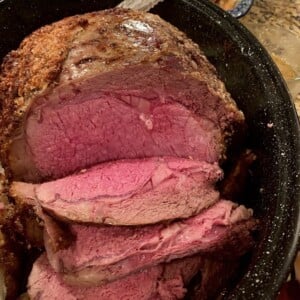 How to Cook Prime Rib
Learn how to cook prime rib for with this easy recipe that will give you the perfect prime rib every time. This recipe uses a 6-7 lb. boneless prime rib and roasting times uses are for a rare to medium-rare prime rib. Adjust times per personal preference.

Print
Pin
Rate
Ingredients
7

lbs

Prime Rib

5

cloves

crushed fresh garlic

Kosher salt

quantity dependent upon size of prime rib

Fresh ground pepper corn

3-4

celery stalks for bed of roaster

optional
Instructions
Apply non-stick treatment to bottom or roaster

Lay celery on bottom of roaster

Rub fresh garlic throughout surface of prime rib.

Apply kosher salt to outside of prime rib.

Next, evenly distribute fresh ground peppercorn.

Place meat in roaster or baking dish, bone side down, if bone-in.

Allow prime rib to set out at room temperature 2-3 hours prior to placing in oven

Preheat oven to 400 degrees F.

Place (room temperature) prime rib in oven for 20 minutes, uncovered.

After 20 minutes, reduce heat to 300 degrees F.

Roast until internal temperature of meat is 120 to 125 degrees F.

Remove from oven, loosely tent with foil and allow to rest 30 minutes on counter top. This allows for "carry-over" cooking where the rib will continue to cook after removal from oven.

While carry-over cooking is occurring, into medium size saute pan, drain all the juice from the roaster except for two tablespoons.

Over medium low heat, warm the juice and stir in 1 tablespoon flour. Salt and pepper to taste and stir. The au jus will be thin and should remain so as it is not gravy but rather a supplementary condiment to provide flavor, juice, and warmth.
Notes
Wondering what size of prime rib to use? Figure on 8 to 12 oz. per serving. This generally allows for plenty plus a little left over.
Use very generous amount of kosher salt when initially seasoning meat.
Roaster should not be over sized relative to size of prime rib. Optimally, it should just fit, without touching sides of container.
The above method and temperature should give you a cut of medium-rare. With prime rib, it is always best to err on the side of rare. If the cuts are too rare for guests, the meat can quickly be finished off in a saute pan, stove top. This is usually possible in a very short period of time, a minute or less over medium high heat.
Allowing the prime rib to set, loosely tented with foil, is vital for attaining the correct level rareness. Equally important, it allows the juices of the rib to be reabsorbed into the meat, resulting in a succulent and juicy serving of prime rib.
Finally, do not open the oven door while the roast is cooking, unless you need to check the temperature.
Nutrition
Calories:
947
kcal
|
Protein:
43
g
|
Fat:
84
g
|
Saturated Fat:
35
g
|
Cholesterol:
192
mg
|
Sodium:
141
mg
|
Potassium:
701
mg
|
Calcium:
24
mg
|
Iron:
5
mg