Salted Caramel Chocolate Cupcake with Dulce de leche Filling
on Mar 29, 2015, Updated Jan 03, 2021
Sky-High Chocolate Salted Caramel Cupcakes from Platter Talk are simple to make and blissfully delicious to enjoy.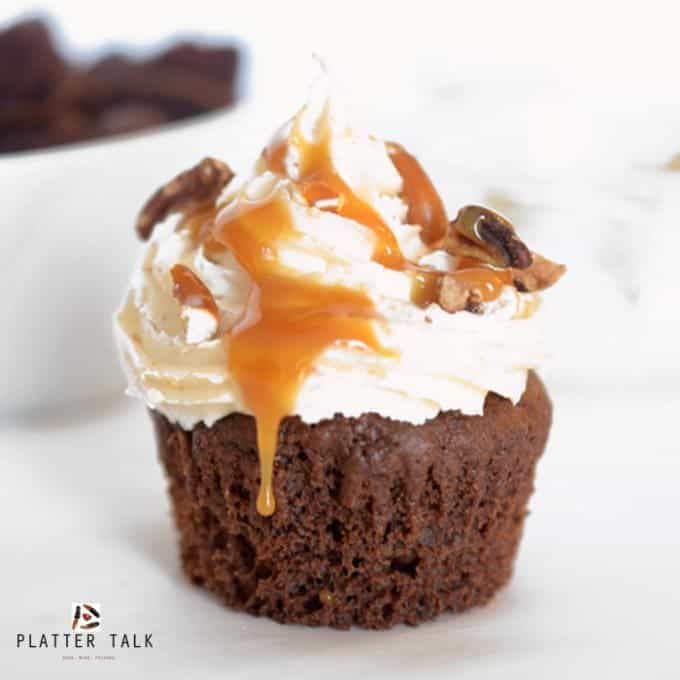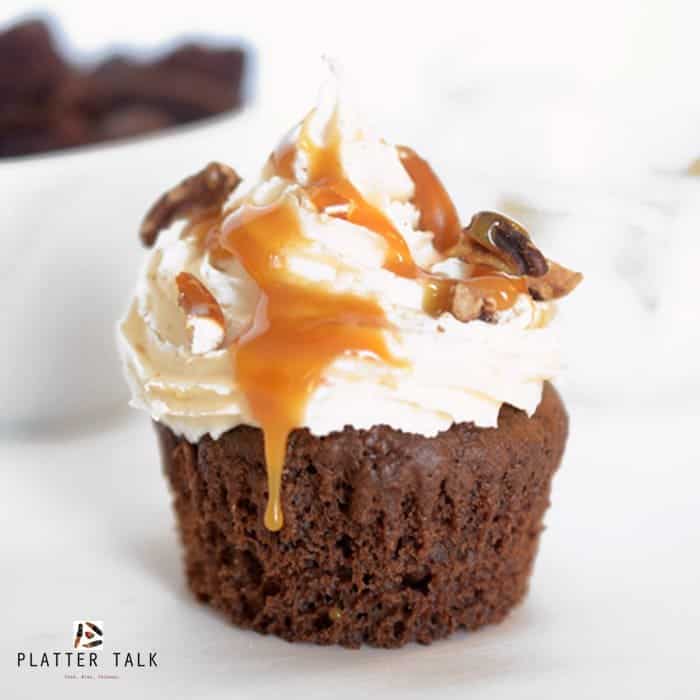 Last week I was at our friend and Rodan+Feilds Dermatologists business partner's home, lending her a hand for her premier business launch. Although she was expecting only a half dozen guests or so, I was taken aback when I saw the display of appetizers and treats she had spread out on her kitchen island.
Among the goods, stood a double tray of cupcakes that were beautifully executed and looked to be professionally baked. I held back on trying one, until the very end of the night. These were the best cupcakes I have ever tasted and I knew that somehow I had to get this recipe from my friend. Just like the many times in the past when I have asked her for a recipe or she has spontaneously inspired me on her own accord, Amy came through with flying colors and this is the recipe she used.
What are these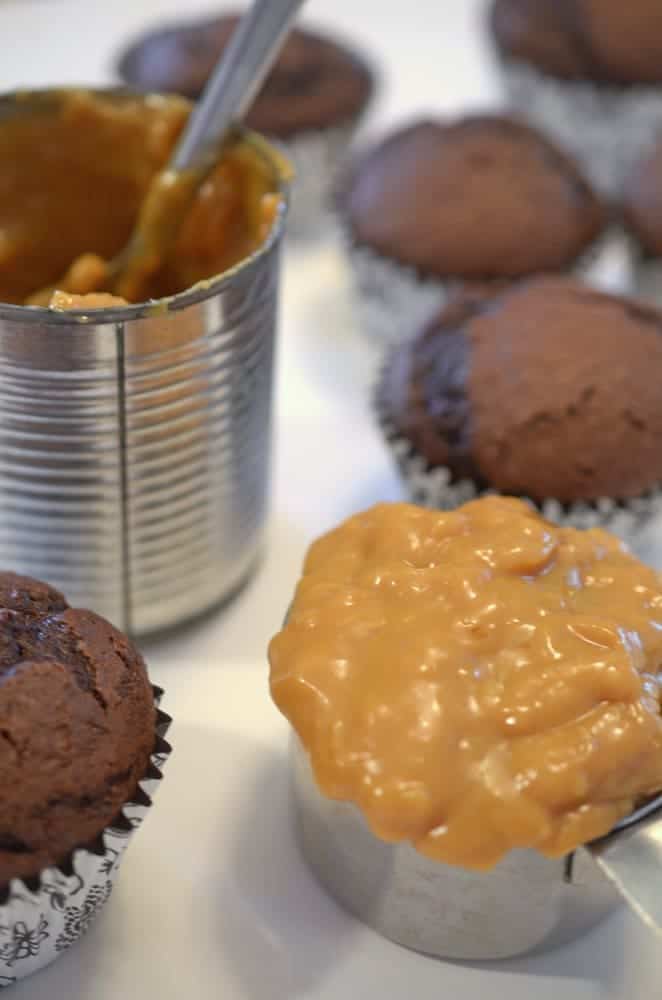 There is a lot going on with these Chocolate Salted Caramel Cupcakes, outside and inside. As if what you can see on the exterior is not enough to take them over the top, it's what you can't see on the inside that rockets these dessert treats into a category that is virtually free of all other competitors.
Dulce de leche (caramelized sweetened condensed milk) is blended with cream cheese and then deposited into the centers of these moist devil's food cupcakes. I had never heard of dulce de leche but upon doing an Internet search I found this great little primer.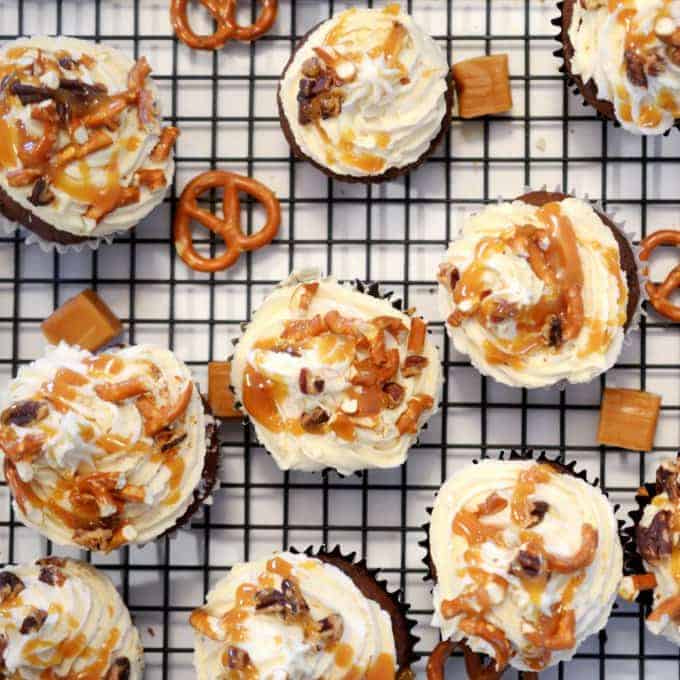 Getting back to my source of this recipe, Amy has been referenced on this site many times in the past and I have strong reason to believe that her name will continue to appear here in the future.
You see, she is not only a good friend and incredibly talented culinarian, but she is also my recipe pusher if you will. It is by no coincidence that some of the most popular recipes on Platter Talk have come from this lady.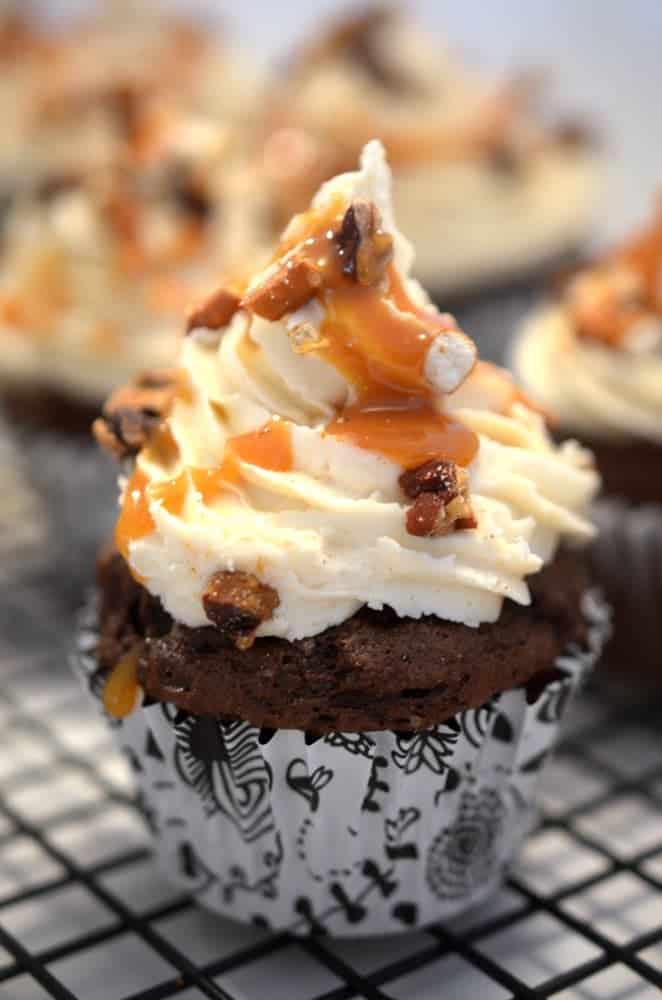 The evening of her business launch, there was a chicken curry spread, a bowl of Buffalo chicken wing dip, trays of fresh fruit, what seemed like pounds upon pounds of cut up cheeses and meats, skewers of fresh caprese, and of course these cupcakes.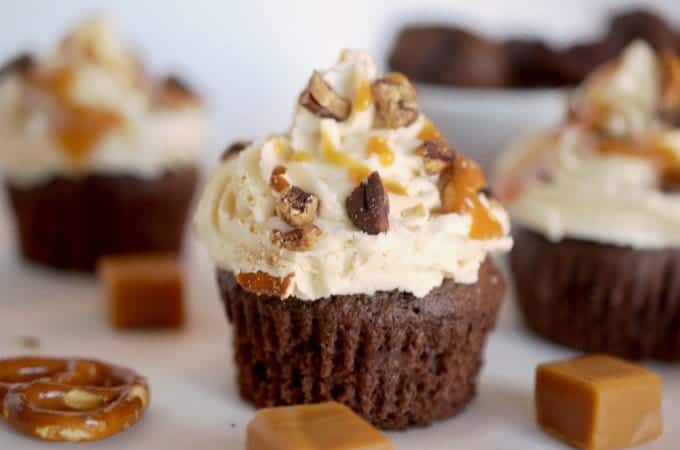 When I commented that I thought she may have overdone it just a bit on the food, Amy shrugged her shoulders and casually remarked, "People expect it of me." In all likelihood, she is correct. Luckily for those of us who call her a friend, she never lets us down.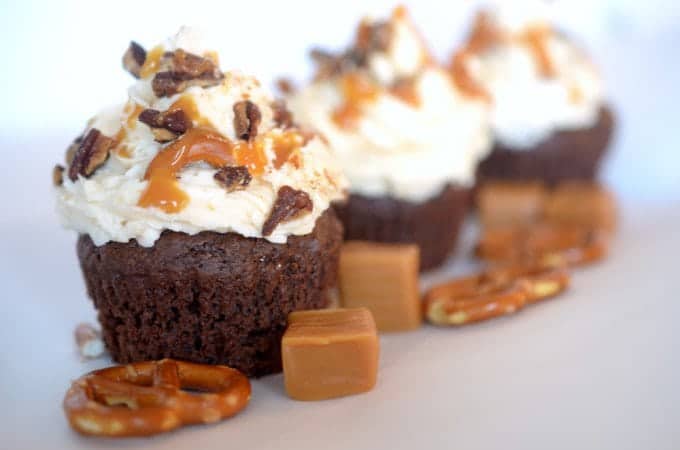 Hopefully, you know someone like Amy. I'm pretty sure you will enjoy these Sky-High Chocolate Salted Caramel Cupcakes. They are from Betty Crocker, via our friend. Give these a try; your life will never be the same. -Dan
PS: Here's another gourmet cupcake you're going to love! Ourrumchata cupcakes recipe.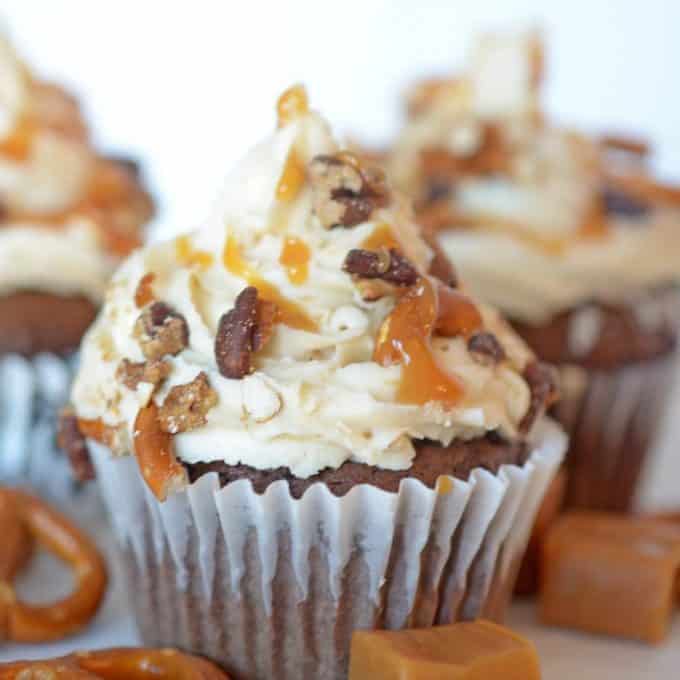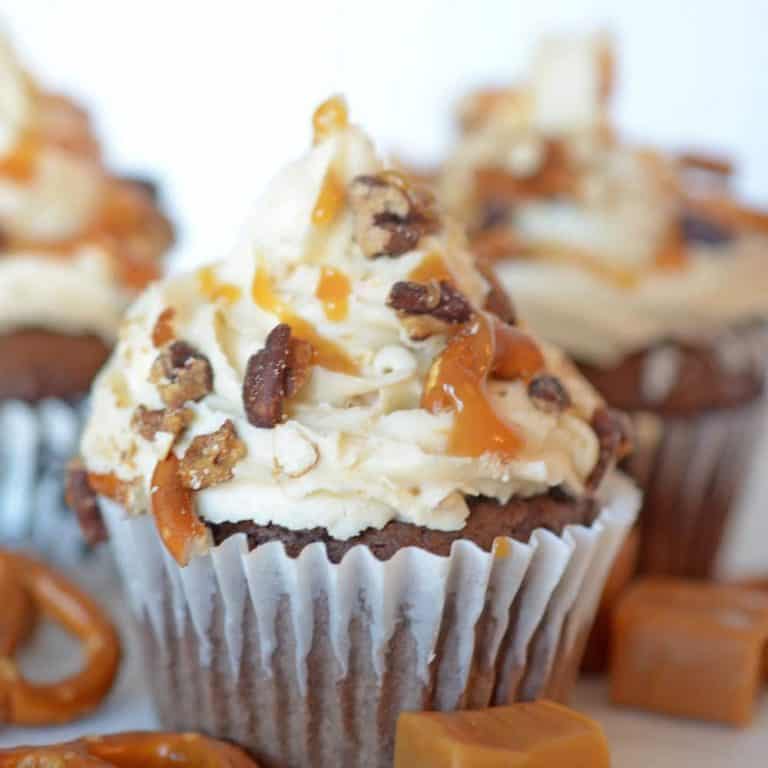 Other delicious cake recipes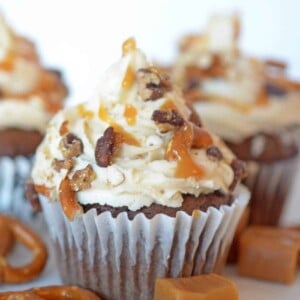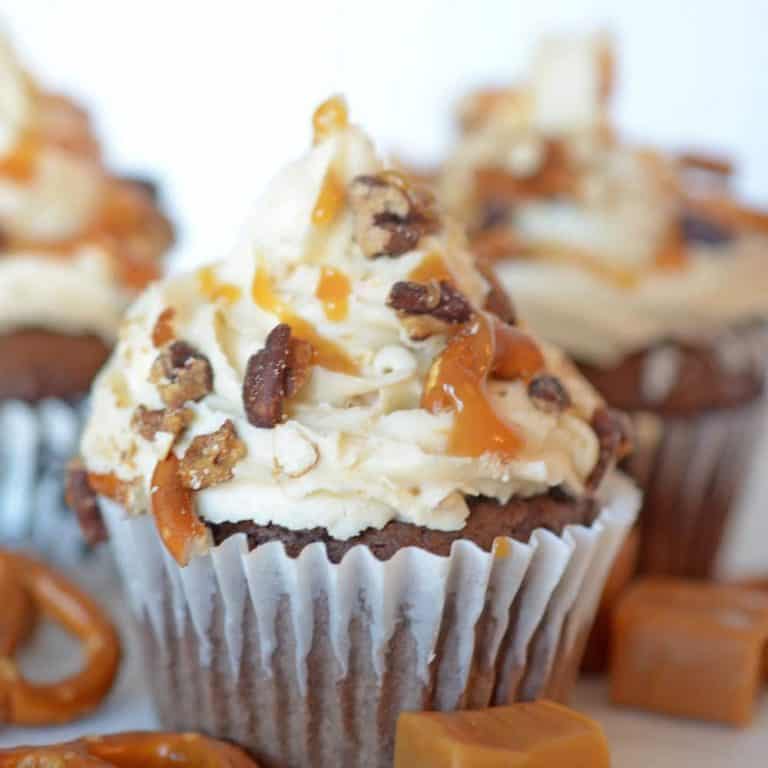 Salted Caramel Chocolate Cupcake with Dulce de leche Filling
from Betty Crocker
Ingredients
for the Cupcakes
1

box devil's food cake mix

Water

,

oil and eggs called for on cake mix box
for the Salted Caramel Cheesecake Filling
1

package

,

8 oz cream cheese, softened

1/2

cup

dulce de leche

,

caramelized sweetened condensed milk (from 13.4-oz can)

1/8

teaspoon

kosher salt
for the Salted Caramel Buttercream
1 1/2

cups

butter

,

softened

6

cups

powdered sugar

2

teaspoons

vanilla

10

caramels

,

unwrapped

1 to 3

tablespoons

milk

1/4

teaspoon

kosher salt
for the Garnish
1/2

cup

toasted chopped pecans

1/2

cup

crushed pretzels
for the Salted Caramel Glaze
3

tablespoons

caramel topping

Additional kosher salt

,

if desired
Instructions
Heat oven to 375°F. Place paper baking cup in each of 24 regular-size muffin cups. Make cupcakes as directed on box; cool completely on cooling rack, about 30 minutes.

Meanwhile, in medium bowl, beat Salted Caramel Cheesecake Filling ingredients with electric mixer on medium speed just until smooth and well combined.

Using melon baller, scoop out center of each cupcake about 1 inch deep. Fill each cupcake with 1 tablespoon filling.

To make Salted Caramel Buttercream: In large bowl, beat butter with electric mixer on low speed until smooth.

Gradually add powdered sugar, 1 cup at a time, beating until combined; beat in vanilla. In large microwavable bowl, microwave caramels and 1 tablespoon of the milk uncovered on High about 1 minute or until caramels are melted; stir until smooth.

Stir caramel mixture and kosher salt into buttercream mixture until combined, adding remaining milk until smooth and spreadable.

In small bowl, mix chopped pecans and crushed pretzels.

Place buttercream in large decorating bag fitted with large open star tip. Frost 1 cupcake at a time with buttercream, then roll immediately in pecan mixture. Repeat with remaining cupcakes, frosting and rolling in pecan mixture.

Drizzle cupcakes with caramel topping. Sprinkle with additional kosher salt. Refrigerate until ready to serve. Serve with ice cream, if desired.
Nutrition
Calories:
719
kcal
,
Carbohydrates:
114
g
,
Protein:
5
g
,
Fat:
28
g
,
Saturated Fat:
16
g
,
Cholesterol:
62
mg
,
Sodium:
589
mg
,
Potassium:
113
mg
,
Fiber:
2
g
,
Sugar:
79
g
,
Vitamin A:
714
IU
,
Calcium:
102
mg
,
Iron:
1
mg
Nutrition information is automatically calculated, so should only be used as an approximation.