Southern Cornbread Dressing
on Aug 12, 2019, Updated Dec 11, 2020
This Southern Cornbread Dressing features cornbread as well as biscuits, chicken broth, and lots of sage.
It is a holiday side dish and a tradition in the south and our good friend April Lee, from deep in the heart of Texas, is going to show you how to make this savory dressing today.
Just the way her beloved Granny taught her so many years ago.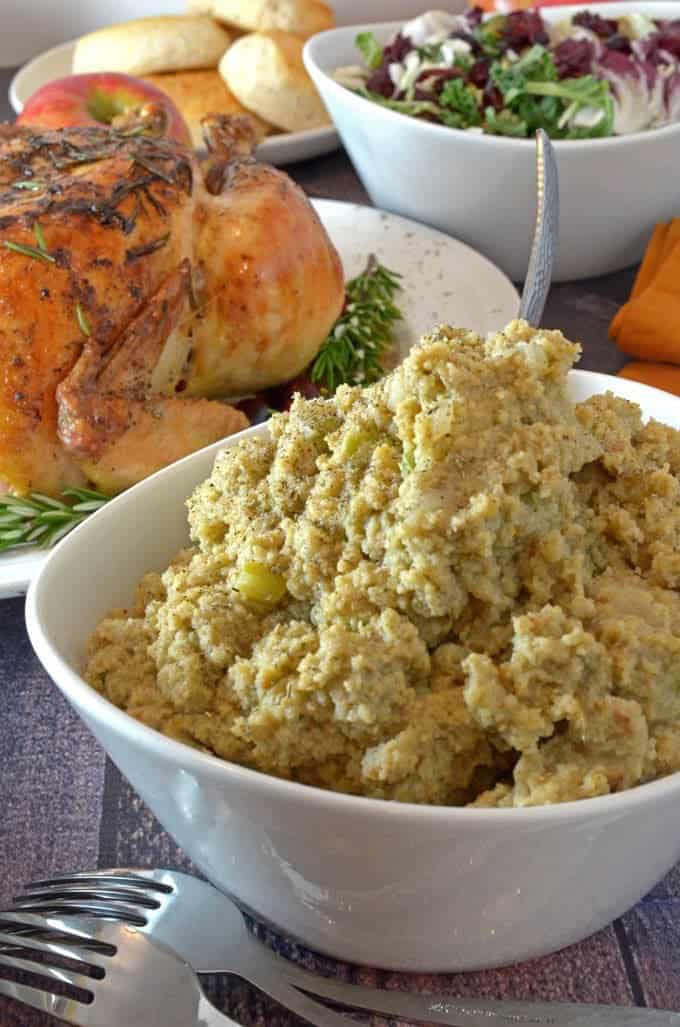 Jump to:
What is this?
Don't be fooled by all of these luscious and savory ingredients because as you will learn, the biggest part of this holiday side dish is lots and lots of love.
This dressing recipe is good with chicken or with turkey and it has been in April's family for generations.
As a matter of fact, it was handed down from her 96-year-old Granny, Nell Spence.
Just imagine the volumes of southern cooking secrets that Granny Spence must have acquired throughout the years.
This Thanksgiving dressing recipe uses day-old cornbread.
You have met our friend April in the past because she has done a couple of recipes for us, some time ago.
We are speaking of her Chicken Fried Steak, as well as her Flank Steak Pinwheels on the Grill.
Today, April brings to our table another southern recipe.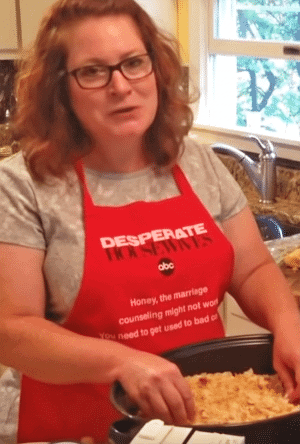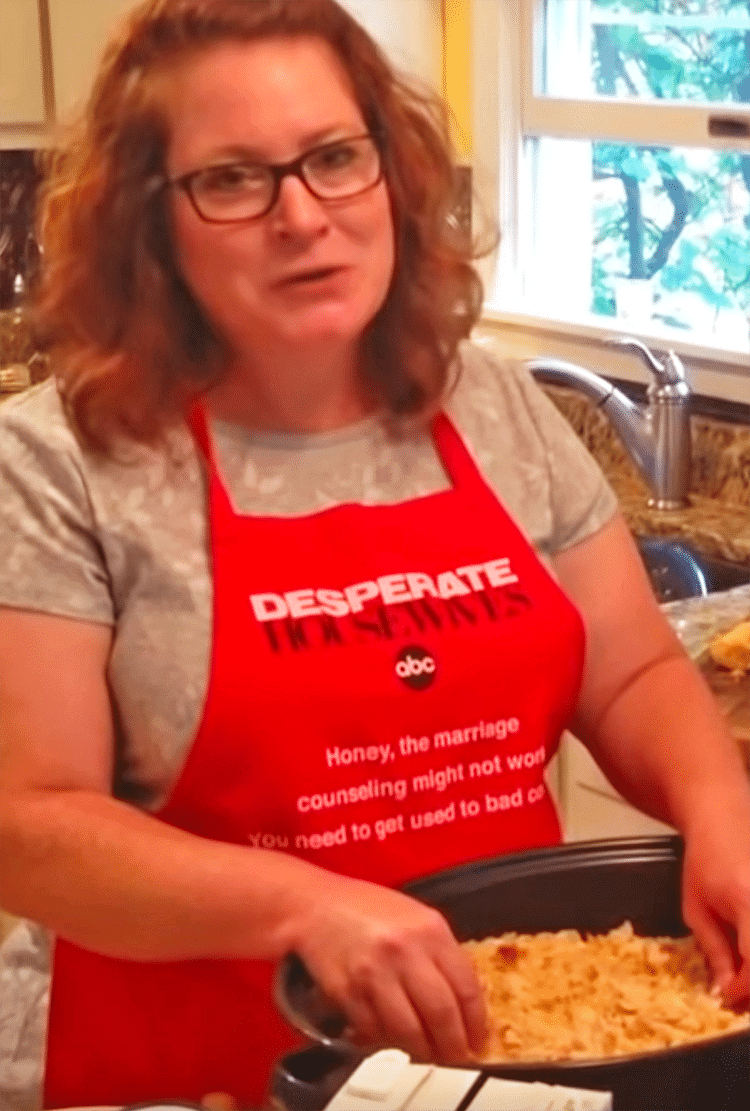 What's in it

Cornbread and Biscuits (3:1 ratio)

Three parts cornbread to 1 part biscuits

Eggs

Sage

The more, the better, according to April!

Onion and Celery

Sage

Evaporated Milk

Salt and Pepper Sage

Sage

Chicken Broth

Did we mention Sage?
How to make it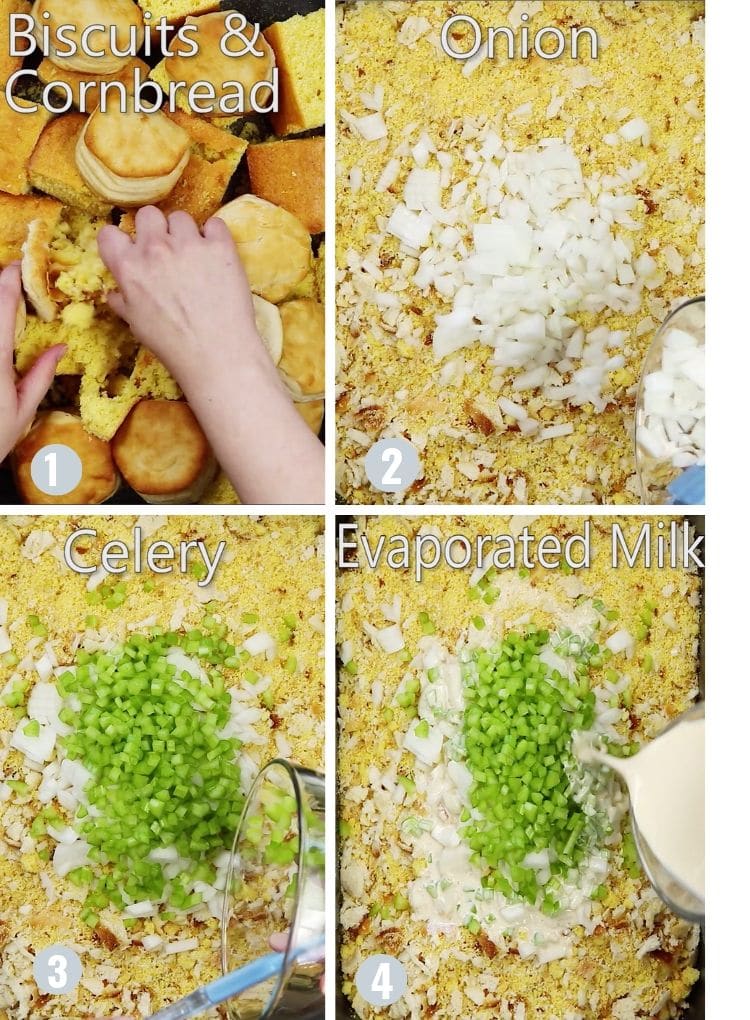 1. Start with day-old cornbread and biscuits.
2. Add chopped onion.
3. Next toss in some chopped celery.
4. Stir in some evaporated milk.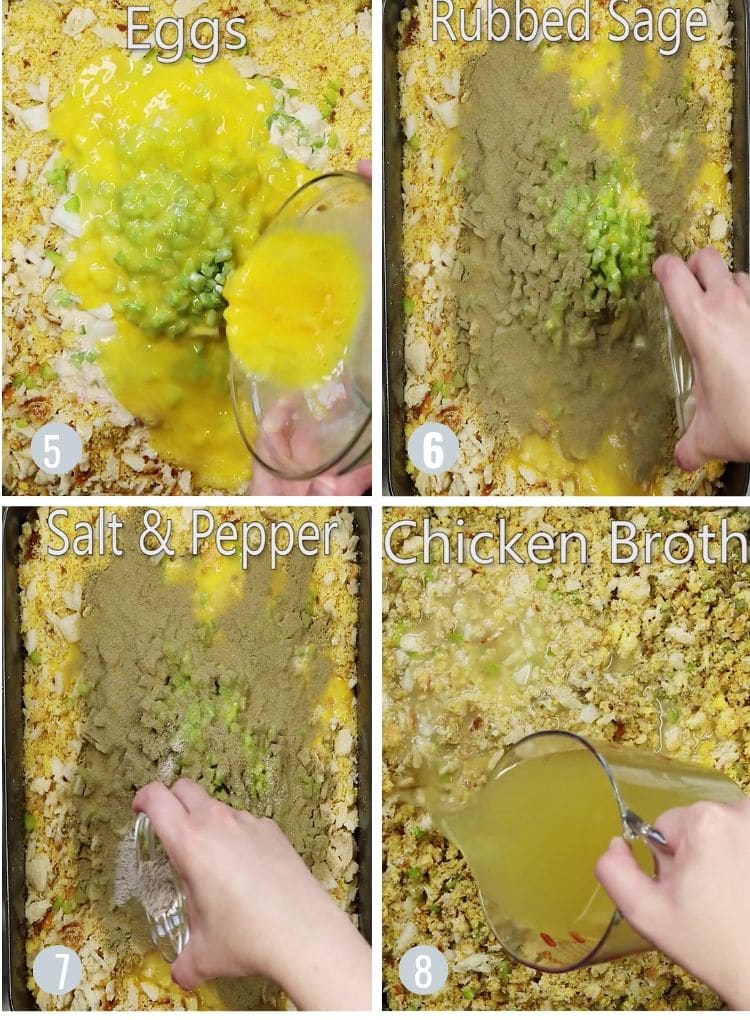 5. Stir in some beaten eggs.
6. Add some rubbing sage, April says you can't use too much of this seasoning!
7. Salt and Pepper
8. Stir in some chicken broth.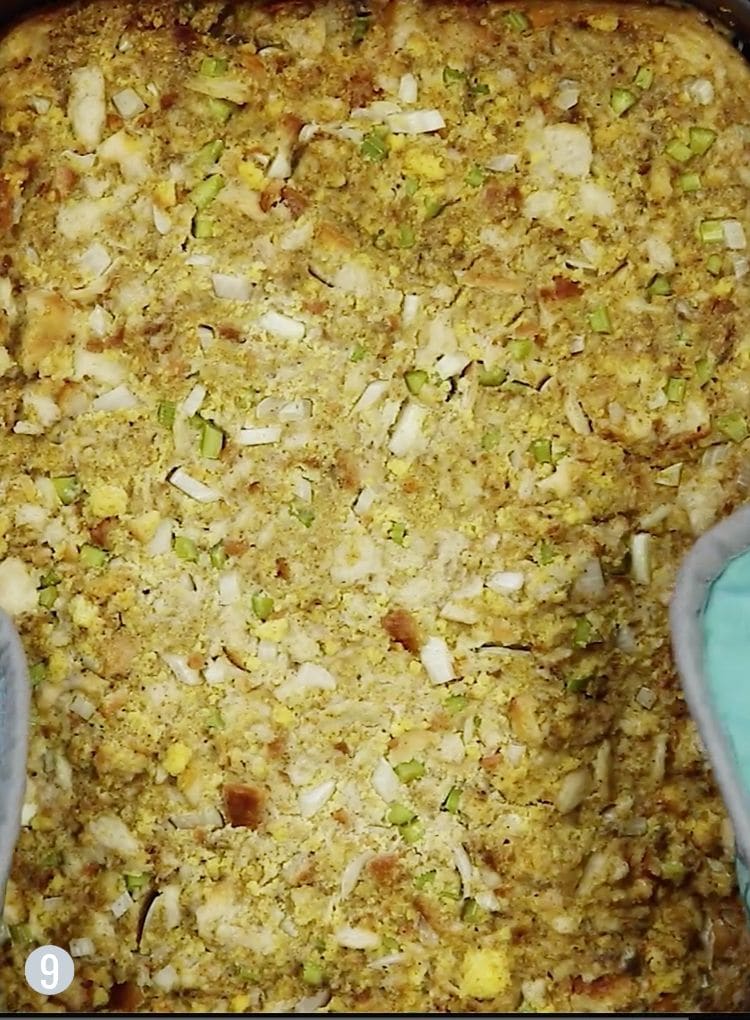 9. Place in the oven for an hour and 20 minutes, and then…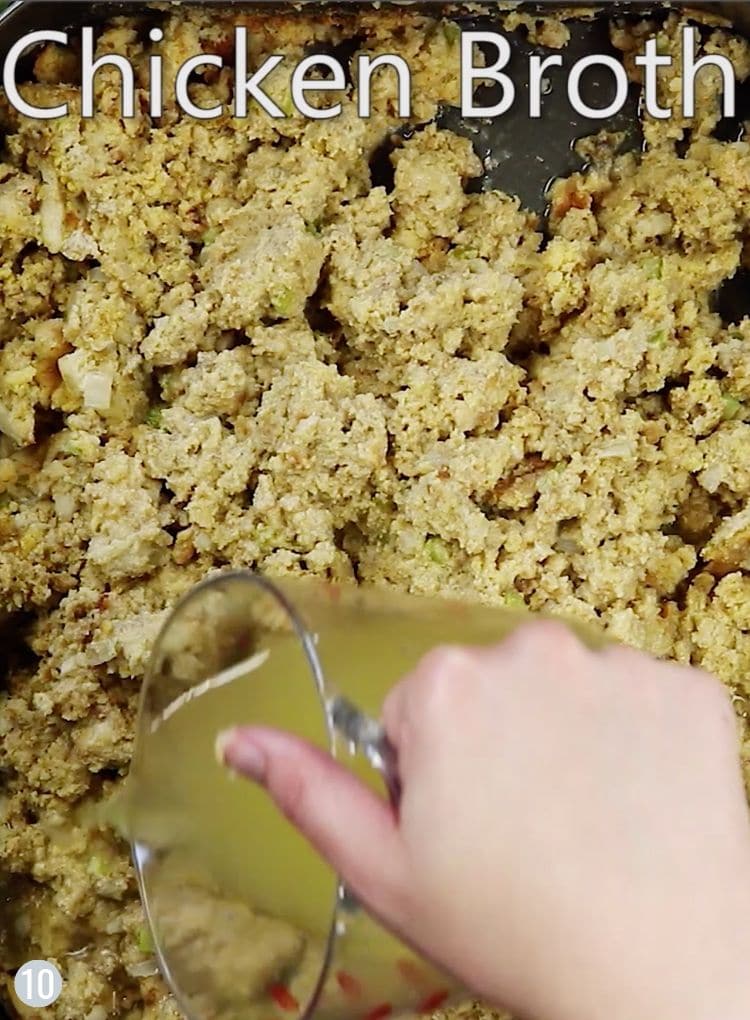 10. Stir in more chicken broth.
Repeat the baking and adding chicken broth a couple of more times, until the dressing has reached the consistency of mashed potatoes.
Pro Cooking Tip:
This is the time when you sit around the kitchen, maybe have a cup of coffee, a glass of wine, or just a cool drink of water.
And talk to your family. Visit with your friends. Find out what's new with your kids. Your grandkids. Your neighbors. Your husband or wife.
This is the time when you talk about this recipe and some of the holiday traditions that you grew up with.
This is exactly how kitchen traditions are born.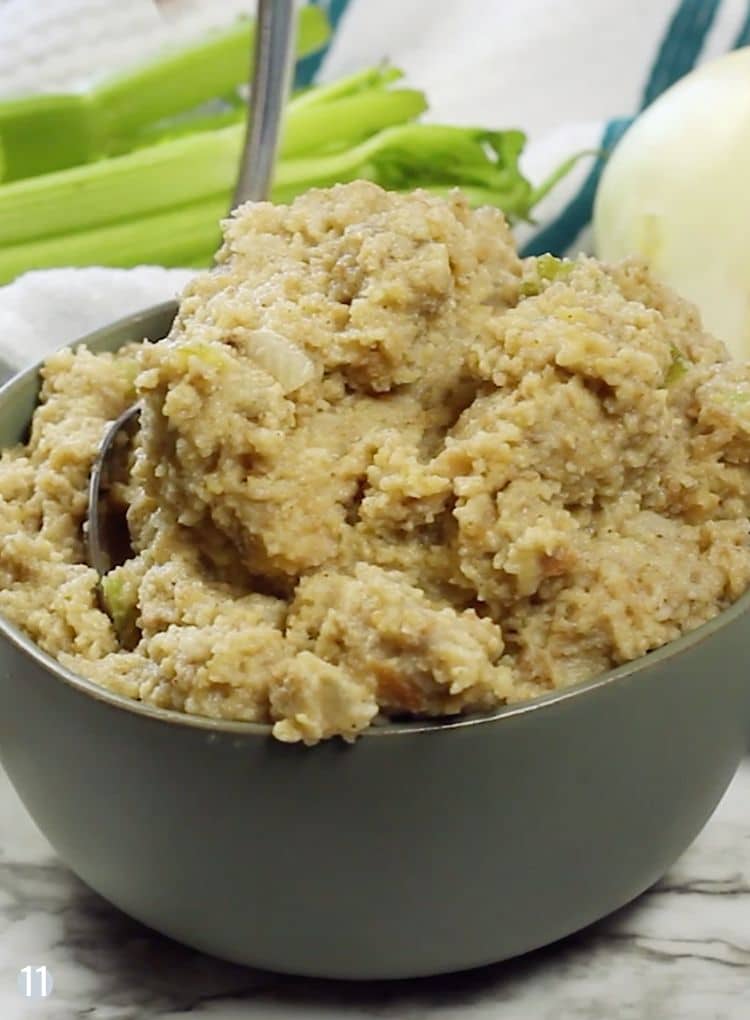 11. Serve this savory holiday dressing with chicken or with turkey.
I may be a Yankee, through and through, but I have had my share of southern eats, and therefore, I have gained a great appreciation of them.
Whether its grits, collard greens, fried chicken, or the likes of such, there is no question that there is something special about southern cooking that sets it apart from all other cuisines.
We enjoyed this traditional southern recipe with a roast chicken, some fresh cranberries, and a salad.
April's two kids joined us, as well as their dad, and throughout the dinner, each member of the Lee family-related memories of growing up with this side dish.
---
This is April's preferred brand of cornbread mix, get the most from this family recipe and order some from Amazon today!
---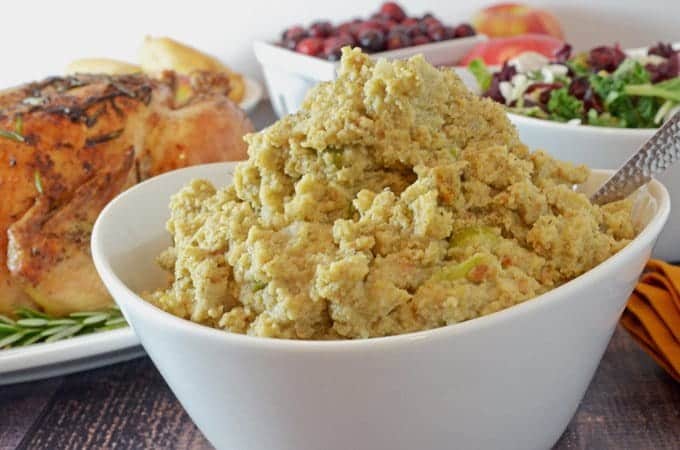 According to April and her family, this Southern Cornbread Dressing is delicious the next day, and what's more, it freezes well for future use.
Part of a Family Tradition
The dinner which featured this holiday side dish was a reminder of the strong bond between great food along as well as its important role in family life.
Thanks to the Lee family's Granny, this Cornbread Dressing will live on for many generations to come.
And with every helping, Granny Nell Spence will always be a part of it.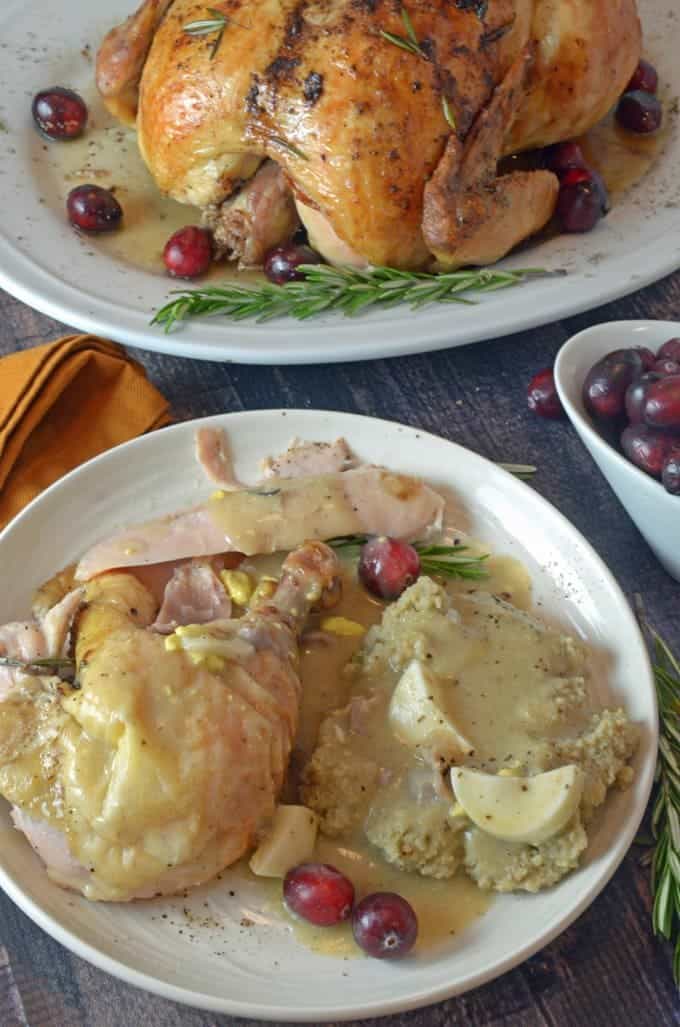 April's sage dressing is made better only by one thing, as shown above, her Giblet Gravy. See the recipe for the Giblet Gravy, here on Platter Talk.
Plan ahead and freeze this cornbread dressing until the holidays arrive!
We all have family traditions that center around food.
One of my favorites is the Thanksgiving dinner that my mom would make for our family of six kids and the dozen or so grandchildren, my nieces and nephews.
We filled the table of our big Mennonite farmhouse, and instead of serving cocktails, my mom had a small glass at every plate that she would pour a small amount of her homemade tomato juice.
It's the only time I ever remember her serving it, but it happened every Thanksgiving and although I wasn't a particular fan of tomato juice, I sipped it down just the same because I knew it was a part of our holiday.
A part of our family.
Side note: Some of the "cocktail" glasses were from the tiny shrimp cocktail she would buy on occasion throughout the year. Small fluted glasses, simple yet elegant – much like my beautiful mom who never wore an ounce of makeup because her religion frowned upon such worldly things. She never needed it.
---
FAQ
How to tell when cornbread dressing is done?
Test the dressing like a cake by inserting a toothpick in the center,
When it comes out clean, the dressing is done.

This dressing recipe should have the consistency of mashed potatoes when it is finished.
What goes good with this dressing?
Serve this dressing with chicken or with turkey.
A green bean casserole is always a good choice with this dressing.

Roasted gravy

tastes great with this cornbread dressing.
Can cornbread dressing be frozen?
Yes, this dressing can be frozen.
Allow it to cool completely.
Wrap it, air-tight and then freeze for up to six weeks.
Allow the dressing to thaw in the refrigerator for two days before using.
How much cornbread dressing per person?
This recipe yields 12 good-size portions.
Adjust the recipe per your crowd.
As a backup plan, you can always freeze the leftovers and reheat for another meal!
---
Love Cornbread? Try this recipe for Jiffy Skillet Cornbread.
Related recipes
👨‍🍳 Tried this Recipe? Please leave a ⭐⭐⭐⭐⭐ rating in the recipe card below and leave a comment. We love hearing from our readers!
⏩ Stay in touch with us on social media by following us on Facebook, Pinterest, Instagram, and YouTube!
📬Get our Recipes delivered to your inbox for FREE!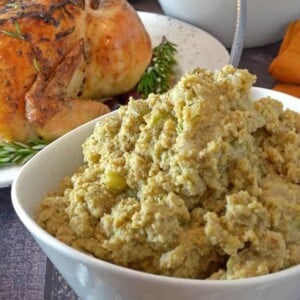 Southern Cornbread Dressing
This cornbread dressing is perfect for Thanksgiving, Christmas, or any special dinner. Learn how to make cornbread dressing here on Platter Talk!
Ingredients
4

boxes cornbread mix

,

(April prefers Corn Kits)

1-2

cans of biscuits

1

onion

,

, fine chop

2-3

stalks of celery

,

, fine chop

5

eggs

1

can Carnation evaporated milk

1

small container of rubbing sage

,

, maybe more

salt and pepper to taste

4

(32 oz each) boxes of chicken broth
Instructions
Prepare cornbread and biscuits a day ahead of time.

Preheat oven to 350 ℉.

Spray large roasting pan with non-stick coating.

Crumble cornbread and biscuits to a fine texture, keeping the ratio of cornbread to biscuits 3:1.

Add onion, celery, eggs, evaporated milk, sage, and salt and pepper.

Mix well, and add 2 to 3 boxes of the broth to reach a soupy consistency.

Place covered roaster in oven for an hour to an hour and 20 minutes and then every 15 minutes, check consistency of the dressing, adding additional broth as necessary. Be sure to scrape sides and bottom or roaster to prevent any of the dressing from becoming too dry. The finished dressing should have the consistency of mashed potatoes.
Notes
Prepare cornbread and biscuits a day ahead of time and allow to set out until ready to use.
For the cornbread and biscuit mixture, use approximately 75% cornbread and 25% biscuits.
Onion and celery should be of approximately equal parts, for example, a cup of each.
This Southern Cornbread Dressing Recipe freezes well for later use. Simply thaw, reheat in oven, and reconstitute with additional broth as necessary.
Nutrition
Calories:
431
kcal
,
Carbohydrates:
65
g
,
Protein:
9
g
,
Fat:
14
g
,
Saturated Fat:
3
g
,
Cholesterol:
70
mg
,
Sodium:
853
mg
,
Potassium:
169
mg
,
Fiber:
5
g
,
Sugar:
17
g
,
Vitamin A:
190
IU
,
Vitamin C:
0.7
mg
,
Calcium:
67
mg
,
Iron:
2.9
mg
Nutrition information is automatically calculated, so should only be used as an approximation.
Updated from the original post of November 3, 2016.