Blueberry Crumb Cake & Cream Cheese Lemon Twist
on Jun 24, 2016, Updated Jul 24, 2020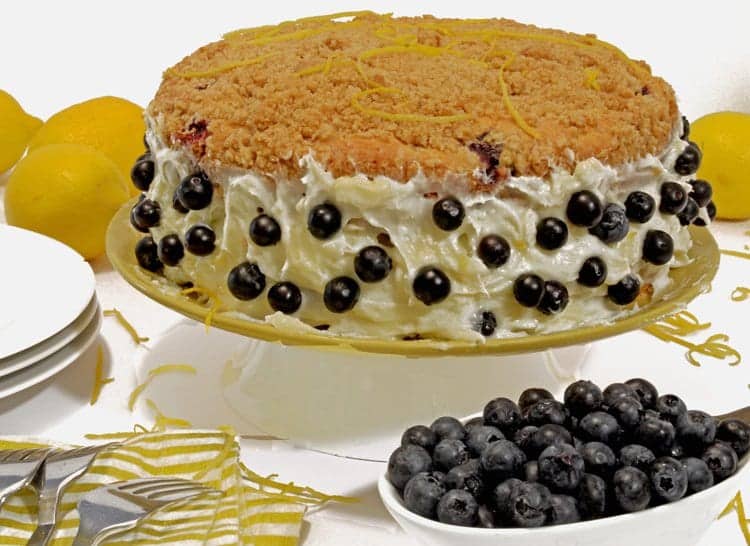 Blueberry Crumb Cake & Cream Cheese Lemon Twist Recipe – This was our first time participating in Freaky Friday and we are so happy to have been invited to join this group of premiere food sites. Our secret partner could not have been more appropriate for us as she is one of our very best food buddies and someone we have mentioned dozens of times here on Platter Talk. We are speaking of none other than Patty Anderson, the enormously gifted lady behind Cooking on a Budget. We chose to recreate one of her mouth watering desserts, Blueberry Cake with Crumb Topping. As you will notice, we put our own spin on this easy dessert, tailor-made for summer.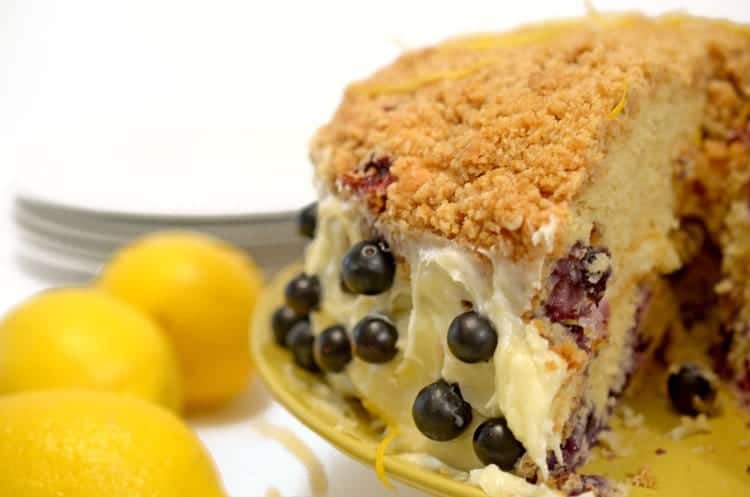 About this

You may have noticed that our version of Patty's dessert looks a bit different. Aside from the creamy and lemony addition of frosting, it's has exactly the same ingredients. Oh, one other difference, we stacked our version.
A few of the particulars of how we took Patty's cake and made it our own: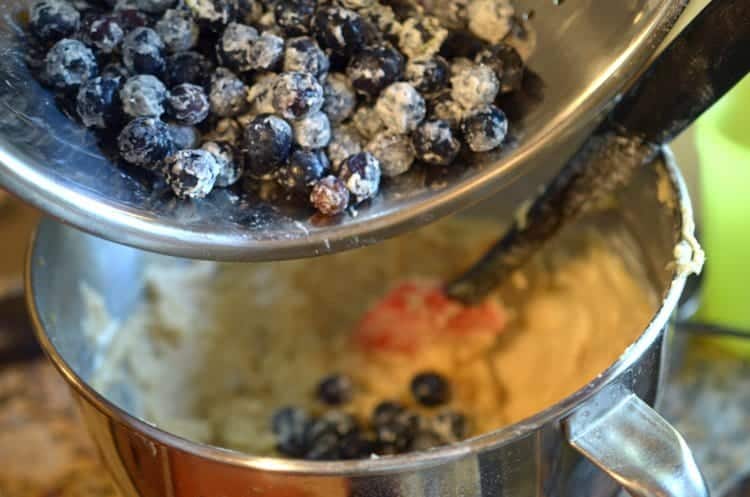 We rolled our berries in just a little bit of flour. The idea behind this is to help prevent them from sinking to the bottom of the cake pan while in the oven. This little trick worked!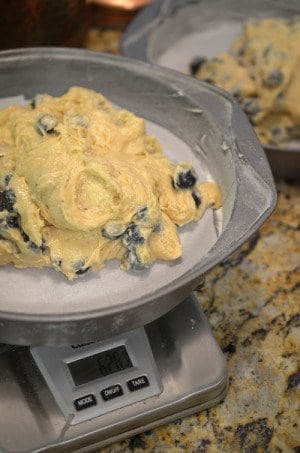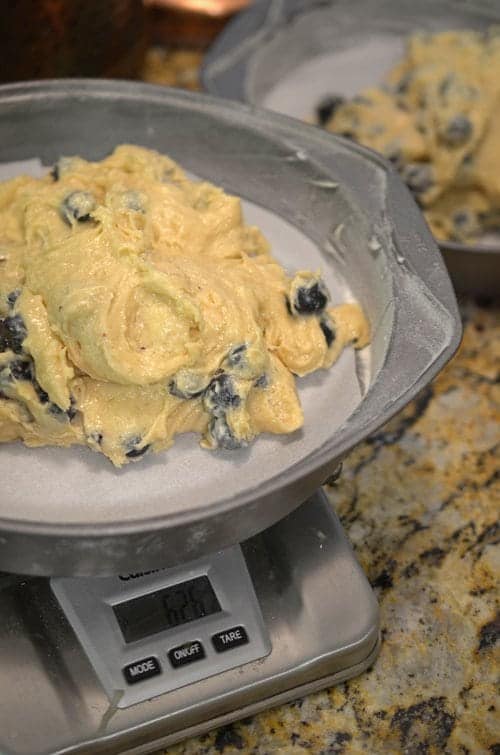 To make sure the batter was split evenly between the two pans, we weighed each pan. If you don't have a kitchen scale, pick one up soon. You'll be amazed at how useful they are. Our scale helped ensure that this Blueberry Crumb Cake & Cream Cheese Lemon Twist Recipe came out with two perfectly proportioned layers.
To ensure that each cake layer popped nicely out of their respective pan, we lightly greased then floured the sides and bottoms of both pans. Then, we cut out a circle of parchment paper to line the bottom of each pan. After this Blueberry Crumb Cake & Cream Cheese Lemon Twist Recipe baked for about 40 minutes, we gave it the toothpick test and when the toothpick came out clean, we let the layers cool on a rack (still in the pan) for about 10 minutes. Then, we put a platter over the top of each pan, flipped it out of the pan and then (right side up) on the cooling rack where it spent another 30 minutes or so cooling.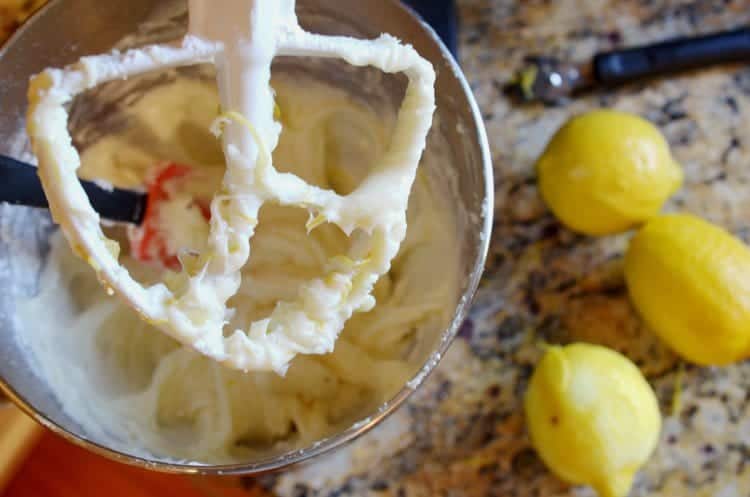 While the cake layers were cooling, we added our own twist. This is the only difference in the original cake from Patty. We put together a simple cream cheese frosting, with a lemon twist. To the mixing bowl we added the juice from half a lemon along with some fresh lemon zest.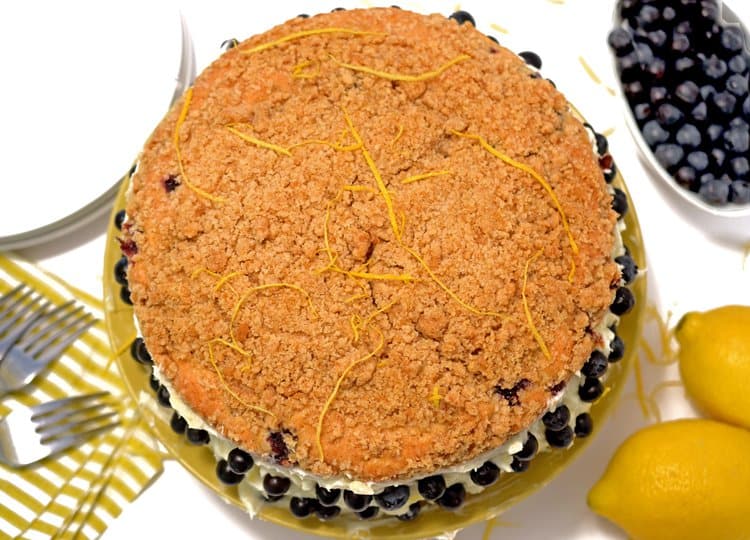 We stuck with Patty's idea, and topped this beauty with her crumb topping. For good measure, we added this to both layers of our Blueberry Crumb Cake & Cream Cheese Lemon Twist Recipe and bonded them together with a generous portion of the lemony cream cheese frosting.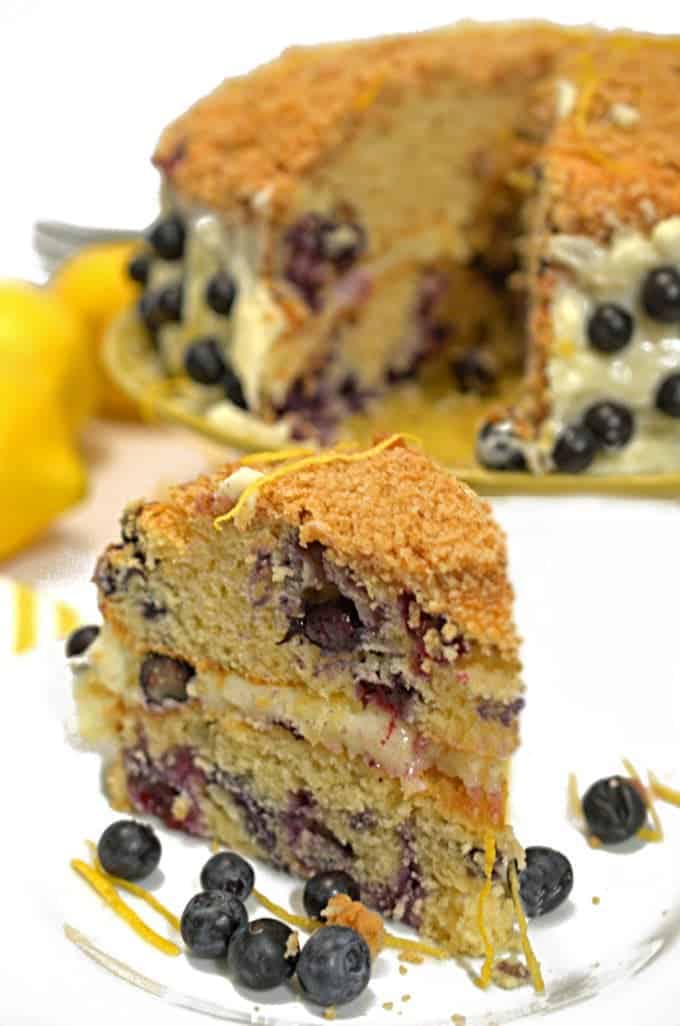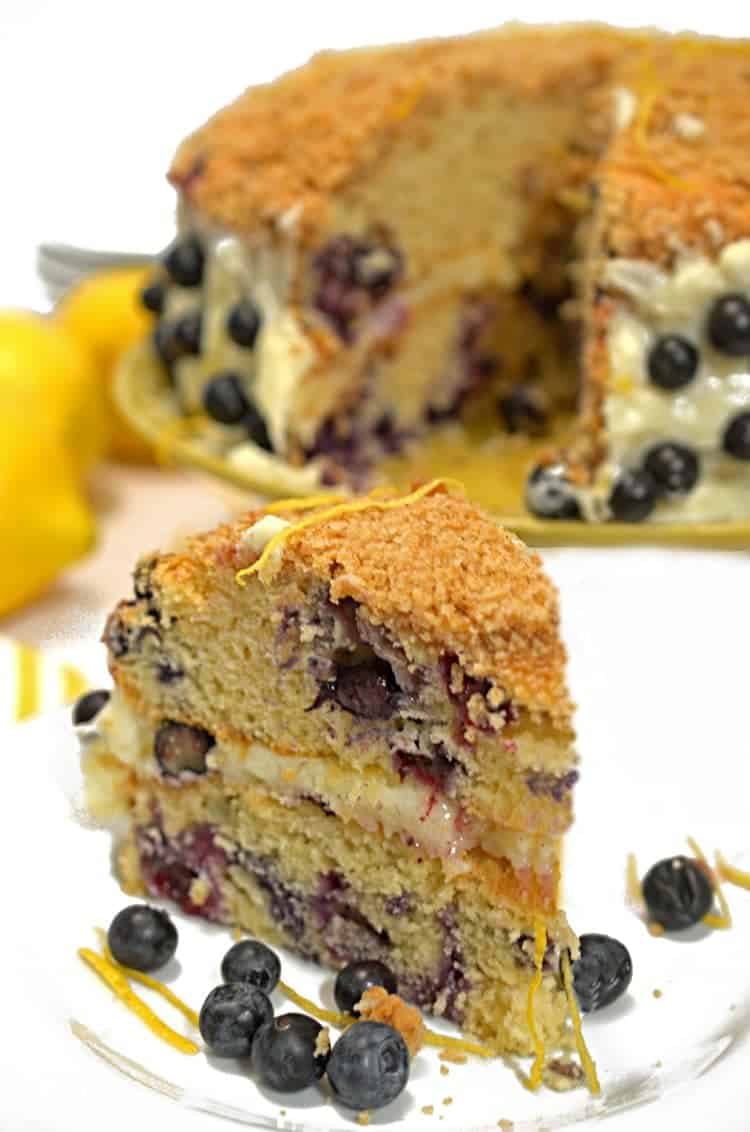 If t you like his Blueberry Crumb Cake & Cream Cheese Lemon Twist Recipe, be sure and stop by the source of this dessert, Cooking on a Budget. There you'll find hundreds of original and great tasting, budget-friendly recipes. One of our favorites just happens to be this Steakhouse Potato Gratin.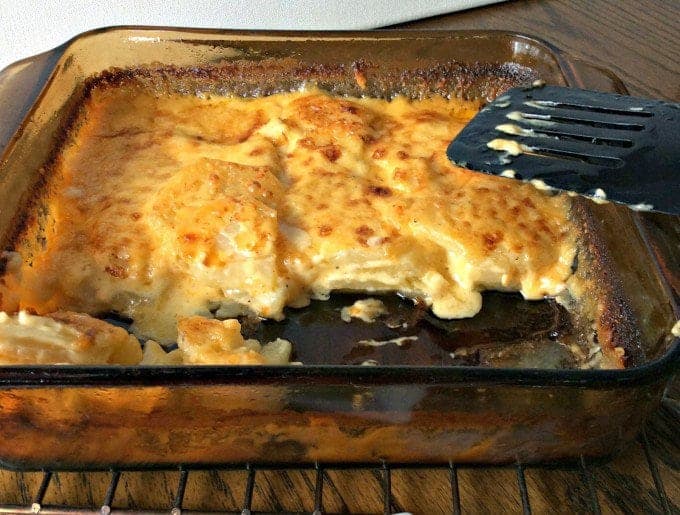 We hope you try this Blueberry Crumb Cake & Cream Cheese Lemon Twist Recipe and be sure and check out all the other food talent that is participating in this season' s version of Freaky Friday! You'll find links to all of their sites, following the recipe below.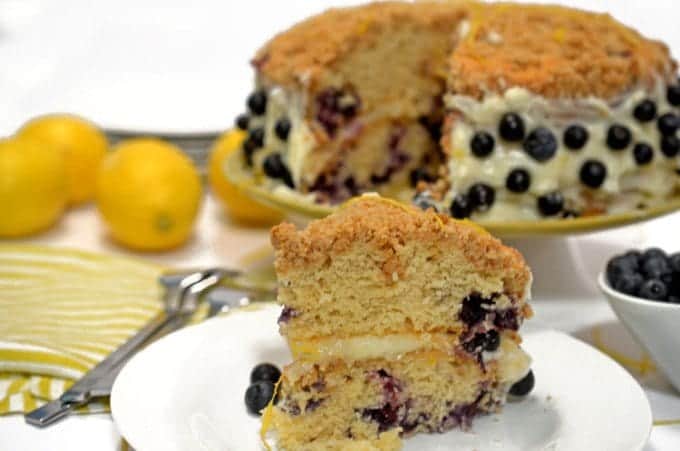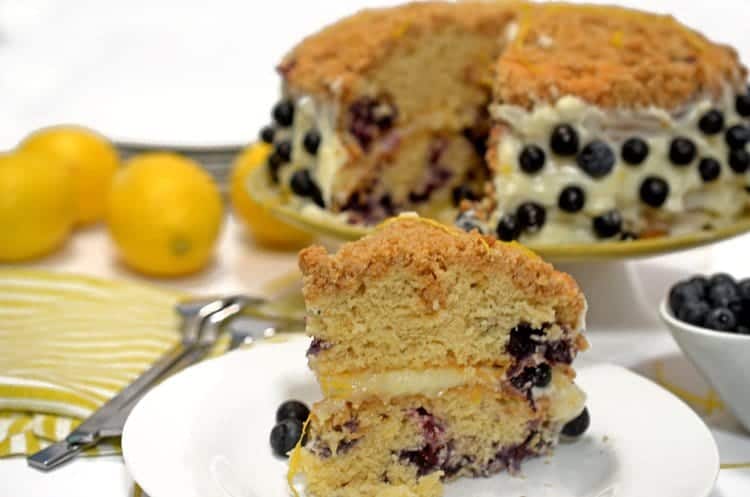 Other deliciously sweet treats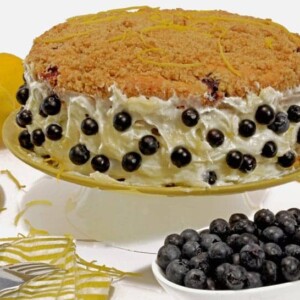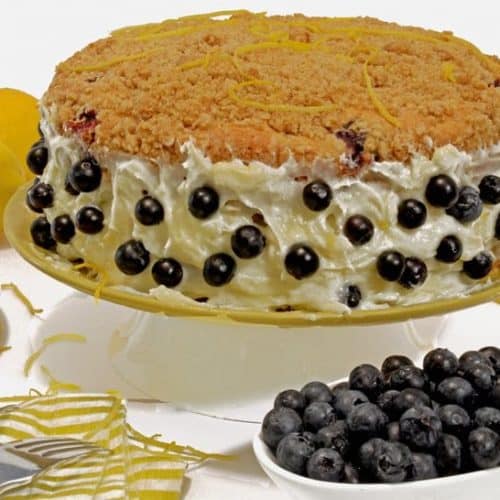 Blueberry Crumb Cake & Cream Cheese Lemon Twist Recipe
Adapted from Patty Anderson, Cooking on a Budget
Ingredients
for the cake
3/4

cup

butter - softened

3

eggs

3

tsp.

baking powder

3/4

cup

milk

3

cups

blueberries

1 1/2

cup

sugar

3

cups

all purpose flour

1/2

teaspoon

table salt
for the crumb topping
1

cup

flour

4

tsp.

cinnamon

4

tbsp.

light brown sugar

1

stick cold butter cut into small pieces

Mix all of the topping ingredients together by pulsing in a food processor until crumbly.
for the frosting
8

ounces

unsalted butter

,

softened

6

ounces

cream cheese

,

softened

3

cups

powdered sugar

2

teaspoon

vanilla extract

juice from 1/2 lemon

zest from 1 lemon
Instructions
for the cake

In one bowl combine the flour, baking powder and salt.

In a large bowl with mixer at medium speed cream the softened butter and sugar until light and fluffy.

Add in the eggs one at a time beating after each addition. Add the flour mixture and the milk and vanilla - alternating after each addition.

Crush 1/2 cup of blueberries and fold into the batter. Fold in the remaining whole blueberries.

Lightly grease and flour two 8 inch cake pans. Line bottoms with parchment paper.

Evenly divide the batter between the two pans and spread evenly.

Top each layer with the crumble. (Recipe above)

Bake in a preheated 375 degree oven for 30-35 minutes.

Test with a toothpick and if the toothpick comes out clean they are done.

Allow pans to cool for 10 minutes in pans, then remove and place on cooling rack and allow to

cool for another 30 minutes.
for the frosting
In a large bowl, beat together the butter and cream cheese with an electric mixer. With the mixer on low speed, add the powdered sugar a cup at a time until smooth and creamy.

Beat in the vanilla extract and the lemon juice.

Fold in lemon zest

When cake layers are cool, spread frosting on top of bottom layer. Stack second layer on top of bottom layer and frost sides of cake. Garnish with additional lemon zest and blueberries if desired.
Notes
To help prevent your berries from sinking while the cake bakes, lightly roll them in flour.
Nutrition
Calories:
723
kcal
,
Carbohydrates:
100
g
,
Protein:
7
g
,
Fat:
33
g
,
Saturated Fat:
20
g
,
Cholesterol:
129
mg
,
Sodium:
273
mg
,
Potassium:
273
mg
,
Fiber:
2
g
,
Sugar:
64
g
,
Vitamin A:
1125
IU
,
Vitamin C:
3.6
mg
,
Calcium:
128
mg
,
Iron:
2.6
mg
Nutrition information is automatically calculated, so should only be used as an approximation.