Grilled Jerk Chicken
on Aug 16, 2018, Updated Mar 23, 2021
Warm summer weather means one thing when it comes to feeding our family, here in Wisconsin: Outdoor grilling. Jerk chicken on the grill is a meal that takes a grilled chicken to a whole new level.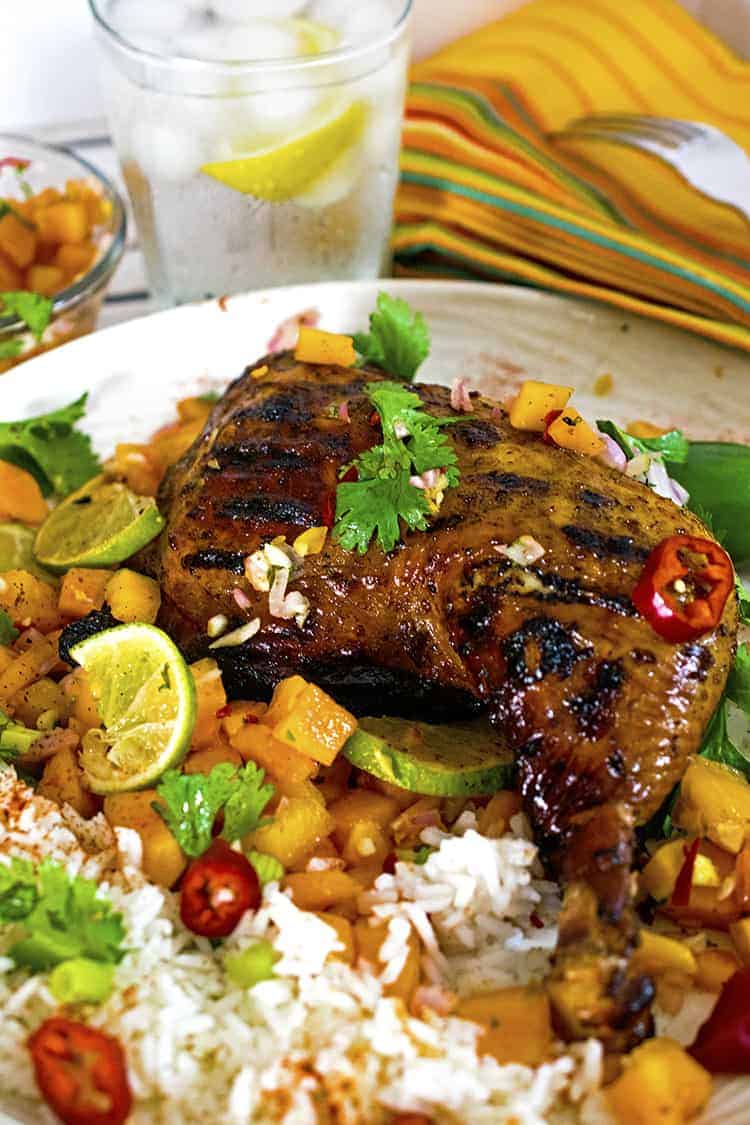 What is this?

Jerk chicken involves more than simply rubbing some spicy peppers and brown sugar onto some chicken and throwing it on the grill. Instead, it is indeed a process. Smokey and aromatic, hot and sweet, it is all things Jamaica.
Smokey and hot, it is full of Jamaican flavors that include fresh ginger, thyme, and scallions, to name a few. Make this jerk chicken recipe and put yourself on island time. Sit back, enjoy a cold beverage and get ready to salivate.
What's in it?

Bone in chicken quarters, legs, or thighs
Scallions
Scotch bonnet or habanero chile peppers
Lime juice
Soy sauce
Olive oil
Allspice
Garlic
Cloves
Fresh thyme
Brown sugar
Cinnamon
Nutmeg
Salt and pepper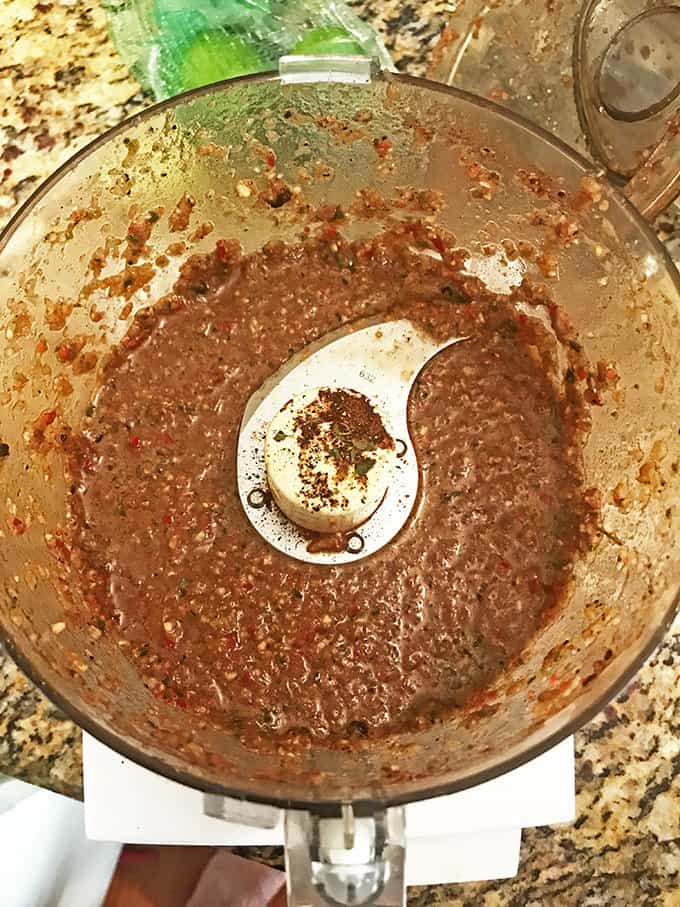 All of those ingredients are combined in a food processor to create a lively jerk seasoning and then used as a marinade.
Marinate jerk chicken for a day before cooking it.
How to make it
The process for making jerk chicken starts a day or 2 before actually cooking it. After the jerk chicken marinade is put together, it's time to slather it on the chicken. You want to do this 12 to 36 hours ahead of time, before placing it on the grill or in a hot oven.
Begin by patting the chicken dry, using a paper towel. Then sprinkle with a little more salt and nutmeg and then place it in a gallon-size ziplock bag. Add the marinade to the chicken and refrigerate it until ready to cook.
Hot to grill it

Prepare your grill by cleaning and lightly oiling the grates. Then, use a chimney to ignite the charcoal, this will avoid adding obnoxious flavors from a liquid charcoal lighter. You're going to the grill to be 300 degrees and no lower than 250 degrees.
It's best to have the coals 12 inches away from the grates and be sure to create to separate zones of heat: One zone for direct heat and one for indirect. Do this by pushing the coals to one side, if necessary.
Mark the chicken by placing it over direct heat for 2 to 3 minutes on each side.
Jerk chicken can burn quickly because of the marinade. Therefore you want to grill it low and slow. This process keeps it from burning while giving you nicely flavored meat that is not dried out from being over-cooked.
After the charcoal turns white and you can hold your hand over it for about 5 seconds or so, you want to sear the chicken on each side to mark it, over the direct heat. Do this for about 3 minutes on each side, depending on the temperature of the coals.
Move the marked chicken over to indirect heat for the remainder of the process.
Once the jerk chicken is seared and marked, you need to move it to indirect heat on the grill. We like to keep the hot coals in the center of the grill when using this technique and then move the chicken off to the sides. Cover the grill at this stage of the game and continue to cook for about 25-30 minutes.
Serve this jerk chicken over a bed of white rice and papaya salsa.
We love to serve this jerk chicken over a bed of white rice and garnish it with lime wedges and our simple papaya chunky salsa recipe.
If you're looking for another great (and even simpler) jerk recipe, try our Jerk Beef recipe.
Grilled Jerk Beef
Some of our popular

grilling recipes

from Platter Talk
More Jamaican recipes that you might like!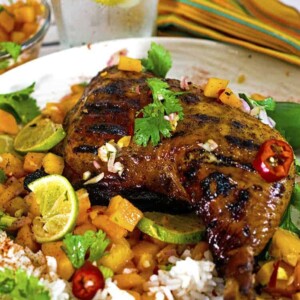 Jerk Chicken
Find out how to grill jerk chicken with this lively jerk chicken recipe from Platter Talk!

Ingredients
2

lbs

chicken

,

we prefer chicken leg quarters

8

scallions

,

about 2 bunches

4

chili peppers

,

Scotch bonnet or whatever you have on hand. Stems removed and seeded.

1

oz

fresh ginger

,

about 2 inches, peeled, coarse dice.

6

cloves

garlic

,

peeled

1

handful

fresh thyme

,

stems removed, or 1 tbs dried thyme

2

tbsp

allspice

,

ground (plus more)

1

tbsp

cinnamon

,

ground

1

tsp

whole cloves

,

crushed

2

tbsp

soy sauce

,

reduced sodium

4

tbsp

brown sugar,

dark

1

tbsp

kosher salt

,

plus more

black pepper

,

fresh ground

1/2

cup

olive oil

1

tbsp

apple cider vinegar

2

limes

,

juiced
Instructions
Begin this jerk chicken at least 1 day ahead of when you want to serve it. Start by taking a paper towel and pat dry the chicken. Then take the remaining ingredients and put them into a food processor. Process until a pasty marinade is formed. Place the chicken in a large ziplock bag and pour the jerk marinade into the bag(s). Squeeze air out, seal the bag(s) and place in refrigerator for up to 36 hours. When ready to grill, take the chicken out an hour before grilling. Sprinkle some extra allspice and salt onto each piece.


Prepare your grill by using a charcoal chimney to light the charcoal. Aim for a temperature of around 300°F and no lower than 250°. Once the coals are hot enough, create tow zones: Do this by pushing the charcoal around (if necessary) to create a zone for direct heat while leaving ample grate space where there is no charcoal underneath for the indirect zone.


Place the chicken on lightly oiled grates, over the direct heat for 2 to 3 minutes to mark and sear each side. Then, move each piece to the indirect zone. Close your grill cover and maintain the temperature as indicated above. Manipulate temperature by opening (which will raise the temp) or closing (which will maintain/lower the temp of the grill). Grill the chicken for about 30 minutes or until cooked through.

Notes
You can substitute a small onion for the scallions.
Nutrition
Calories:
417
kcal
,
Carbohydrates:
22
g
,
Protein:
44
g
,
Fat:
61
g
,
Saturated Fat:
13
g
,
Cholesterol:
170
mg
,
Sodium:
2418
mg
,
Potassium:
652
mg
,
Fiber:
2
g
,
Sugar:
13
g
,
Vitamin A:
720
IU
,
Vitamin C:
21.2
mg
,
Calcium:
91
mg
,
Iron:
3.3
mg
Nutrition information is automatically calculated, so should only be used as an approximation.
Pin this Jerk Chicken recipe for later.