Cabbage Roll Casserole
on Aug 05, 2019, Updated Feb 20, 2021
Cabbage Roll Casserole is a quick and easy way to enjoy all the flavors of our very popular stuffed cabbage recipe.
With hundreds of thousands of views on our original gołąbki recipe, I wanted to simplify the process without losing out on any of the deliciousness of the original version.
We call this lazy golumpki. It is one of my favorite casserole recipes and it hits the mark perfectly.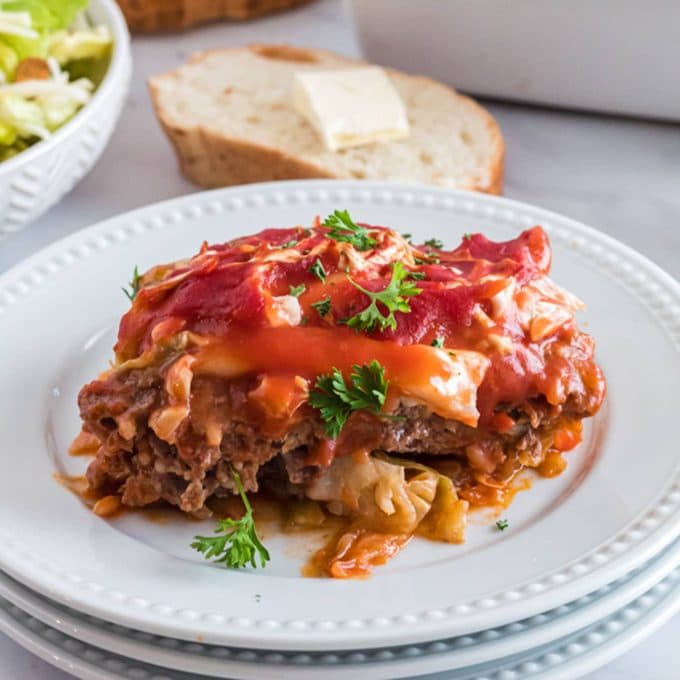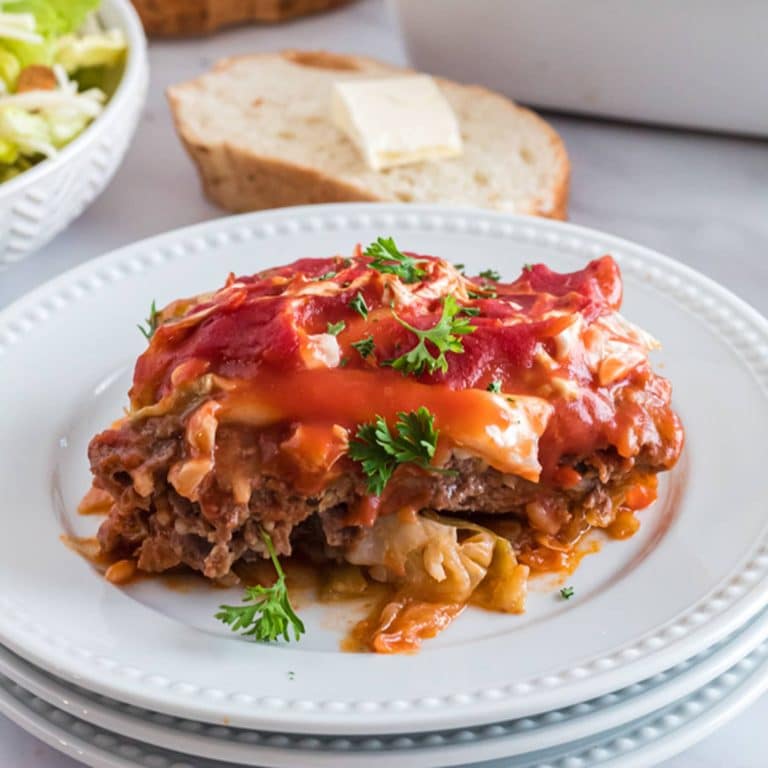 What is Lazy Golumpki?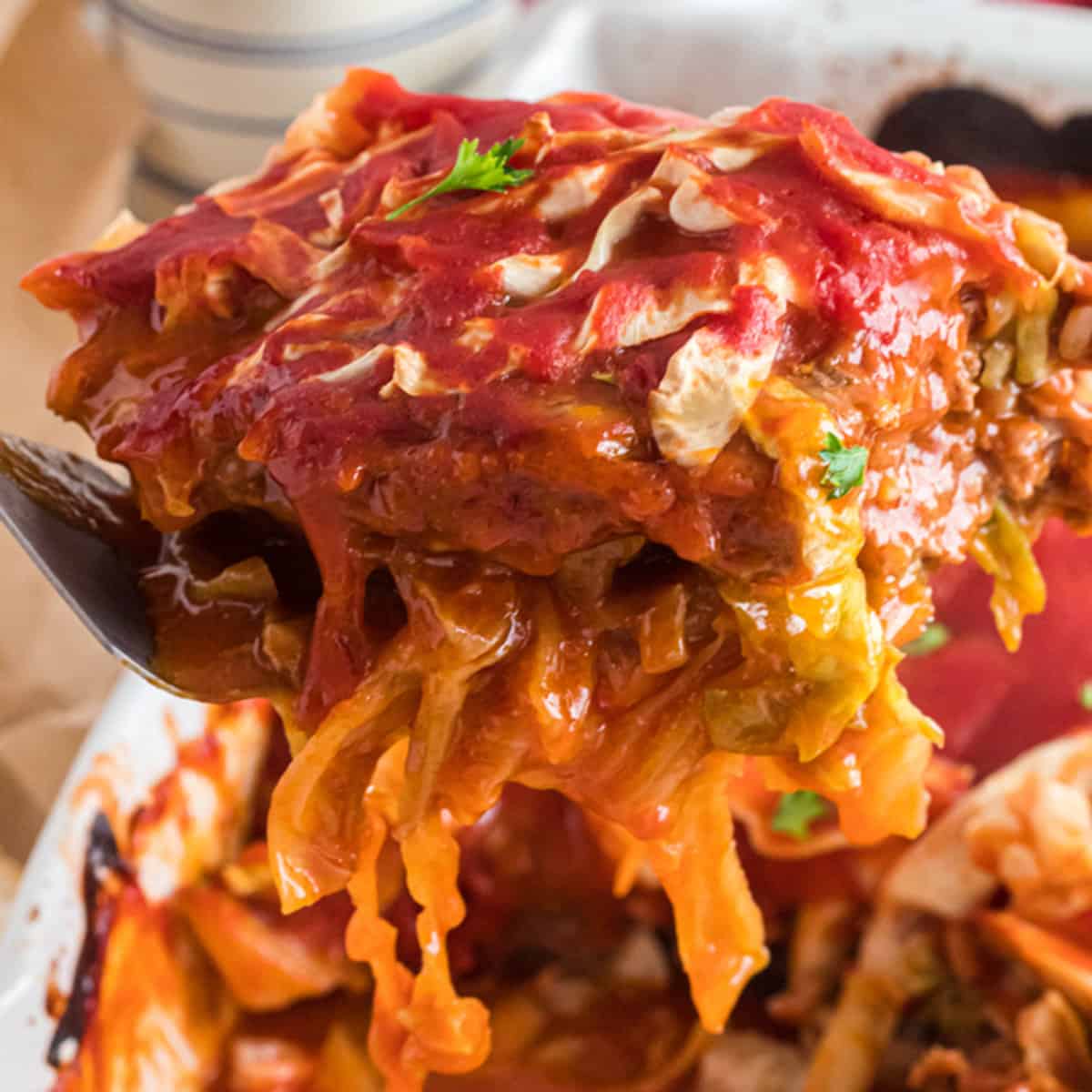 My Polish grandmother brought the best Polish recipes to Detroit when she came over from the old country. To this day her recipe for homemade pierogies is a favorite of all six of our kids. Our cabbage roll soup is another variation of today's recipe for cabbage roll casserole.
I think that people are drawn to our golumpki partly because of its unusual name and also because of its Polish origin.
However, I do have to admit, the original recipe is a bit tedious with many different steps. Although it is not hard to make, it is very time-consuming.
With that in mind, I wanted to make a version of this dish that is quick and easy. Enter lazy golumpki. AKA, cabbage roll casserole.
What's in a Cabbage Roll Casserole?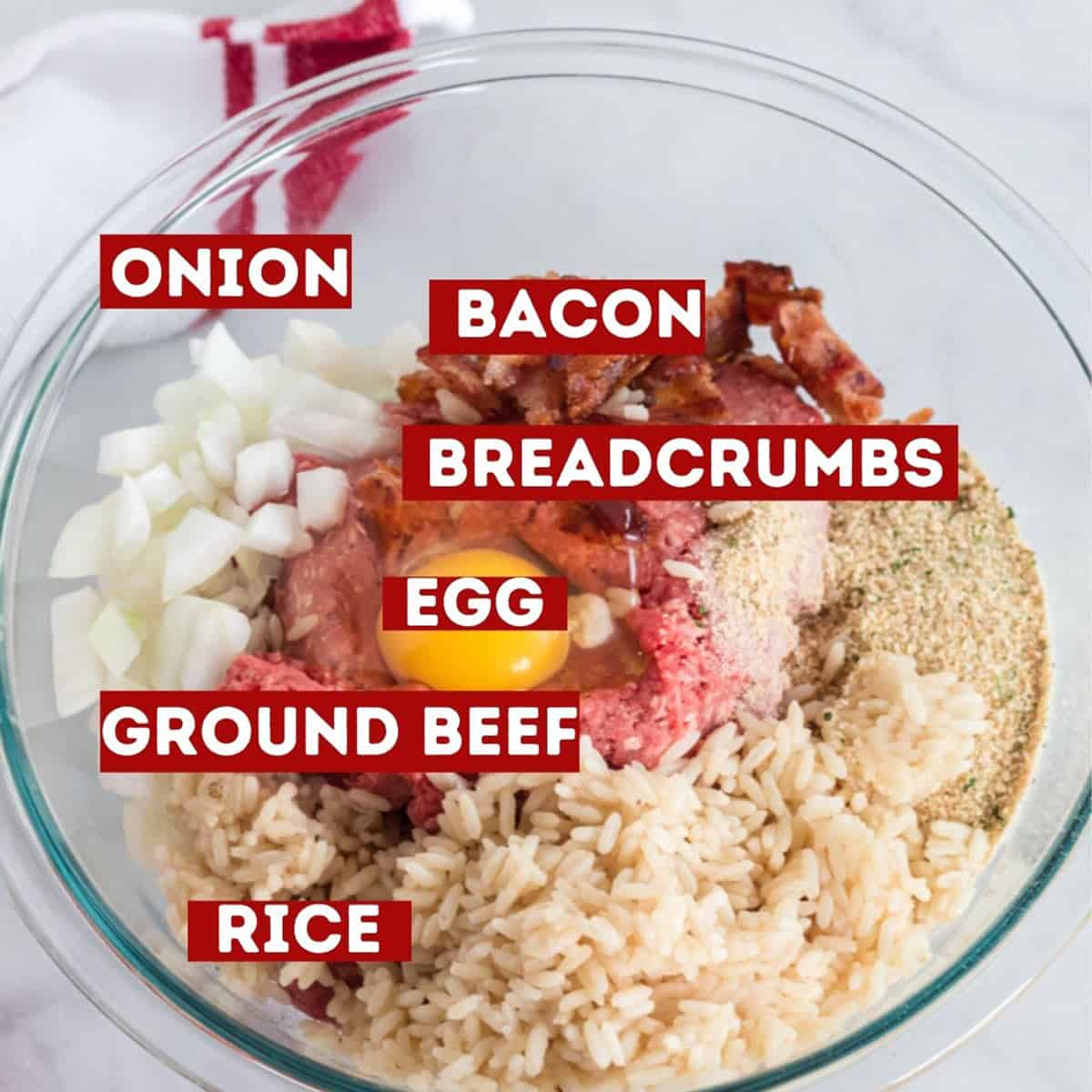 Other than the cabbage, the main ingredients for cabbage roll casserole include:
Cream of Tomato Soup – This helps keep it simple and I prefer Campbell's, for the flavor.
Rice – This helps hold it together and gives some texture. Use whatever kind of rice you have on hand. Even rice in a bag!
Ground Beef – In this version, I used only lean ground beef, 90/10. I did this because most of us have hamburger sitting in the freezer unused, and this makes great use for it.
Substitutions
Traditionally, golumpki is made with different meats. This was done years ago to keep the dish economical. People bought what was affordable and on sale to feed your family.
You can easily use different meat combinations for this, such as ground beef, Italian ground sausage, and even veal.
My grandmother used beef primarily in her lazy golumpki because she had a family of 9 to feed. My point is to use what you have in your freezer. It makes it that much more convenient.
How to make this

The nice thing about this Lazy Man Cabbage Rolls recipe is how fast and versatile it is.
There are many short cuts that can be taken without sacrificing taste.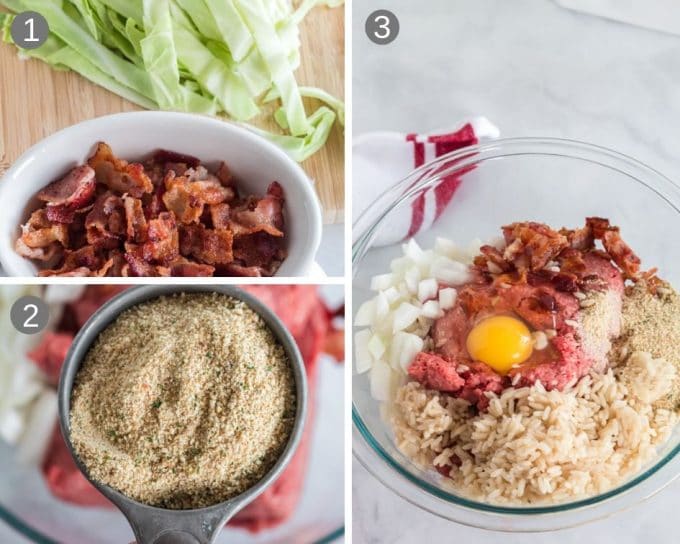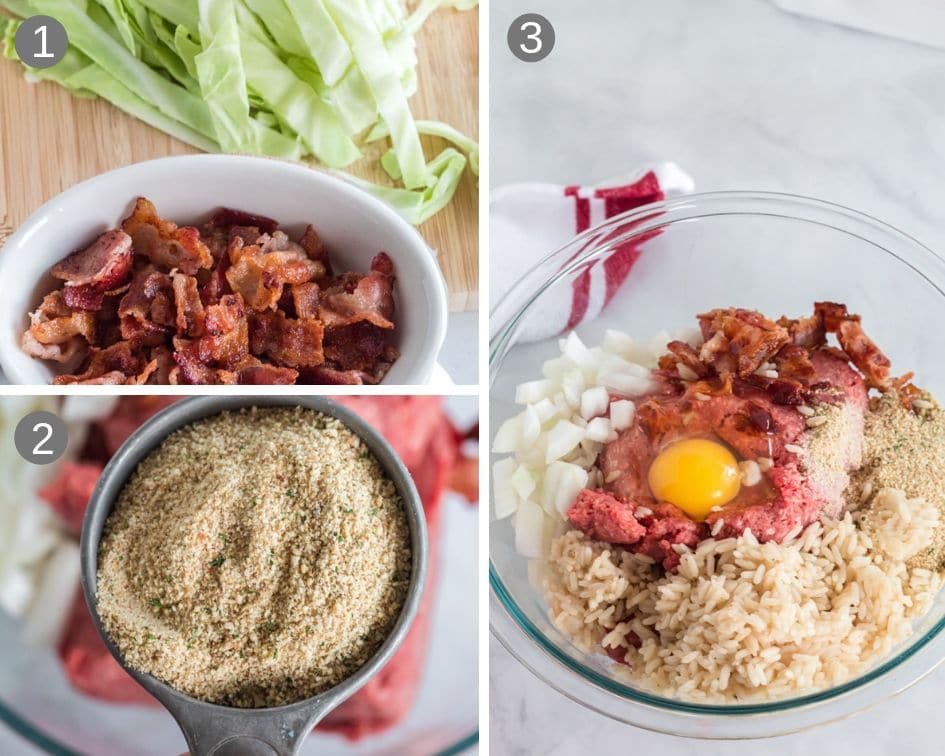 1. I used oven-fried bacon in this recipe for a cripsy finish without a greasy mess.
2. Seasoned breadcrumbs are added to the ground beef mixture for added flavor and to help hold it together.
3. I use a "boil in the bag" type of rice which is mixed in a bowl with the ground beef mixture.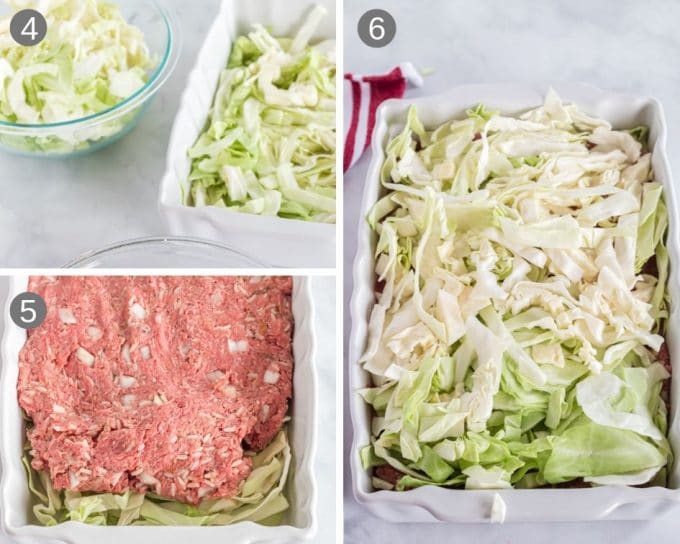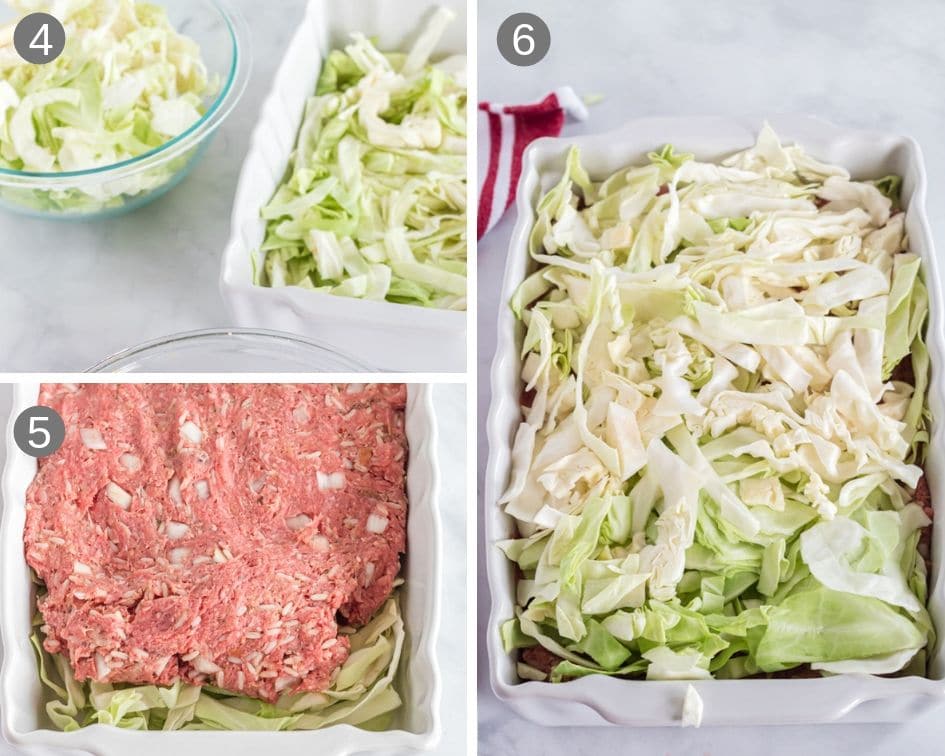 4. Instead of boiling the cabbage and pulling apart every leaf so that you can roll the meat mixture into them, I shredded the cabbage into big long pieces.
This reduces the necessary time of assembling this deconstructed "stuffed cabbage" recipe to mere minutes.
I have to admit, I feel like that I am cheating my grandmother's recipe by taking these shortcuts.
However, that feeling was quickly gone after how fast this went together.
5. Then I layer it.
6. Like a lasagna.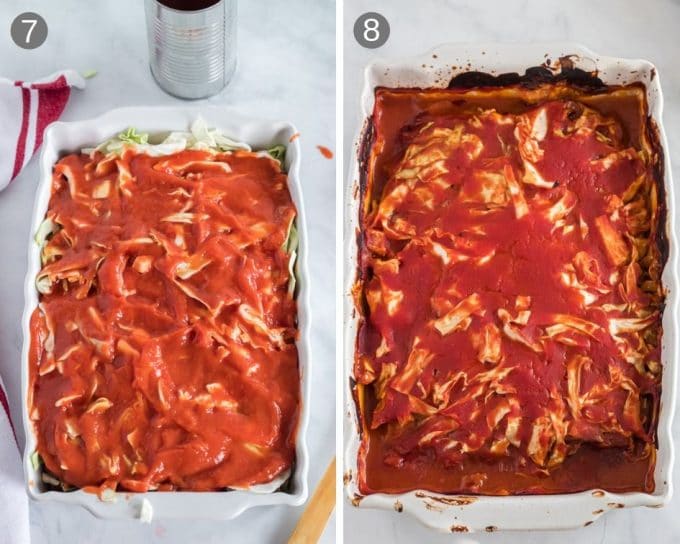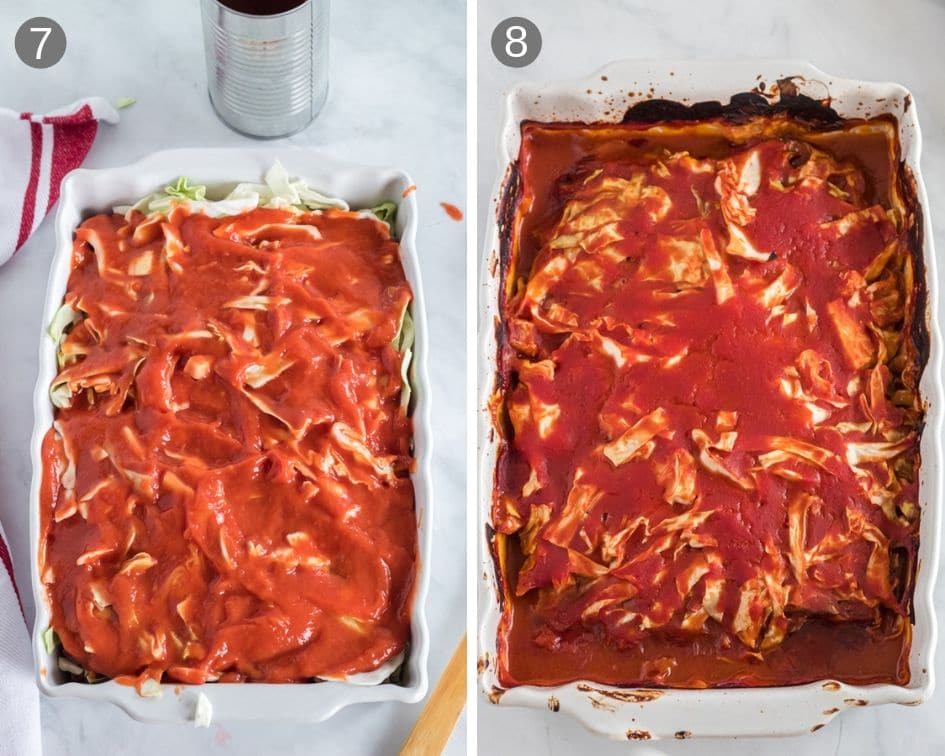 7. I use a family-size can of tomato soup to go over the stuffed cabbage casserole before it bakes in the oven.
8. Finally, to help keep the cabbage roll casserole from drying out while baking, I top it off with a regular size can of tomato soup midway through the baking process.
After putting this lazy golumpki together and allowing it to spend some time in the hot oven, our house quickly filled with the familiar aroma. Then came the memories of the golumpki that I grew up with, without all the work.
With just one bite, you will agree that this is a winning recipe. The cabbage still retains a little crispiness to it, and the meat is moist and delicious.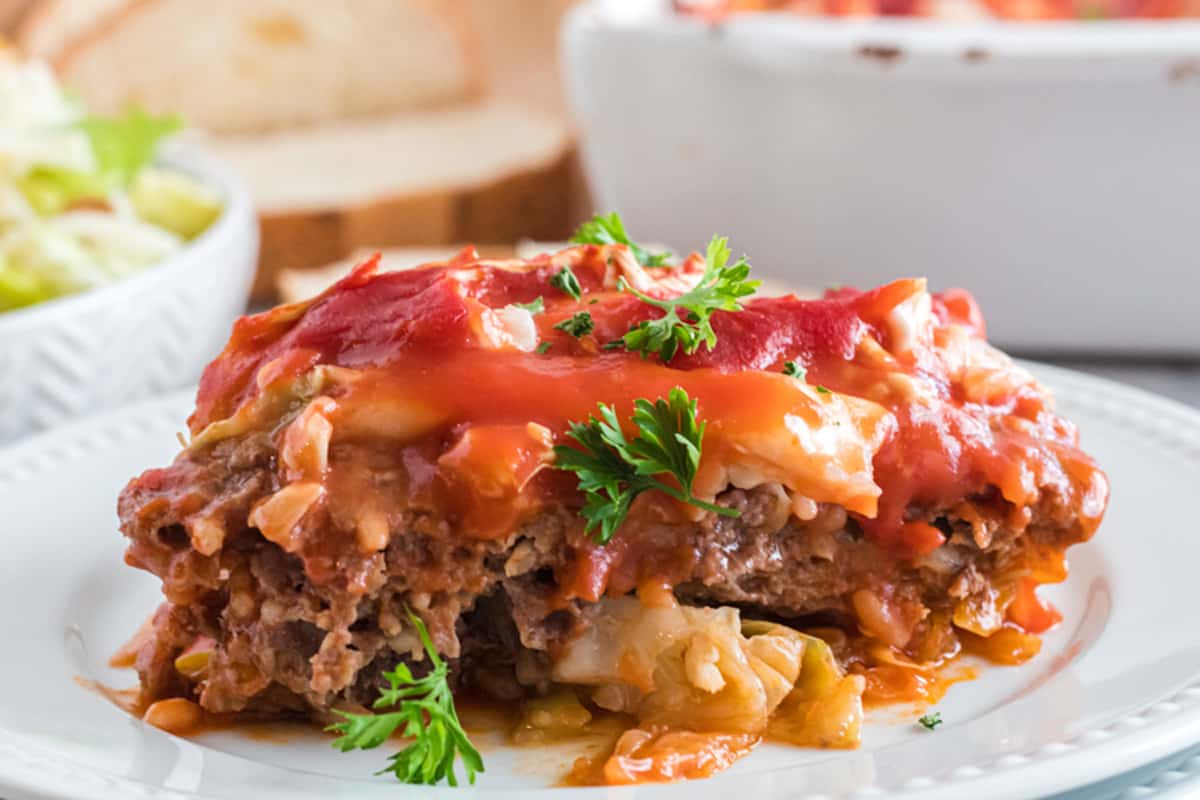 If you are one of the many people who have looked at the original Polish cabbage rolls recipe but shied away from it because it seemed too daunting, then this is the recipe for you.
I threw this cabbage roll casserole together as a weekday meal but it would make a great sit-down Sunday Supper for your family. I know that you will enjoy this family favorite.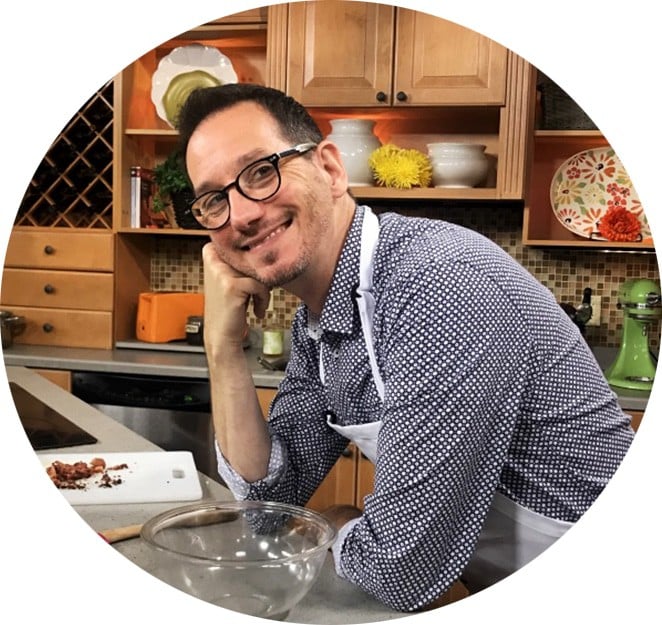 For a more detailed look, see my YouTube video for how to make lazy golumpki.
Common Recipe Questions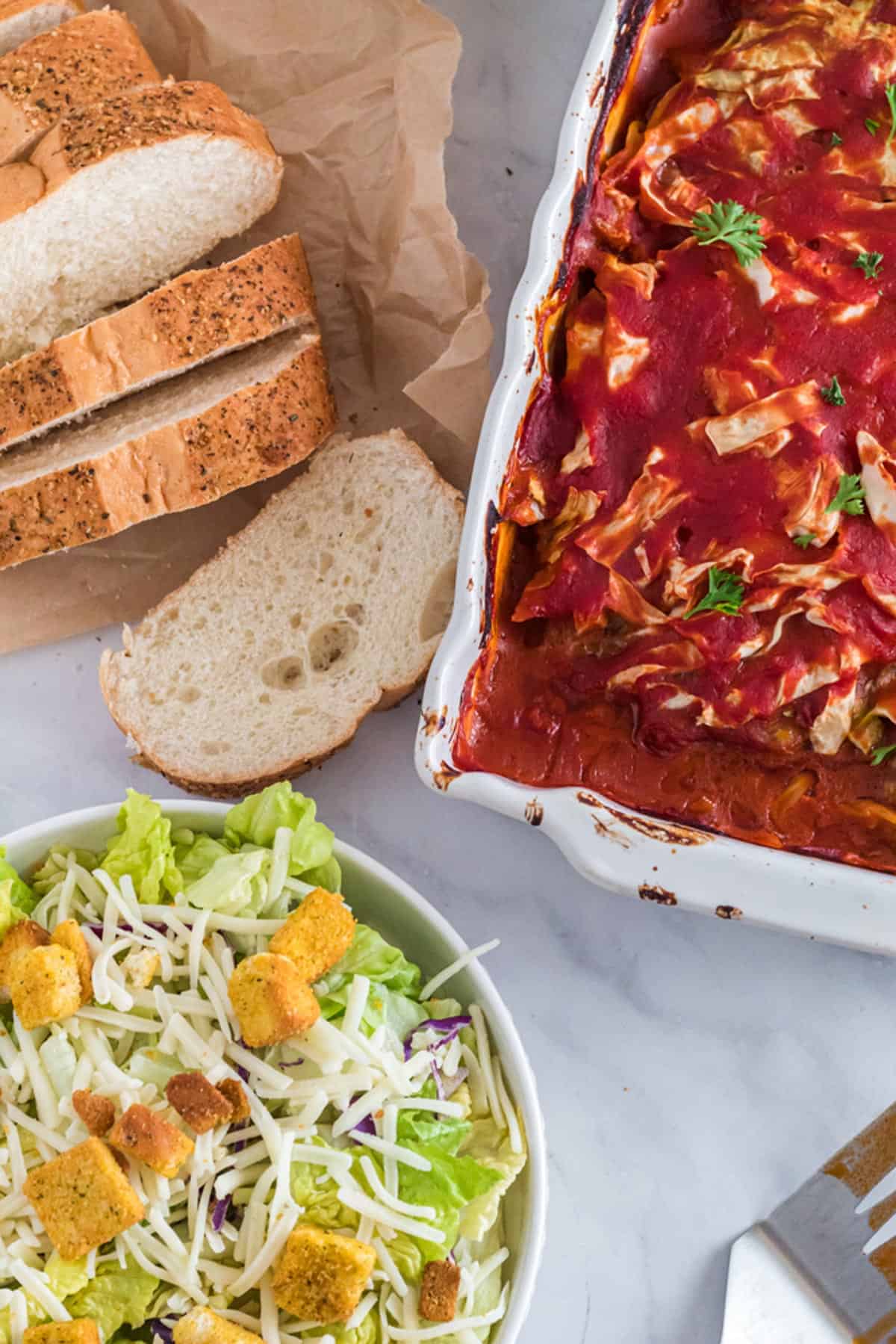 What can I serve with cabbage roll casserole?
Keep it simple when choosing a side dish for this recipe. Soft dinner rolls with butter, green salad, and mashed potatoes are all good side dishes for cabbage rolls.
Can you freeze this cabbage roll casserole?

You can freeze this lazy golumpki, but bake it first.
Allow it to cool completely, and then wrap it air-tight with plastic wrap.
You can freeze lazy golumpki for up to 6 weeks.
When ready to use, let it thaw in the fridge and then reheat for 45 minutes at 300° F.
Top with a regular-size can of tomato soup half-way through reheating.
👨‍🍳 Tried this Recipe? Please leave a ⭐⭐⭐⭐⭐ rating in the recipe card below and leave a comment. We love hearing from our readers!
⏩ Stay in touch with us on social media by following us on Facebook, Pinterest, Instagram, and YouTube!
📬Get our Recipes delivered to your inbox for FREE!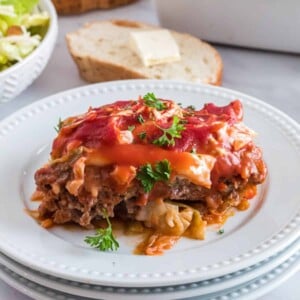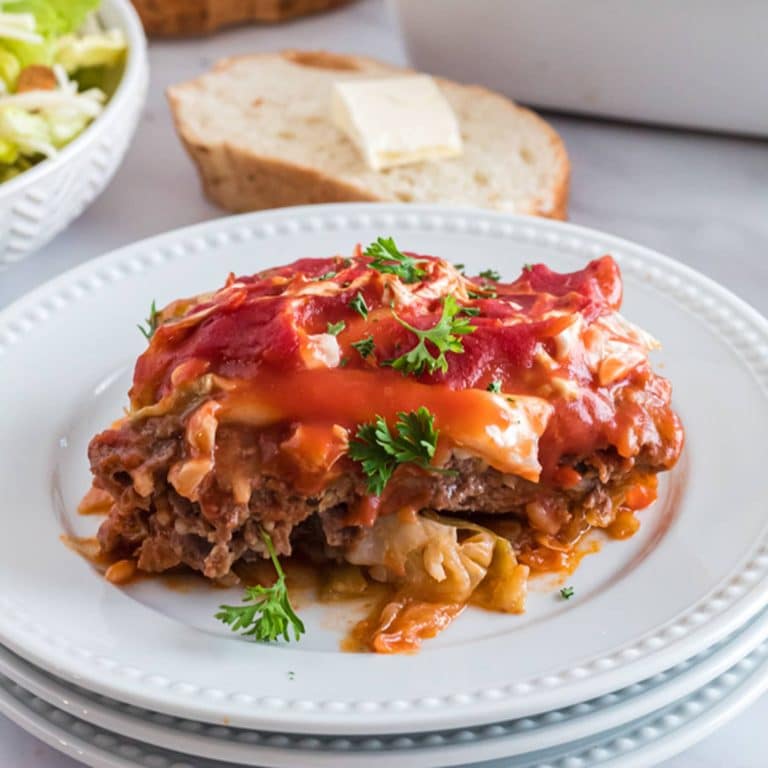 Cabbage Roll Casserole
This Cabbage and Beef Casserole, or Lazy Golumpki is simple comfort food and one of our favorite Polish recipes. Try this stuffed cabbage casserole today!

Ingredients
Medium size head of cabbage

2 1/2

lbs

lean ground beef 90/10

1/2

lbs

cooked bacon coarsely chopped

1

med white onion

1/2

cup

Italian flavored bread crumbs

1/2 -3/4

cup

cooked white rice

1-2

eggs

1

family sized and 1 10 oz can of tomato soup

salt and pepper to taste
Instructions
See video above to watch this quick and easy recipe come together.

Preheat oven 375 degrees.

Coarsely shred the cabbage it thick long pieces and set aside.

Cook bacon in the oven, allow to cool, coarsely chop and set aside.

Dice onion and set aside.

Cook rice and allow to cool and set aside. For convenience, I used a boil in the bag type of rice.

In a large bowl, add meat, bread crumbs, onion, bacon, rice, egg and salt and pepper. Start by only using one egg. If the mixture seems too dry, then add the second egg.

In a 9X9 pan, place a layer of the shredded cabbage so that the bottom of the pan is completely covered.

Add the meat mixture on top of the cabbage and press into the shape of the pan.

Add another layer of cabbage to cover the meat mixture.

Pour the family sized can of tomato soup over the top of the cabbage to cover completely. Reserve the smaller can to add additional soup while baking in the oven.

Add salt and pepper over the top.

Cover with aluminum foil.

Place pan on top of a cookie sheet and put in a 375 preheated oven.

Cook for approximately 1 hour 45 minutes-2 hours.
Notes
Make this cabbage roll casserole as a make-ahead freezer meal.
See instructions for freezing and reheating lazy golumpki, above the recipe.
Nutrition
Calories:
456
kcal
,
Carbohydrates:
5
g
,
Protein:
31
g
,
Fat:
33
g
,
Saturated Fat:
12
g
,
Cholesterol:
135
mg
,
Sodium:
339
mg
,
Potassium:
515
mg
,
Fiber:
0
g
,
Sugar:
1
g
,
Vitamin A:
40
IU
,
Vitamin C:
1
mg
,
Calcium:
41
mg
,
Iron:
3.5
mg
Nutrition information is automatically calculated, so should only be used as an approximation.
Our Best Casserole Recipes