Chicken Meatballs Recipe
on Sep 21, 2014, Updated Apr 07, 2020
Homemade chicken meatballs are one of our many easy ground meat recipes.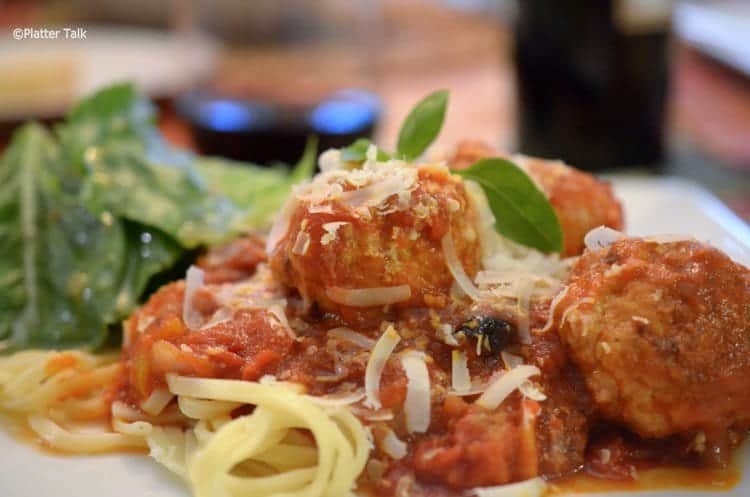 Growing up, my mom's spaghetti was my favorite meal. Her homemade sauce, canned from the autumn harvest of her own tomatoes from the garden, always hit the right spot with my developing palate.
It wasn't just my mom's sauce I loved. The fat strands of pasta and the simple but prominent meatballs were all a part the meal too. I still am a spaghetti man, always will be. Sometimes though I'll take a step or two outside of traditional convention. Sometimes I'll make chicken meatballs.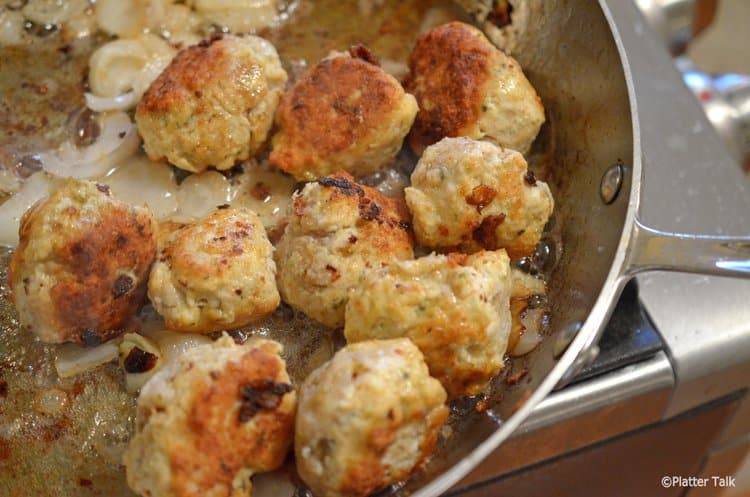 Reason number 4,341 that I'm a lucky man: Scott does the lion's share of the grocery shopping in our household. Don't get me wrong, I love going to grocery stores, sometimes a bit too much. It's not uncommon for me to come home with a bit more than we actually need. Thus, when grocery shopping, I've been known to over-do it a time or too. Scott, on the other hand, he's all business when it comes to buying our food supplies. He gets in there and he gets it done, no monkey business and no spending twice as much money as he would need too. He's an excellent shopper, going for quality and deals.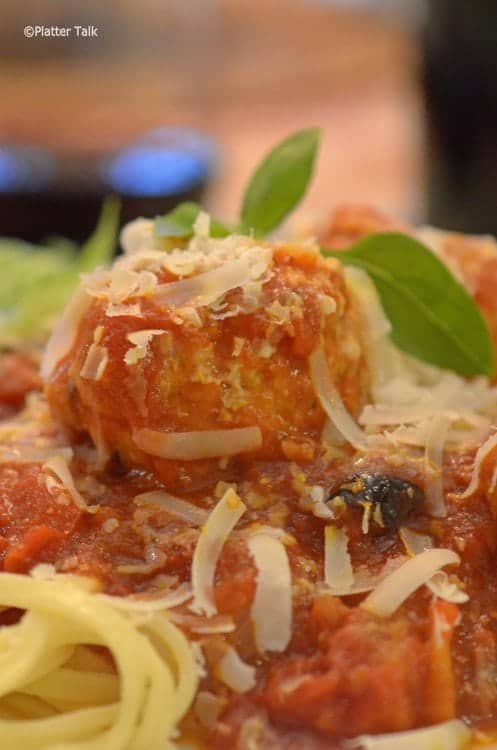 Thus, this recipe came came about a few days ago when I spotted a pound or so of ground chicken in our fridge. "What am I suppose to do with this?" I asked him. "I don't know, let's do tacos or something." That suggestion filtered through my internal appetite center but it did kick my appetite into higher gear. In the mood for some pasta and with a small boatload of fresh Roma tomatoes sitting on our counter, I became instantly aware of this ground chicken's destiny. A handful of fresh basil leaves later along with the addition of breadcrumbs and some aromatics, and our pasta was topped with these delicious chicken meatballs. Full of flavor, lighter and much less fatty and greasy tasting than pork or beef, these meatballs proved to be an ideal home for that great deal Scott picked up for our dinner table.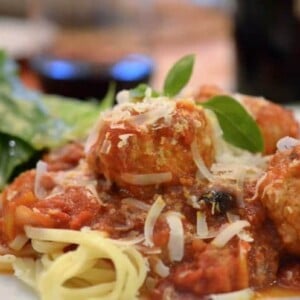 Chicken Meatballs
A Platter Talk Exclusive
Ingredients
1

lb

ground chicken

3/4

cup

Italian-flavored breadcrumbs

2

eggs

1/2

cup

shredded mozzarella cheese

1

small handful fresh basil leaves

,

finely chopped

3

tablespoons

olive oil

1

small onion

,

coarsely diced

1

clove

garlic

1/2

teaspoon

ground oregano (or 1 teaspoon fresh oregano leaves

,

chopped0
Instructions
Using a large skillet, heat 1 tablespoon olive oil over medium heat.

Add onions and garlic to oil, stir and saute until onions are soft and translucent, about five minutes.

Remove from skillet and set aside (reserve skillet)

In large mixing bowl, combine remaining ingredients, add sauteed onion and garlic.

Use hands to completely combine mixture.

Heat remaining olive oil over medium high heat, in skillet.

From meatballs into 1 1/2 inch balls and brown an

Reduce heat and finish cooking meatballs about 8 minutes, or allow to finish cooking in sauce.
Nutrition
Calories:
421
kcal
,
Carbohydrates:
18
g
,
Protein:
29
g
,
Fat:
26
g
,
Saturated Fat:
7
g
,
Cholesterol:
190
mg
,
Sodium:
337
mg
,
Potassium:
713
mg
,
Fiber:
1
g
,
Sugar:
3
g
,
Vitamin A:
277
IU
,
Vitamin C:
2
mg
,
Calcium:
137
mg
,
Iron:
3
mg
Nutrition information is automatically calculated, so should only be used as an approximation.