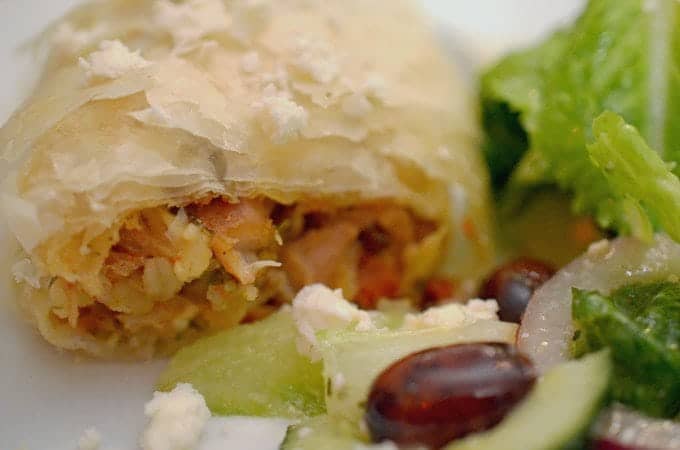 This is my favorite kind of post. It features a recipe that started with friends and ended with friends, and in between all of those friends is a a delicious meal (and a very smokey kitchen - more on that later.) Something different, beautiful, and enjoyable, appropriately reflective of the folks behind this dinner which featured Greek Chicken and Rice in Fillo Dough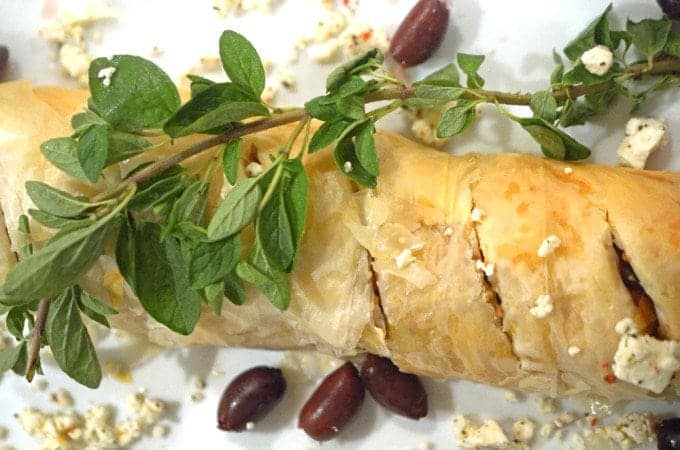 You probably don't know her, but I have a friend named Amy who loves to cook almost more than anyone I know. She is a terrific resource of recipes for me. Remember the most viewed post we have ever done? The Slow Cooker Sticky Caramel Pumpkin Cake that we featured last fall was an idea inspired by Amy and viewed by over 120,000 of our readers. Those Pumpkin Pancakes with Apple Cider Vinegar that we put up right around the same time? Same source, Amy. Thus, when her husband (one of my colleagues) showed up at work yesterday and handed me a recipe from his wife, I knew almost without looking at it that it would be going on the menu soon. Fast forward about five hours.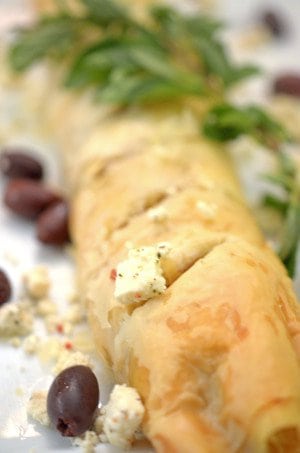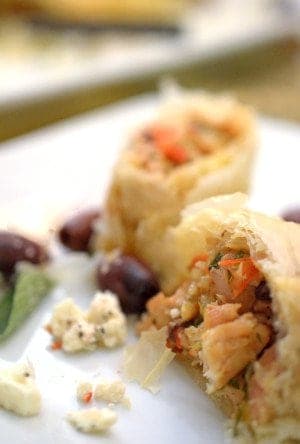 It's 6:30 and our little house in town is filled with guests and family. Well, it doesn't take a lot of people to form a crowd there but remember, it's quality not quantity that is important when it comes to friends.
Paola, the lady behind our Viva Italia features was there with her family and a wonderful young lady visiting from her native Italia. Happily, our friends the Lees who just spent four years in Moscow also showed up. When everyone arrived, I was a bit behind the 8-ball, donning jeans and a white tee-shirt with a pastry brush in one hand and a tasting spoon in another, along with a kitchen towel stylishly draped over my left shoulder; it was hardly dinner attire, but the gang assured me that it mattered not. Nor did they claim to mind when the house filled with smoke from some cheese hitting the floor of our hot oven.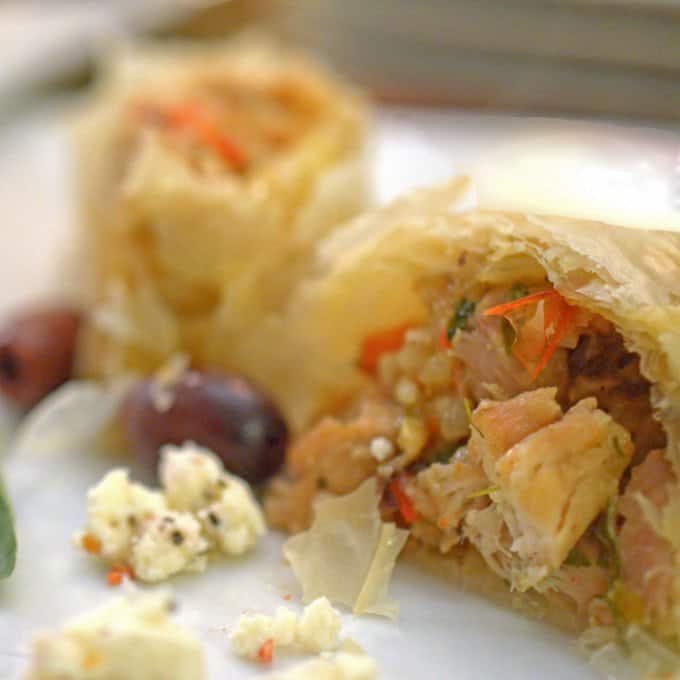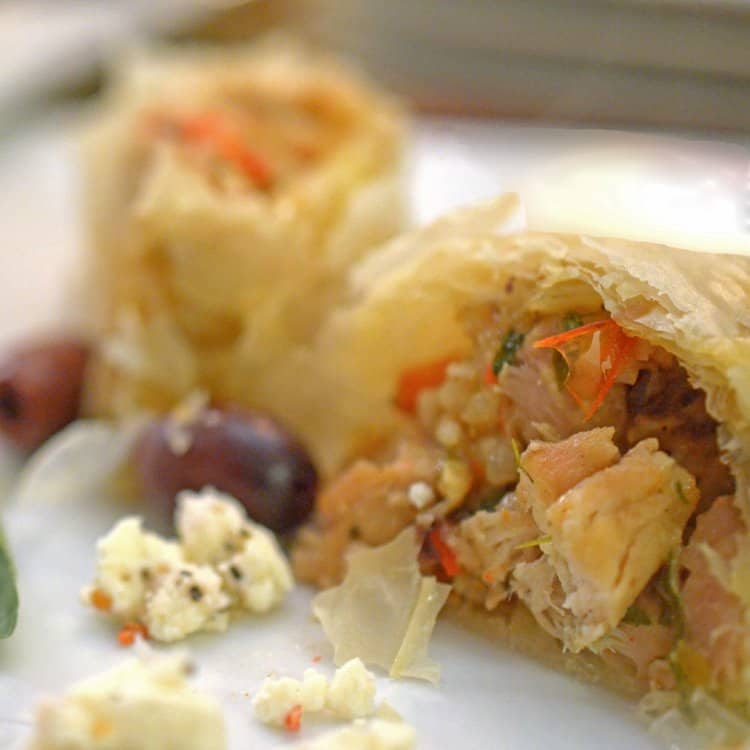 Because of the circulating nature of the the convection oven's fan, the situation was somehow accentuated, quickly and effectively making it one of the smokiest houses I've ever seen. Things just weren't going my way, so it seemed. Throughout the smoke and over the disappearing appetizers of prosciutto and cheese which we washed down with some smooth Dreaming Tree Cab, a lively banter ensued and before we knew it I was pulling something brand new out of the oven.
The smoke had long cleared and in its place materialized three savory rolls of this recipe. This is an easy crowd-pleaser which paired perfectly with the Greek salad we passed around. Call some friends today, then give this one a ride around the table. If your kitchen fills with smoke, crack a window and maybe one more bottle of cab. You are going to love this dish and your friends and family will too. -Dan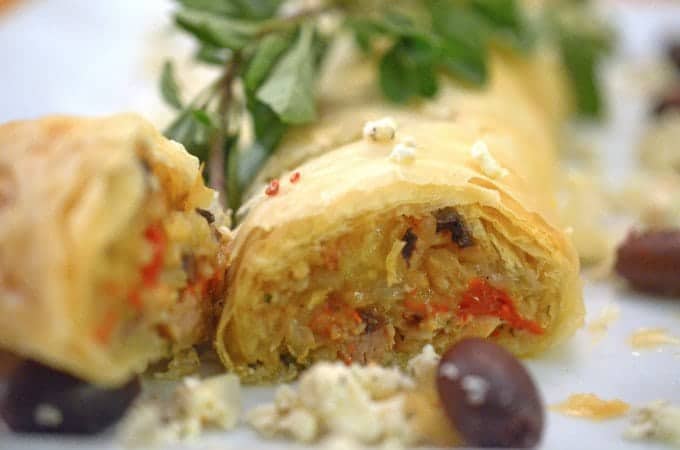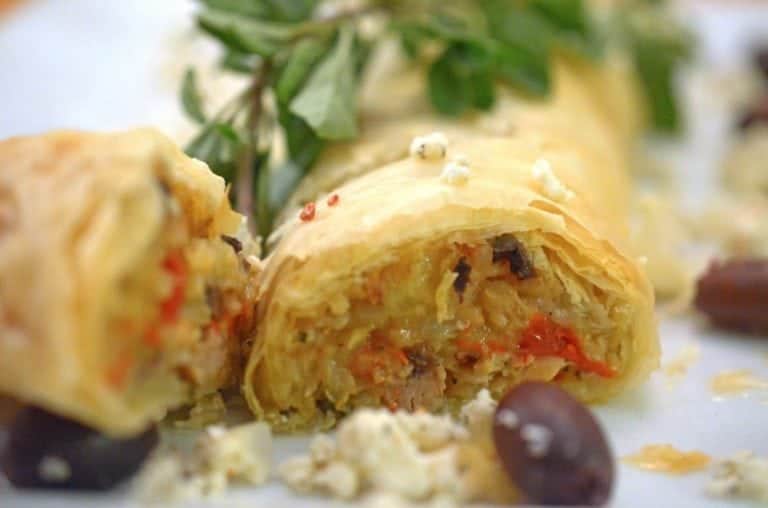 Other Greek recipes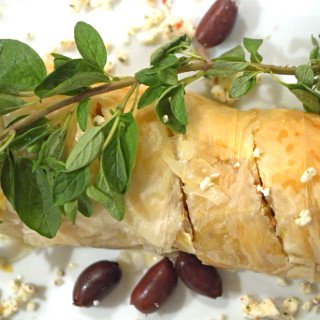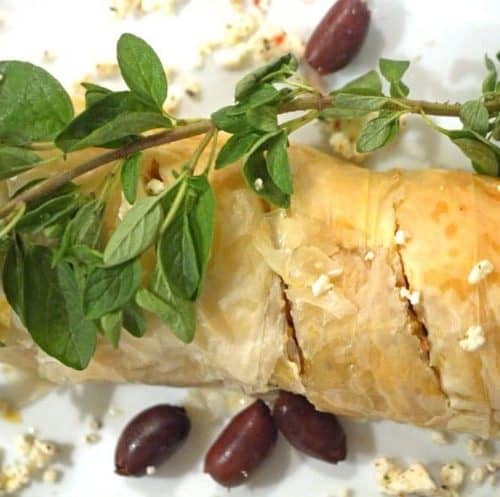 Greek Chicken and Rice in Fillo Dough
Delicious Greek chicken wrapped in crispy fillo - so good!
Print
Pin
Rate
Ingredients
1.5

lbs

3 kg. boneless chicken thighs, cubed in 1" pieces.

1

teaspoon

paprika

1

teaspoon

dried oregano

1

small fennel bulb

chopped.

1

red bell pepper

chopped.

2

tablespoons

olive oil

divided

3

garlic cloves

crushed

½

cup

long grain rice

1.5

cups

reduced sodium chicken broth

⅓

cup

sun-dried tomatoes

chopped (not the kind packed in oil.)

3

scallions

chopped

½

cup

pitted kalamata olives

chopped

zest of 1 fresh lemon

½

cup

chopped parsley leaves

4

oz

feta cheese

in small dices or crumbled.

½

cup

melted butter

8

fillo dough sheets
Instructions
In large saute pan, heat 1 tablespoon olive oil over medium-high temperature and add chicken pieces, oregano, and paprika.

Stir over heat until browned, about five minutes. Remove chicken and set aside.

Using same pan, heat remaining olive oil over medium-high setting and add fennel and red pepper. Saute until softened, about 3-4 minutes.

Add garlic and continue to stir for another minute.

Add rice and stir until grains are toasted, about 3 minutes.

Add chicken broth to pan, along with chicken, bring mixture to simmer, cover pan and reduce heat.

Cook on a low simmer until rice is soft and tender.

Remove from heat and allow to set for a minute or two.

Add sun-dried tomatoes, scallions, olives, lemon zest, parsley, and cheese. Stir to completely mix it all together.

Starting with 1 fillo sheet, lay it on a piece of parchment paper.

Using pastry brush, brush melted butter on fillo sheet.

Place another fillo sheet on buttered one, brush with butter (as first one) and repeat this process using the remaining sheets of fillo, but do not brush butter on the last sheet.

Use large spoon to place a roll of the chicken and rice mixture, lengthwise and about 2 inches from the edge on the fillo dough. The mixture should be about 2 inches wide and an inch high, running lengthwise, as mentioned.

Fold the fillo over the chicken and rice mixture and roll into a log.

Brush outside with butter and make diagonal slits on top of dough, abou 1.5 to 2 inches apart.

Transfer fillo log to baking sheet (you can slide the parchment paper, with log on it, for easy transfer.

Bake for about 30 minutes or until golden brown.

Allow to set for a couple of minutes before serving.

Garnish with additional feta cheese and olives, if desired.
Nutrition
Calories:
649
kcal
|
Carbohydrates:
52
g
|
Protein:
23
g
|
Fat:
38
g
|
Saturated Fat:
15
g
|
Cholesterol:
126
mg
|
Sodium:
824
mg
|
Potassium:
497
mg
|
Fiber:
2
g
|
Sugar:
3
g
|
Vitamin A:
1190
IU
|
Vitamin C:
22
mg
|
Calcium:
108
mg
|
Iron:
3.8
mg