Pumpkin Roll Cake
on Sep 07, 2019, Updated Jan 01, 2021
Pumpkin roll cake with cream cheese filling is a favorite fall dessert among our kids.
In fact, they insist on making this pumpkin roll every Thanksgiving because making this pumpkin cake is as much fun as eating it.
This roll cake serves 12 people at a total cost of about $10 and has just 179 calories per serving. And so I ask you, what's not to love about this easy pumpkin roll cake recipe?!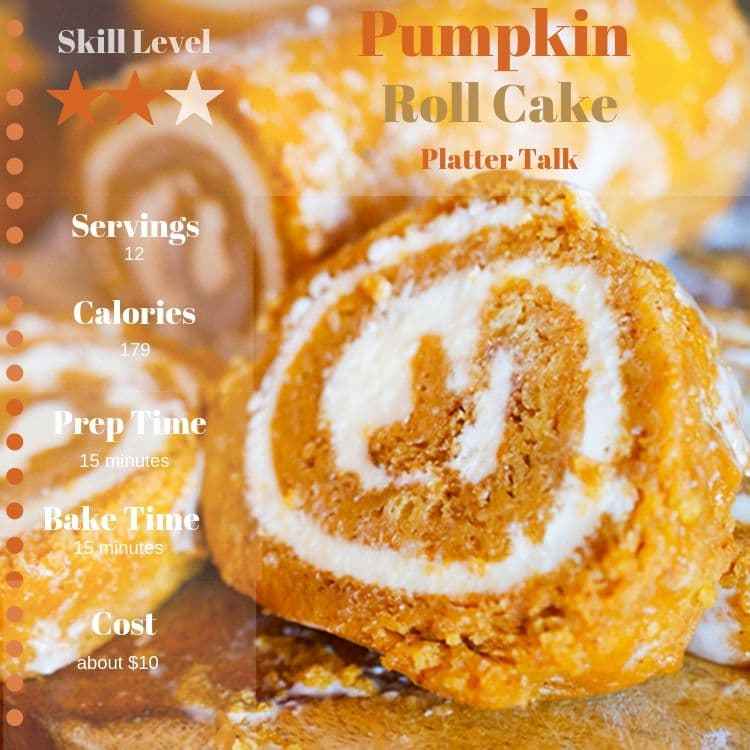 Pumpkin Roll Cake
There have always been pumpkins in my life, which I think made me a lucky boy growing up and a lucky middle-age man today.
I have so many fun memories of planting pumpkin seeds in my mom's huge farm garden.
Nurturing them as they grew from the vine and then watching them magically transform into everything from Jack-O-Lanterns to my mom's pumpkin pie and to eventually to unheard-of things like my pumpkin pizza.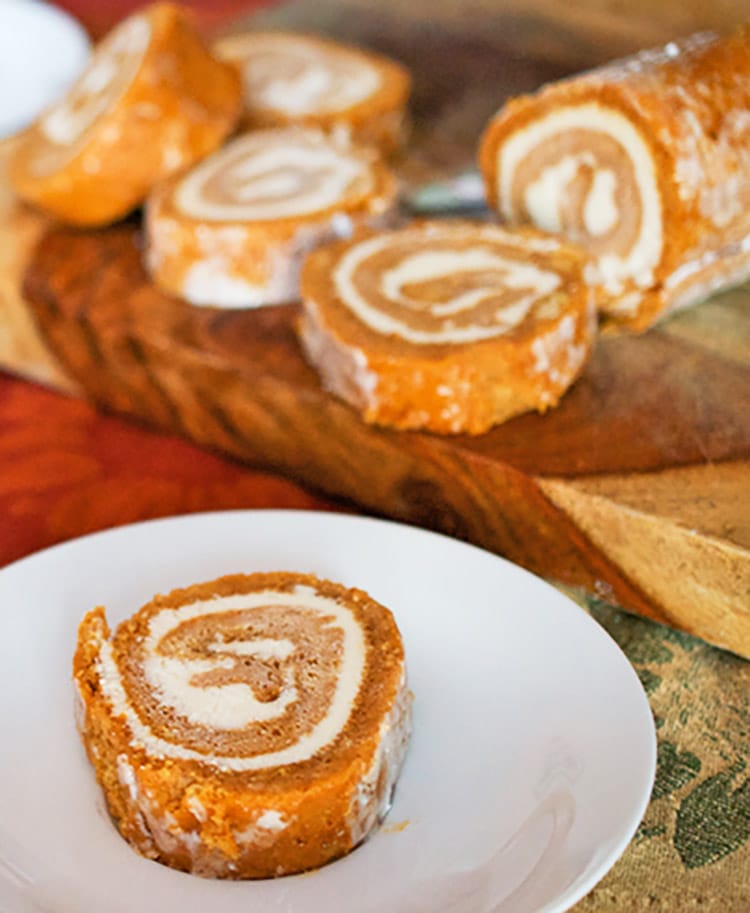 Now, I have a small boatload of kids myself.
I use the term kids lightly because the twins who are the youngest, are almost 14-years old.
Soon they won't be kids anymore, but they all enjoy cooking, and baking, and this pumpkin roll is one of their favorites.
In fact, they ask to make this pumpkin cake every fall season, and we often serve it as a Thanksgiving dessert too.
How to Make a Roll Cake
Rolling a cake requires some practice and finesse, but it also adds an element of fun to the recipe, which is part of the reasons that kids enjoy making this pumpkin roll.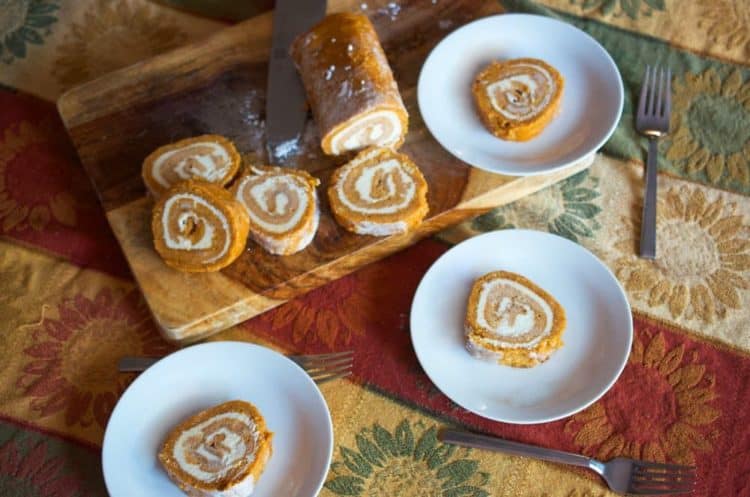 Rolling a cake requires some practice and finesse, but it also adds an element of fun to the recipe, which is part of the reasons that kids enjoy making this pumpkin roll.
1. Spread the cake batter into a baking sheet lined with parchment paper.
Bake for 12-15 minutes in a pre-heated oven at 375°.

The cake is done with it is light and springy to the touch.
It is better to err on the side of less time in the oven rather than more time in the oven. I've tossed out more than one roll cake because I baked it too long and was unable to roll the cardboard-like cake.

Allow to the pumpkin cake to cool for five minutes.
2. Invert cake onto a kitchen towel that is dusted with powdered sugar.
Gently peel the parchment paper off the cake
If you have some crispy edges, simply trim them off with a paring knife.

The cake has to be soft and pliable to roll well.

Roll the pumpkin cake in the towel, jelly roll-style.
3. Place the towel-wrapped roll cake on a wire rack and allow it to cool completely.
It is critical that the cake is completely cooled before unrolling.
4. When the cake is completely cool, unroll it and spread the cream cheese filling on evenly on top of the pumpkin cake.
Leave a border of at least 1/2 an inch.
Reroll the cake, starting at one end.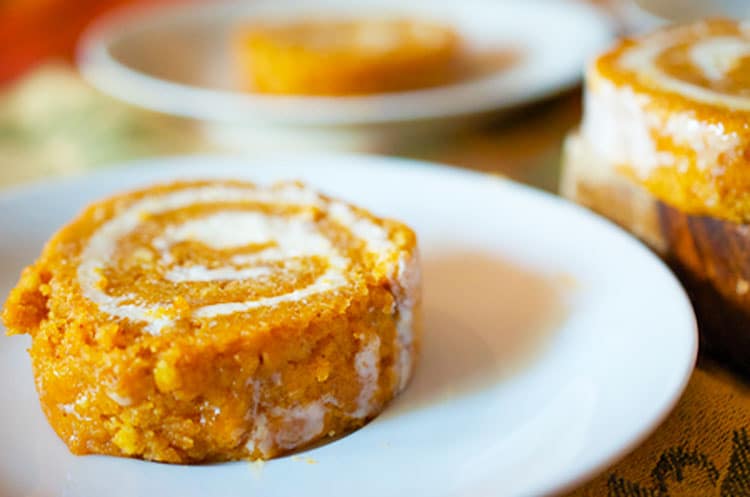 Admittedly, I've never used a pumpkin from the garden or market for anything other than carving it for Halloween.
In fairness, this is probably the second or third time I've ever made pumpkin-anything in the kitchen.
My previous experience with pumpkin recipes was pumpkin pie, probably my favorite pie in the world.
How to Store a Roll Cake
If you are making this pumpkin roll a day or two in advance, put it in an air-tight container and refrigerate until you are ready to serve it.
You can freeze a roll cake for up to three months in your freezer with good results.
Use kitchen wrap for an air-tight seal before freezing.
Allow it to thaw in the refrigerator overnight before serving it.
I suppose that using the real thing is a goal that I will consider for some future creation.
My mom always used pumpkins out of her big garden on our farm; to be sure there were always plenty to be picked.
I'm still a sucker for convenience in the kitchen, especially when trying something new and unfamiliar to me.
The work is a bit less, and the risk seems a bit lower as well.
This was a fun pumpkin cake to put together, similar to our Buche de Noel (Christmas log), another cake roll recipe of ours.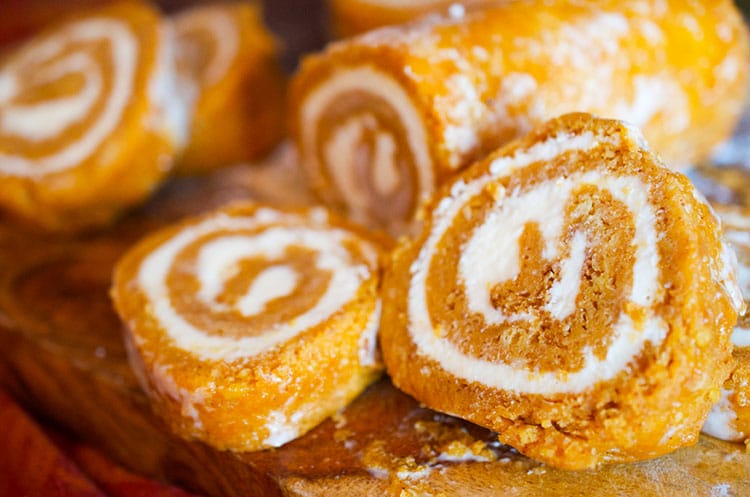 This pumpkin roll is fun, it's great looking, and it was a hit among everyone who tried it. Give this easy pumpkin roll a try; it's a sure bet to please!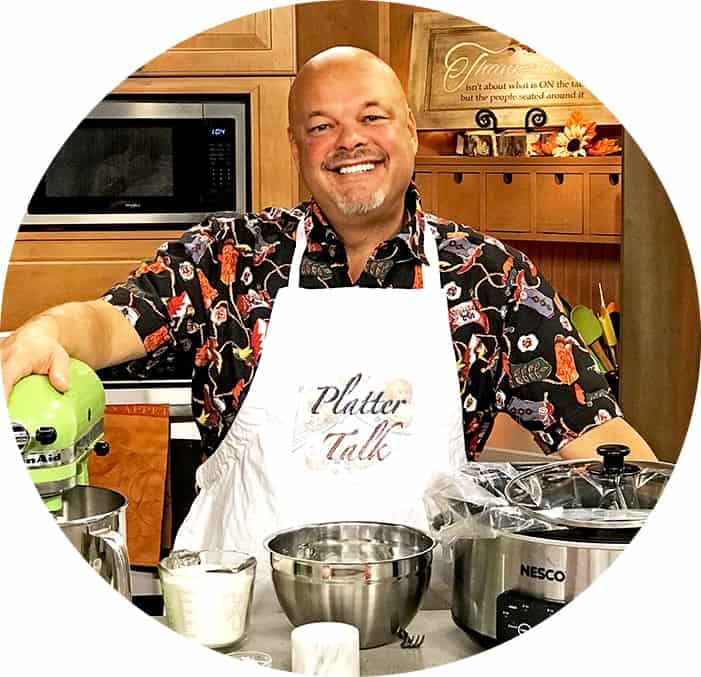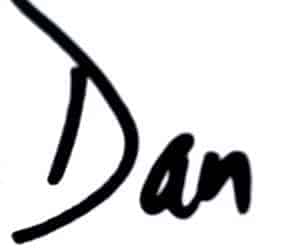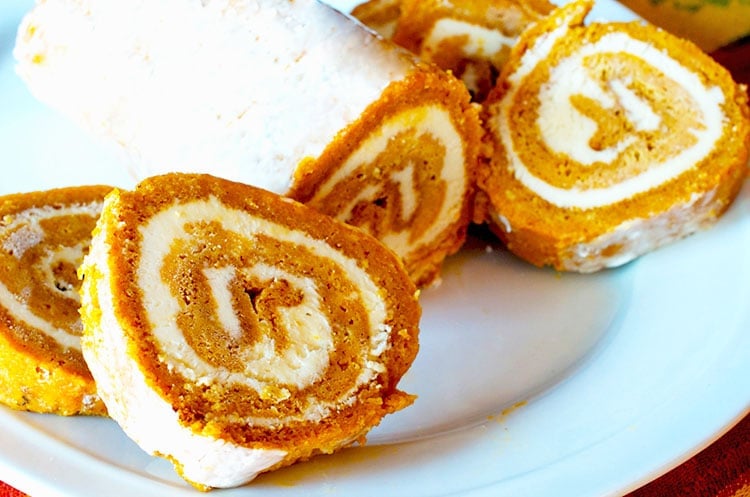 More Roll Cakes for You
If you're looking for my favorite pumpkin cake recipe, take a look at our Slow Cooker Sticky Caramel Pumpkin Cake.
Make it in just two hours, using your crock-pot!
👨‍🍳 Tried this Recipe? Please leave a ⭐⭐⭐⭐⭐ rating in the recipe card below and leave a comment. We love hearing from our readers!
⏩ Stay in touch with us on social media by following us on Facebook, Pinterest, Instagram, and YouTube!
📬Get our Recipes delivered to your inbox for FREE!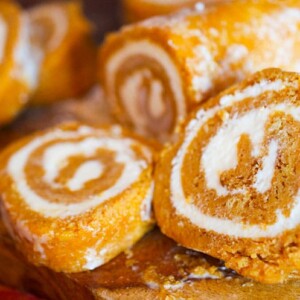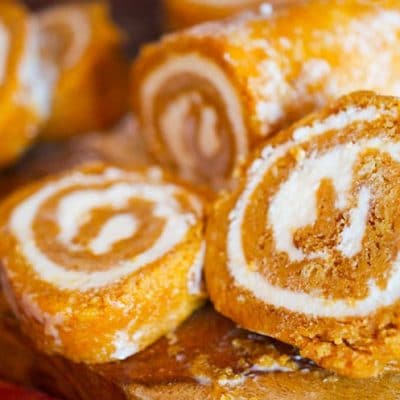 Pumpkin Roll Cake
This Pumpkin roll with cream cheese filling is a sweet and savory pumpkin cake that is a fun dessdert for the fall and holiday season, adapted from Taste of Home.
Ingredients
for the cake
3

eggs

,

separated

1

cup

sugar

,

divided

2/3

cup

canned pumpkin

3/4

cup

all-purpose flour

1

teaspoon

baking soda

1/2

teaspoon

ground cinnamon

1/8

teaspoon

salt
for the filling
1

package

,

8 ounces cream cheese, softened

2

tablespoons

butter

,

softened

1

cup

confectioners' sugar

3/4

teaspoon

vanilla extract

Additional confectioners' sugar

,

optional
Instructions
Line a 15-in. x 10-in. x 1-in. baking pan with parchment paper; grease the paper and set aside. In a large bowl, beat egg yolks on high speed until thick and lemon-colored. Gradually add 1/2 cup sugar and pumpkin, beating on high until sugar is almost dissolved.

In a small bowl, beat egg whites until soft peaks form. Gradually add remaining sugar, beating until stiff peaks form. Fold into egg yolk mixture. Combine the flour, baking soda, cinnamon and salt; gently fold into pumpkin mixture. Spread into prepared pan.

Bake at 375° for 12-15 minutes or until cake springs back when lightly touched. Cool for 5 minutes. Turn cake onto a kitchen towel dusted with confectioners' sugar. Gently peel off parchment paper. Roll up cake in the towel jelly-roll style, starting with a short side. Cool completely on a wire rack.

In a small bowl, beat the cream cheese, butter, confectioners' sugar and vanilla until smooth. Unroll cake; spread filling evenly to within 1/2 in. of edges. Roll up again. Cover and freeze until firm. May be frozen for up to 3 months. Remove from the freezer 15 minutes before cutting. Dust with confectioners' sugar if desired. Yield: 10 servings.
Nutrition
Calories:
179
kcal
,
Carbohydrates:
36
g
,
Protein:
3
g
,
Fat:
3
g
,
Saturated Fat:
2
g
,
Cholesterol:
46
mg
,
Sodium:
149
mg
,
Potassium:
57
mg
,
Fiber:
1
g
,
Sugar:
27
g
,
Vitamin A:
2236
IU
,
Vitamin C:
1
mg
,
Calcium:
11
mg
,
Iron:
1
mg
Nutrition information is automatically calculated, so should only be used as an approximation.
Updated from our original pumpkin roll recipe of October 7, 2013