Pecan Sandies
on Feb 12, 2014, Updated Aug 07, 2020
Pecan Sandies Recipe – Thomas Keller-Inspired Cookies by Platter Talk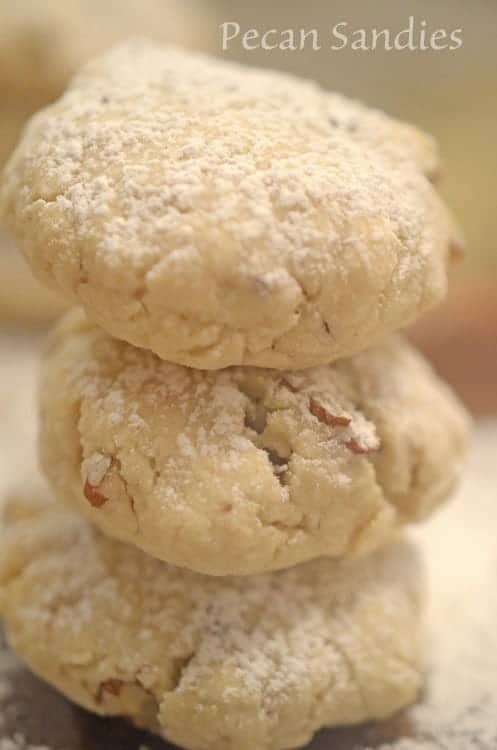 What are they?

A couple of weeks ago I observed what many have since referred to as a "milestone" birthday. I didn't think of my 50th as a milestone per say, although I did comment to my 10 year-old son Isaiah that, "Fifty sounds so old." As he often does, our fourth grader who often effectively comes off as someone in their mid-twenties, very matter-of-factly responded to me, "Dad, let's save this conversation for when you turn seventy."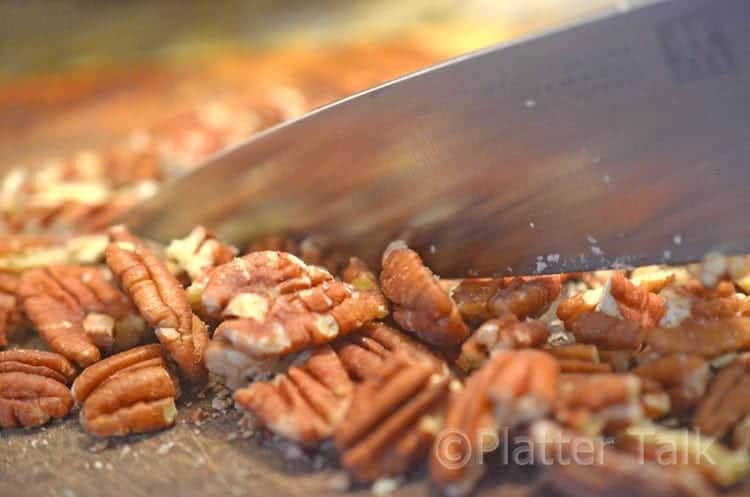 Thank goodness for kids, eh? And friends. Fortunately, we are blessed with an abundance of both and my recent birthday was a good reminder of this fact. One of the many wonderful gifts I received came from our good friend, Lane. He has an uncanny knack for always hitting the bullseye. Once again, he was spot on with his gift to me: Thomas Keller's "Bouchon Bakery."
The book is beautiful. I think a lot of people would use it as a coffee table book but I'll be using it as a kitchen resource and an ornament in our living room. It's filled with beautiful photos, anecdotes from many of the chefs who work at Keller's Bouchon Bakery, and a great deal of practical instruction.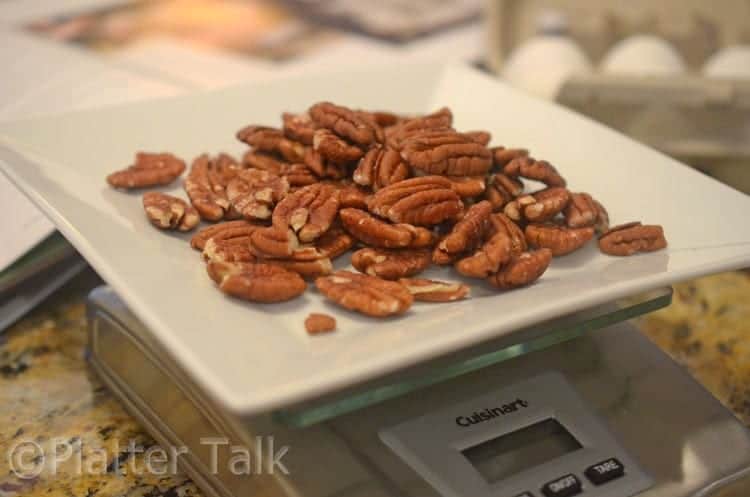 One of the book's first pieces of advice is for bakers to throw out their measuring cups and measuring spoons and replace them with a kitchen food scale. The rationale offered centers around the variations that can exist between the methods and techniques among individuals when measuring ingredients. For instance, a cup of flour measured can vary greatly depending on how much it is packed. Similarly, different size crystals of salt (Kosher vs. table for example) affects the total amount in a given recipe depending on how it is measured. A scale takes away these potential variables. One gram equals one gram no matter how it is packed or what size crystal is being used. I've been baking for over 40 years now and have never used one of these devices, until last night. I picked up a scale for the kitchen and I have to say, I love it.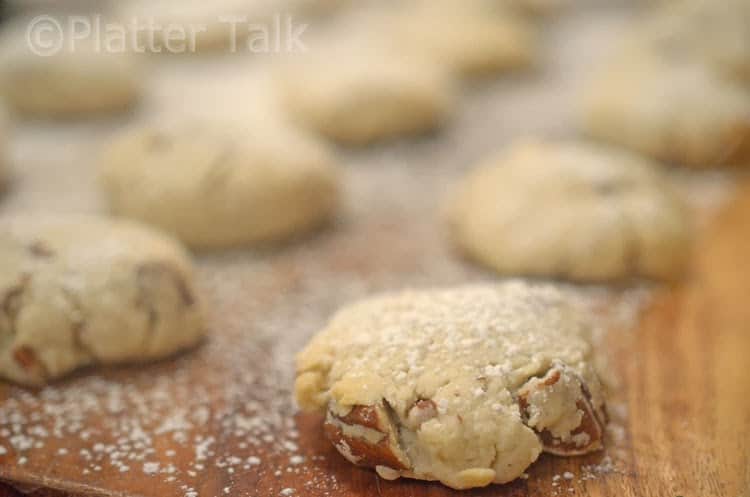 The recipes in Bouchon Bakery are very "approachable" to a non-professional chef, like myself. I decided to start with the book's very first recipe. These pecan sandies have just a few ingredients and the process is basic and simple.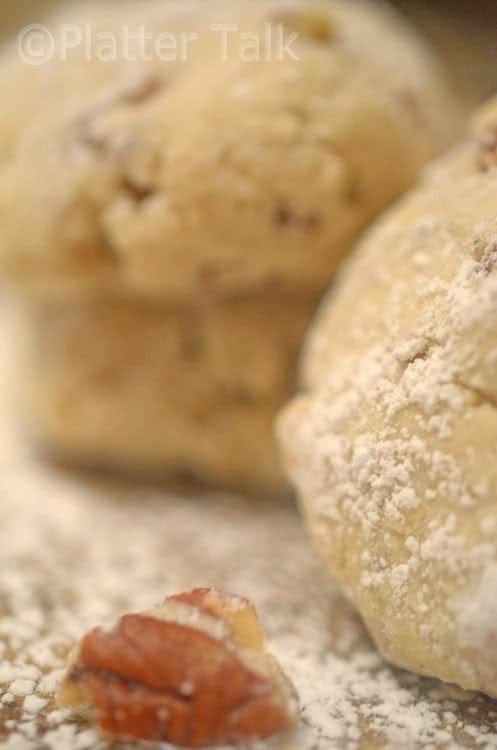 Keller features this initial recipe as a tribute to his mom, who made these frequently for the now world-famous chef and his siblings. The first challenged I faced was realizing that my stand mixer was at our cottage and not at our home in town where I was making these. It didn't take me long to deduce that in all likelihood, Thomas Keller's mom worked without a stand mixer and for this recipe, I would as well.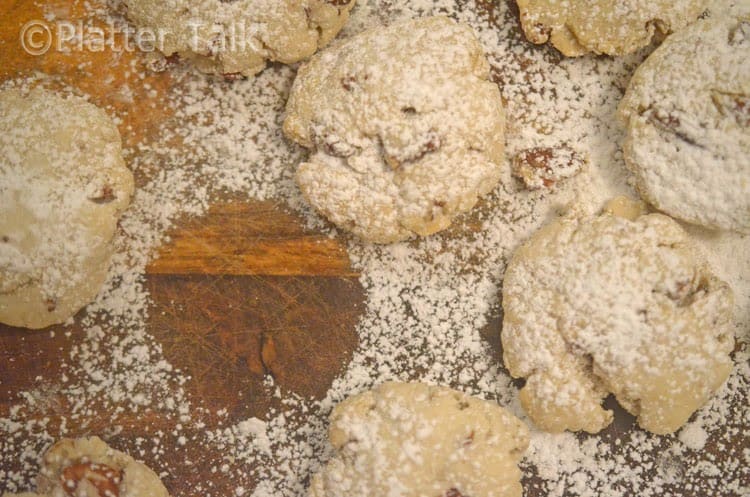 Not having a stand mixer did not prove to be a challenge at all. Keeping these pecan sandies around once they came out of the oven was another story. I'm not sure if I have ever tasted a pecan sandy prior to today, none of our kids had. We all loved them. Part cookie, part short bread, these sandies are part savory and part sweet – a genuine confluence of flavor and texture.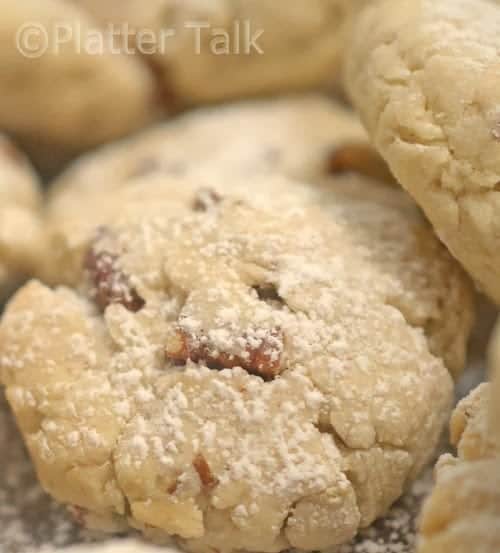 Thomas Keller's mom clearly got it right when she learned that these treats are great to have around. They are simple, they are delightful, and easy to make with minimal fuss. If you have never had a pecan sandy, don't delay. If you have had them before, try this recipe. I would love to know how you and your family like them – they were a hit in our house. For these I say, thank you, Mrs. Keller and thank you Lane.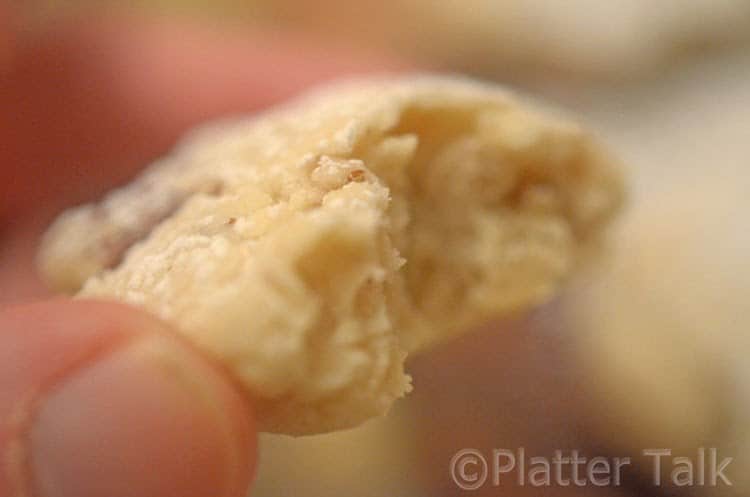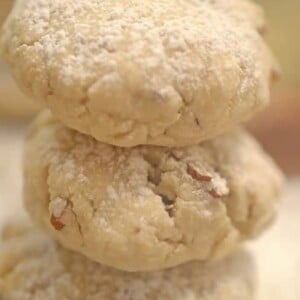 Pecan Sandies
adpated from Thomas Keller
Ingredients
250

Grams

Flour,

1 3/4 cups + 1 1/2 teaspoons

80

Grams

Pecans

,

3/4 cup, Coarse chop

170

Grams

Butter

,

6 oz. Unsalted, at room temperature.

90

Grams

Powdered Sugar

,

3/4 cup + 1 3/4 teaspoons

Additional powdered sugar for dusting

,

optional
Instructions
Preheat oven to 350 degrees.

Line 2 cookie sheets with parchment paper.

Combine flour and pecans in medium bowl and stir.

Place butter in separate bowl mix until smooth.

Add the powdered sugar, mix until fluffy.

Add flour and pecans to butter and sugar mixture, mix until just combined.

Roll dough into 30 gram/1 1/2 teaspoon portions.

Arrange on cookie sheets, leaving about 1 1/2 inches between them.

Press balls into 2-inch disks.

Bake until golden brown, about 25 minutes.

Set the pans on a cooling rack and allow to cool for 5 minutes.

If desired, dust with powdered sugar.
Notes
I cut back a bit on the butter, using 4 ounces instead of 6. To make up for the lost moisture in the dough, I added a couple of tablespoons of milk and an approximately equal amount of water.
For convection ovens, decrease the temperature by 25 degrees. Convection ovens will provide a more even browning of these sandies. However, they will not spread as much when compared to a conventional oven.
The thicker the sandies, the longer the baking time required. Conversely, the "flatter" the disks, the shorter the time.
Store unused cookies in a sealed container.
Nutrition
Calories:
202
kcal
,
Carbohydrates:
19
g
,
Protein:
2
g
,
Fat:
13
g
,
Saturated Fat:
6
g
,
Cholesterol:
24
mg
,
Sodium:
81
mg
,
Potassium:
42
mg
,
Fiber:
0
g
,
Sugar:
6
g
,
Vitamin A:
285
IU
,
Vitamin C:
0.1
mg
,
Calcium:
9
mg
,
Iron:
0.9
mg
Nutrition information is automatically calculated, so should only be used as an approximation.
For another incredible recipe from Thomas Keller, take a look at these Brownies, prepared by Platter Talk!