Crispy Chicken Cordon Bleu Stromboli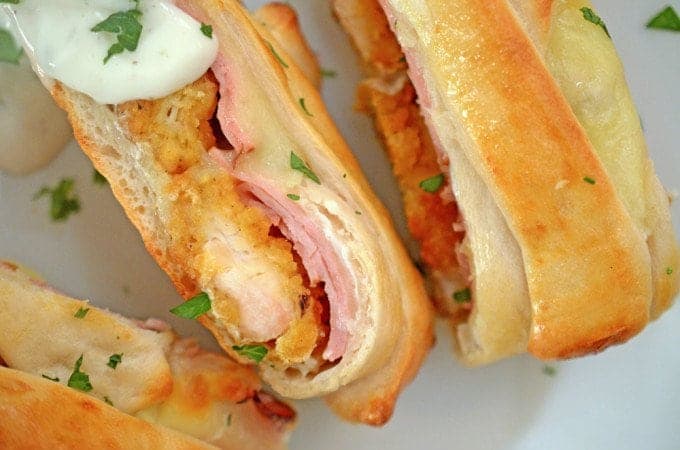 We've been out of town for a few days and although we didn't do much cooking while taking our annual sojourn to the rainforests and beaches of Costa Rica, we were able put a few recipes out thanks to some dishes we had in the hopper and a fantastic guest post put together by the talented Susie Gall from Simply Sated.
Fast and easy to put together, you'll amaze everyone with this recipe, including yourself.
Thus it seemed almost like a meteor shooting out of the sky, a total surprise, while lounging in my hammock overlooking the jungle and Pacific Ocean, from cyberspace came an invitation from our friends over at The Daily Meal. The email asked if we were interested in putting something together using some Tyson Crispy Chicken Strips. Having never even heard of these before, I quickly responded in the affirmative.
We were in the midst of another adventurous week in Costa Rica, the land of pura vida, which included zip-lining at altitudes of 300 feet, sailing among the dolphins, and taking hair-raising rides on banana boats. Although I thought of this as just one more challenge, I had no idea how delicious this one would end.
What is it?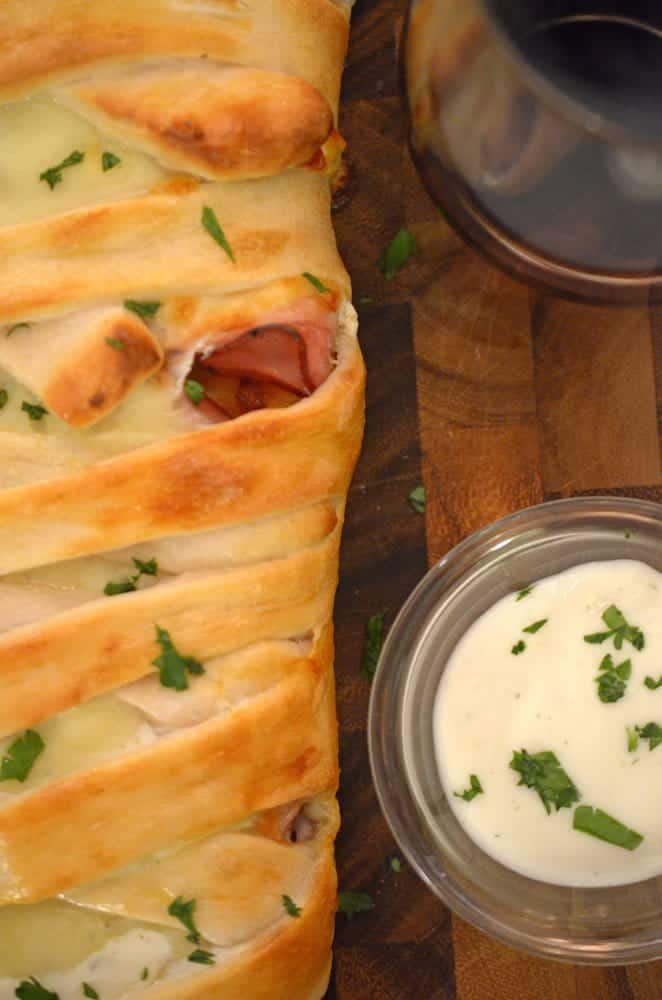 I'm lucky to be married to my best friend. We talk a lot about our kids, we talk a lot about our life together, and we talk a lot about food. When I mentioned this particular challenge to Scott, he scratched his head for a second or so and then he gave me that "Hmmm, I'll have to think on this one for a bit" look.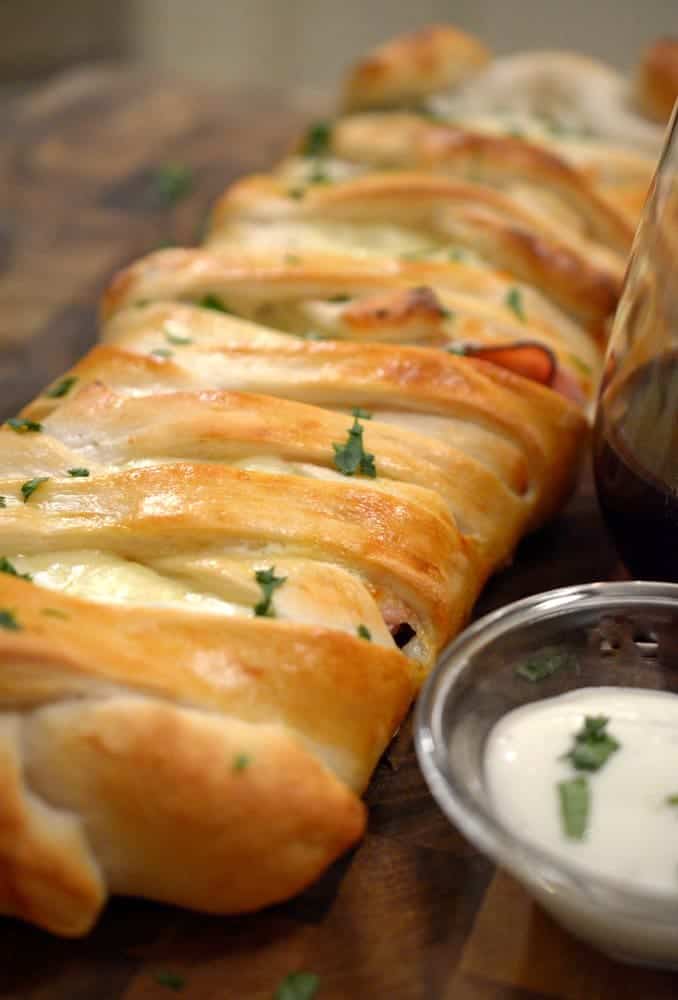 We had a week or so to come up with some ideas for this but what really forced us to mull over the issue was the fact that we were thousands of miles from our kitchen.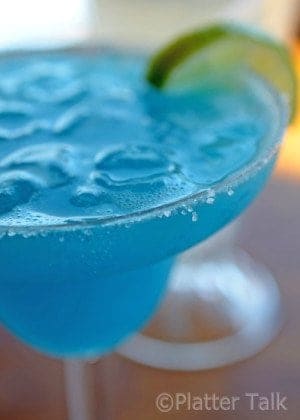 And so it was with this assignment somewhere in the back of our minds that we frolicked with great friends. Together we drank sangria, sang karaoke, soaked up some rays, and wallowed in fresh seafood. Suddenly our time in paradise was over. That's about the time we started to seriously think about what we could do with these Tyson Crispy Chicken strips.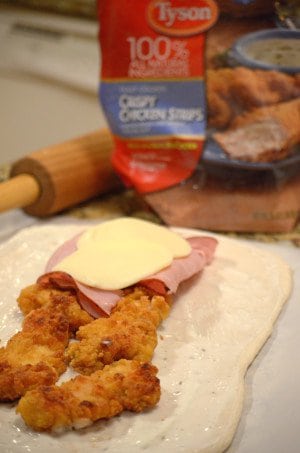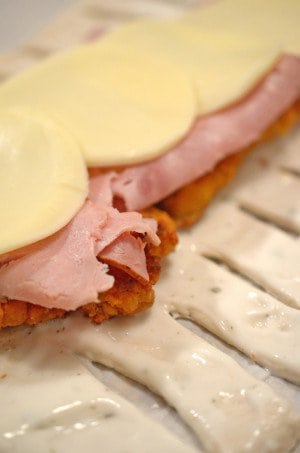 Once we returned home, we unpacked our things and went to the grocery store. It was shortly after that when the whole idea for this challenge started to turn delicious.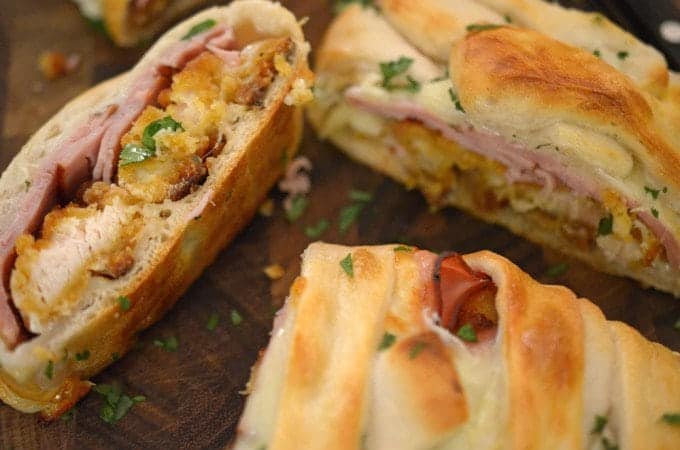 We took a freshly prepared pizza dough from the grocery store, rolled it out and then slathered it with Ranch dressing. Next, we took about half the bag (about 13 oz.) of these Tyson Crispy Chicken strips that had been briefly crisped in hot oil, and made a row down the center of the dough.
"Although I thought of this as just one more challenge, I had no idea how delicious this one would end."
On top of the chicken we placed some thinly sliced ham and then topped that with about 4 oz. of provolone cheese. We cut the dough along the sides, wrapped the chicken, ham, and cheese into a stromboli, applied an egg wash and popped it on a hot pizza stone and into the oven.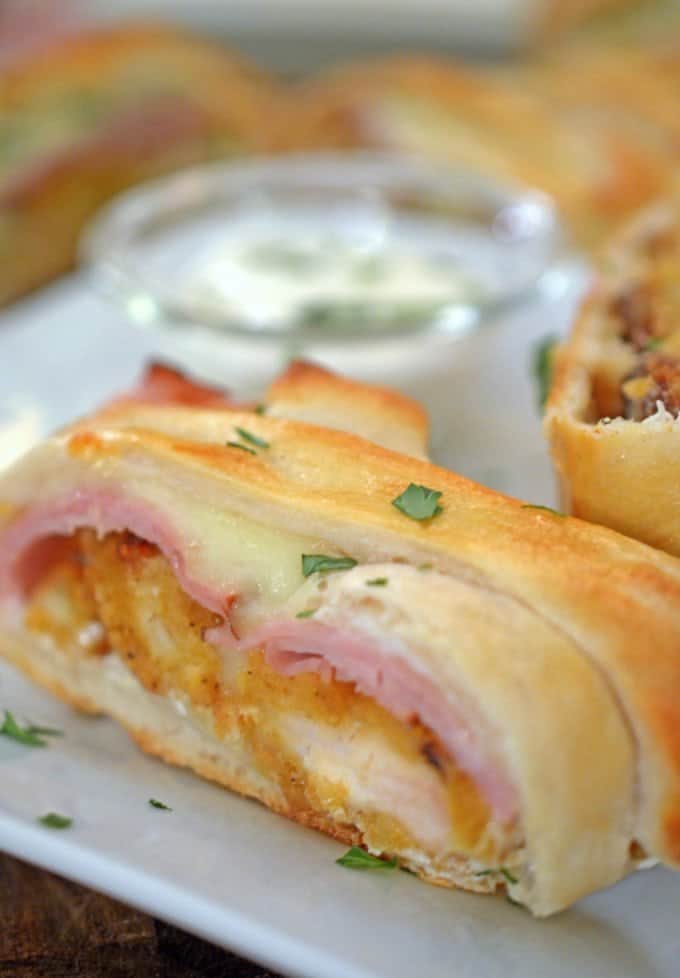 This is a fast, great tasting, and versatile recipe. It won't break the bank either, you can put it together for around $15 or less and as we found out, it made a delicious meal for the family; our kids devoured it.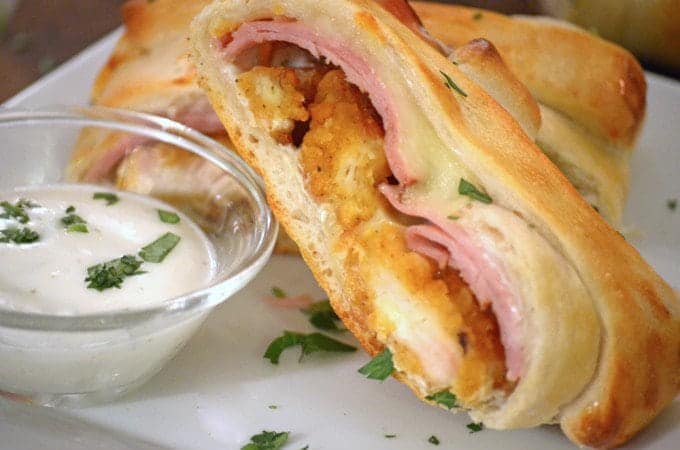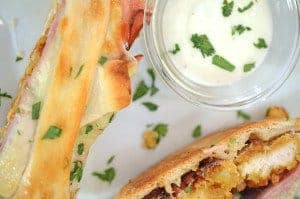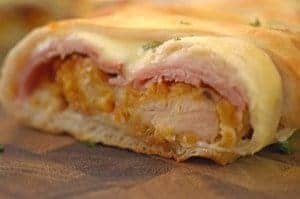 Who doesn't love the taste of Ranch dressing with chicken strips? What's more, these Tyson Crispy Chicken Strips are 100% all natural. We love good chicken here on Platter Talk and these crunchy little strips fit the bill perfectly. An excellent choice for your Super Bowl party or any get-together, this stromboli it is sure be a hit regardless of which team wins.
This post has a particularly happy ending. Platter Talk won the top spot in this recipe challenge and you can see Dan and Scott putting this together on their live television appearance right here!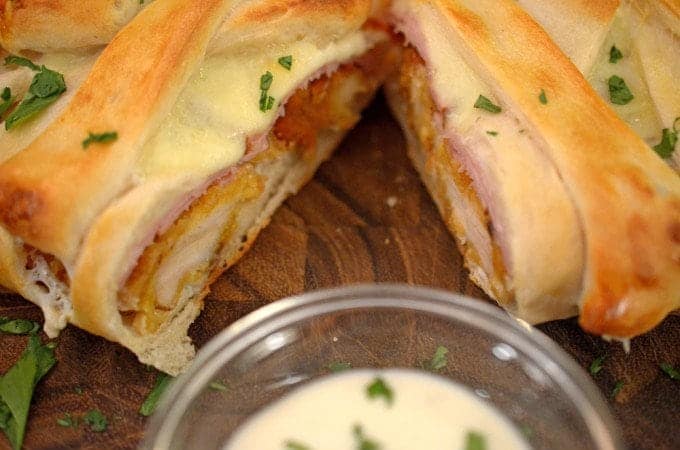 Related recipes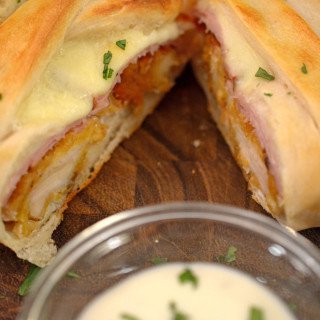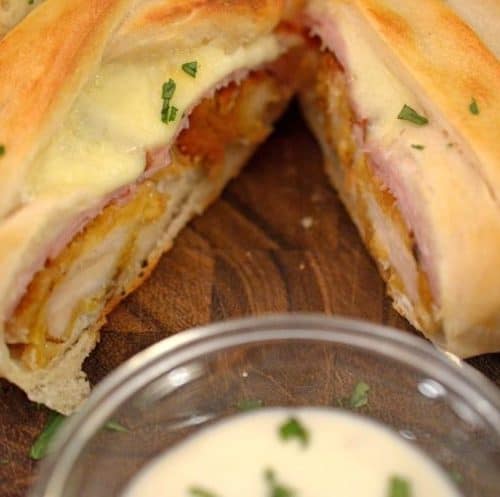 Crispy Chicken Cordon Bleu Stromboli
A Platter Talk Exclusive
Print
Pin
Rate
Ingredients
1

fresh

ready to use pizza dough

13

oz.

½ package Tyson Crispy Chicken Strips

¼

cup

olive oil

1

cup

Ranch dressing

plus more to use as dipping sauce

6

thin slices of deli ham

4

oz

about 4 pieces provolone cheese

1

egg

beaten, for wash

fresh Italian parsley

chopped for garnish (optional)
Instructions
Preheat oven to 400 degrees F.

Heat olive oil in large saute pan over high heat.

Place chicken strips in hot oil, about 2 minutes on each side, just long enough to crisp. Remove from heat and set aside.

Roll pizza dough out on parchment paper, to rectangle shape, about 11 x 13".

Spread Ranch dressing evenly on dough.

Place chicken on rolled-out , making a center row, lengthwise.

Evenly distribute ham over chicken, then place cheese over ham.

Cut each side of pizza dough into 1" strips.

Stating on one end, fold the top end first, then bring the strips from each side to make criss-cross pattern one strip at a time.

As you get to the other end, fold the end and finish the final 1-2 last strips to secure.

Brush with egg wash.

Use pizza peel to transfer stromboli (on parchment paper) to hot stone. (This will provide for a crispy bottom crust.)

Bake 15 - 20 minutes or until crust is golden brown.

Serve with Ranch dressing and garnish with Italian parsley, if desired.
Nutrition
Calories:
489
kcal
|
Carbohydrates:
3
g
|
Protein:
25
g
|
Fat:
42
g
|
Saturated Fat:
10
g
|
Cholesterol:
110
mg
|
Sodium:
1022
mg
|
Potassium:
369
mg
|
Fiber:
1
g
|
Sugar:
1
g
|
Vitamin A:
240
IU
|
Vitamin C:
2
mg
|
Calcium:
164
mg
|
Iron:
1
mg