Homemade Potato Dumplings (Kartoffelknödel) Recipe
Potato dumplings (Kartoffelknödel) are a traditional side dish in Germany, but this is just one type of dumpling. There are endless variations of this potato dumpling recipe.
Read on to learn how to make this German potato dumpling recipe all year long, for mere pennies per serving.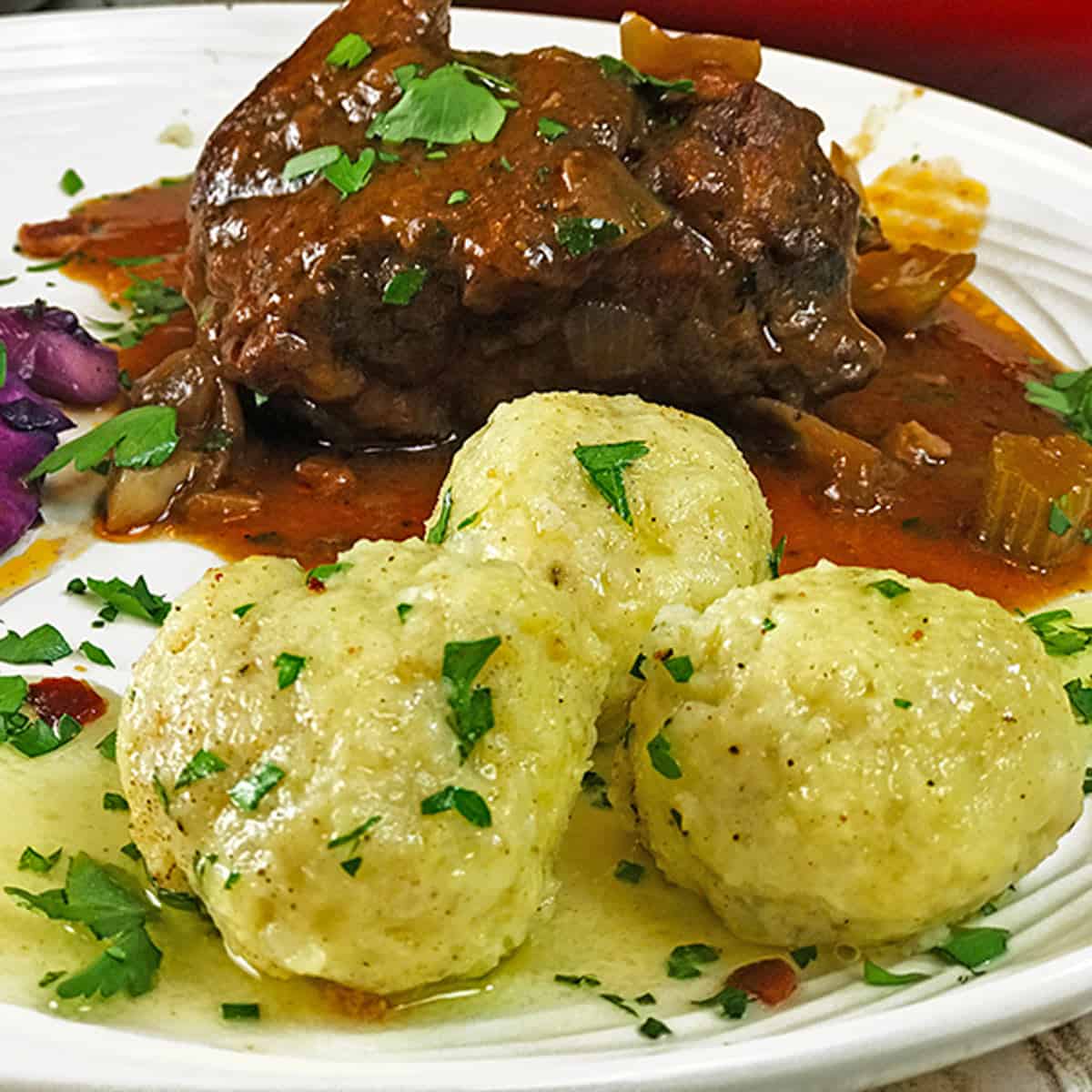 Homemade Potato Dumplings
This recipe for homemade potato dumplings is easy to make, and few side dishes or main entrées say comfort any louder than delicious potato dumplings made from scratch. We love serving these with almost any meat dish like our simple Swiss steak, classic beef bourguignon, or braised beef.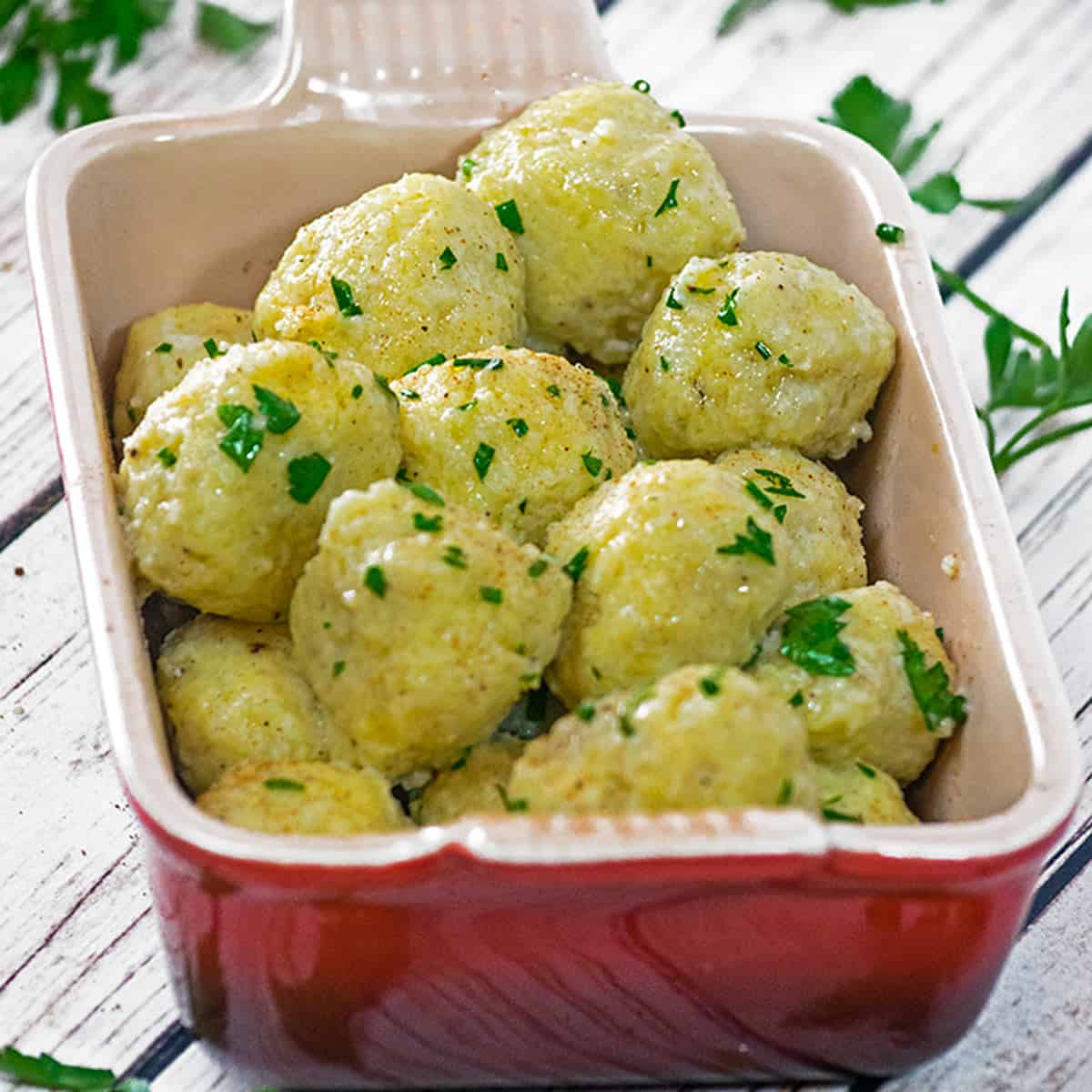 There are many different types of dumplings recipes, and this simple recipe is similar to what you would expect with a chicken and dumplings dish. This version is less floury and more potato-forward than those types of dumplings.
What's in this kartoffelknödel recipe
Russet Potatoes
Eggs and Egg Whites
Potato or Corn Starch
Flour
Water
Butter
Seasonings
How to make potato dumplings
(Full recipe and complete directions are found at the end of this post.)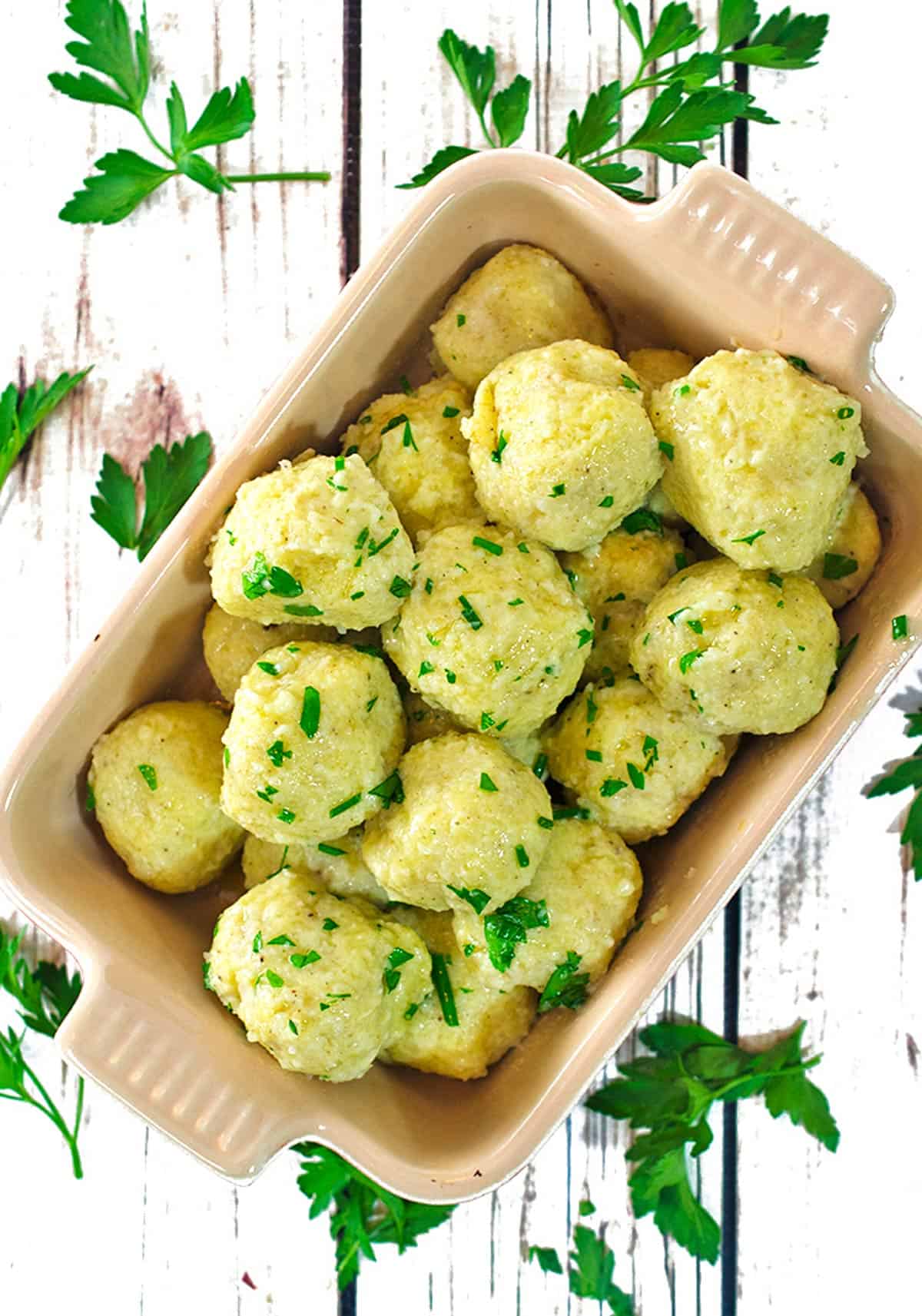 We like to use Russet potatoes to make these because they are starchy potatoes. Yukon-Gold potatoes are also a good choice as an all-purpose potato.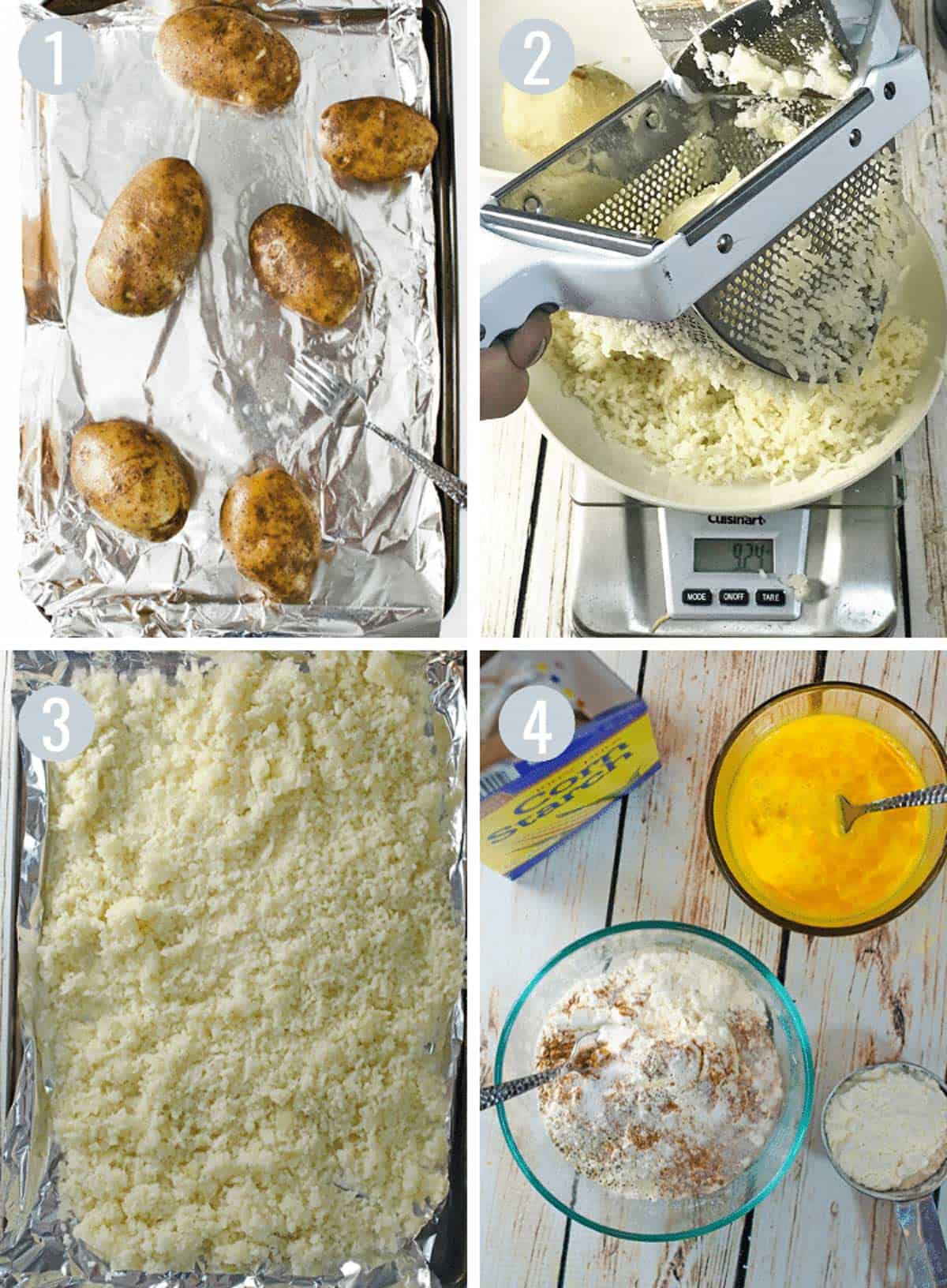 1. Start by washing between two and three pounds of Russet potatoes. Use a fork to poke some ventilation holes in the raw potatoes and then place them in a hot oven for about an hour.
2. When they are done, allow them to cool slightly. The best way to mash the potatoes is with a
potato ricer
3. Next, you are going to evenly distribute the riced potatoes on a baking sheet and then allow them to dry out overnight in the fridge, or place them in the freezer for 20 minutes.
4. While the potatoes are chilling, mix up the other ingredients.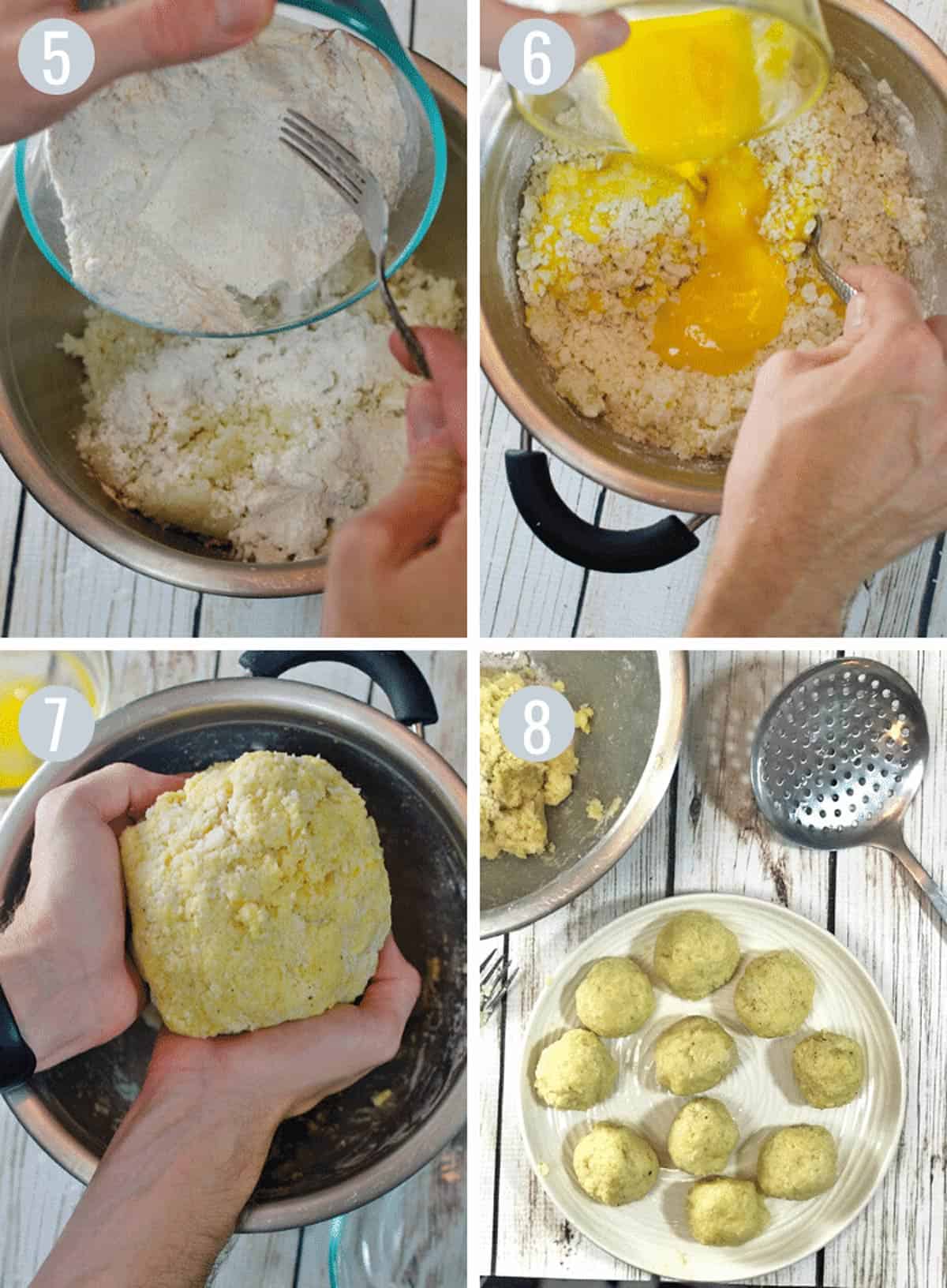 5. Place the chilled riced potatoes in a large bowl and slowly incorporate the flour mixture with the potatoes.
6. When the mixture looks uniform, add the eggs, working them in with a fork until just mixed.
7. Once everything is mixed, use both hands to form the potato mixture into a ball. Knead it lightly a few times until it forms a homogenous, smooth dough.
8. Using light and even pressure, form the potato dumplings. Break off small pieces of the potato dough to form potato balls about the size of golf balls.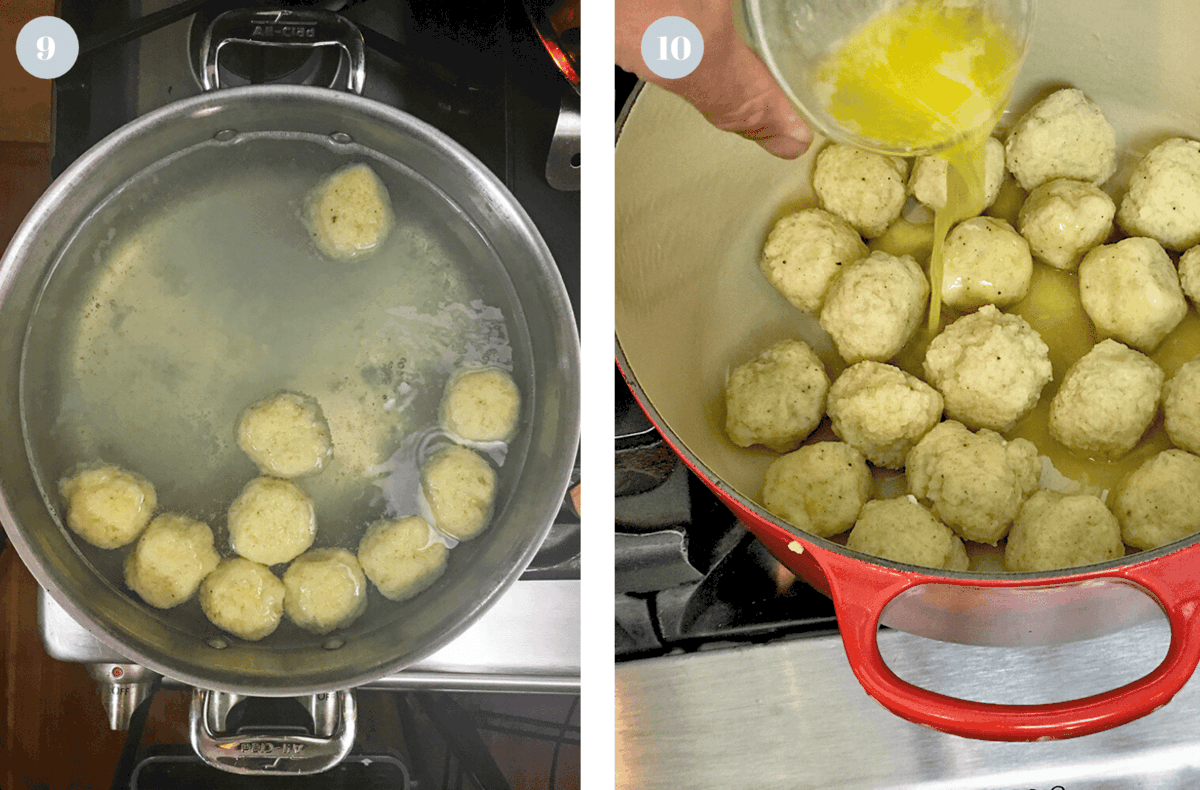 Now you're ready to cook them in a pot of water with a little bit of salt.
9. Once you add the dumplings to the boiling water, reduce to medium heat to a low boil. A hard boil can cause them to break apart, which you don't want!
Just like magic, they will begin to float to the surface of the water as they cook. You're going to allow them to rest on the top surface for six minutes before removing them from the pot.
10. Use a slotted spoon to place the cooked potato dumplings in a Dutch oven
Melt butter and slather the potato dumplings.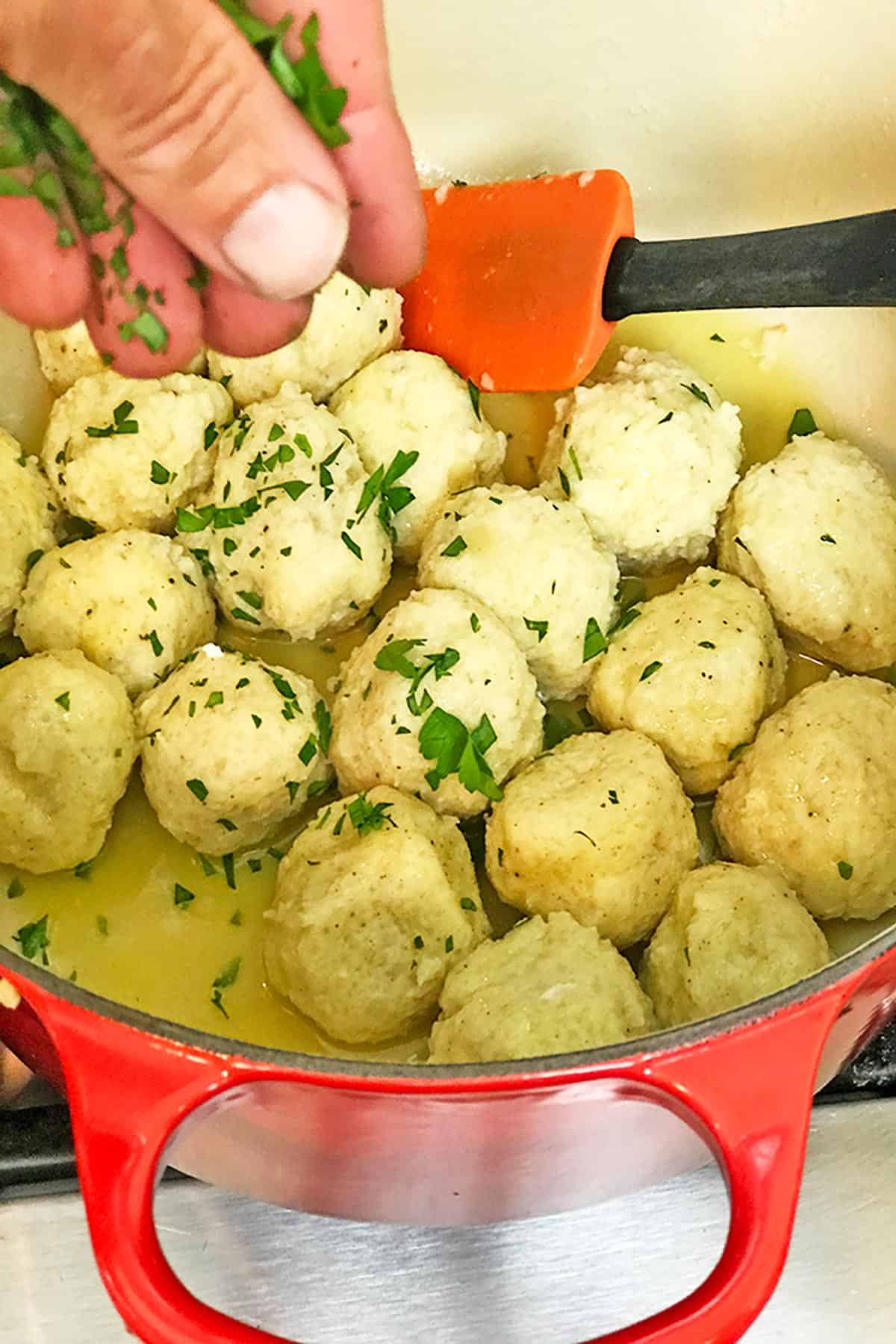 How to season these
We like to add some parsley, chives, or other fresh herbs to these potato dumplings. Some other ideas might include:
Parmesan cheese
Tomato sauce
Gravy
Use whatever sounds tasty to you and then cover them and place in a hot oven for six or seven minutes.
What to serve with potato dumplings
This is a popular side dish in our home. We like to serve potato dumplings with a savory meat entrée, like our braised pork shoulder recipe. Our fried red cabbage recipe also makes for a nice compliment, full of color and savory flavor.
Crusty bread and homemade dinner rolls are also great choices to go with these!
Our Creamy Mushroom Sauce also goes well with these.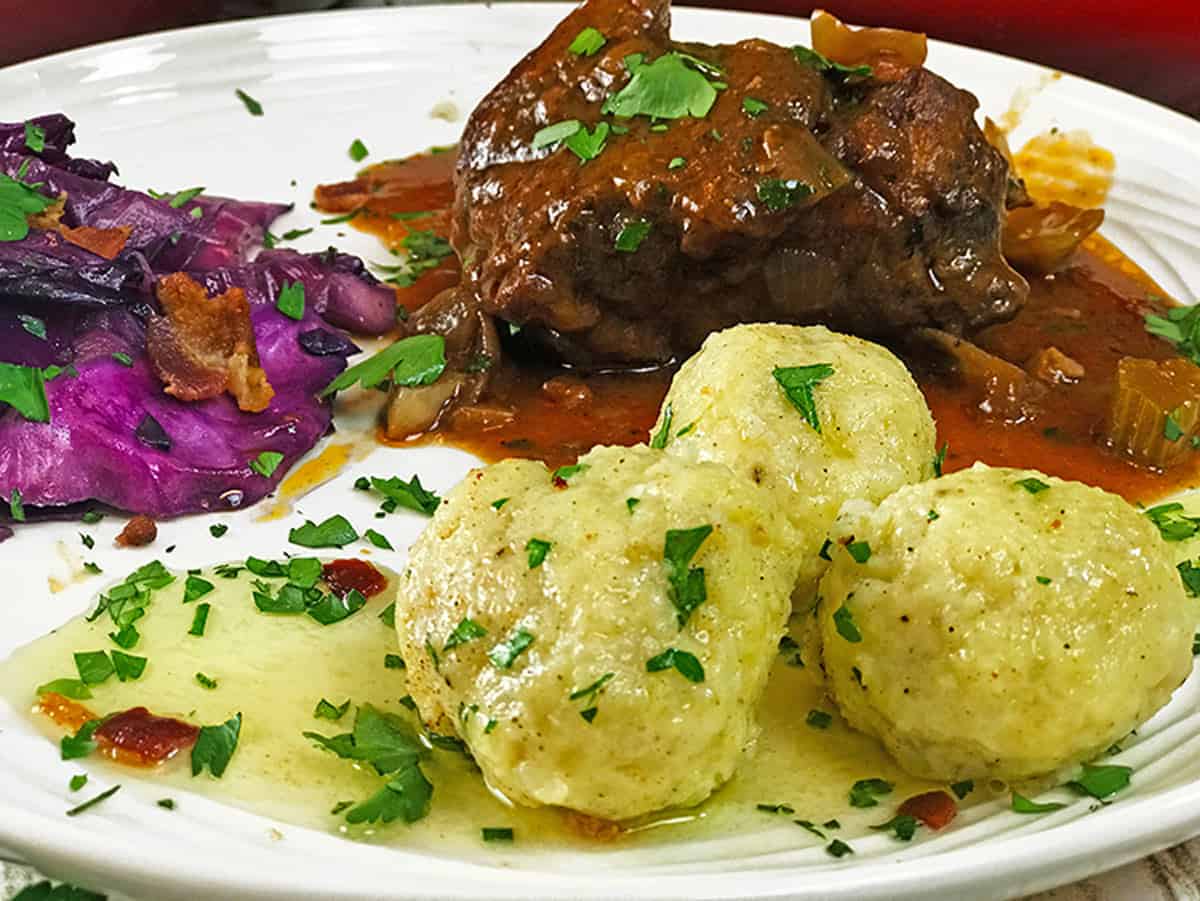 Common questions about these
How long do these stay good?
You can store these for 3 or 4 days in the refrigerator in an air-tight container. To reheat potato dumplings, simmer them in a saucepan with a little water added until the middle of the dumpling is warm.

You can reheat these in a microwave on low power for 1 to 2 minutes.
Can I freeze these?
Yes! You can freeze potato dumplings for later use. These make a great addition to stews and soup. Just be sure to freeze them.
What is the difference between these and Italian Gnocchi?
Potato dumplings and Italian gnocchi are both made out of potatoes. They can both be served as a main dish or a side. That's about all they have in common.

Potato gnocchi is much smaller and rolled to hold the sauce. Dumplings are quite a bit larger and not usually served with a sauce.
Are you looking for some more easy potato side dishes? Here are a few of my favorites!
Download a free shopping list for this potato dumpling recipe and use it the next time you go to the grocery store!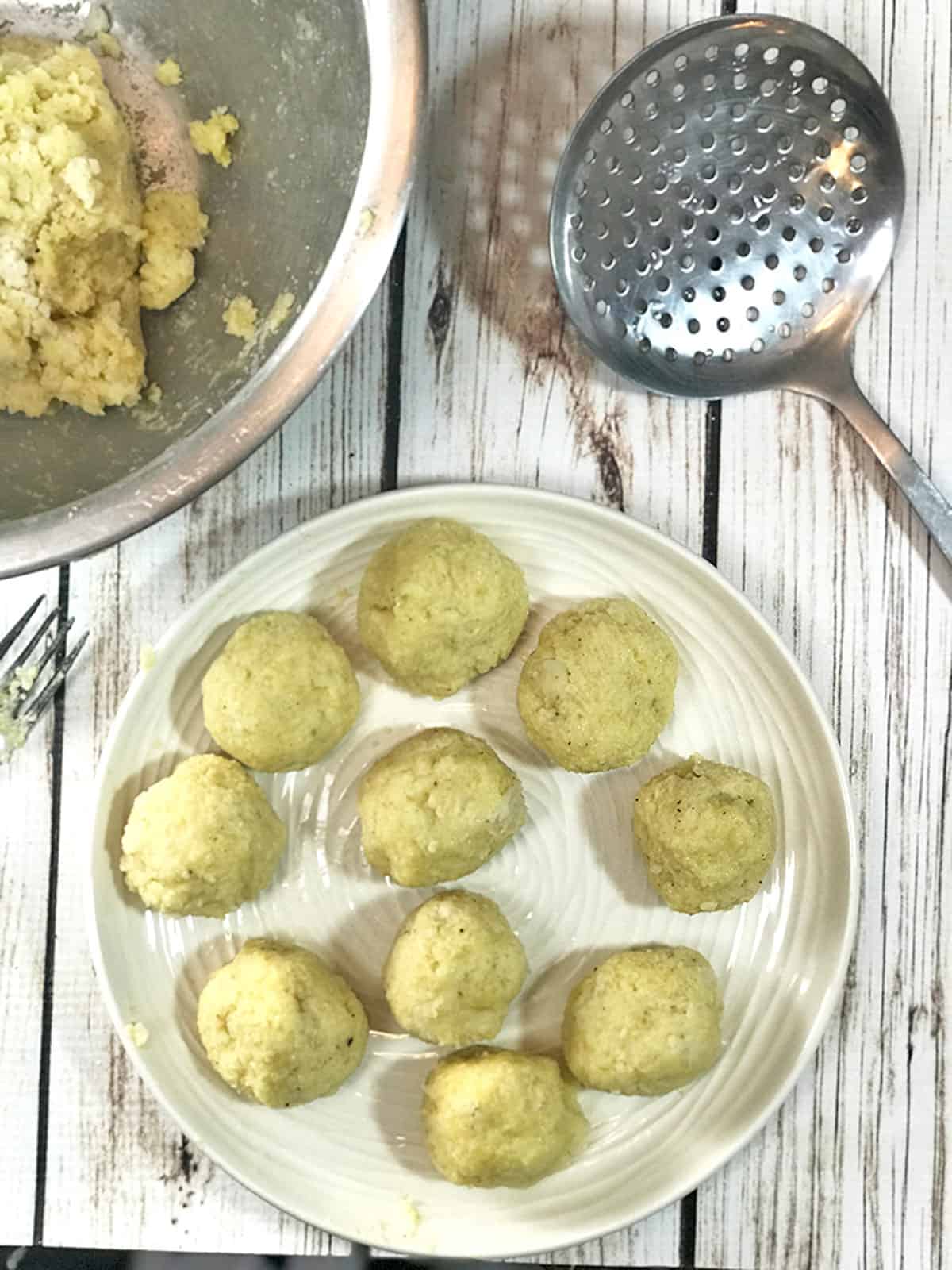 👨‍🍳 Tried this Recipe? Please leave a ⭐⭐⭐⭐⭐ rating in the recipe card below and leave a comment. We love hearing from our readers!
⏩ Stay in touch with us on social media by following us on Facebook, Pinterest, Instagram, and YouTube!
📬Get our Recipes delivered to your inbox for FREE!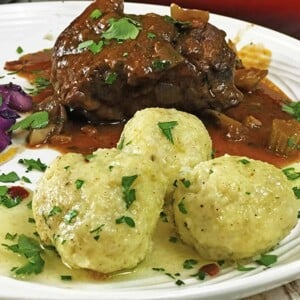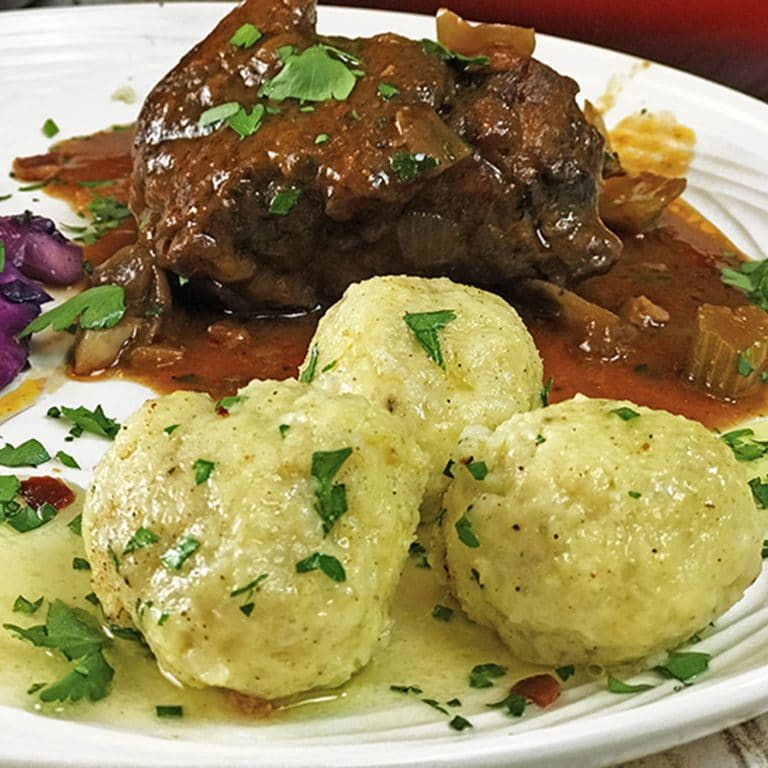 Homemade Potato Dumplings (Kartoffelknödel) Recipe
These easy potato dumplings make for a delicious side dish or with some creativity, turn this Kartoffelknödel recipe into a main course or appetizer.
Ingredients
2

lbs

Russet potatoes

,

baked, peeled, cooled, riced.

2

eggs

2

egg yolks

3/4

cup

flour,

all-purpose

2

tbsp

potato starch

,

or corn starch

salt and pepper

1

tsp

ground nutmeg

4

quarts

water

1/2

cup

butter

,

melted

2

tbsp

parsley

,

fresh chopped

1

tbsp

chives

,

freash chopped
Instructions
Preheat oven to 400° F. Wash potatoes, pierce the skins with a fork and place on a baking sheet. Bake for about an hour or until you can easily pierce through the potatoes with a paring knife.


Allow the potatoes to cool slightly. Remove skins and then use a potato ricer to end up with 24 oz. of riced potatoes.


Line a baking sheet with parchment paper or foil and evenly spread the riced potatoes in a single layer on the baking sheet. Place in the refrigerator overnight, uncovered to use the next day, or in the freezer for 20 minutes if you are making these the same day.

Using a small mixing bowl, beat the eggs and egg yolks together until blended. In a separate mixing bowl, mix the flour, potato starch, nutmeg, and salt and pepper (to taste).


Transfer the chilled potatoes to a medium-size mixing bowl and add the flour all at once and gently cut it into the potatoes until evenly combined. Do not over-mix. Then add the eggs.


Use a fork to uniformly combine the mixture. Then take both hands and form a ball, lightly packing it together.


Place water in a large pot, add a little salt, and bring the salted water to a boil. In the meantime, break off small pieces of the potato dough and form golf ball-sized dumplings of similar sizes, between the palms of your hands, using light but firm pressure.

When the water comes to a boil, place half the dumplings into the pot and reduce heat to a low boil. When the dumplings float to the top, leave in the water for six more minutes. Remove with a slotted spoon and place in a Dutch oven. You should end up with about 24 dumplings and can boil them in two batches. Preheat the oven to 400° F.


Slather the melted butter over the dumplings, then add fresh herbs and gently stir the dumplings to ensure even an even distribution. Cover the dumplings and place in hot oven for about seven minutes. Remove from oven and then serve immediately.

Notes
Russet potatoes will give you a nice starchy mix to work with for this recipe.
When boiling the dumplings, replace any water that may be lost to evaporation.
Nutrition
Calories:
272
kcal
,
Carbohydrates:
31
g
,
Protein:
6
g
,
Fat:
14
g
,
Saturated Fat:
8
g
,
Cholesterol:
120
mg
,
Sodium:
149
mg
,
Potassium:
525
mg
,
Fiber:
1
g
,
Sugar:
0
g
,
Vitamin A:
495
IU
,
Vitamin C:
6.7
mg
,
Calcium:
47
mg
,
Iron:
1.9
mg
Nutrition information is automatically calculated, so should only be used as an approximation.
More recipes for dumplings
This recipe is updated from the original post of October 21, 2018.