on Nov 02, 2018, Updated Jan 01, 2021
For this leftover roast beef pot pie, we use leftover prime rib and phyllo dough to make a juicy, tasty family meal, in the form of a warm and savory pot pie.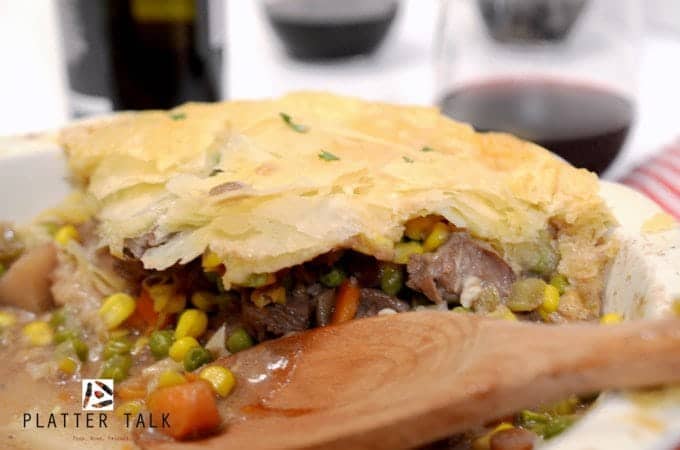 Like most households at holiday time, ours is very busy. Between kids coming home from college and family visiting from other states, there is always a lot going on, especially in the kitchen.
To say there was no shortage of food would be a bit of an understatement. When there is this much food in our household, there are often leftovers.
What is this?
These were the circumstance that we found ourselves facing following our big Prime Rib dinner from Christmas day. If you don't have any leftover prime rib, you can make this delicious pot pie using leftover smoked brisket as well.
We also had a package of leftover phyllo dough from one of last week's television segments that we shot in Green Bay.
How could I use both of these tasty foods together? It didn't take long to come up with a solution.
I found the perfect use for any leftover roast beef.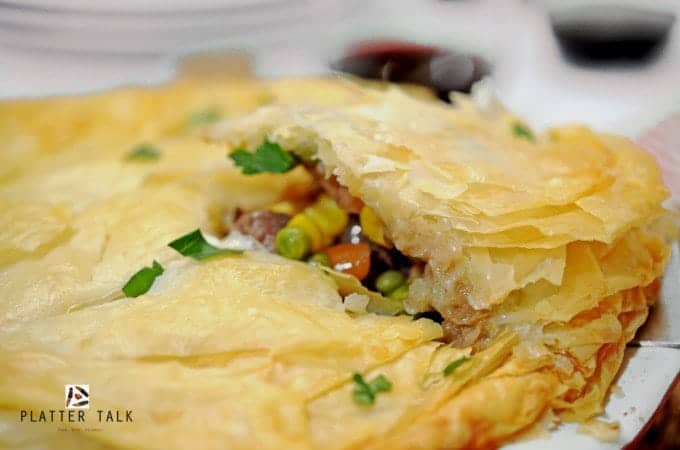 Christmas is a special time for many families. For us, our oldest was home from his freshman year of college, and we were all together once again for a few days.
Our guys love prime rib, and although it's not something we make often, this seemed like an appropriate occasion.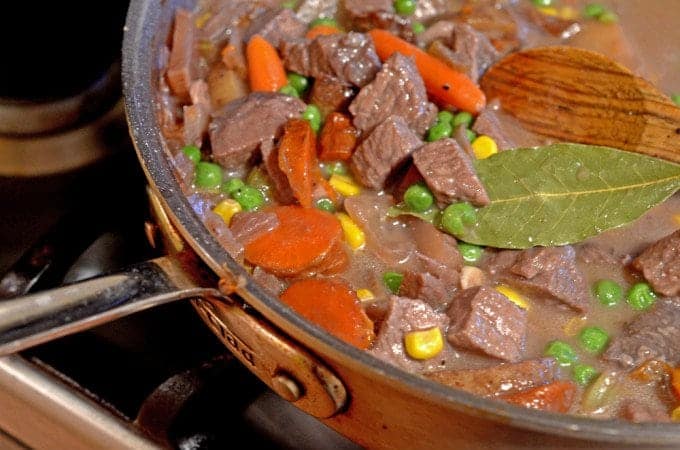 What's in it

Phyllo dough
Leftover prime rib – this also makes for an easy leftover steak recipe too!
Butter and Olive Oil
Celery
Carrot
Onion
Potato
Peas
Corn
Red Wine
Worcestershire Sauce
Dijon Mustard
Bay Leaves
Seasoning
Per the popular demand of our troop of boys, our (Almost) World Famous Mac 'n Cheese was also on the menu.
May I just say that both featured entrées came out quite well and perhaps due to the quantity of food on our table, there were plenty of leftovers.
That's how we came up with this leftover roast beef recipe!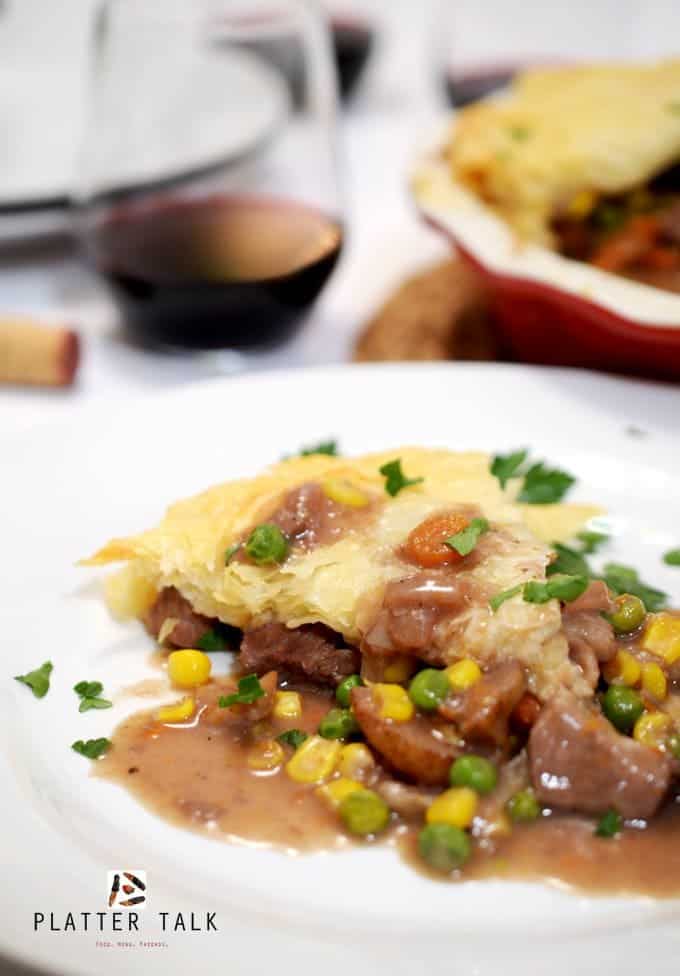 It turns out, phyllo and prime rib go very well together. Let's be honest though, how can anything not go well with a mouthwatering prime rib – let alone sheets of buttery and flaky phyllo dough?
Together, with this Leftover Roast Beef Pot Pie, the two came together beautifully.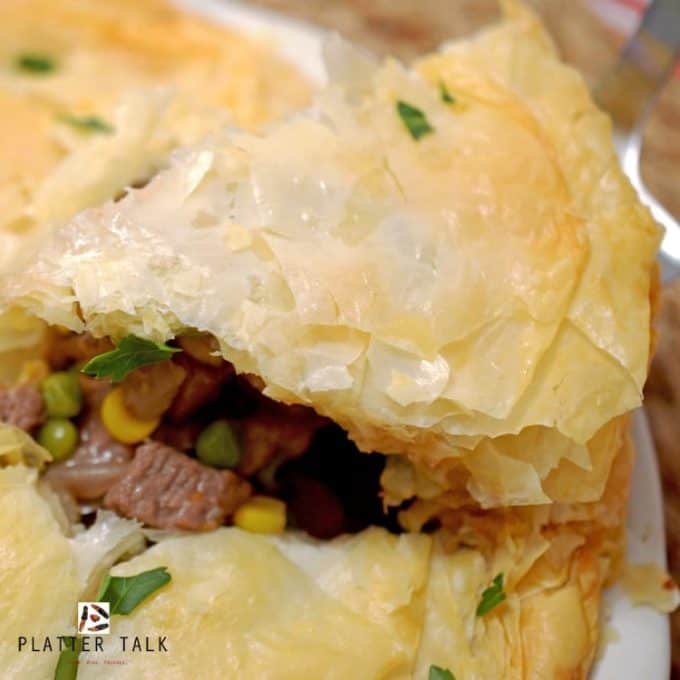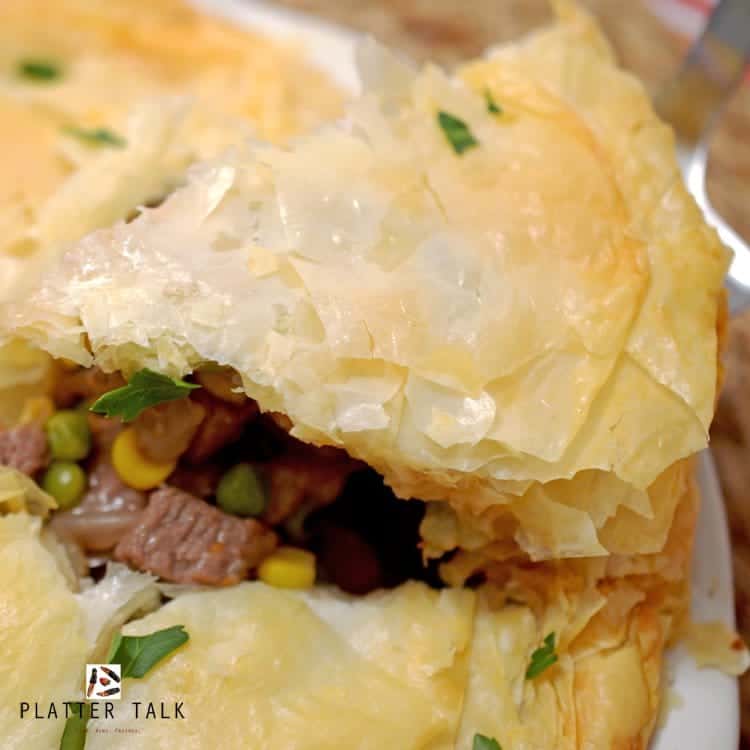 It wasn't just the leftover prime rib we used to make this Leftover Roast Beef Pot Pie. The carrots and celery that we roasted with the original entrée went into the mirepoix.
Similarly, the potatoes that roasted with the leftover beef were also added to the mix.
With a little more seasoning and some time on the stove followed by another trip to the oven, this leftover roast beef recipe proved to be a great use of leftovers.
It seemed to me that the guys loved this leftover creation just as much as the original dish, giving us good reason to call this meal a true double hitter. -Dan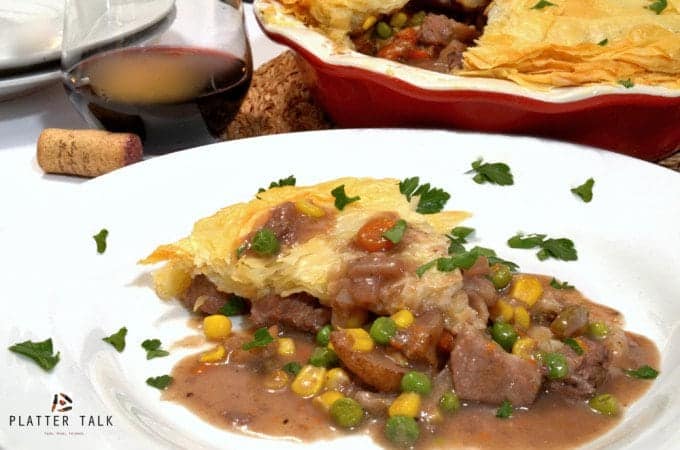 Leftover steak recipes
Pot pie recipes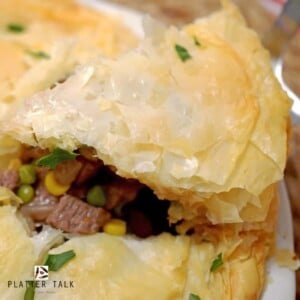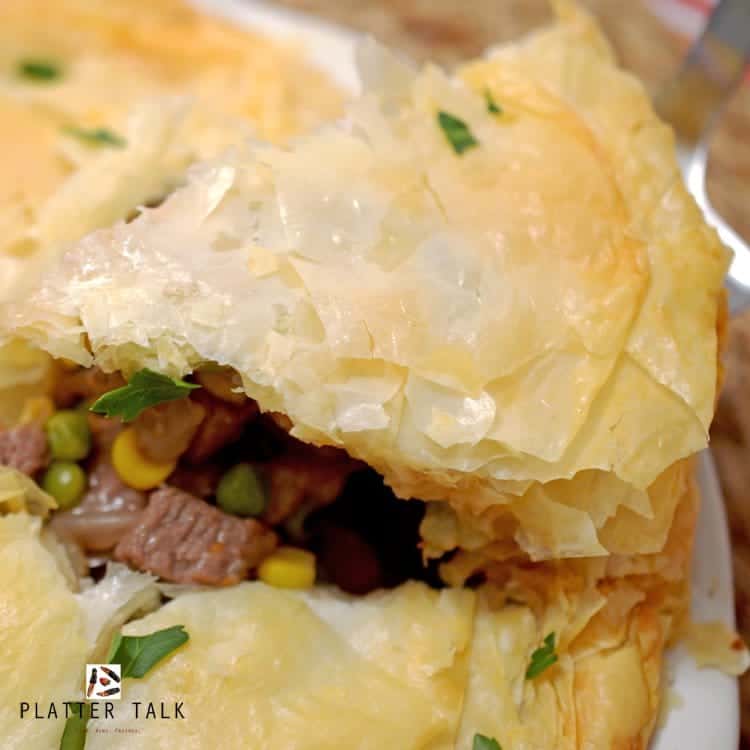 Leftover Prime Rib Phyllo Pot Pie
This leftover roast beef pot pie is also great if you are looking for leftover steak recipes. This makes for a great follow-up family meal, the day after that big prime rib dinner!

Ingredients
8-16

oz

. leftover beef roast

2

tablespoons

olive oil

1/2

white onion

,

fine dice

3

inch

carrots

,

sliced 1/3 thick

2

stalks celery

,

coarse chop

1

cup

coarsely chopped roasted potatoes

1

cup

red wine

1

bay leaf

2

cups

low sodium beef broth

1/2

cup

milk

2

tablespoons

flour

1

teaspoon

Dijon mustard

1

tablespoon

Worcestershire sauce

1

cup

frozen peas

1

cup

frozen sweet corn

Salt and pepper to taste

1

package of phyllo dough

,

about 20 sheets

1/2

cup

butter

,

melted
Instructions
Preheat oven to 350 degrees F.

Using large skillet, heat olive oil over medium high heat.

Create mirepoix with onion, carrots, and celery. Saute until onions are soft and translucent.

Add potatoes and heat for a couple of minutes while stirring.

Add wine, reduce to 1/2 volume. Add bay leaf.

Add broth and milk, bring to low boil, reduce heat and simmer for a couple of minutes.

Slowly add flour to desired consistency.

Add mustard, Worcestershire sauce and leftover beef roast, stir and continue to heat on low simmer.

Add peas and corn, salt and pepper to taste.

Place 10 phyllo sheets, one at a time, in bottom and sides of a 9 inch pie plate.

Use pastry brush to coat each layer with butter. Mold each sheet of phyllo within confines of pie plate.

Add beef mixture, using slotted spoon. (Remove bay leaf.) Add about 1/2 cup of sauce/gravy to top of beef mixture and reserve the remaining amount.

Top beef mixture with phyllo dough, one sheet at a time and brush each sheet with butter. Again, conform edges to perimeter of pie pan.

Place in oven for 35 to 40 minutes, until golden brown.

Allow to sit for 5 minutes, cut and plate each serving, spooning reserved gravy over each serving.
Nutrition
Calories:
390
kcal
,
Carbohydrates:
32
g
,
Protein:
12
g
,
Fat:
21
g
,
Saturated Fat:
10
g
,
Cholesterol:
51
mg
,
Sodium:
453
mg
,
Potassium:
546
mg
,
Fiber:
3
g
,
Sugar:
3
g
,
Vitamin A:
775
IU
,
Vitamin C:
12.4
mg
,
Calcium:
52
mg
,
Iron:
3.3
mg
Nutrition information is automatically calculated, so should only be used as an approximation.
Updated from the Original Post of December 27, 2015