White Chicken Chili
on Mar 10, 2013, Updated Jan 01, 2021
This white chicken chili crock pot recipe is loaded with warm flavors and requires almost no effort to make!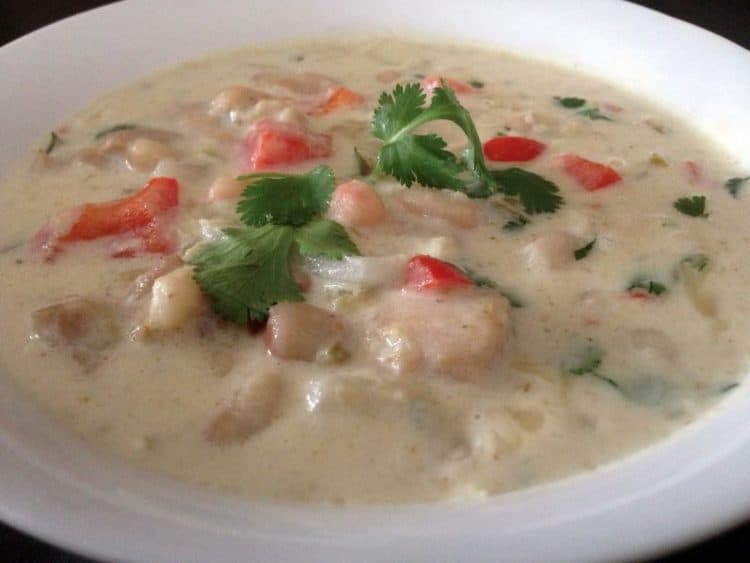 I don't recall the first time I met my good friend, White Chicken Chili, but it's been a treasured relationship for a few years now. Partially because we hadn't gotten together in a long time, and as an "in-your-face" gesture to our never-ending and inhospitable winter, I asked my old friend to join us for a Saturday dinner. They were happy to comply.
What this is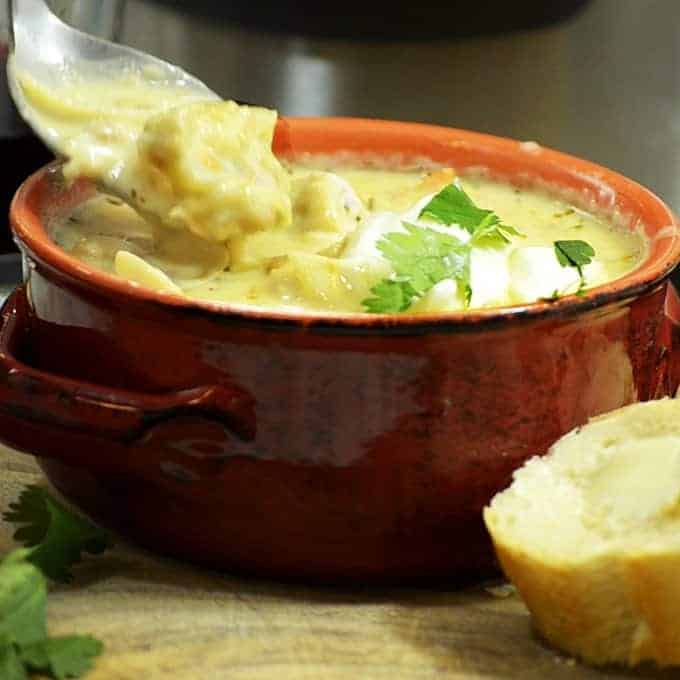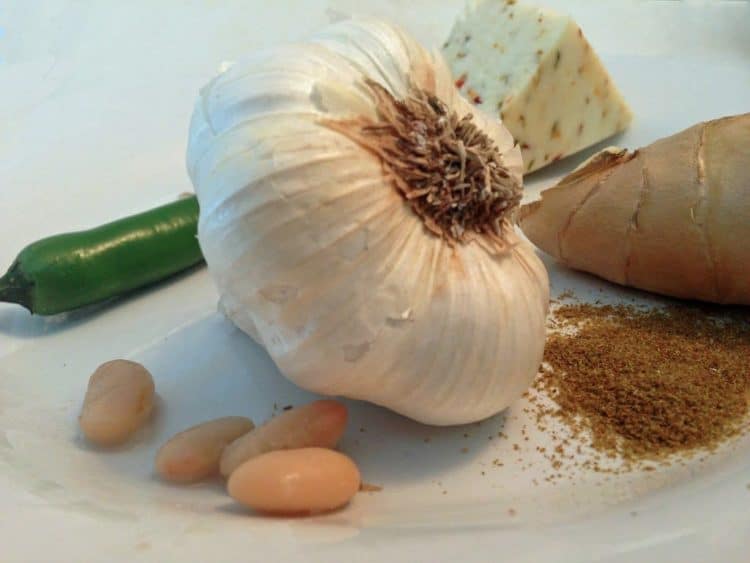 Featuring all things warm, there was garlic on hand, a couple of chili peppers, and of course pepper jack cheese to help hold it all together. The reliable supporting cast of cumin, cilantro, and colorful additions of colorful bell peppers all showed up to help out. It was a wonderful reunion of old acquaintances and as often happens when old friends get together, it was if just yesterday they last saw each other.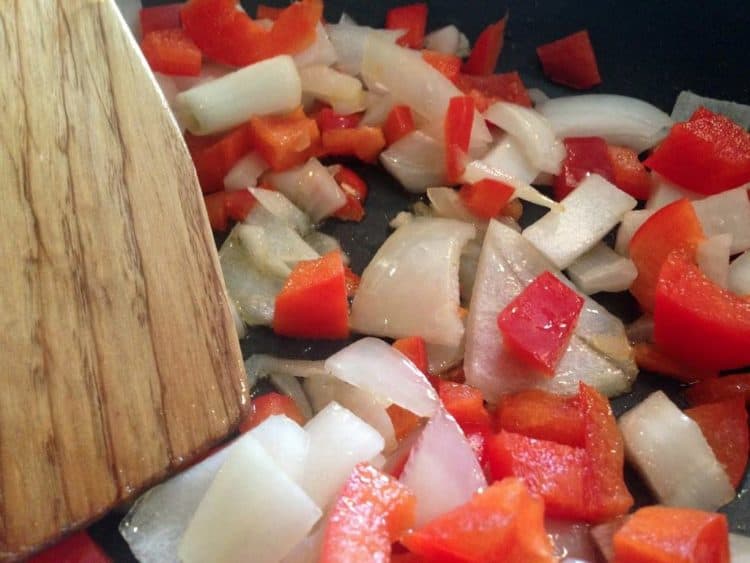 As the morning progressed and I carried out the prep duties of slicing, dicing, cubing and sauteing, I was reminded how this reunion was always a deliberately executed event. A classic example of slow cooking, each step contributes to the process of finding both familiarity among the ingredients and some new modifications based on individual flavors, boldness or degrees of subtlety. I was also reminded of the central role of olive oil. Is there anything that doesn't get along with this staple? What else can you dab your bread in, use as a means to saute, or apply to your skin for moisture and antioxidant benefits? Talk about versatility!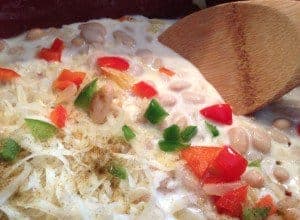 Eventually, midway through the process everything literally comes together. Again, this white chicken chili crockpot recipe is where the essence of slow cooking becomes apparent. As the hours tick by, the cumin, the garlic, the peppers, the cheese and the cream – in conjunction with everything else, progressively ally and eventually turn into an entirely new body.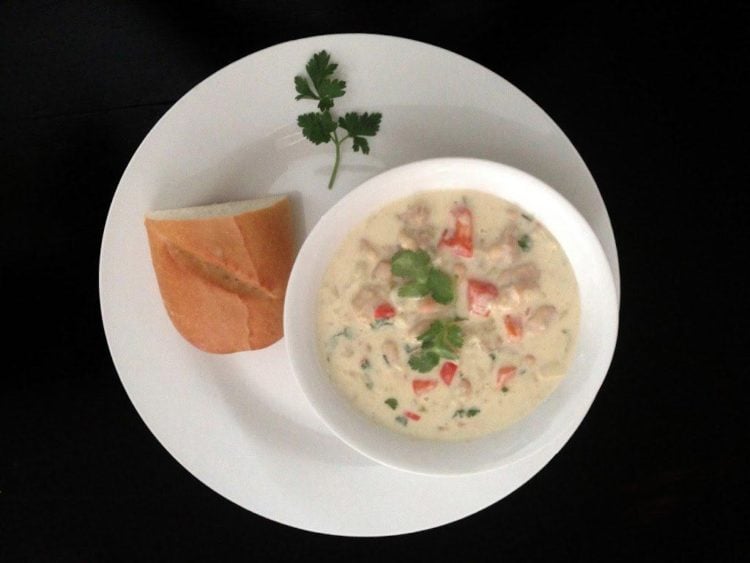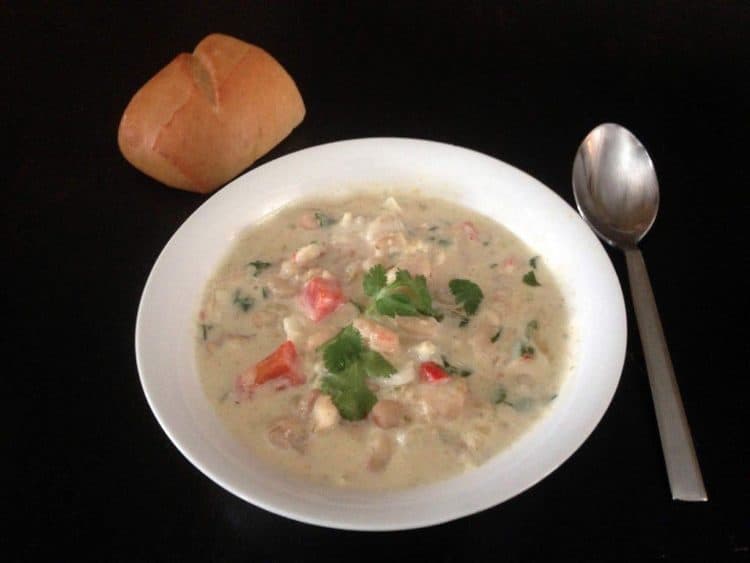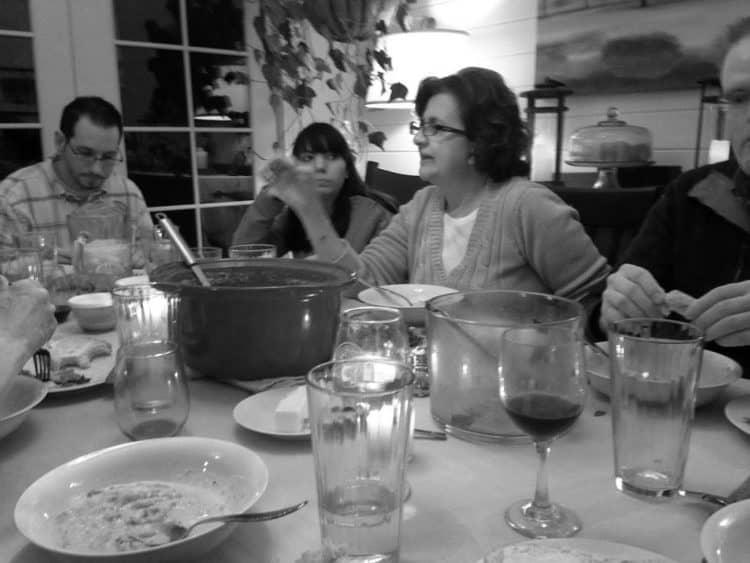 As has been known to happen from time to time, our planned evening of entertaining a single couple morphed into a dinner party of 9 adults and six kids. Parallel to the featured recipe, the addition of each individual added enhancement and an enjoyable element to the whole experience. Besides the native population of our own country, we had representatives of Italy and Argentina join in and throughout the night, conversations were parlayed in English, Italian, Spanish, and of course the unspoken exchanges that always occur when good friends are together.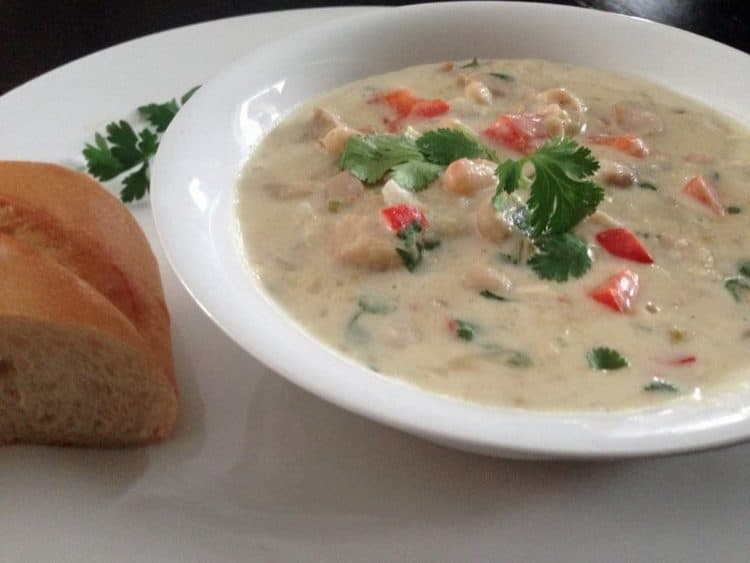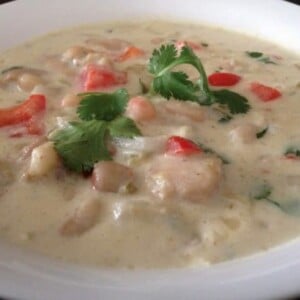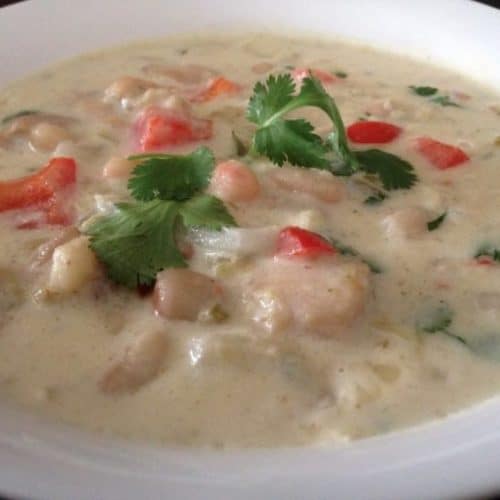 White Chicken Chili Crock Pot Recipe
A Platter Talk Exclusive
Ingredients
2

lbs

Boneless chicken

,

thigh will give you a deeper and richer flavor.

48

oz

jar great northern beans

,

drained

16

oz

pepper jack cheese

,

shredded

2

tablespoons

olive oil

1/2

cup

white onion

1/2

red bell pepper

3

garlic cloves

,

+/- depending on affinity or aversion to vampires

1

cup

heavy cream or half & half

6 to 8

oz.

salsa verde

2 to 4

oz

can chopped green chili peppers

2 to 4

oz.

can chopped jalapenos

1

tablespoon

ground cumin

1

tablespoon

oregano

1

tablespoon

kosher salt

1/2

bunch fresh cilantro

fresh ginger root

fresh crushed black peppercorn to taste

1

tablespoon

flour
Instructions
Add beans, cream, pepper jack cheese, salsa verde, chili peppers, jalapenos, and cumin to slow cooker, or crock pot, with initial temperature set to high.

Warm 10 inch skillet on medium heat and add olive oil.

Cube white onion in small pieces, slice and dice red pepper and garlic, saute all three until tender and translucent. Transfer this combination to crock pot.

Dice chicken breasts or thighs into 1/2 inch pieces, then saute chicken in skillet

Add oregano.

Add cooked sauteed chicken to crock pot.

Peel and shred about 1.5 sq. inch of fresh ginger, add to crock pot.

Add salt, and pepper, to taste.

Stir well and cook covered, from one to several hours, reducing temperature to low or medium, once the mixture is hot.

If chili is thin, stir in flour to desired consistency.

Finely chop cilantro and add to crockpot just before serving.


This is complimented nicely by a dollop of sour cream, and hearty Italian or French bread.
Notes
Try this recipe. Add or delete according to your preference, and savor the moment.
Nutrition
Calories:
371
kcal
,
Carbohydrates:
12
g
,
Protein:
28
g
,
Fat:
24
g
,
Saturated Fat:
13
g
,
Cholesterol:
109
mg
,
Sodium:
1087
mg
,
Potassium:
645
mg
,
Fiber:
4
g
,
Sugar:
5
g
,
Vitamin A:
1737
IU
,
Vitamin C:
25
mg
,
Calcium:
358
mg
,
Iron:
2
mg
Nutrition information is automatically calculated, so should only be used as an approximation.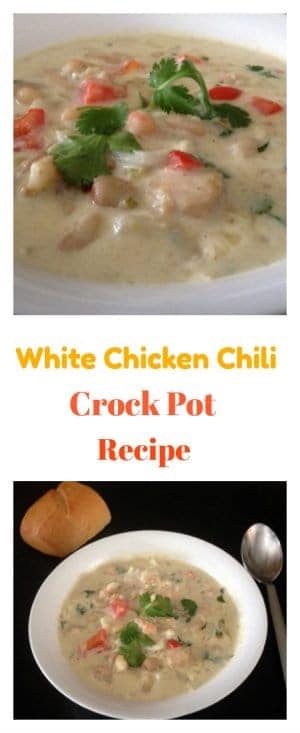 Read More https://www.epicurious.com/recipes/member/views/DAN-ZEHRS-WHITE-CHICKEN-CHILI-50123752#ixzz2N9RCJ400