Air Fryer Bacon Wrapped Scallops
on Mar 04, 2021, Updated Dec 24, 2022
Air fryer scallops wrapped in bacon are a great party food and one of our most popular appetizer ideas that can be made in about 20 minutes. As a bonus, these little bites of goodness are keto-friendly and one of our many gluten-free recipes.
Serve these bacon-wrapped scallops with a garlic butter sauce, and be ready to hand out copies of the recipe!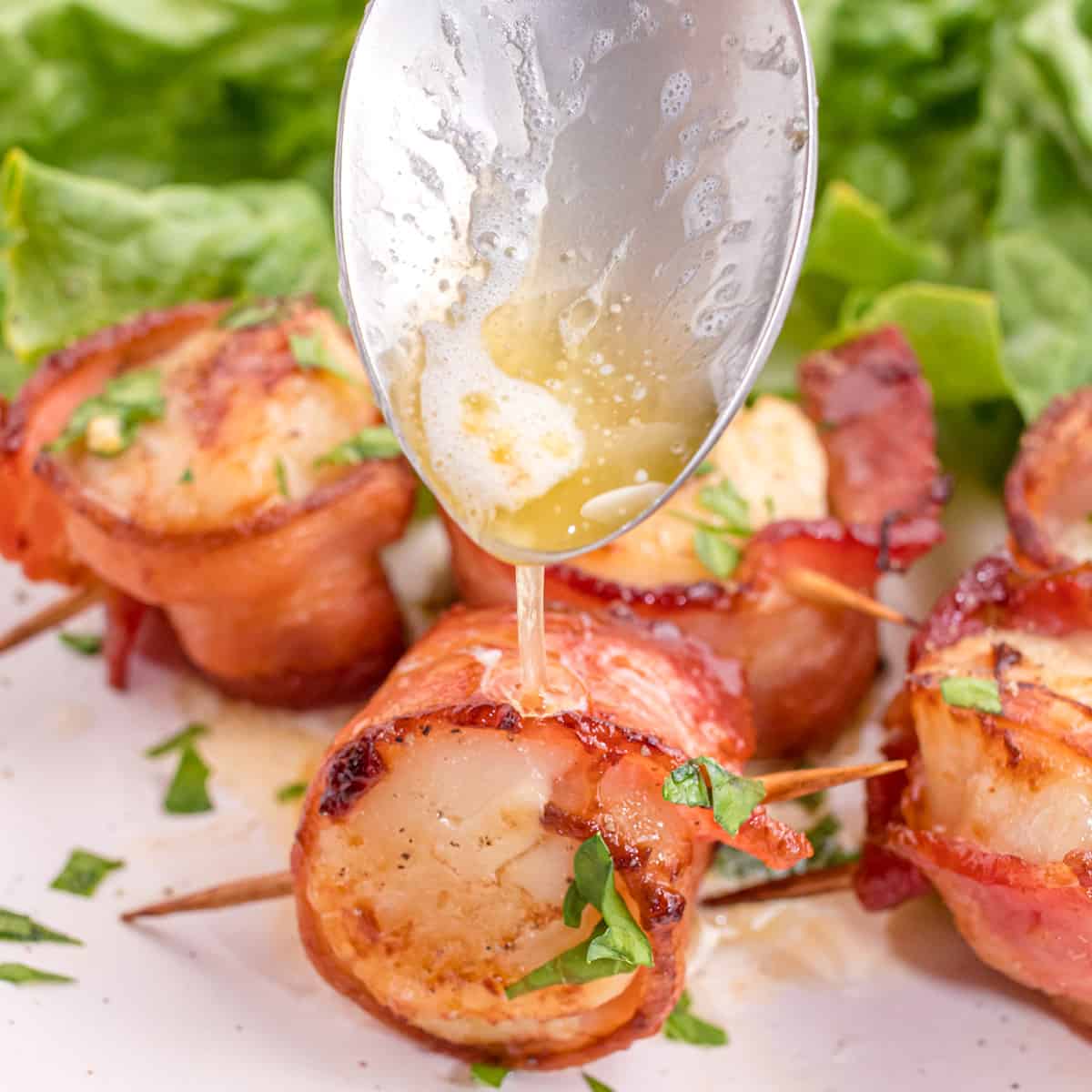 🦐 Easy appetizer recipe
This bacon-wrapped scallops recipe uses just a few ingredients and a little salt and pepper. You can serve these as a fancy appetizer or a lunch or like this air fryer sea bass, make it as a dinner entrée.
Just like these air fryer Brussels sprouts with bacon, this scallops recipe features the convenience of an air fryer in combination with the flavor that only bacon can add to a recipe.
From game day parties to bridal showers, you'll be the only one to know how fast and easy these are to put together. This scallops recipe is one of our best air fryer recipes!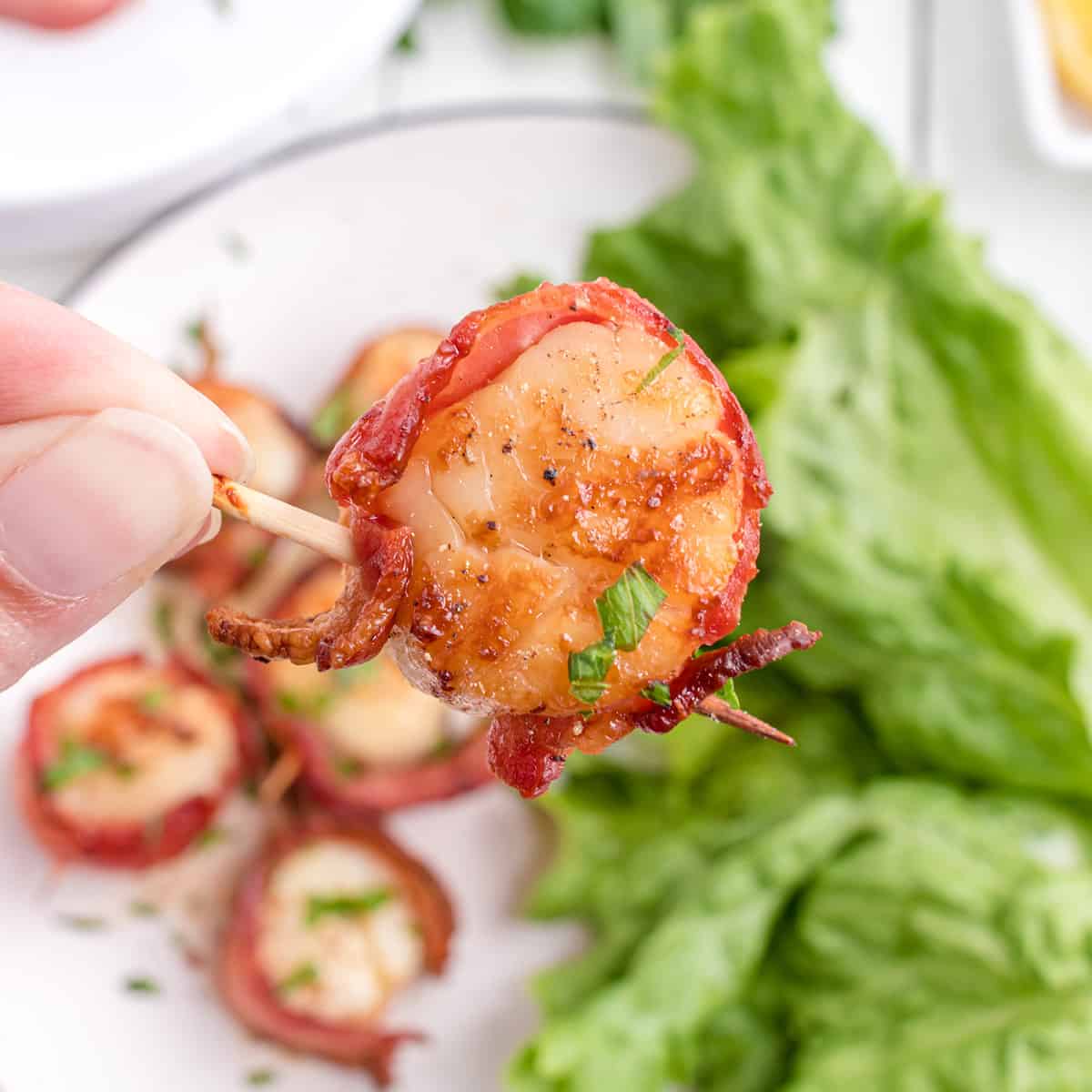 🥘 What's in them?
The short list of ingredients is just the first thing that makes these bacon-wrapped scallops so great.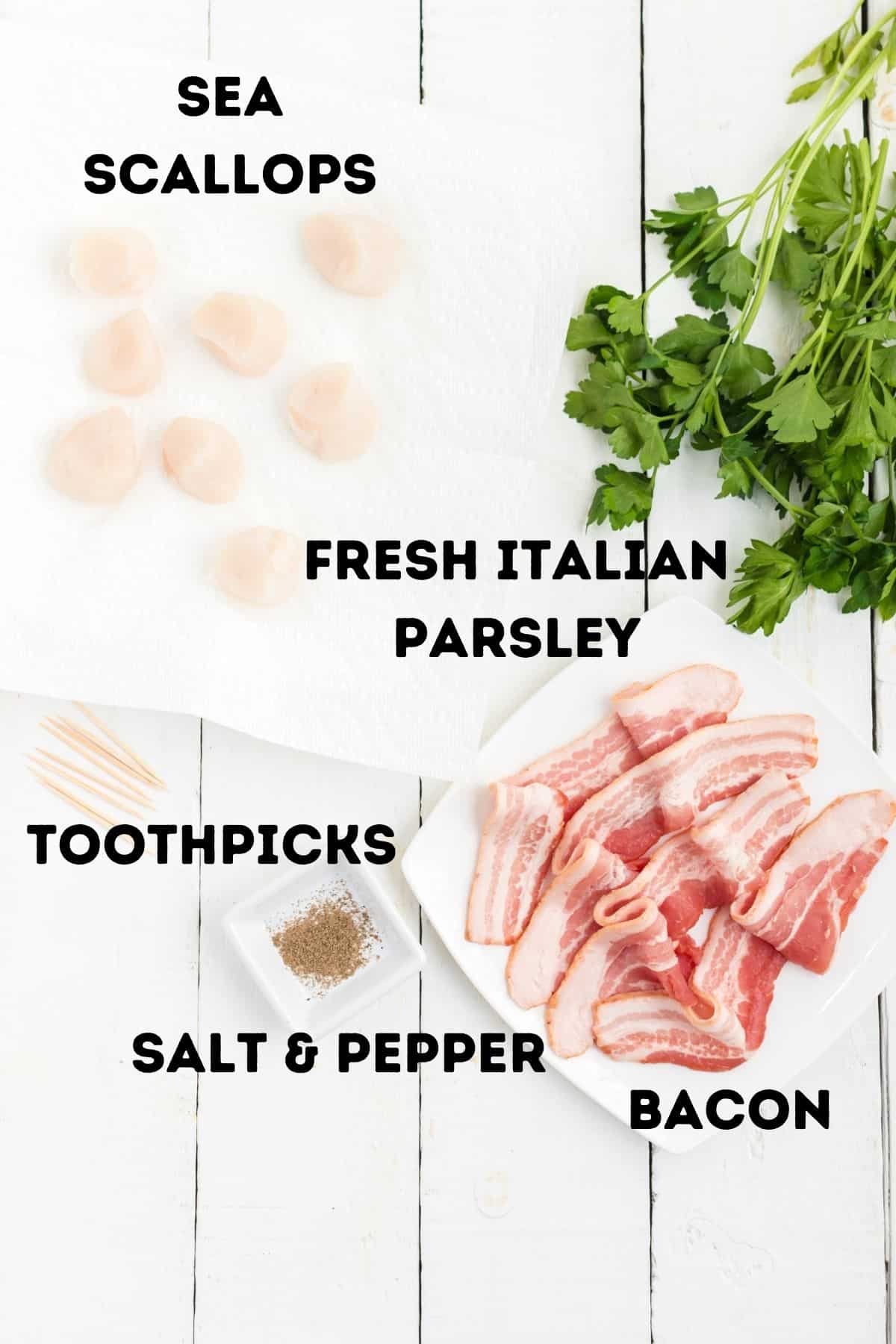 You'll want to use sea scallops (the larger variety) for this easy appetizer. These can range in size from 2 to 3 inches and typically come 20 to 30 in a pound. These are the same kind we use in our version of Alton Brown's Seared Scallops recipe.
Pro Cooking TIp: Avoid wet scallops that contain the flavor-sapping preservative of STP (Sodium Tripoly Phosphate.) This is how you'll find them, most in your grocery store's seafood case. Instead, look for ones that are either fresh or frozen while dry-packed.
I buy my mine from Aldi. They are dry-packed and frozen and have a great flavor. (We are not an affiliate and receive no compensation from Aldi.)
Here are more tips on how to buy scallops.
Bacon
You'll par-cook the bacon, in the air fryer, before wrapping it around the scallops. This will help crisp it up while not overcooking the seafood.
🔪 Instructions
The first thing you need to do when making this recipe for bacon-wrapped scallops is to turn your air fryer on at 400° F. Then, grab a bunch of toothpicks.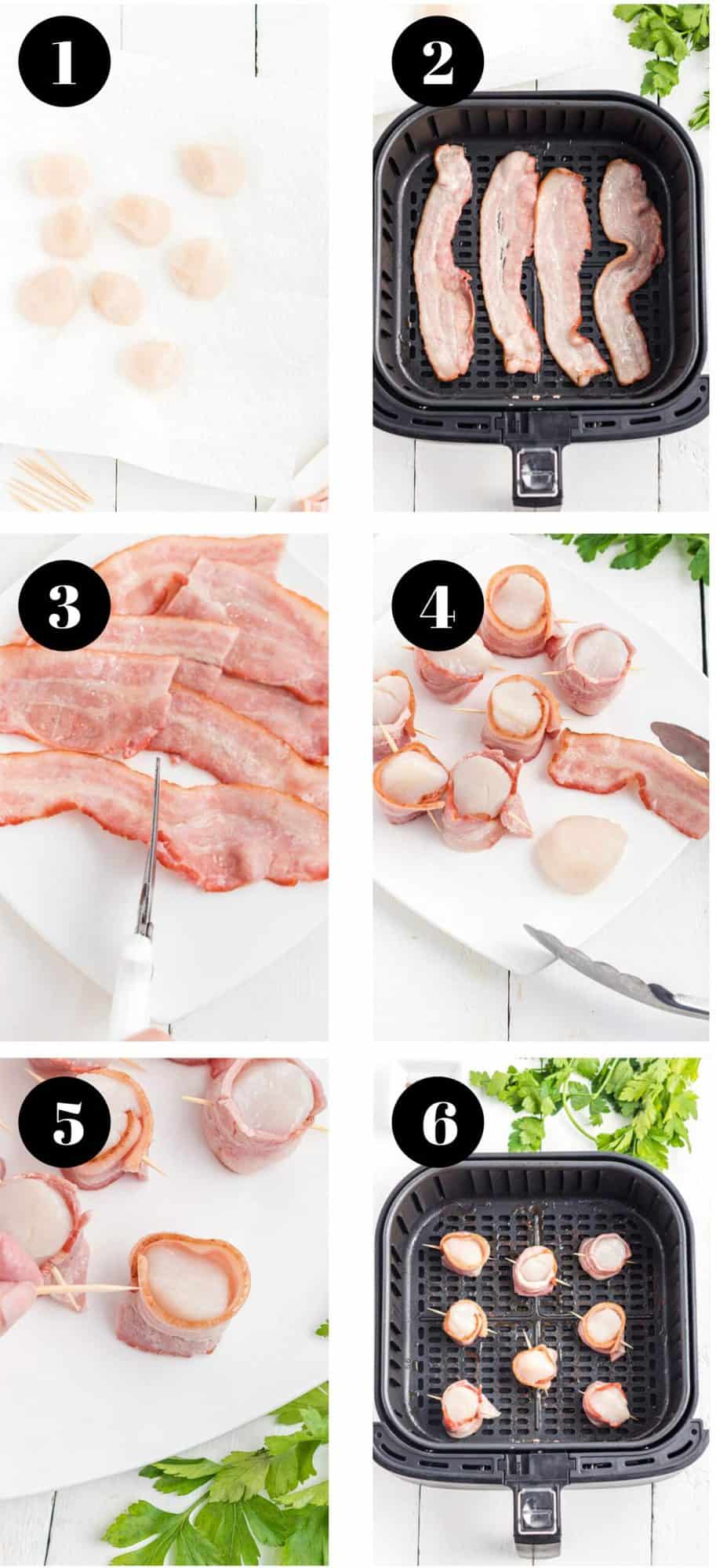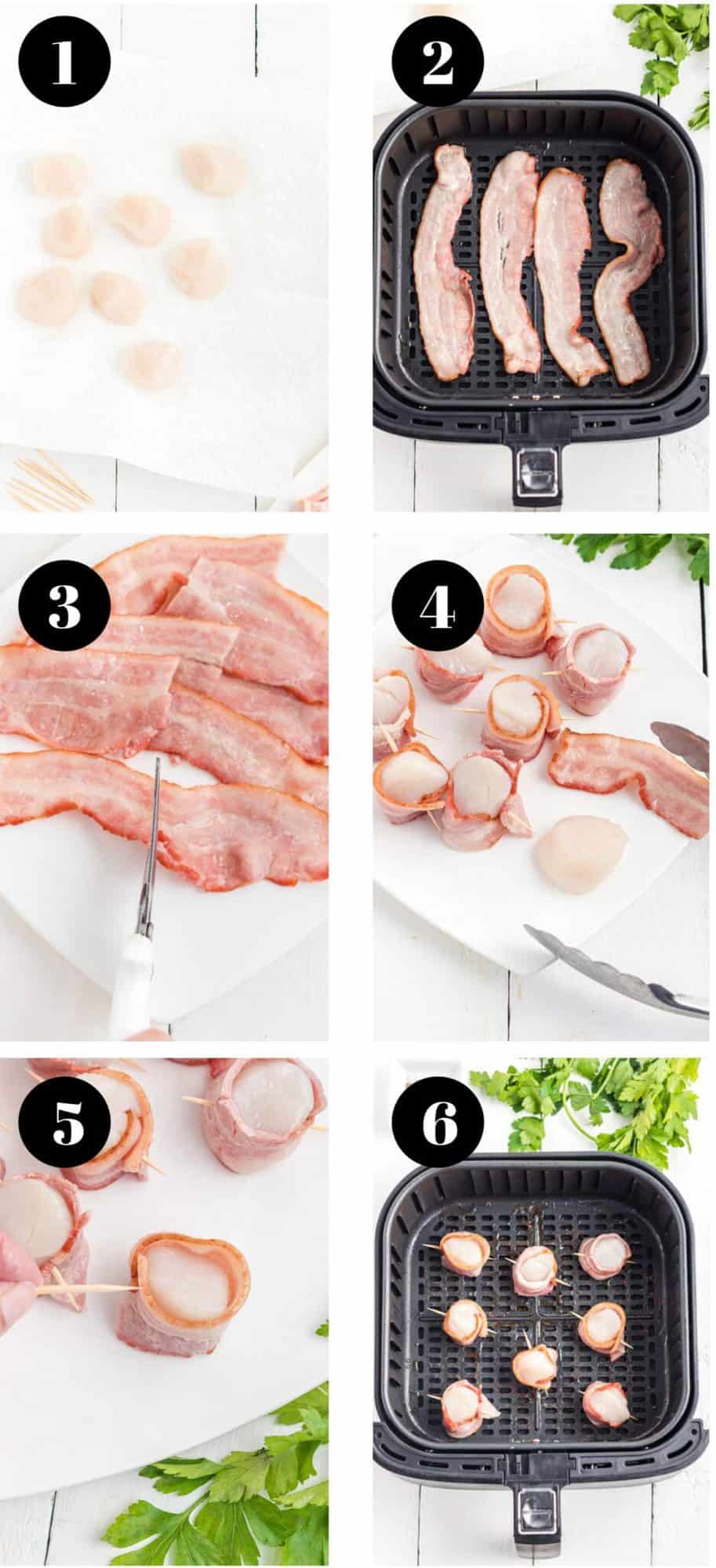 Thaw the scallops (if frozen) and blot them dry with a paper towel. If you are using fresh ones, make sure they are dry by using the same process.
When your air fryer temperature has reached 400°, place the bacon on a rack and air fry for 3 minutes. Leave the machine on at the same temperature.
Use kitchen scissors or a sharp knife and snip each slice of bacon in half after it is par-cooked.
Wrap each scallop in a slice of bacon. Some of the bigger ones might need a longer piece of bacon, and the smaller ones will use a shorter piece. I always make a little extra bacon, just in case. (Can you ever make too much bacon?!)
Secure the bacon-wrapped scallops with a toothpick.
Place each piece on a rack and then in the air fryer. Cook them for 4 minutes, then use a kitchen tongs to flip them and cook for 4 more minutes.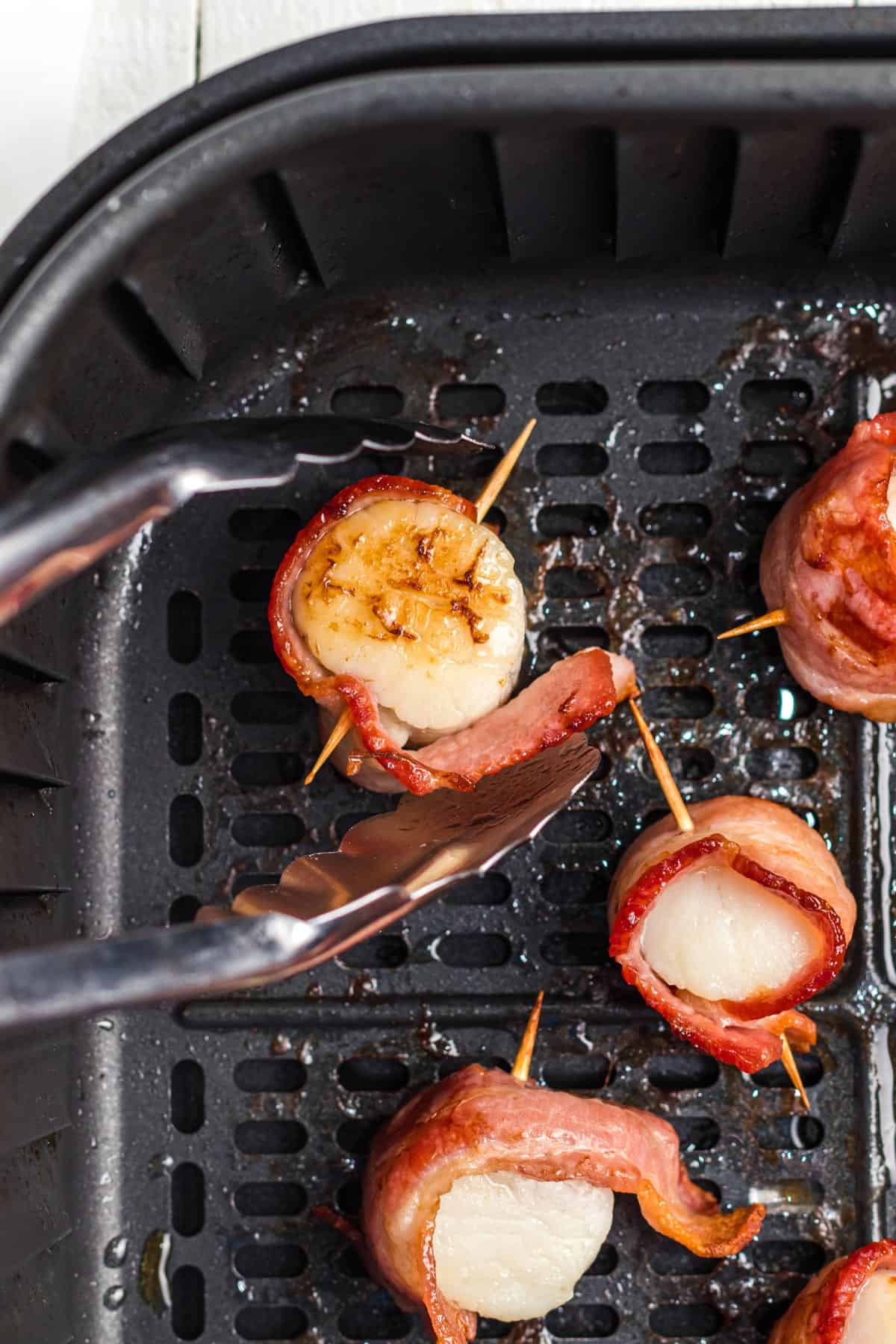 When the bacon-wrapped scallops are finished cooking, remove them to a serving platter using a set of tongs.
Pro Kitchen Tip: Pre-warm your serving platter to help keep these air fryer scallops warm. One of my pet peeves, especially in restaurants, is when hot food is served on cold plates! The food will start to cool the second it hits the cold surface.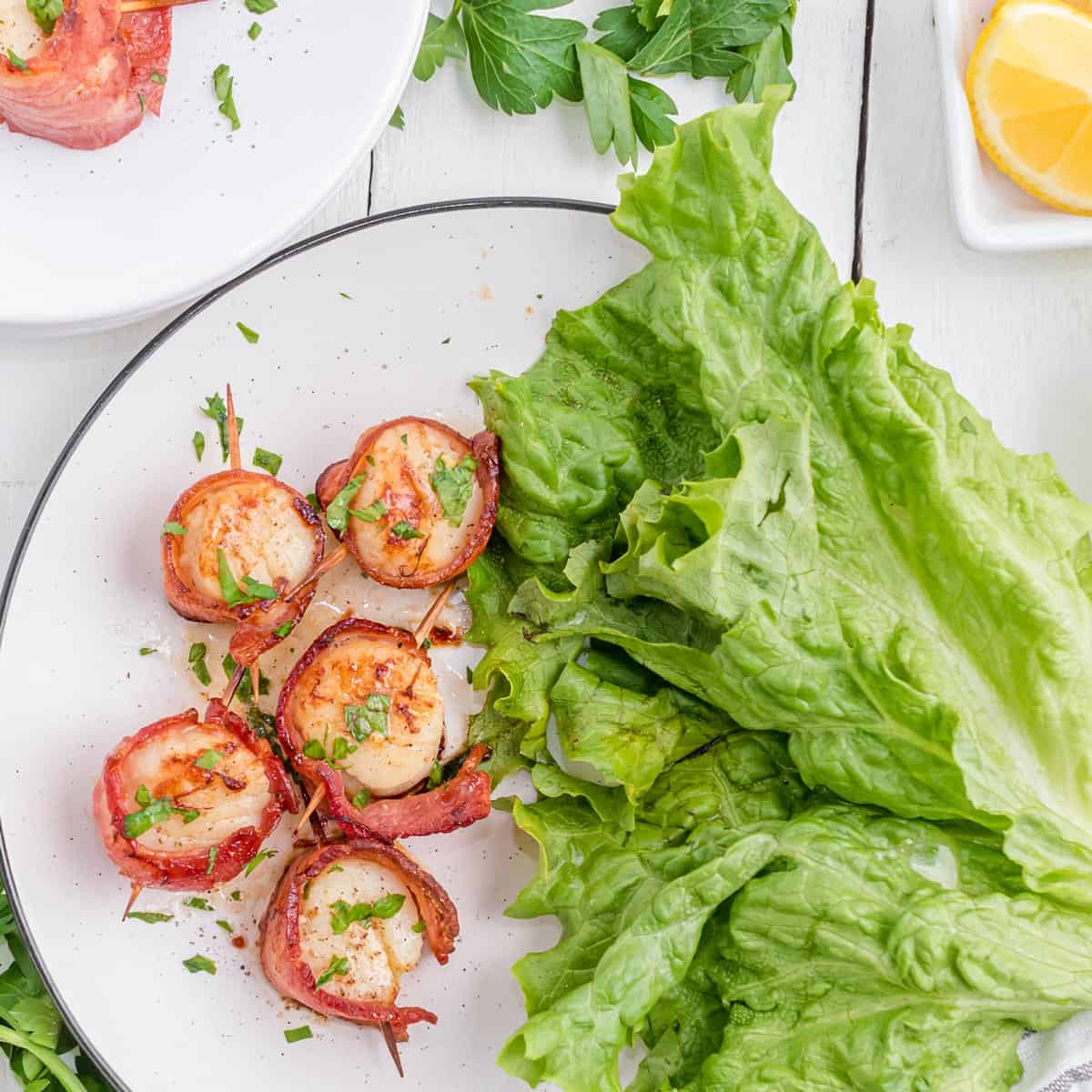 🥗 What to serve with these
You can make an easy dipping sauce for these bacon-wrapped scallops using a little butter and minced garlic. We explain how to do that in the recipe card below.
Besides the dipping sauce, you can garnish them with chopped fresh Italian (flat-leaf) parsley and some wedges of fresh lemon.
Bacon-wrapped scallops can be served as a standalone appetizer or as a larger meal. Here are a few ideas for side dishes that could complement bacon-wrapped scallops:
Remember to consider any dietary restrictions or allergies when choosing side dishes for your meal.
❗Top cooking tips
Do not leave scallops in the air fryer after cooking. They will become dry and hard.
You can easily double this recipe, but the bacon and seafood need to be cooked in batches. So additional time will be required. Resist the temptation to cook all at once as this will result in soggy scallops.
These can be served at room temperature if you are making them for a party but I recommend warming the butter sauce for drizzling to warm the scallops versus reheating them.
Do not skip par-cooking the bacon, or the bacon will not be fully cooked when the scallops are ready.
For extra flavor, brush the scallops with some soy sauce, pure maple syrup, honey, or sriracha sauce before wrapping them in bacon.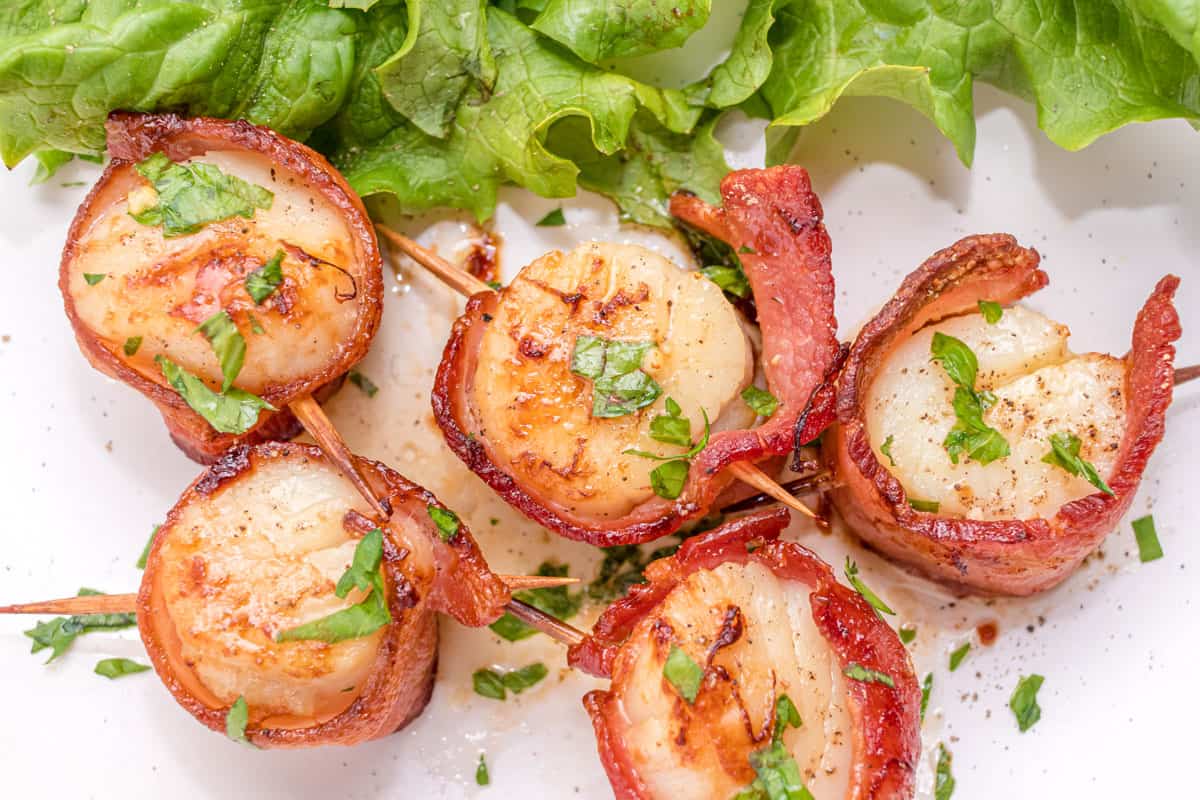 📖 Variations and substitutions
How to make bacon-wrapped scallops in an oven:
If you don't have an air fryer, bacon-wrapped scallops in the oven are just as easy to make.
Start by preheating your oven to 400°F (200°C).
Take each scallop and wrap it with a slice of bacon; take a toothpick and pierce through the bacon-wrapped scallop to secure it.
Arrange the bacon-wrapped scallops on a parchment paper-lined baking sheet or a silicone baking mat.
Bake the scallops for 15-20 minutes or until the scallops are completely cooked and the bacon is crispy.
Remove the toothpicks before serving. Enjoy!
💭 Common recipe questions
How do you thaw frozen scallops?
The best way to thaw frozen scallops is to place them in the refrigerator overnight. Or, if you take them directly from the freezer, you place them under cool running water.
Do not allow them to come into direct contact with the water (leave them in their package while thawing.)

I don't recommend that you defrost them in the microwave. Learn more tips about how to defrost frozen scallops here.
Can you make bacon-wrapped scallops ahead of time?
You can assemble these ahead of time and refrigerate them in an air-tight container for up to 24 hours before cooking.
If you've ever wondered what plates you can put in an air fryer, be sure and check out our post on that topic!
See more easy air fryer recipes like:
🍲 Other easy appetizers
If you like this, you may want to check out our recipe round-up for what to serve with smoked salmon!
Be sure and see our full collection of easy appetizers and finger foods.
👨‍🍳 Tried this Recipe? Please leave a ⭐⭐⭐⭐⭐ rating in the recipe card below and leave a comment. We love hearing from our readers!
⏩ Stay in touch with us on social media by following us on Facebook, Pinterest, Instagram, and YouTube!
📬Get our Recipes delivered to your inbox for FREE!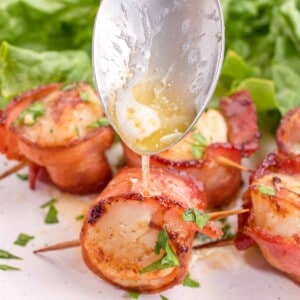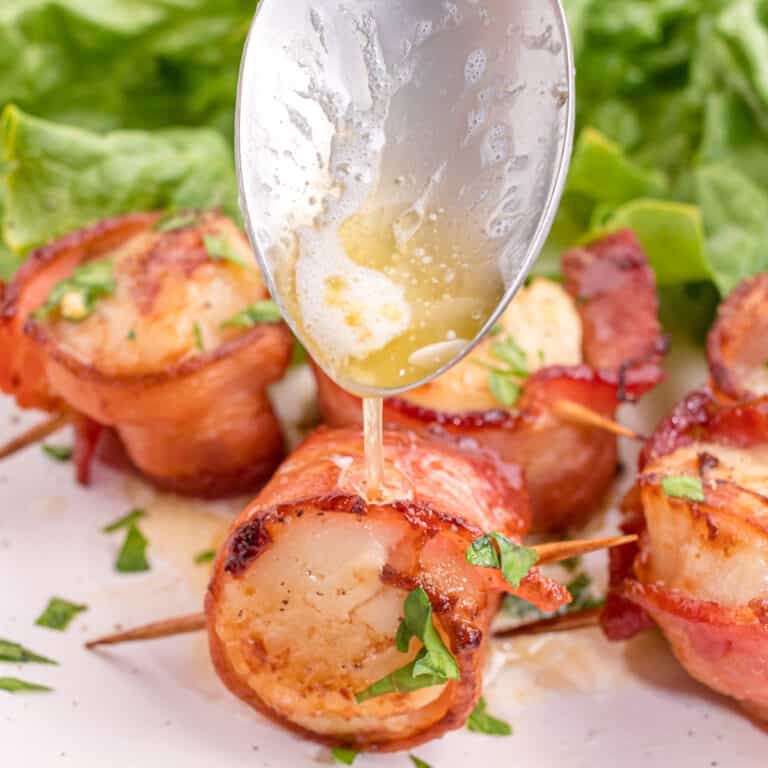 Air Fryer Bacon Wrapped Scallops
Air fryer scallops are an easy and elegant appetizer. Glute-free and keto-friendly, you can serve these to any crowd!
Ingredients
8

Sea scallops

4

slices

Bacon

Salt and pepper

,

to taste

Olive oil

Parsley

,

for garnish
Dipping Sauce for Bacon Wrapped Scallops
3

tbsp

Butter

,

Unsalted and melted

1

tsp

Minced garlic

,

Dried
Instructions
Place scallops on paper towel-lined plate and gently pat dry.

Preheat the air fryer to 400° F. When the the air fryer is hot, place bacon strips in a single layer and par cook for 3 minutes.

Use kitchen scissors or a sharp knife to cut the bacon strips in half. Wrap a cut bacon strip around each scallop and secure with a toothpick. Continue this process until all of the scallops are prepared.

Place the scallops on the air fryer tray. Cook the scallops for 4 minutes at 400° F. Flip them and cook for an additional 4 minutes.
To Make the Dipping Sauce
While the scallps are cooking, prepare the garlic butter sauce. Melt the butter in a small, microwave-safe bowl. Add the minced garlic and stir to combine. Chop some fresh parsley for garnish if desired.

Immediately remove the scallops from the air fryer and transfer them to a serving dish. Sprinkle them with fresh-ground black pepper and a pinch of salt. Garnish with chopped parsley and drizzle the sauce over them.
Notes
There is no need to grease the air fryer tray as the bacon has already greased it.
Place these on a pre-heated serving dish to keep them warmer, longer!

Smoking can occur when bacon is cooking. If you are making multiple batches of bacon I recommend draining the drip tray of the bacon grease before proceeding with the next batch. Be Careful when working with hot bacon grease.
Nutrition
Calories:
106
kcal
,
Carbohydrates:
1
g
,
Protein:
4
g
,
Fat:
10
g
,
Saturated Fat:
6
g
,
Trans Fat:
1
g
,
Cholesterol:
31
mg
,
Sodium:
267
mg
,
Potassium:
67
mg
,
Fiber:
1
g
,
Sugar:
1
g
,
Vitamin A:
263
IU
,
Vitamin C:
1
mg
,
Calcium:
6
mg
,
Iron:
1
mg
Nutrition information is automatically calculated, so should only be used as an approximation.